Yesterday, for the first time as president, Joko Widodo held a meeting with his predecessor, Susilo Bambang Yudhoyono (SBY) at Merdeka Palace. Probably the most interesting thing that came out of the sit-down was that SBY didn't leave the meeting with a brand new bicycle.
Jokowi loves cycling, he does it almost every weekend and is a member of Jakarta's Bike to Work initiative. This love for bicycles has lead him to give bikes away to citizens who correctly answer pop quiz questions he asks at press events.
Jokowi has given away bicycles to students, TV star Choky Sitohang, and singer Raisa Andriana, so why not SBY?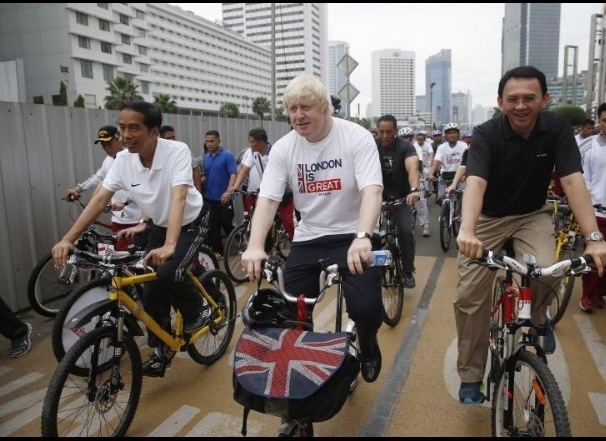 Even SBY admitted that there was a bit of tension in the air between the two men. "We rarely see each other, so it's possible that there's information we're not supposed to hear. The purpose of this meeting is to clear the air," SBY told BBC.
A pop quiz from Jokowi would have really helped the vibe. He could have posed the question, "Can you name five unresolved human rights cases that happened during your presidency? I'll give you a bicycle if your answer is correct."
The meeting would have turned into a meeting between old friends who haven't seen each other for a while. Add a bit of laughter, some coffee, and snacks, it could've been a great conversation.
If I were SBY, I would have asked for a pop quiz. "Jokowi, how come only Raisa gets a bicycle, where's mine? LOL."
According to the President's Chief of Staff Darmansyah Djumala, the bicycles were bought in provinces the president has visited. Almost all the bicycles are made by Indonesian bike manufacturer Polygon, ranging from Rp 3-4 million ($224-$299) each. If at every meet-and-greet, seven bicycles are given away, then it must cost the president Rp 28 million ($2,900) a pop. If there are 20 meetings in a year, then the prices for all those free bikes would go up to Rp 560 million ($4,200). With the economy in a slump, maybe Jokowi was saving his bike quizzes for those more needy, SBY can wait until the next budget is released.
"If around 3,000 people show up, we prepare 10-20 bicycles. These bicycles offer a healthy transportation option for people," says Djumala in Kompas.com.
Possibly Jokowi simply forgot to pose questions disguised as pop quiz to SBY. Or possibly, both of them have bottled up so many emotions, questions, and hopes, that they forget about pop quizzes and Polygon bikes altogether.