Before there was Made in Chelsea and The Only Way Is Essex, there was The Hills: a "reality" show on MTV that followed fashion student Lauren Conrad around LA while she fought with, made up with and cried at the same three friends. One of those friends was Heidi Montag, who committed the ultimate betrayal when she started dating Lauren's sworn enemy, LA party boy Spencer Pratt. Reality TV's original villain, Spencer started the rumour that Lauren had a sex tape with an ex-boyfriend – something they argued about on screen for two. whole. seasons.
Since the series ended in 2010, Spencer and now-wife Heidi have admitted they've blown all the money they made on the show – $10 million, $1 million of which they spent on healing crystals. They've appeared on Wife Swap US, I'm A Celebrity…Get Me Out of Here US, Marriage Boot Camp, the British version of Celebrity Big Brother and written a book called How to Be Famous, detailing everything from calling the paparazzi on yourself to faking a break-up for publicity. Spencer now works as the property manager for his dad's beach house in Santa Barbara, California, and "spends all day talking to strangers on the internet" through his Snapchat, Twitter and Instagram stories. He's also the face of healing crystals at spencerpratt.rocks.
VICE: Why did you break up with your first girlfriend?
Spencer Pratt: She was a cheating whore! Older guys will always be the goal – older guys always made the younger girls feel special. When you're younger, that's a hard thing to compete with – guys that are in their twenties, who can buy alcohol. I was surprised when she cheated on me, definitely. But once you realise you're dating a whore, it's easy to get over it.
What was your worst phase?
My worst phase was during The Hills. Do you need me to elaborate? It wasn't true to who I really was. I got caught up trying to be someone I'm not – someone that the audience and the producers wanted. I was just being more and more unnatural.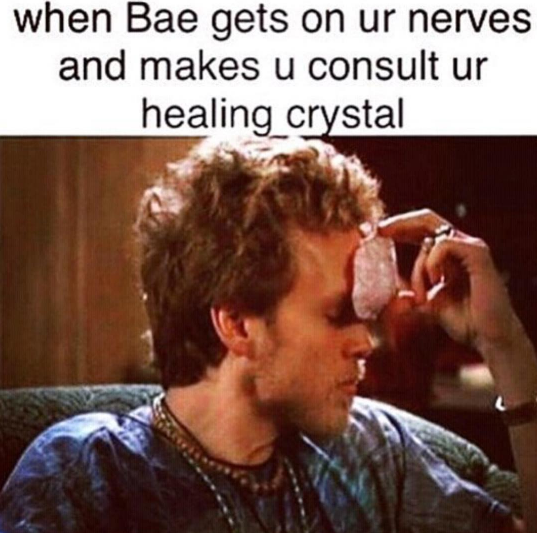 How many books have you read in the last year? Don't lie.
In the past few years, I've read probably a thousand books. I got burned out on reading books. This year has probably been my least amount of books. Like, max ten books? Fifteen books? The last one I read was Lee Child's Night School. I used to read two books a week, because I didn't leave the house. But then I got Snapchat, so I have a reason to leave the house more now.What conspiracy theory do you believe?
That the Illuminati got Kanye West locked up.If you won the lottery, would you carry on working?
I'd make my own show! A reality show – Spending Money with Spencer! It'd be like 2 Chainz's Most Expensivest Shit, only I'd buy more stuff. No, Heidi's my accountant now, so it'd be Saving Money with Spencer if Heidi got her way.Would you have sex with a robot?
If it was made by Heidi, yeah. Heidi's shaking her head no, but if it was Heidi-robot, it's not cheating. It's not. It's not, Heidi.
What's the grossest injury or illness you've ever had?
I get a lot of rashes on my face from the wind – that's pretty horrible. Rashes on your face are pretty awful. Eating some of those British people's food in Celebrity Big Brother had me turning green and gave me some food poisoning.What's the closest you've come to having a stalker?
My mom. I have to block my mom on most accounts. I have her blocked on Snapchat, Twitter, Instagram. Now she's making fake accounts. I think that qualifies as a stalker.
Can drugs make you happy?
Not me, because I'm not about that. Although, espresso is a drug, and I love espresso. But if you're not happy sober, you're not going to be happy high. That's my logic. I know people that get high who are unhappy sober and high.Without googling, explain global warming.
If it's true, and many people don't believe it's true, the ice caps are melting and water's, y'know, going to flood the earth. I get sunburnt way easier now than I used to – I think that's global warming. Something to do with the o-zone? I'm not a scientist. Let's be clear: I have no idea.
What have you done in your career that you're most proud of?
Getting second place in Celebrity Big Brother when I should have got first place because it was rigged for Rylan [Clark-Neal] to win. Really, knowing I got first in CBB. Oh and you know what? I'm most happy about creating the set up paparazzi photographs that every celebrity does – I feel like I gave them the heads up on that. Everyone does it now – Taylor Swift, Beyonce…What do you most regret?
Fake fighting with Heidi on The Hills. It was not necessary. We were just trying to make producers happy, when we could have just not done it and made ourselves happy.Where did you go on your first friends holiday and what did you do?
Cabo San Lucas [in Mexico]. It was my first year of college, so I was probably 19, and I threw up in my shirt because I didn't want to throw up in the taxi, because then you have to pay $100. I thought I was brilliant throwing up in my shirt to hide it. There was lots of drinking, dancing, the beach, ATVs: all the fun stuff you do in Cabo.
University: is it worth it?
Uh, yeah! I went to college for ten years, so obviously I thought it was worth it. I started in 2002 and I graduated ten years later. It was hard to try to be famous and go to classes. So I kept having to withdraw from classes and redo classes. I spent ten years at USC and I'm not a doctor [laughs]. I did Political Science, but I wish I'd studied performance art. That's what I was doing on The Hills. I should have got a degree in it.
@isssssy
More VICE Interviews:
Mr Motivator
Charlotte Church
Craig David