President Trump is trying his hardest to intimidate whistleblowers. A glimpse of his Twitter account reveals someone desperate to criminalize dissent, especially by means of leaking government information.
But one agency, the Office of Special Counsel (OSC)—an independent federal investigative and prosecutorial entity that protects whistleblowers—is reminding employees of their right to sound the alarm. Even under the most hostile of leadership.
An OSC sign explaining federal personnel rights was placed inside the Environmental Protection Agency (EPA) over the last week. An EPA employee who has worked at the agency for decades sent Motherboard the following photo. They said the signage is a new feature, and that Trump's official portrait is still absent from the agency's walls.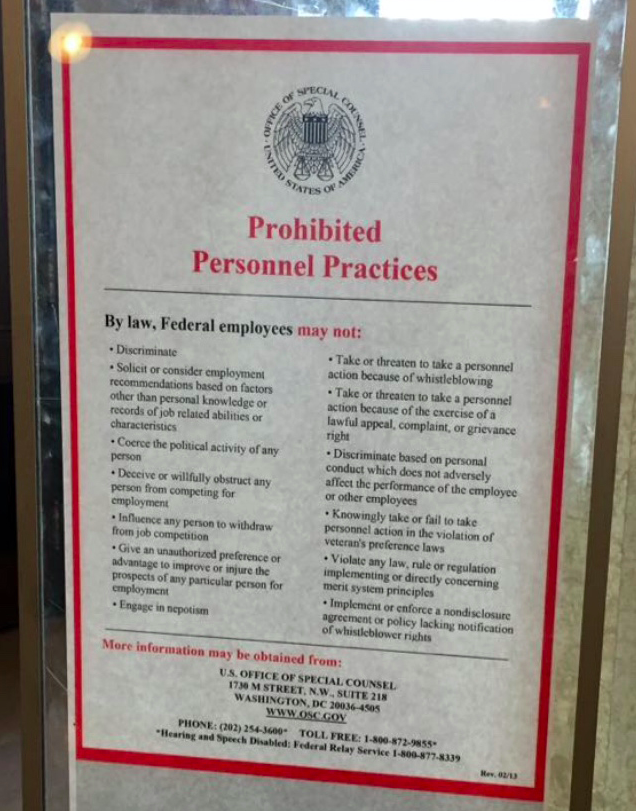 The sign includes a section from 5 US Code § 2302 of the Whistleblower Protection Enhancement Act. This law recently gained attention when Rep. Elijah Cummings (D-MD), ranking member of the House Committee on Oversight and Government Reform, accused the White House of violating its statutes.
"By law, Federal employees may not: Implement or enforce a nondisclosure agreement or policy lacking notification of whistleblower rights," the sign says.
It's unclear why these rules were posted inside the EPA, and who posted them. It's possible that OSC officials felt employees were being kept in the dark about their rights during the agency's communications blackout. We also don't know if this is simply a normal occurrence during administration transitions.
An OSC spokesperson told Motherboard it is "normal" for prohibited personnel signs to exist in federal buildings, as part of a mandatory certification program. However, Motherboard's source did not recall seeing the sign until recently.
We've reached out to EPA representatives regarding the sign, and will update this story if we hear back.
After several agencies were hit with communications bans last month, one of them being the EPA, employees there were effectively forbidden from speaking publicly about their work, and in some cases contacting members of Congress.
At the EPA, staff were prohibited from speaking to the media, and were warned their personal social media accounts could be become "more centrally controlled." Employees at the agency are also now subject to political vetting if they want to publish scientific findings or attend a professional conference. As indicated by the memo, these rules were intended to be communicated down chains of command, rather than as an agency-wide order.
Because of this, Rep. Cummings sent the White House a letter last month, saying it failed to follow the law by not informing staff of their rights to whistleblow when issuing the bans. The law demands that "any nondisclosure policy, form, or agreement" must contain the following statement:
These provisions are consistent with and do not supersede, conflict with, or otherwise alter the employee obligations, rights, or liabilities created by existing statute or Executive order relating to (1) classified information, (2) communications to Congress, (3) the reporting to an Inspector General of a violation of any law, rule, or regulation, or mismanagement, a gross waste of funds, an abuse of authority, or a substantial and specific danger to public health or safety, or (4) any other whistleblower protection. The definitions, requirements, obligations, rights, sanctions, and liabilities created by controlling Executive orders and statutory provisions are incorporated into this agreement and are controlling.
The EPA's communications ban did not include this statement. No subsequent memos about whistleblowing have been circulated to staff, according to Motherboard's source.
"It's axiomatic that federal employees don't leave their First Amendment rights at the door when they show up for employment. Any agency memo suggesting [that government employees can't speak about matters of public concern on their own time] would be an unreasonable and unconstitutional policy," said Esha Bhandari, a staff attorney at the American Civil Liberties Union, who also noted that case law around this type of speech is very fact specific, different among agencies, and heavily dependent on a variety of factors.
As we reported in January, EPA transition team members are struggling to quell unrest within the agency. An email sent by senior White House advisor Don Benton told staff not to believe what they see or read in the news, as a response to threats of layoffs.
White House officials have argued that the bans are normal protocol for agencies in transition, and that agencies are merely trying speak as one voice.
Still, many EPA staff interpreted the memo as an effective "gag" order. We've heard little from the agency since Trump's inauguration, and the EPA's social media accounts have been silent for almost a month now. We also know that Trump has personally exercised his power to control communications from other science-focused agencies like the Department of the Interior.
Yesterday, congressmen Ted Lieu (D-CA) and Don Beyer (D-VA) released a whistleblowers guide for employees. It urges staff to know their rights, since while many forms of whistleblowing are protected by the Whistleblower Protection Enhancement Act, some, such as the leaking of classified information, are not.
"From day one the Trump Administration and its allies in Congress have treated the federal workforce like a punching bag all while issuing hostile threats to whistleblowers and dissenters," Rep. Beyer said in a statement.
"In this age of gag orders and alternative facts, it's important that we provide federal employees tools to ensure transparency."
Update: This article has been updated with a comment from the Office of Special Counsel, which explained the signs are normal and part of a mandatory certification program.