Kenneth Nicholson's third menswear collection comes at a peculiar moment in the American zeitgeist. His spring/summer 2017 lookbook of tweed tunics and denim flares, debuting exclusively here on VICE, stands in stark contrast to the hyper-masculine, aggressive culture that currently has a chokehold on the nation. Nicholson is one of a few talented, young menswear designers who are redefining how the Western man is expected to dress. With gender-neutral silhouettes and elaborate finishes like velvet buttons and ruffled trim, his clothes blur the boundaries between classic menswear tailoring and the elegant flourishes found in high-end womenswear.
"I don't want to be forceful about it. I'm aware that I can't just jolt people," the designer says to me over the phone from his Los Angeles studio. "There's a story—people have to come along. I start off from a point of familiarity, where people can recognize certain elements, but then also see how some of it might be challenging conventional menswear." The tunic, for example, has been a constant in each of his three collections: first in linen last spring, then in velvet brocade for fall 2016, and now sleeveless and denim. While Nicholson's precise tailoring is typical of menswear, the tunic's hip-length hem is less traditional—at least on this side of the world. "I spent a little bit of time in Afghanistan, so I was introduced to their common ways of dress," Nicholson says. The Texas native, who graduated from the Academy of Art College in San Francisco, worked abroad after four years in the Navy. "To see the notion of movement in their clothing as a culture, and to see it on the men, was inspiring."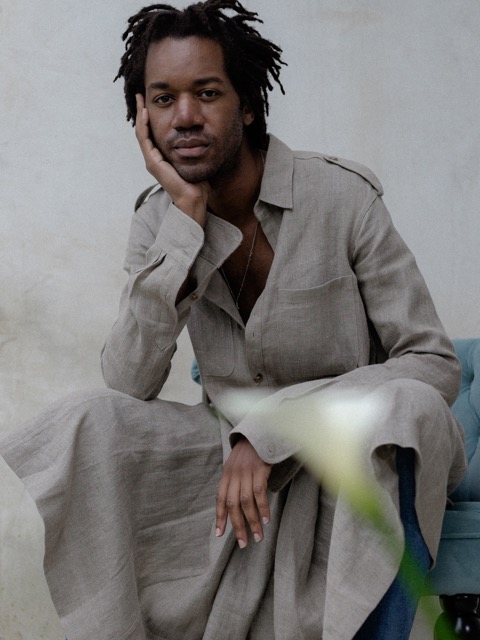 The rigidity in design and function of modern menswear is part of Nicholson's frustration with the current options available for guys. "In womenswear, they're allowed to experience the romance of just a simple movement of walking down the street," he says, noting the differences in silhouettes and fabrics that allow for greater physical self-expression between the genders. "Men don't really have that option. I want my clothes to allow men to engage in an emotional way when it comes to the way they dress and how they self-present."
Nicholson's aesthetic is deferential to the 1970s, when even the hardest guy wore bell bottoms and a flamboyant button down. Though these are sartorial qualities we'd consider more feminine today, consider Richard Roundtree or Prince, who proved that there's something about the swing of a wide-legged pant hem or the gentle folds of a tucked-in waist that can heighten a man's swag, sex appeal and sense of self. Pulling off these softer silhouettes today requires a similar gutsiness, says Nicholson. He cites Young Thug as an example. "I'm really inspired by what he's doing with his fashion choices," he says. "I think his bravado and his vibe fit that bold fashion choice."
Still, Nicholson realizes that everyone is not an androgynous, superstar rapper. So he is gingerly nudging fashion-forward men awake, challenging them to take back their sartorial independence in a culture that lamely celebrates sameness. Kenneth Nicholson's plaid linen dress shirt isn't necessarily radical—it's versatile enough to be worn with just about anything. But  when its paired with Nicholson's denim maritime swishers, it's elevated into a look that would make people turn heads. "When people dress and make those deliberate sartorial options, they're doing it because they're finding joy in it," he says. "In a political climate like this, joy is essential. And I think that is the revolution: to dare to be joyous in the face of adversity."