Deuel County sits on the inner edge of the Nebraska panhandle, right where I-76 breaks off from I-80 to head down into Colorado. With a population of just fewer than 2,000, the county is served by a paltry five-member police force. And yet even with that tiny law-enforcement presence, Deuel boasted a marijuana arrest rate of more than 24.23 per 1,000 residents in 2014, almost six times the statewide average. In the past 15 years, Deuel County has arguably become one of the worst places in America to smoke or possess—much less enjoy—weed.
Scott DeCoste has been sheriff of Deuel County for the past two years and on the force there for a little more than three. When he got started, Colorado had recently legalized marijuana, and according to Decoste, it didn't take long for pot-related arrests to become a big part of his job.
"It's as busy as it has ever been," DeCoste recently said in an interview. "If you get a vehicle for speeding, nine times out of ten, they'll have some pot or something from the dispensaries over there on them. It's nothing new."
To be sure, the sheriff insists his police force isn't looking to stop people just because they're leaving Colorado and might have weed. But if his officers do stop you, they're probably going to take away your pot—and if it's hash oil or edibles, you're probably going to spend the night in jail.
Deuel County is not alone, of course. According to a study by researchers at the University of Nebraska, since at least 2000, when Colorado approved medical marijuana, Nebraska has seen an increase in marijuana possession arrests along the border. That number rose dramatically in 2014, when weed sales and consumption were made legal for everyone 21 and over. Between 2013 and 2014 alone, the border counties increased possession arrests by 32.4 percent.
These days, according to Sheriff DeCoste some 60 percent of all highway stops in Deuel County turn up some reefer.
"In all honesty, people will tell me, 'You bastards, you just got me coming out of Colorado,'" Decoste said. "'No! If you weren't doing 85 MPH, I wouldn't of stopped you. And man, I encourage people, if you think we're picking on Colorado people, we have to see them doing a violation. We have to have a reason to stop you. We can't stop you just because you're coming out of a state. It's unconstitutional." (In fairness, the University of Nebraska report found that the pot arrest rate in Deuel County, while the highest in the state, actually declined between 2013 and 2014, and more recent comprehensive data was not available.)
"Some people think we're the 'buzzkill county,' but we're trying to do the job the right way."—Sheriff Scott DeCoste
While it's natural to wonder if the cop who pulls you over had a legit reason or just wanted to kill your vibe, Decoste isn't exactly going out on a limb with his tough stance. States bordering Colorado have had a contentious relationship with weed since legalization began, taking their complaints about the corrupting influence of pot all the way to the Supreme Court, which declined to hear one major case last spring. And that setback hasn't stopped some of these same border states from sounding the alarm about a flood of Colorado ganja. For his part, Derek Schmidt, the Kansas attorney general, put a report out last fall documenting the rise of nefarious foreign bud in his state, though it notably declined to provide much in the way of evidence that weed consumption there had actually increased because of it.
Jared Ellison, one of the authors of the University of Nebraska study analyzing pot arrests in the region, explained that just because people are being arrested more for marijuana possession doesn't necessarily mean there's more weed in the state.
"These numbers are being driven by out-of-county residents," Ellison said, noting the obvious: The majority of highway arrests tend to be people on their way elsewhere in the state or just passing through. "It's impossible for the number of arrests to be taking place to just be county residents. So that's the problem with mistaking arrests for use. Arrests are just a reflection of what law enforcement is doing, not necessarily use."
According to the university's report, a large increase in arrests came from Nebraska's state patrol, which keeps tabs on the highways. Between 2013 and 2014, the last two years covered by the report, counties that saw an increase in state patrol and local police presence saw rises in marijuana arrests as well. Ellison did note, however, that when compared to the cost of increased enforcement, the amount of money being taken in by fines for marijuana possession did not seem to be a motivating factor. In other words, this isn't anything like a Ferguson situation where the cops were propping up municipal budgets by targeting the poor for low-level offenses.
"In terms of money, they're not gaining a whole lot for it, especially if you examine how long it takes an officer [who] has to stay with someone accused of possession," Ellison said. "You think of how much they make an hour, the costs to the county and state for the courts system. I think it could just be an ideological difference between the people of Nebraska and other states."
Of course, even with Nebraska's increased enforcement, it still lags far behind other, more populated places in the United States—even those nowhere near legal weed wonderlands. Drug law enforcement has traditionally hit urban communities of color hardest; a 2010 report by the American Civil Liberties Union found black people were almost four times as likely to be arrested for weed as whites.
"In terms of the number of arrests, where those are happening, it's large cities in large counties," said Ezekiel Edwards, director of the ACLU's Criminal Law Reform Project. "We found that places like New York City, back in the 2000s, places like Chicago, Baltimore, that's where you had high numbers of marijuana arrests. That said, when you look at per capita rates, where you're most likely to be arrested, it didn't reflect places where the most arrests were happening. Midwestern states like Iowa and Minnesota were states where the rates were the highest, and the disparities by race were still very high."
Colorado's conservative neighbors are now appealing to Attorney General Jeff Sessions, a staunch anti-marijuana crusader, to bring an end to this brave new era. At the end of February, Nebraska's attorney general, Doug Peterson, met with Sessions to discuss the impact of Colorado's "big overflow" of weed on the state, as he put it. Trumps's top law enforcement officer took the opportunity to remind reporters that he is "definitely not a fan of expanded use of marijuana."
Check out this MUNCHIES guide to eating your weed.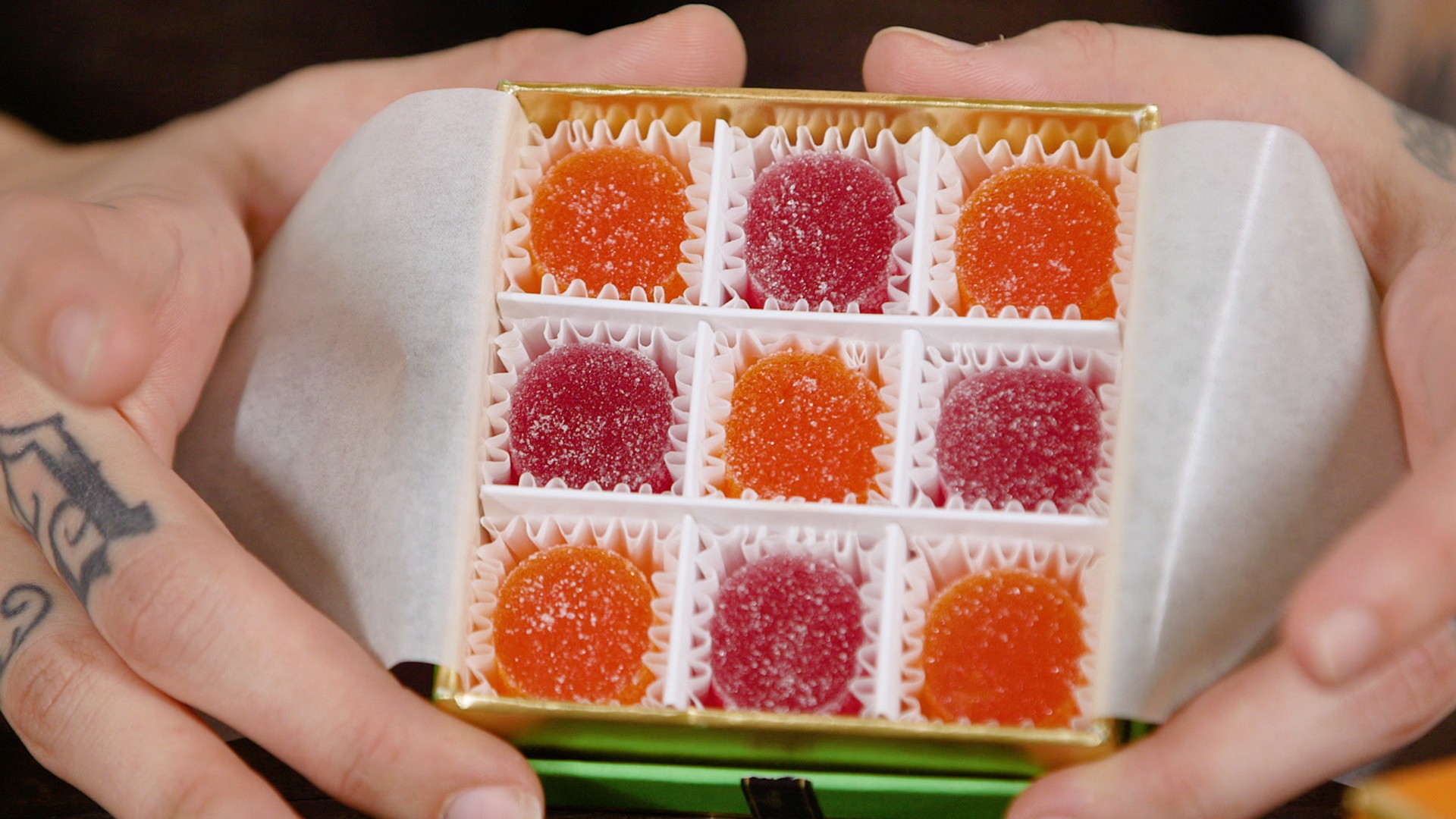 Meanwhile, Kansas AG Schmidt wrote a letter to the Justice Department (DOJ) earlier this month, calling on the feds to enforce laws prohibiting marijuana, which Schmidt complained "were routinely ignored" during the Obama administration. And two weeks ago, Sessions announced the formation of a task force looking at the DOJ's marijuana policy, asking for the report to be delivered to him by July 27. The attorney general could theoretically decide to sue the state of Colorado over its policies, or just randomly target pot businesses in the state, crippling the economy and sacking a burgeoning way of life. He could also direct more money into neighboring states to help stem violence related to marijuana, which he believes happens more than "one would think."
"Sessions seems hellbent to take us back to the 1980s, where the answer to public health problems like drug use are SWAT Teams, guns, handcuffs, and prison, and not investing in communities," Edwards told me.
Regardless of whether Sessions ramps up enforcement, DeCoste, the Nebraska border county sheriff, insists he's not pulling people over for fun or to prove a point. He just wants to serve the citizens of Deuel County— all 1,900 or so of them.
"Some people think we're the 'buzzkill county,' but we're trying to do the job the right way," he told me. "We want to be respected by our county, meaning the citizens in it. If they think we're doing the right thing, that's what matters. So it sucks being considered unfair in some people's eyes, but in all honesty, I know I'm not going to make everyone happy. If you want to legalize weed, that's your thing. Unfortunately, weed is illegal here, and we have a duty to do our job."
Follow Max Rivlin-Nadler on Twitter.