Getty Images
For the third day running, former White House aide Omarosa Manigault Newman has dropped a secretly recorded conversation to the media — this time directly contradicting claims by Trump officials that they ever discussed a tape of Donald Trump using the N-word on the set of "The Apprentice" more than a decade ago.
Released to CBS Tuesday, the latest audio is of a conversation that took place in 2016 between Newman, former Trump campaign spokeswoman Katrina Pierson, former campaign communications director Jason Miller, and Lynne Patton, who was Eric Trump's wedding planner and then was tapped for a regional director post in the federal housing agency HUD.
"I am trying at least to find out what context it was used in to help us maybe try to figure out a way to spin it," Pierson is heard saying on the tape.
When Patton says Trump denied making the comment, Pierson cuts in and repeatedly says: "He said it. No, he said it. He is embarrassed."
Newman claims she recently heard the three-minute recording in which Trump uses the N-word multiple times in reference to 2004 "Apprentice" contestant Kwame Jackson — a recording made during Trump's time on the reality TV show. (She herself met Trump on "The Apprentice," and they stayed in touch through the years.)
"It sounded as if [Trump] used [the N-word] every day," Newman told MSNBC's "Hardball with Chris Matthews" Monday. "It rolled off his mouth. You'd never imagine he'd talk that way."
The release of the tape Tuesday came just hours after Pierson went on Fox News to insist the conversation "did not happen."
"It sounds like she is writing a script for a movie," Pierson said of Newman. In a Monday statement, Patton also denied the conversation took place, calling Newman's claim a "baseless accusation" about an "imaginary audio tape."
READ: Omarosa just released another secret recording of President Trump
Late Monday, Trump claimed in a tweet that "Apprentice" creator Mark Burnett had called him to assure him there were no tapes. Trump then lashed out at his former aide, calling her "wacky and deranged Omarosa."
"I don't have that word in my vocabulary, and never have. She made it up," Trump said, referring to the alleged racial slur.
Trump tweeted another attack on Newman Tuesday, commending his Chief of Staff John Kelly for "firing that dog" in December 2017.
Newman has been on a whirlwind press tour in recent days ahead of the release of her book — "Unhinged: An Insider's Account of the Trump White House" — releasing recordings of her firing by Kelly inside the Situation Room, and a subsequent phone call with Trump about the firing.
When asked why she was recording these conversations, Newman told "This Morning" on CBS she did it "because the truth matters and if I didn't have this tape, you all would probably be wondering if, in fact, they did talk about it."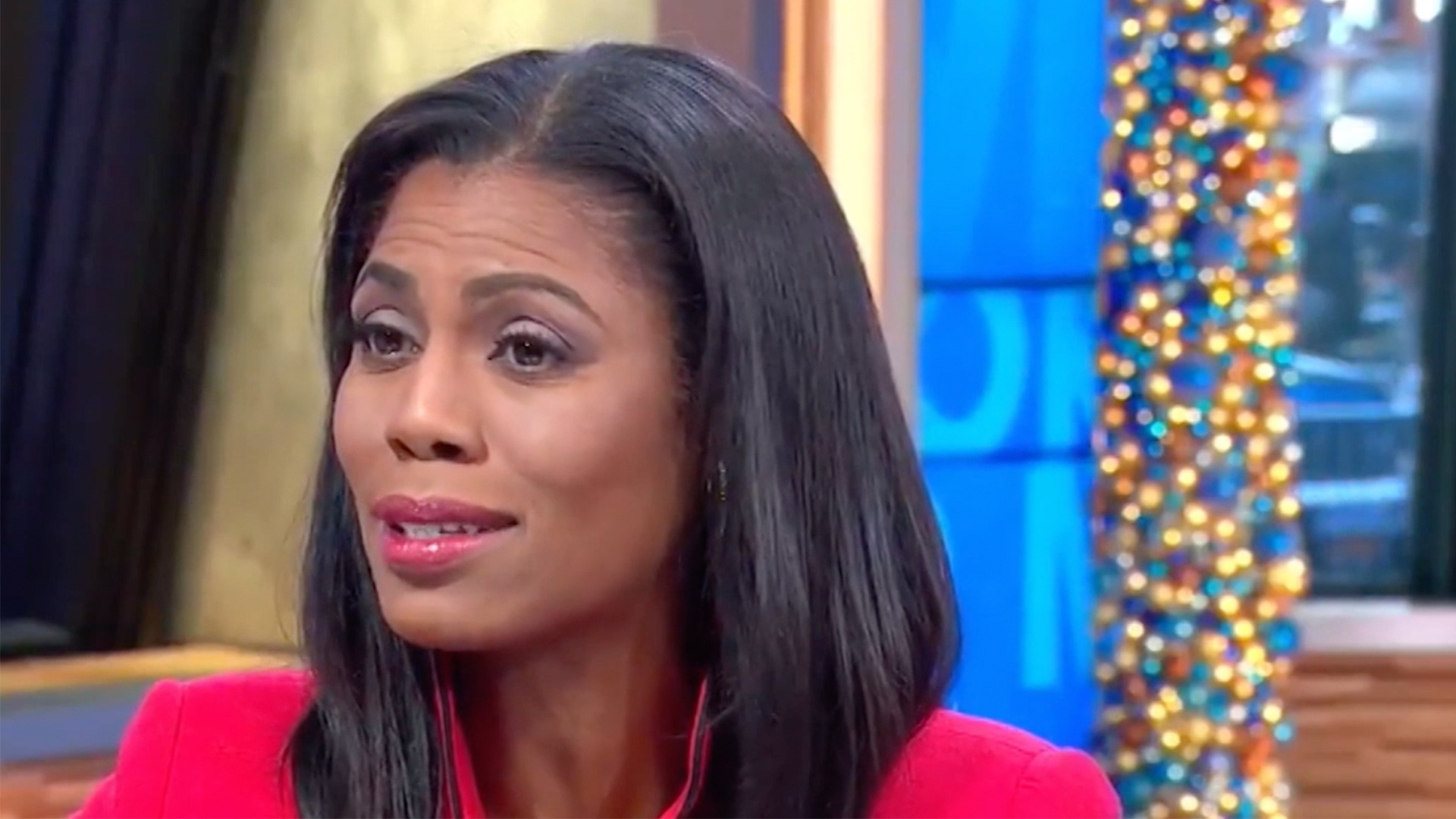 Cover image: Omarosa Manigault-Newman on Monday, August 13, 2018. (Zach Pagano/NBC/NBCU Photo Bank via Getty Images)