Updated 6:19 p.m.
At least 59 people are dead and 527 injured in the deadliest mass shooting in recent U.S. history.
Police identified Stephen Craig Paddock, 64, of Mesquite, Nevada, as the shooter.
Police believe Paddock killed himself after the shooting.
There's no known motive for the shooting. Authorities say that Paddock had no known links to terror groups.
President Donald Trump called the massacre an "act of pure evil" and ordered flags to be flown at half staff.
Authorities say it will take at least another 12 hours to remove bodies from the crime scene and collect evidence.
At least 59 people are dead and 527 injured after a gunman opened fire on an outdoor country music festival from his room on the 32nd floor of a Las Vegas Strip hotel Sunday night.
The massacre at the Route 91 Harvest Music Festival outside the Mandalay Bay Resort and Casino is likely the deadliest mass shooting in U.S. history.
Las Vegas authorities set up a hotline and a "family reunification center" in the police department building for people to find their loved ones. Before sunrise, people had begun queuing up at blood donation centers in Las Vegas. But despite the reported hours-long lines snaking around blood centers, authorities are concerned that their blood supply might dry up.
"I want to thank the president of the United States and other governors who have reached out to me," Gov. Brian Sandoval said at a news conference after 8.30 a.m. local time. "We need blood."
Authorities have a long day ahead of them; Las Vegas Metropolitan Police Department Chief Joseph Lombardo said at the same news conference that they expect it will take another 12-hours to comb through the crime scene and remove bodies from the streets.
What we know about the shooter
Police have identified the gunman as Stephen Craig Paddock, 64, of Mesquite, Nevada, and believe that he killed himself in his hotel room after spraying the music festival crowd below with bullets. A SWAT team, after using a controlled explosion to break into his hotel room, found Paddock dead. They also discovered at least 23 guns in his room, where'd been staying since Sept. 28, according to Lombardo.
"This is a crazed lunatic full of hate," Las Vegas Mayor Carolyn Goodman said at a news conference shortly before noon. "It is certainly not an extension of what we believe in."
Authorities say that Paddock acted alone in bringing weapons into the Mandalay. Hotel employees, such as cleaning staff, had been regularly entering his room since he checked in and did not report seeing "anything nefarious."
Law enforcement officials also described Paddock as a "lone wolf" with no known links to terror groups, and his motive remains unclear, Lombardo said. "I can't get into the mind of a psychopath," he said.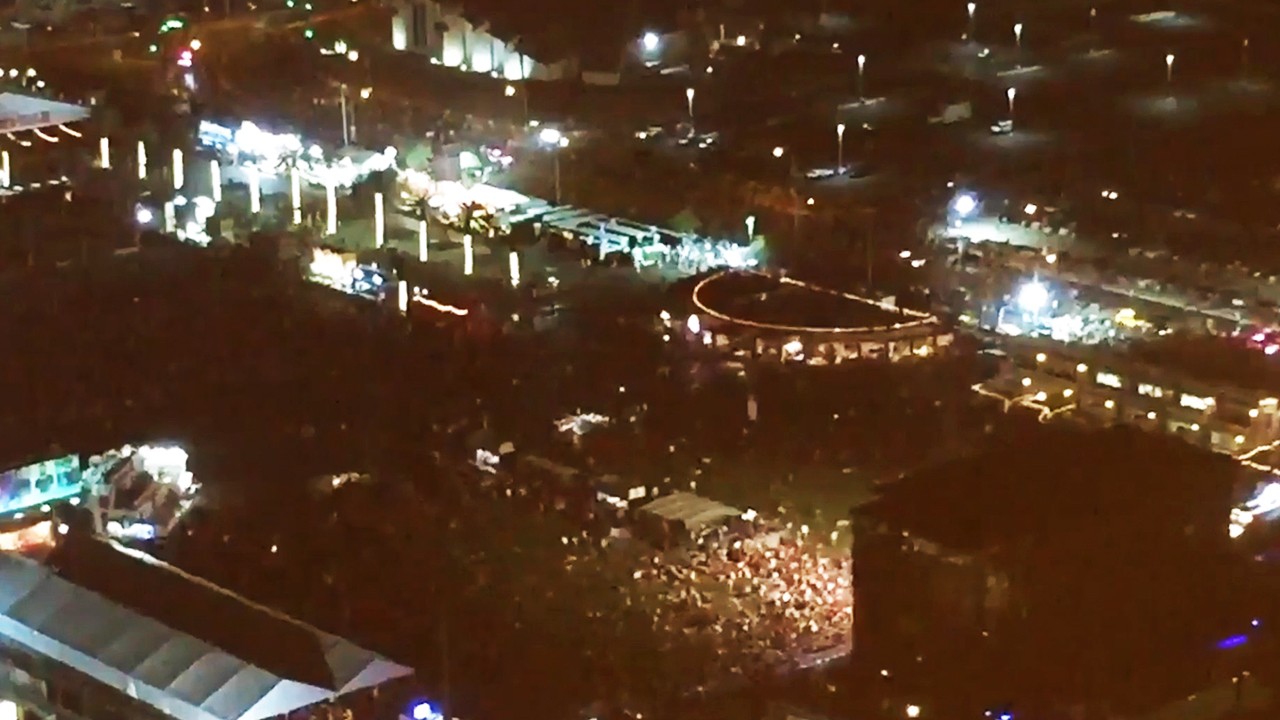 Marilou Danley, 62, reportedly Paddock's girlfriend, was initially named as a "second person of interest." Authorities said at a news conference that Danley was "out of the country" at the time of the shooting, and that she has been located, and will be subject to further questioning upon her return to the United States.
Homeland Security spokesperson David Lapan tweeted Monday morning that there was "no information to indicate a specific credible threat involving other public venues in the country."
Eric Paddock, the gunman's brother, lives in Orlando, Florida, and told local news station WOFL-Channel 35 that he was "completely dumbfounded" by the news. "We can't understand what happened," Paddock said, adding that he'd made a statement to to the police. He said the last time he'd spoken to his brother was after Hurricane Irma.
Mesquite police cleared Paddock's residence, located in a quiet cul-de-sac in a retirement community area, on Monday morning. Police spokesperson Quinn Averett told reporters it was a "nice clean home." "Nothing out of the ordinary," Averett said. "I believe there is some weapons found. And some ammunition."
Authorities confirmed Monday evening that they found 18 additional guns, thousands of rounds of ammunition and explosives in Paddock's home, plus ammonium nitrate in his car.
Averett said that Paddock had never had any run-ins with the Mesquite Police Department.
Lombardo said that the gunman opened fire from his hotel room on the 32nd floor while country music star Jason Aldean was performing.
"Tonight has been beyond horrific," Aldean said on Instagram. "It hurts my heart that this would happen to anyone who was just coming out to enjoy what should have been a fun night."
Footage posted on social media showed terrified concertgoers fleeing as a barrage of gunfire is heard in the background.
The University of Nevada Las Vegas opened up its arena, the Thomas & Mack Center, as a temporary shelter for survivors who were unable to return to their hotel rooms due to police activity.
Festival attendee Kodiak Yazzi told the Associated Press he heard what sounded like fireworks. The music stopped briefly, he said, and then started up again before another round of gunfire sent the performers ducking for cover and fleeing the stage. The bursts of gunfire lasted for more than five minutes, Yazzi added.
Another witness, Robyn Webb, told The Las Vegas Review-Journal the gunfire "just kept coming.""It was relentless," she said.
Jon Bessette told NBC News the gunfire sparked "pandemonium." "Everyone was running, people were getting trampled," he said.
A mile of the Las Vegas Boulevard was closed off by police. McCarran airport, across the road from the incident, temporarily canceled all arrivals and departures.
President Trump delivered remarks shortly after 10.30 a.m. eastern time, describing the massacre as "an act of pure evil." He praised law enforcement for their response. "They speed with which they acted is miraculous," Trump said.
He also said that he'd ordered flags to be flown at half staff, and planned to travel to Las Vegas on Wednesday
The Mandalay Bay hotel, where the incident occurred, posted a short statement calling the incident "tragic."
ISIS, without any evidence, claimed Monday's deadly shooting in a series of statements released through their Amaq News Agency. Senior U.S. officials, speaking to Reuters, said there was no evidence to back up ISIS's claim. In recent months, the terror group has falsely claimed responsibility for numerous incidents, most notably a botched robbery in the Philippines.
For authorities in Orlando, Florida, what unfolded in Las Vegas Sunday night was eerily reminiscent of the massacre at the Pulse Nightclub in June 2016. The death toll in Las Vegas makes it the deadliest mass shooting in recent American history, followed by the shooting at Pulse, which left 49 dead.
Orlando Mayor Buddy Dyer held a news conference Monday morning and said that residents of his city who might be struggling with trauma in the wake of the Las Vegas mass shooting should call a hotline, 407-500-HOPE. He also said that Orlando residents had been donating blood in solidarity with Las Vegas survivors, and that the city's blood centers stand ready to assist, should the Nevada city need them.