Not far from Charlottesville, Virginia, where white supremacists marched to defend a statue of Robert E. Lee and clashed violently with counterprotesters, stands a larger monument to the Confederate general: Washington and Lee University.
Much of student and academic life at this small, private school of about 2,100 in Lexington revolves around Lee, who fought to preserve slavery in the Civil War. Part of orientation takes place in Lee Chapel, where he is buried. The university president lives in Lee House, where Lee himself lived and died. Even the late-night campus car service is called Traveller, named for Lee's horse, who is also buried there (legend has it if you leave an apple on Traveller's grave before an exam, you'll ace it).
"It's impossible to walk on the campus and not one way or another feel a historical memory of Lee," said Conley Hurst, a history major who graduated in May.
For years this legacy went unexamined, several people with ties to the school say, as did the school's history of benefitting directly from slavery and more contemporary instances of racism on campus. Now, as Washington and Lee prepares to welcome a new class amid a national outcry over Confederate monuments and how to treat them, current students, administrators, and alumni are grappling with the school's namesake — some for the first time. There are no current plans to remove the school's Lee symbols or change the name, but many hope that post-Charlottesville, the school will be forced to further examine and reconcile its ties to Lee and to slavery.
All over the country, not just in the South, there are 11 cities named for Lee and more than 200 public monuments, including 54 public schools, 10 statues, and five parks, according to 2016 data from the Southern Poverty Law Center. Over the weekend, both Duke University and the University of Texas removed Robert E. Lee statues from their campuses, and in recent years other universities have renamed buildings originally named after promoters of slavery, including Calhoun College at Yale University and two halls at Georgetown named for former university presidents. Those pushing to remove statues and rename buildings stress the need to put history in context.
Yet even when debates about Confederate symbols have flared up over the past decade, they rarely seemed to land on campus at Washington and Lee, alumni said.
"Just five years ago none of this was percolating," said Hernandez Stroud, a graduate of Washington and Lee's law school and now a first-year law professor there. "How these relics of the past might be affecting students, none of that was talked about."
Some efforts are underway to investigate Washington and Lee's history with slavery. In 2007, a student made her undergraduate thesis the first-ever investigation of the slaves owned by the school, and an alumnus is currently independently researching the living descendants of those slaves. But while other schools can remove a statue or rename a building, Washington and Lee's connection to the Confederate general is much deeper.
"Campus is a living statue itself," Stroud said. "Because people are so tied in a positive way to Lee, students as well as alumni, it's a tough balancing act. You can't just say we're going to rip this up and start over, or can you? I don't know. Short of recasting itself as a completely different institution, I don't know how you deal with it."
"Short of recasting itself as a completely different institution, I don't know how you deal with it."
The university didn't always bear Lee's name, but like many other 19th century institutions, it owned and sold slaves. It was founded as Augusta Academy in 1749, when Virginia was still a colony. In 1796, George Washington made a $20,000 gift and it became Washington College. Then in 1826, a wealthy Virginia plantation owner named John Robinson left the school his estate, which included about 80 slaves. (Robinson is also buried on campus, near an obelisk memorial to him and a hall named after him.)
For years in the antebellum period, students sometimes brought their slaves to the university with them, and the school "leased" out some of its slaves to local plantations before selling them in 1836 for financial reasons. Then came the Civil War, which left the school ransacked and in disarray.
After the war, Lee was asked to come on as president and he served for five years until his death in 1870. The school was renamed Washington and Lee University immediately after.
"His presence is what saved the college," said Jonathan Horn, author of the Lee biography "The Man Who Would Not Be Washington." "It's difficult today to say, but I don't think the school would have existed if it weren't for Lee."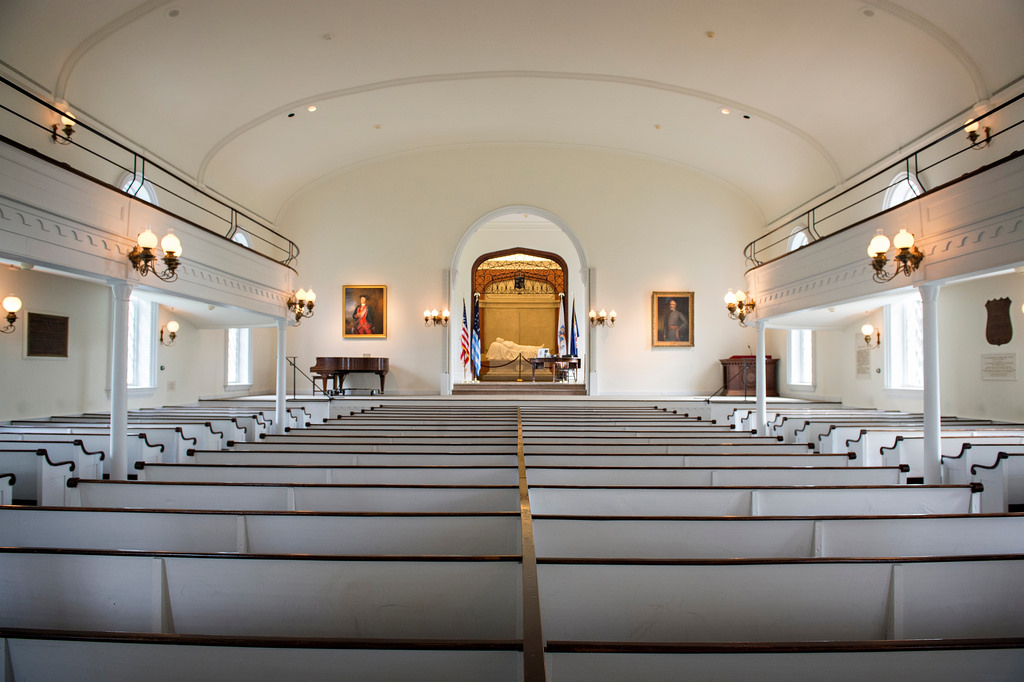 As a result, symbols of Lee on campus abound. His face is on the school's seal, his family motto "Non incautus futuri" (Not Unmindful of the Future) is now the school's motto, and, along with his portrait, an enormous white statue of Lee rests in Lee Chapel, where until recently Confederate flags also were on display. (The school's other namesake features, too: The main hall on campus is Washington Hall, and a portrait of the president is on display. But his legacy isn't as embedded in campus life because he never worked there.)
Context about Lee's role as a chief defender of slavery in the Civil War and as a cruel slave owner himself is missing from campus. His bio on the school's website doesn't mention slavery at all.
"Washington and Lee has a direct tie and they have a responsibility to be the first mover when it comes to addressing history and figure out ways to better contextualize it," Stroud said.
Context about Lee's role as a chief defender of slavery in the Civil War is missing from campus.
In 2014, a group of black law students sent the school's president a letter outlining their frustrations with the flags, the school's connection to slavery and the "racist and dishonorable conduct of Robert E. Lee."
"I was shocked," said Provost Marc Conner. "Very few of us even realized that there were replica battle flags in the Lee Chapel. We needed to know the impact those have on our students."
In response to the pressure, the administration removed the flags in 2014. It also made Martin Luther King Jr. Day a campus-wide holiday and created a working group to investigate the school's ties to slavery. In 2016 the school published its slave "inventory" lists from the archives with the names of the people the university owned and put a historical marker outside Robinson Hall.
While students and alumni applaud these efforts, many say there is much more work to be done. Even though the Confederate flags are gone from Lee Chapel, the name and the visible symbols that remain are a constant reminder of the school's roots — a reminder that can make its few black students question whether they belong on campus. Black students make up just 2 percent of the undergraduate student body, less than similarly sized University of Richmond and Davidson College. (Conner, who joined the school as a professor in the 1990s, said the administration is determined to make Washington and Lee a more diverse campus.)
One of these students, a rising senior who requested anonymity because he fears backlash from the community, said he's not sure exactly what the school can do to make black students feel more welcome.
"If it was me and Lee was still alive, he would want me to be a slave," the student said. "He fought for the enslavement of black people, so I don't see him in any respectful light. I don't hate him, but I don't care for him."
The student didn't visit the school before orientation and said he was blindsided by the lack of diversity on campus when he arrived. He now works hard with newly arrived black freshmen to make them feel like they belong.
This year, Adam Lewis, a 2010 graduate, began investigating the lineage of the Washington and Lee slaves. He knew his own ancestors were slaveholders in Mississippi around the same time and discovered that the school's slaves were sold to a plantation nearby. (Lewis sometimes writes for Tonic, a site owned by VICE Media.)
Using ship manifests, banking and land-deed documents, campus archives, and church records, Lewis is slowly piecing together a history of the slaves who lived and worked at Washington and Lee. So far he has identified a handful of their descendants, most of whom still live within a mile or two of where the plantation was located. All of his research is self-funded.
He recently traveled to the university to review some of its documents and meet with the working group to share some of his preliminary findings.
"I think what they are doing is not enough," Lewis said. "I say that only because I'm not a researcher, I'm not an expert on genealogy or antebellum slave trade. I stumbled into this. The fact that I was able to find things so quickly suggests the school has known about this history and hasn't acted on it."
Lewis hopes the school will allocate resources to find all the living descendants and open a dialogue with them about reconciliation.
The working group dedicated to the history of African-Americans at Washington and Lee will consider how to proceed this year, and the alumni, professors, administrators, and students I talked to all hoped the tragedy in Charlottesville would lead to more examination of who Lee really was.
"I don't think the university can turn a blind eye to what's going on in Charlottesville and think that somehow it's immune," Stroud said.
"Seeing how passionate white supremacists are about the image of him, what does it mean that I went to an institution that has his name in it?" said Emma Burris-Janssen, a 2007 graduate who first investigated the school's ties to slavery as a student. "He's part of the past, but does he need to be the future of the institution?"