On Thursday, Christine Blasey Ford appeared before the Senate Judiciary Committee to testify that Brett Kavanaugh sexually assaulted her when the two were teenagers. It was a truly monumental event—a hearing that could ultimately decide whether or not a man who's been accused by at least four women of sexual misconduct or violence could become the swing vote on the Supreme Court, effectively skewing public policy to the right for the rest of his life.
But according to Megyn Kelly, no one really cared, or something.
"Most Americans are not watching this. Right?" Kelly said during NBC's live coverage of the event. "Most Americans are at their jobs right now or taking care of their kids and they're going to see clips of it on the evening news… I think most people are going about their daily business."
Kelly was right about one thing: people were, in fact, going about their daily lives—but many were also finding time to watch the proceedings anyway. All across the country, people on their commutes, students in school, and even passengers on planes tuned in to one of the most pivotal moments of Trump's presidency so far.
They listened on the subway:
They watched live (and wept) mid-flight:
College students across the country tuned in during class: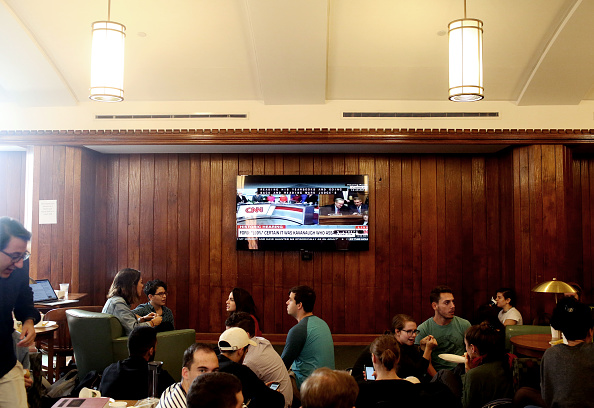 Chemo patients watched at the doctor's:
Americans watched at their jobs:
And multitasked while taking care of their kids:
Just a bunch of Americans around the country listening to their fellow citizen and paying attention to their political system. Nothing to see here, Megyn.
Sign up for our newsletter to get the best of VICE delivered to your inbox daily.
Follow Lauren Messman on Twitter.