Thousands of people took to the streets of Dublin on Saturday, to demand an end to the country's constitutional ban on abortion, one of the strictest of such laws in the Western world.
The March for Choice is an annual protest against the Eighth Amendment to the Irish Constitution, which gives a fetus the status of a citizen -- even in early pregnancy. But this year the event was held just days after Prime Minister Leo Varadkar announced it would hold a referendum in 2018 that could potentially change the law. Under the current legislation, women may not procure an abortion if pregnant due to rape, or if carrying a fetus that will not survive outside of the womb. If convicted of having an illegal termination in Ireland, women can face up to 14 years in prison.
Organized by the Abortion Rights Campaign, a grassroots, non-hierarchal, volunteer-run, campaign for choice in Ireland, Saturday's march drew an estimated 30,000 people according to an Irish Times report.
"It was both a long-term achievement and a short-term one too. We have been building year on year," Linda Kavanagh from the Abortion Rights Campaign told VICE Impact.
Formed in 2012 following both a misleading campaign ran by Youth Defence, a militant anti-choice group in Ireland, which claimed that 'abortions hurt women' and 'women regret abortion' and, a month later the death of Savita Halappanavar, a 31-year-old dentist, who at 17 weeks pregnant, died of septicaemia when doctors at University Hospital Galway refused to terminate her pregnancy while she was having a miscarriage, this year's March for Choice was the fifth Kavanagh has helped organised.
"We've done it [March for Choice] every year [since 2012] and I suppose we've learned every year. We start organizing in about May. People think it takes two weeks to organize, but this is a misconception, it takes months," Kavanagh explained, "We're all volunteers. We do this for five minutes at work or after work or during weekends."
---
Check out more videos from VICE: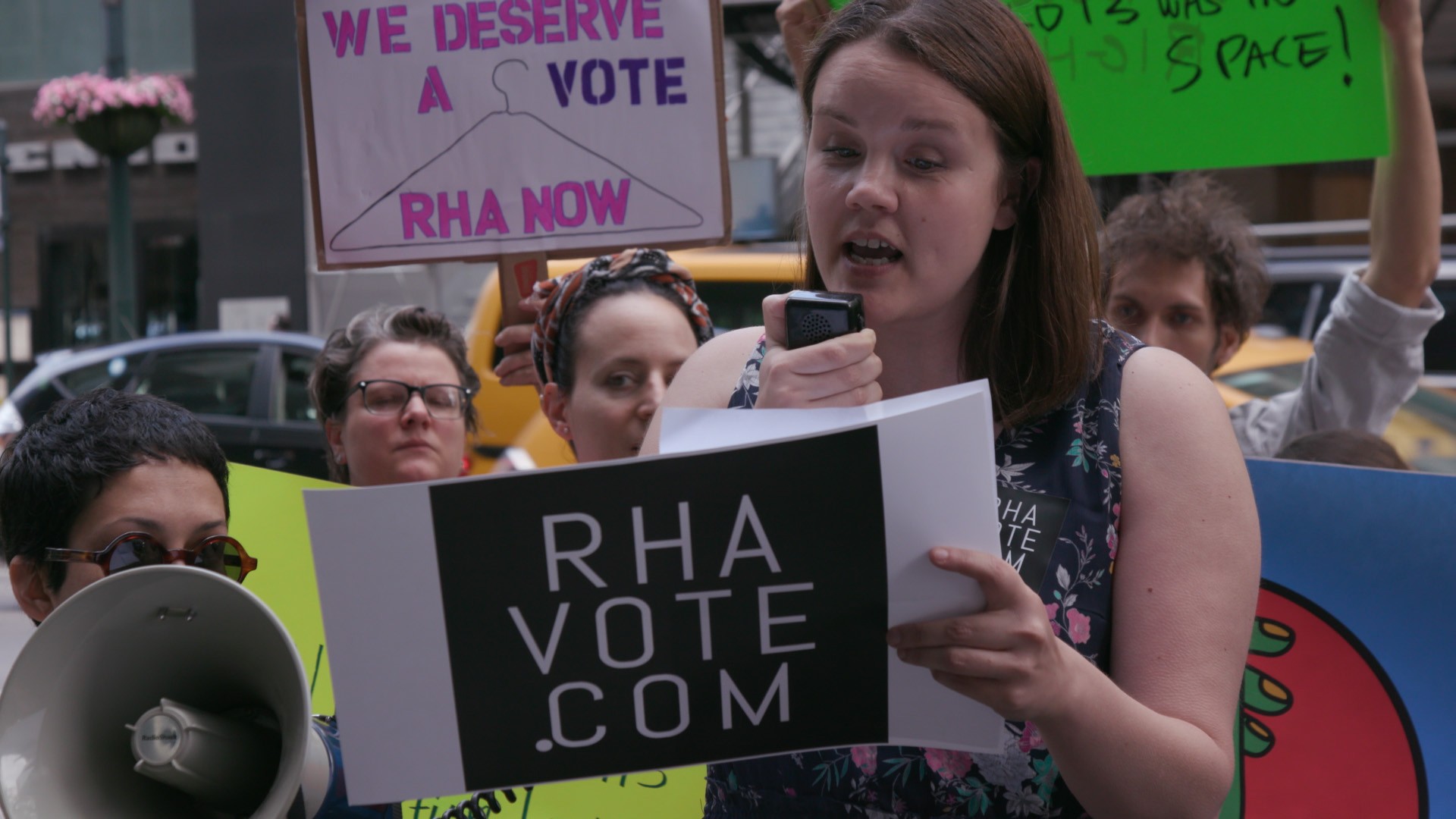 ---
The team first began to think about what they wanted to say, what would spur people onto the streets. This year, following the announcement of the referendum, the terms of which remain undetermined, the group decided on the slogan "time to act now." And this was only the start.
"We had really good graphics design team. It helped us be taken seriously. We looked very professional," Kavanagh laughed, excusing herself for tooting her own horn (she worked on the graphics team). But they also had a strong social media strategy. And weeks ahead of the march organised placards and poster making sessions with well-known artists.
"We make an effort every year to be inclusive and make sure we give a platform to people that wouldn't necessarily get one."
"The signs people came up with were brilliant. We harness humor in a way that they can't, so that really works out well for us," she added. In the weeks running up to the event, the group also ran a series of blog posts, to reassure people that might be wary or nervous about attending.
On the day, every detail was meticulously planned.
"We make an effort every year to be inclusive and make sure we give a platform to people that wouldn't necessarily get one, like migrant women, trans men and non-binary people, people living with a disability -- the voices that don't always get focused on in the media when we discuss abortions but that are disproportionately affected," Kavanagh explained.
This year, speakers included a sex worker and a trans man. Sign language interpreters were also on hand. So as not to dissuade people who might not be able to take part in the long walk, the group, this year, also decided to designate stops in the march, so families, for example, could join half-way through with their children.
The group also ran a powerful advertising campaign across public transports in Ireland. "It was poignant, to show people that public opinion is changing and that we are now at a point where we can advertise at a national level. Ultimately, we want women to stop travelling to the UK to get abortions, so it was also symbolic to have the campaign run in public transport," Kavanagh explained.
Each regional group, again to encourage participation, also made buses available to people across Ireland to help people attend, a testament to the group's grassroots and Ireland-wide approach. "It's all small things but they add up to something quite significant," Kavanagh stressed.
The fact it was a beautiful day helped too, Kavanagh laughs, her voice still broken from Saturday's chanting. "And obviously the referendum." And while the referendum is welcomed by the Abortion Rights Campaign, they are now doubling efforts, to make sure it is well-worded and gives women a lot of access, which can only be done by repealing the 8th amendment.
While tens of thousands were marching on Saturday from the Garden of Remembrance to Merrion Square in Dublin, thousands rallied across the UK in solidarity.
In London, outside the Irish Embassy, 205,704 chalk markings were etched on the pavement to make visible the total number of women who have and are being forced to leave Northern Ireland and Ireland for abortions since 1983 when Eighth Amendment was enacted, effectively banning abortion in Ireland in almost all circumstances.
"We never stop."
"We wanted to do something in solidarity with Dublin. We, specifically the Irish people living London. We wanted to be part of what was happening at home and support it," Jane Wells of the London-Irish Abortion Rights Campaign told VICE Impact. "We have an ability to speak here, which we don't have at home [Ireland] and we don't want to take that for granted."
The group did a lot of number crunches and found that 205,704 women since 1983 had accessed abortion services in the UK, registering an address in Ireland.
"These numbers are huge. 11 women every day. So we thought, 'What does that look like, 11 women every day? And those figures are just the numbers of the ones that have registered with Irish addresses. The real numbers, the real statistics are immeasurable, but that 205,704 is what we had, and we wanted to show that and make it visible," Wells explained. "All of these women have stories, it's not just a number. It's much bigger than that."
On the day, Wells alongside other activists carefully drew small chalk marks to make visible the number of women who had traveled to the UK to access abortion services.
READ MORE: How Activists Are Fighting to Save the Last Abortion Clinic in Kentucky
"It became a deeply meditative experience. With every chalk mark we made, we thought about that woman who had made that journey. We put an intention into every single marking," Wells explained.
At the end, the activists were told they had to wash the chalk marks away. The council had threatened to charge them cleaning fee, if not. "On one hand, we wanted to leave the marks there, for people to see it. But, the washing away of those numbers felt very symbolic. It was, again, the silencing of those stories," Wells said.
What next? "We never stop," she added.
Next week the London-Irish Abortion Rights Campaign is supporting SisterSupporter at an upcoming council meeting. The group is campaigning to create buffer zones around abortion clinics to protect women accessing services from anti-choice militants. On October 28, in Ireland, the Abortion Rights Campaign will be holding vigils across the country to remember Savita Halappanavar, who passed away 5 years ago. "It is to show the country that we have not moved on," Kavanagh explained. They will also be supporting a pro-choice rally in Belfast.
And for those abroad unable to attend protests, a lot can still be done, according to Kavanagh "Ireland responds particularly well to being shamed at an international level so keeping an eye on us actually spurs our government to do things."
To support the Abortion Rights Campaign, you can donate via their website. Funds help support regional groups, educational events and advocacy work in international forums such as the European Parliament and United Nations when Ireland's Human Rights record is under review. People in Ireland are encouraged to get involved in the campaign at their local level. If you're in London, you can help support the London-Irish Abortion Rights Campaign 's advocacy work.