Photo by Renzo Mendelewicz.
The Portuguese tend to love an impromptu history lesson almost as much as they love their food, so it makes sense that one of the country's best-loved dishes comes with one hell of a back story. The alheira da Mirandela sausage is credited with helping huge numbers of Jews in Northern Portugal evade capture during the Catholic Inquisition of the 1500s, and is still widely enjoyed today.
But how exactly did a sausage manage to hoodwink the Catholic Church? In 16th century Portugal, it was standard practice for locals to make smoked pork sausages using their wood-burning stoves, and the absence of the smell of pork was a dead giveaway that a home's inhabitants were Jewish.
In order to fool informers, Jewish communities seeking refuge from the Inquisition in the northeastern city of Mirandela invented a sausage-that-wasn't-a-sausage. Using smoked, shredded chicken mixed with bread crumbs, seasonings, lots of garlic (the word "alheira" comes from the Portuguese for garlic, alho), and red wine vinegar, they fashioned a foodstuff that looked like a pork sausage, but was in fact totally kosher.
The recipe for alheira da Mirandela caught on among the wider Portuguese community, and today it's one of the best-loved dishes in the country. So much so that when the people were invited to vote for their country's the seven culinary "wonders" in 2011, the sausage made it up there alongside grilled sardines and pasteis de nata.
The recipe has been through some changes since the 1500s and today's alheira da Mirandela isn't always pork-free.
"Alheira de Mirandela is a often referred as the 'Jewish sausage of Portugal," explains Professor Paolo Scheffler, who runs tours of Lisbon that focus on Jewish historical sites. "Today, alheira de Mirandela is often made with pork, wild game, and other meats. There are even vegetarian versions of aheira de Mirandela, and this is really a mislabeling, and should only be called 'alheira' because traditional Jewish alheira de Mirandela is made with only chicken meat."
Scheffler also tells me that the best place in Lisbon to sample traditional alheira de Mirandela is at a restaurant called Faca e Garfo, where, unusually, the sausage is made on the premises rather than being bought in from manufacturers in the North. As tradition dictates, the restaurant serves the sausage with chips and a fried egg, which Scheffler says "works well with the slightly smoky taste of the sausage." With a hankering to taste this historic sausage for myself, I call Faca e Garfo several times to try and arrange a meeting. When the calls go unanswered, I decide to pay them a visit in person. Maybe they're just a bit phone-phobic, I reason, as I set off for the centre of the Portuguese capital.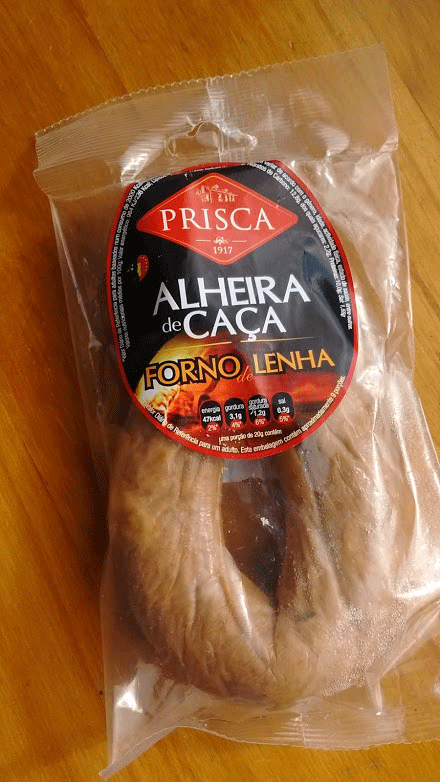 It may only be January but the sun is beating down hard and I find myself swearing at Google Maps as my poor navigational skills lead me up and down more of Lisbon's seven hills than is strictly necessary.
Eventually, I find the restaurant tucked away off a tourist-packed square in the posh Chiado neighborhood. I'm ready to talk sausage with the owners but when I reach the door, it's closed. Asign in the window reads, simply, "Férias." Holidays.
It's a cruel blow, but my spirit of sausage adventure isn't broken. Lucy Pepper, a British food writer and long-term Portugal-dweller whose own developing love affair with her adopted nation's cuisine led her to write the food memoir Como não Morrer de Fome em Portugal (literally, How Not to Starve in Portugal) assures me that alheira can be found in various incarnations on Lisbon's dining scene.
"There are three main versions of alheira available," she tells me. "The normal one, made with chicken, the alheira de caça, made with game, and the slightly odd recent invention, the alheira de bacalhau, which is delicious and dotted inside with olives. It's sometimes used as a substitute for sausage meat in, for example, a Scotch egg."
Indeed, an alheira-loving acquaintance has also told me about a tasty modern twist on alheira served at Pop Out the Can, a tiny bar sitting next to the tramlines between Lisbon's Cais Sodre and Bairro Alto neighbourhoods. The casual eatery that has become known for its addictive almôndegas de alheira, a type of meatball made from the alheira sausage.
I set off up the steep cobbled slopes again in search of the bar. My friend advised me to "look out for the red legs" and, sure enough, a pair of pillar box-red pins sticking out of a small barred window tells me that I have reached Pop Out the Can. I head inside and find owner Raquel Mota Rodrigues, who shows me into the kitchen, where chef Sandra dos Santos sets to work whipping up a fresh batch of breaded alheira balls, served as a petisco, or bar snack.
"I'd never tried alheira like this before I came to work here, but it's really good," dos Santos tells me. "Once you try it, you won't want to stop eating them. It's not hard to make these at home, but it's important to use a good quality alheira. The one we use here is made in Mirandela, and made from game meat such as boar and pheasant."
I watch as the alheiras are slit open and their almost pâté-like innards are speedily rolled up into balls, dipped in eggs and breadcrumbs, and put into the oven. Fifteen minutes later, and I'm presented with a plateful of crispy, crunchy sausage balls served with a forest fruits coulis and large glass of crisp white wine.
It all tastes pleasingly Portuguese, even if the alheira itself is a long way from its Inquisition-evading origins.