Canada's far-right ecosystem is starting to form some unexpected partnerships.
Case in point, what happened this weekend: a new and relatively unknown Asian community group calling itself the Chinese Canadian Alliance teamed up with far-right, anti-immigration groups who frequently target Muslims to protest Justin Trudeau in the hundreds in Ottawa.
The gathering was a reaction to what's become known as the "hijabi hoax" in far-right circles. In early January an 11-year-old girl stated that an Asian man attempted to cut off her hijab and the story received widespread coverage and condemnation from political leaders of all stripes, including the prime minister. However, several days after the story, the Toronto Police Service said the attack "did not happen," a revelation that led to much gloating from your usual far-right suspects.
One complaint among these groups was that the prime minister believed the Muslim girl and was willing to "condemn Canadians." The Chinese Canadian Alliance took ire with the fact that Trudeau readily believed that an Asian man carried out the fake attack, and the rally in Ottawa was to demand an apology from Trudeau. The group was flanked by far-right nationalist groups like La Meute, Storm Alliance, the Northern Guard, and smatterings of Proud Boys acting as security. In Calgary, where a similar rally was held, a contingent of the World Coalition Against Islam was present with their founder giving a speech.
Now, to be clear, not all in attendance can be classified as anti-Islamic or far-right, however, there was a significant presence of far-right members in attendance. Ryan Scrivens, an expert on the far-right in Canada, told VICE that the allyship between these groups is exceedingly odd.
"I've never really seen these types of connections or links with the far-right to non-white groups in all the years of doing this research and looking back 50 to 60 years in the movement," Scrivens told VICE. "So this is something else, that's for sure."
"This is something that's very, very weird."
The reason for this alliance is a simple one—as they say, the enemy of my enemy is my friend. While many of the signs called for "equality for all," and the event was hinged on an anti-Trudeau sentiment, there was an undercurrent of anti-Islam sentiment. A spokesperson for La Meute—a group formed almost solely on opposition to Islam—spoke at the Ottawa rally.
Scrivens told VICE that the far-right's willingness to connect themselves to other movements and messages works to clean up their image and further their own message. "The bottom line is that they're trying to sanitize their look and their message but I also think they're trying to make people think twice about Muslims coming into Canada and I think that's the big push, that's what they think their goal is," Scrivens told VICE.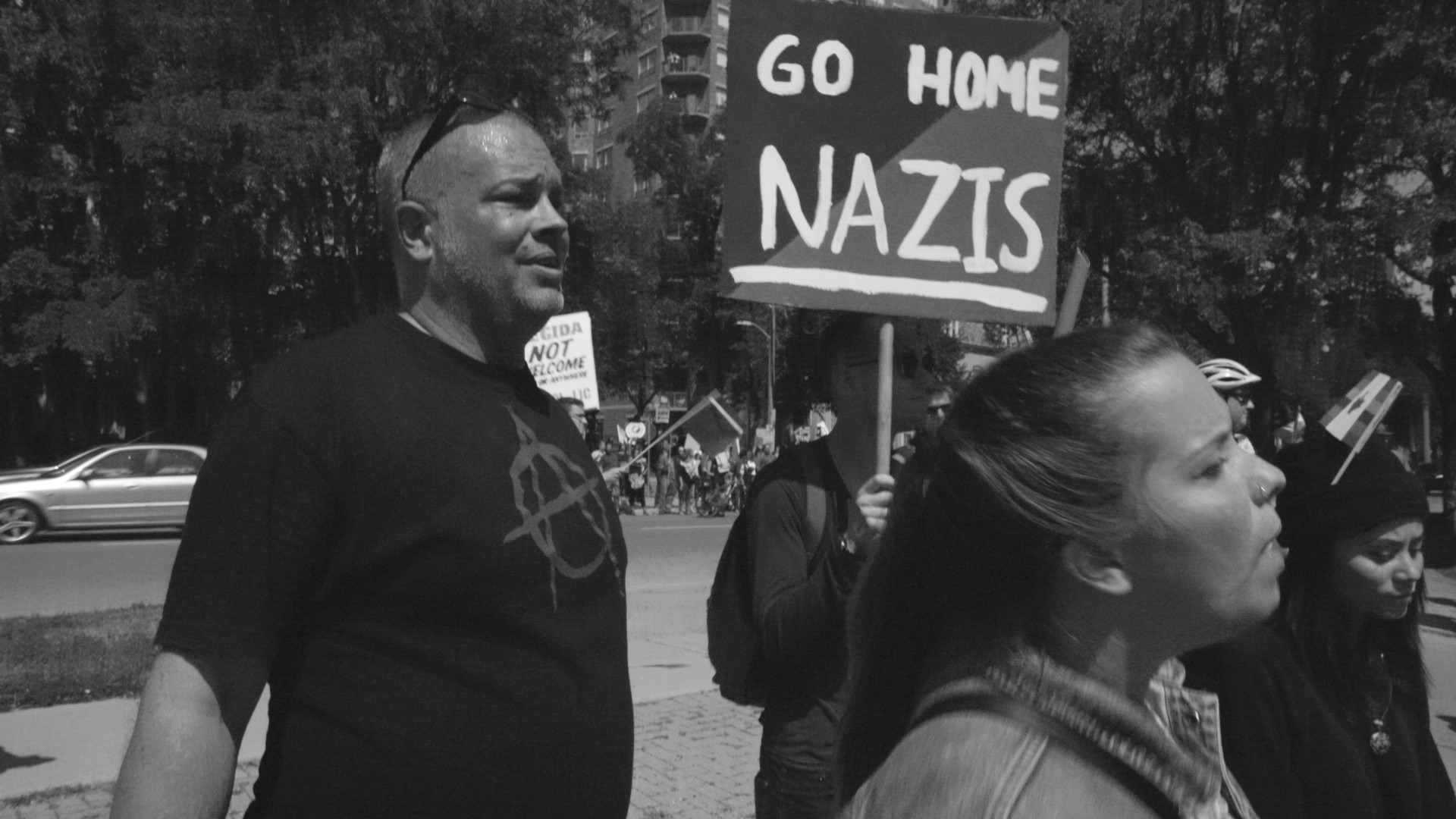 There isn't much known about the Canadian Chinese Alliance at this time other than the fact that they sprung up recently in response to the "hijab hoax"—the Alliance did not respond to VICE's request for comment but this story will be updated if they do so. The group outlines three goals on there website: "1. Reinvestigate Hijab Hoax, release more details and report the truth to Canadian, 2. Prime Minister must apologize for his irresponsible comments, 3. All ethnic groups are entitled to equal respect."
The group's website was started earlier this month and, other than a similar rally in the end of January, their online footprint is limited prior to 2018. However, in their speeches, chants, and social media presence, their chumminess with far-right groups and figures is evident. There is video of the group chanting that Rebel Media—the far-right outlet who have built a brand on anti-Islam sentiment and once fed a truther movement about the Quebec mosque shooting—was "real news" and all others are fake at the rally.
In a speech at the Ottawa event, an unidentified leader of the group called Trudeau an "it" for his "peoplekind" comment. While the reasoning behind the rally was the "hijab hoax," some taped speeches which are now on YouTube featured statements against Muslim immigration and calls of "no more refugees" came from the crowd.
In a statement on the website Vote for Right, the Chinese Canadian Alliance slammed the Ottawa Citizen for deeming their rally as anti-immigration before thanking the far-right, anti-Muslim group La Meute for coming all the way. On Facebook, Sylvain Brouillette, and influential member of La Meute said the Asian Canadian group has the "same concerns and concerns" as Le Meute.
"The Pack has created a strong alliance with the Chinese community and we believe that it will open the door to alliances with other communities in the near future," reads a translated copy of Brouillette's post. La Meute also slammed the media, but it must be noted that these type of complaints have been an important part of far-right strategy since time immemorial.
According to the Ottawa Citizen, the rally was counter-protested by around 100 anti-racist and anti-fascist activists and at the end of the day, six arrests happened—nothing out of the ordinary for heated rallies like this. However, while the event overall was relatively normal it shows yet another evolution of Canada's burgeoning far-right.
"The movement has been evolving so fast in the last couple years," said Scrivens. "At the same time, I'm not surprised. I really think they're getting desperate in a lot of ways so they're willing to mingle or co-mingle with these non-white groups."
"I think it shows how desperate they are to get their message out there."
Follow Mack Lamoureux on Twitter