Photo courtesy of M.P.R. Worawoot
When you hear talk of a new Thai fighter with killer kicks, it's always good to think of an old one. A big number from the past, a superstar from yesterday, a slick vet from the days of black and white fights.
One monochrome thug is Pud Pad Noy Worawoot, a left round kicker so vicious that Benny "The Jet" Urquidez once ducked a Muay Thai straightener after seeing his "Golden Leg" at work in the gym.
Who can blame the Jet? But long before he was putting the frighteners on badass American kickboxers, Pud Pad Noy began his fight career aged 14 in Khon Kaen, a city in Issan province. After sixty regional bouts in Issan, and ten big victories in a row, the eight-limbed whippersnapper headed for Bangkok in 1969 to fight in the big time show as a flyweight.
Living in a cramped dormitory next to a spit and sawdust gym that doesn't exist anymore (not far from Khao San Road's backpacker district), Pud Pad Noy was just another kid fighter from Issan existing hand-to-mouth in the Big Mango. However, he knuckled down and soon became known on the circuit as a gutsy, come forward, technical southpaw who would have a go with just about anyone.
One early victim on the upward path was Rojsaming Loogprakanong. Displaying nifty evasion skills, Pud Pad Noy shook off Rojsaming's attempts to tie him up in the clinch and cut through his guard with depleted uranium kicks and knees. Not a one trick pony, followed through with his hands and TKO'd Rojasaming in Round 2 with a tight left hook and uppercut combo to win the match.
Promoted by Kunkhao Sapkaw, within two years the wee lad with the power kicks had become a top draw flyweight at Rajadamnern and Lumpinee Stadium. Out of 19 bouts during those first two salad years in the big city, he won 17 times and lost twice (to Kwanmuang Jitprasert).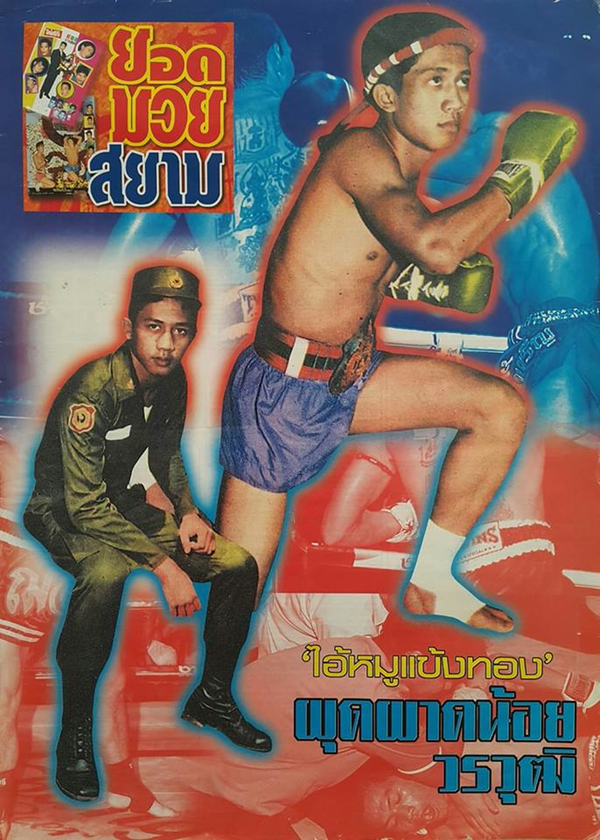 Action. Gore. And ring smarts, too. During the early 1970s, our man was the southpaw king and his powerful left round kick was the leveller. One opponent who felt its full force gale was Noknoi in July 1971. But glory sometimes has its blips. The year ended badly with Pud Pad Noy getting dramatically knocked out by Wichanoi with a one-two combo at close quarter in a 125-pounder at Lumpinee Stadium in December 1971.
Bouncing back from defeat, and slimming down to 122 pounds, Pud Pad Noy met fellow lefty Fahsai for a memorable scuffle down at Lumpinee in June 1972. Boxing with perpetual motion, he unloaded the uppercuts on Fahsai and let go with the round knees to win on the cards.
Highly competitive and flexible, Pud Pad Noy went on to become a multi weight Lumpinee champ, beating flyweight king Kiatpathum Panpangnova by TKO in a four round alley fight. Relinquishing the title, he bulked up to featherweight to outscore title-holder Suksawadee Sritevet and coasted to victory on the cards against Chaiyuth Sittiboonlert in a junior lightweight championship.
But, throughout his fighting career, Pud Pad Noy was a hard pug to match, and he often had to fight much heavier foes. He didn't always knock them out but he often made them look wanting. One such was the 138-pound southpaw fighter Sorrasak in April 1973. Rocked by the hands of Sorrasak, Pud Pad Noy demonstrated his versatility and shook up his opponent with cannonball round kicks left and right. And the repertoire was never limited. In Round 3 he delivered a big payload to Sorrasak's guts via a barrage of knees, and nullified some big punches in Round 5 with a canny long hand defense to win the bout by unanimous decision.
Another tough SOB for Pud Pad Noy was Yodsing at Lumpinee Stadium in July 1973. Pud Pad Noy came into the bout at 132 pounds, Yodsing the knee doctor was 141 pounds, which made the fight all the more lip smacking for the fans and punters in attendance at ringside. Notwithstanding, Pud Pad Noy put his best kick forward and went to town on the big fella with body shots galore. But despite kicking the crap out of Yodsing, and dumping him on the canvas, Pud Pad Noy lost with honor on the cards.
Luckily, and more often than not, the kid-killer with "the Golden leg" from Khon Kaen prevailed and emerged victorious in these match ups with bigger blokes. During a bout against Huasai Sittiboonlert in 1974, Pud Pad Noy was overwhelmed by cluster limbs and given the eight-count twice in the same round. It looked like game over but Pud Pad Noy turned the fight with an elbow to Huasai's chin and knocked him spark out. The performance won the crowd and it cemented his place in popular consciousness.
At the height of his powers, and superstar status, Pud Pad Noy bumped up to 144 pounds to meet Apidej Sit-Huron at Lumpinee Stadium in October 1975. Apidej was 34-years-old. Pud Pad Noy was 24. Despite the ten-year age gap, it was still a considerable challenge. Old soi dog or not, Apidej was known for being the hardest kicker in Muay Thai. On the night, it was a different matter. Southpaw Pud Pad Noy may have been the smaller fighter but he had a habit of making orthodox boxers, like Apidej, look like joeys in the ring.
After testing the waters in Round 1 and 2, the bout cranked to mayhem in Round 3. Pud Pad Noy put his lower center of gravity to good use with a suplex in the clinch on Apidej, and let rip on the veteran fighter with some hefty round kicks in Round 4. Not one to exit without incident, the old soi dog went thermonuclear in Round 5. Alas, it was too little, too late and the younger man from Issan won the bout by majority decision. It was the end of an era. Apidej, one of the hardest round kickers in the history of Muay Thai boxing, retired from competition soon after.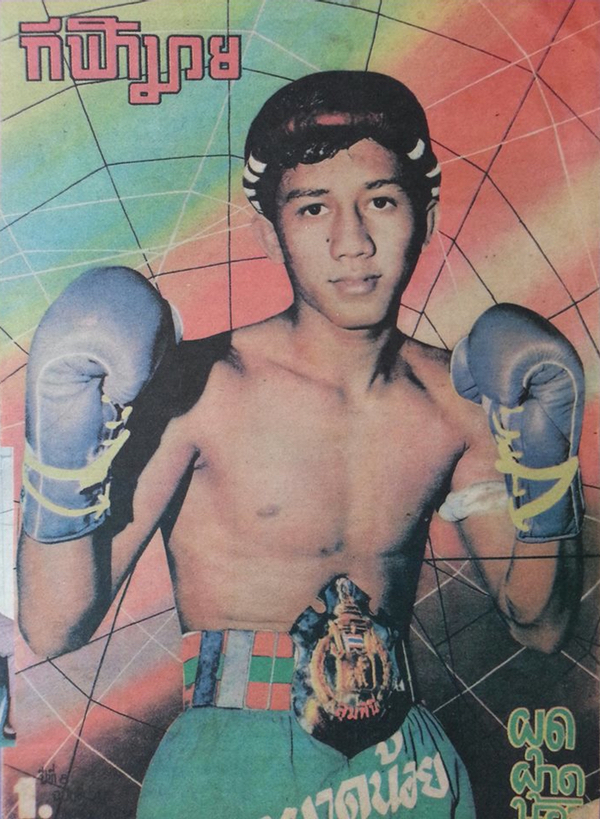 A good fighter must have a deadly weapon, something that can be deployed to turn a fight around. Pud Pad Noy had the high left round kick. And every fighter has to have a secret weapon. Pud Pad Noy had the elbow. But, when an opponent's got the book on you, it's best to extend your repertoire. Or show it off. One such instance was Pud Pad Noy's bout with Sirimongkol in December 1975. Once again, Pud was coming in light (133 pounds) against Sirimongkol (136 pounds), a dangerous and unpredictable southpaw. Boxing behind a cheeky, unstoppable teep, Pud Pad Noy flummoxed Sirimongkol in Round 1 and came off tops in the Round 3 exchange of round kicks to carry the fight by decision.
After seven years at the top of the food chain, the five-time champ went off the rails on booze, and beaucoup ladies, and his boxing went south. The watershed moment was a 1976 bout against Wangwon Lookmatulee. Flat-footed and out of shape, our man lost on the cards and announced his retirement thereafter. It shocked fans. It shocked his loyal promoter and manager. But, after so many years at the very tip-top, Pud Pad Noy got the seven year itch, and left Thailand to go and study in the USA.
It's good to have options when you're a boxer on the slide. But, as Yodsanklai Fairtex might soon discover, retirement in Muay Thai can be a short-term deal. Pud Pad Noy was still a big crowd draw. Pud Pad Noy returned to the front but it went Rocky in reverse and he accrued more losses than wins on the comeback trail. Like Apidej, his time had passed, and, once again, Pud Pad Noy announced his retirement after 135 wins and 15 losses in 150 bouts.
There was a new calling for the ex-champ: coaching farangs (foreigners) in France, the original land of the farang. Pud Pad Noy settled in Paris in 1980 and coached the locals Muay Thai for three decades. Not Thai boxing, not kickboxing, but good old Muay Thai with fish oil and lots of chilli powder. Guillaume Kerner. Olivier Gauthier. Jean-Marie Merchet. Franck Marre. Daniel Woirin. The Henry Ford fight factory of nak muay farang (foreign boxers) was most impressive.
After 23 years in France, Pud Pad Noy relocated back home to Thailand. He still coaches and multi-tasks as a referee and judge in contests. And sometimes he gets lured out of retirement to fight blokes from the past. One old soi dog was his bogeyman opponent from the 1970s, Wichanoi, whom he met for a pot bellied dust-up at Omnoi Stadium in February 2012. The sixty-plus fighter still had the moves to bust on Wichanoi (who resembled a street food vendor from Sukhumvit Road) but the contest, refereed by Poot Lorlek, was declared a diplomatic draw. Props to the boys. But old or young, in fuzzy black and white, or glaring color, nothing beats watching a slick pro at work in the squared ropes of a fighting ring.