Jason Jessee via Instagram
Skateboarding loves weirdos and a good comeback story, and in April Jason Jessee exemplified both.
Jessee initially gained notoriety in the 1980s for his powerful style while skating vert, something of a rarity at the time. He garnered sponsorships with Santa Cruz and Speed Wheels, both of whom highlighted his personality as well as his skateboarding. The raw talent exhibited at the peak of his career was such that, in 2012, Transworld skateboarding called him, "Simply one of the baddest individuals ever to ride a skateboard," when naming him 24th on its 30 Most Influential Skaters of All Time list. But in the 1990s, as the skating landscape changed, Jessee started to veer away from the spotlight while remaining a cult hero of sorts. Known as much for his oddball personality and affinity for motorcycle culture as for his skateboarding, his antics were captured in Pray for Me, a 2007 documentary about his life.
Over the last few years he has returned to skateboarding in a bigger way. Last fall the clothing company Brixton created a capsule collection devoted to him called the Jason Jessee Collection, and he has recently been sponsored by or collaborated with (in addition to Brixton and Santa Cruz) OJ Wheels, Independent, Grant's Pomade, Madson Sunglasses, Stance Socks, and Converse. He is featured on the May cover of Thrasher magazine, and in April his first major video part in a decade came in Converse's Purple.
But just two days after the video premiered online, Jessee's past came under intense scrutiny thanks to a post on the Slap message boards entitled, "Jason Jessee is a Nazi and Santa Cruz loves him." Among the allegations and supporting evidence laid out were multiple instances of swastikas in Jessee's clothing and art projects; an anecdote involving a 1987 vert contest, a racial slur, and a fight; a relationship with an alleged neo-nazi band called The Highway Murderers; and some troubling interviews in both skateboard and biker culture publications in which he used racial and homophobic epithets. In a 1995 interview with Iron Horse magazine, for example, he responded to a question about his age with a rant, saying, among other things, "my mom fucked a n*gger and me and my sisters found out about it—and I'm older than the n*gger!" And, when asked where he lives, replied Santa Cruz, "There's a lot of militant lesbians here and raw faggots."
Jason Jessee initially took to Instagram to apologize on May 15, asserting that "what I said in the past does not define who I am today," and that he is "truly and sincerely sorry if I offended anyone." A handwritten letter accompanies his apology. Many in the skateboarding community seemed eager to move on, and his post received supportive messages from prominent figures like Atiba Jefferson, Rob "Sluggo" Boyce, Mike Anderson, and Daryl Angel. Others, however, felt the apology rung hollow. Cooper Winterson, a skateboarder and filmer local to the New York City area, pointed out that it felt more like "a first step" toward potential redemption.
"It takes a lot more than an apology to come back from that level of prejudice, hatred, and bigotry," Winterson told me. "You have to really denounce those beliefs outright, and prove it in action, which is not necessarily a quick and easy thing to do… and the people around him shouldn't just say, 'OK, cool, that's that, all good.' They should hold him to it, to say and do more to show that he denounces white supremacy, nazi ideology, homophobia, and other prejudices."
Reached via email, Jessee didn't attempt to defend his past behavior, admitting it was "ugly and unacceptable" and intended for shock value. "I understand why people are still upset about my words," he wrote. "I deeply apologize to the people who I have offended. I want everyone to know that I've evolved and will keep evolving and learning from life's lessons. I have zero hatred or negativity in my heart for anybody or anything. I hope my actions today speak louder than words. I'm here to uplift people and be real.
"If I could sit down over a cup of coffee and speak to each and every person that I hurt or offended," he continued, "I would do so in a heartbeat. But realistically there's no way to explain away the lame things I said that have bummed so many people out… I, regretfully, will live with that burden the rest of my life. However, I'm moving forward with nothing but love and compassion for this planet and everyone that's on it.
"My apology is sincere," he wrote, "and delivered from the bottom of my heart and was meant for anyone that may have been offended or hurt by what I said or did in the past."
Beyond offensive words, one infamous story that has long been circulating in skateboarding's rumor mill is about a fight that erupted after Jessee allegedly called Ned "Peanut" Brown, an African American skater, the n-word at a skate contest in 1986. Jessee told the OC Weekly in 2006 that the altercation was over Brown being upset that Jessee had been talking to his girlfriend. "I actually talked shit to him, on the top of the ramp. And the next thing I know, I'm on the bottom of the ramp. He socked me in the mouth."
When asked for his account of the incident for this article, Jessee wrote "We squashed that 32 years ago."
Photographer Dave Swift talked about the fight between the two in a 2003 Transworld Skateboarding piece about Jessee's contributions to skateboarding over the previous 20 years.
"On the eve of the 1987 Vision/NSA Holiday Havoc amateur finals, Jason was disqualified for instigating a fight with East Coast skater Peanut Brown," Swift wrote. "It was obvious that Jason would've easily won the contest, but he didn't care, thus beginning his professional skateboarding career."
"By the way," Swift added, "Jason lost the fight."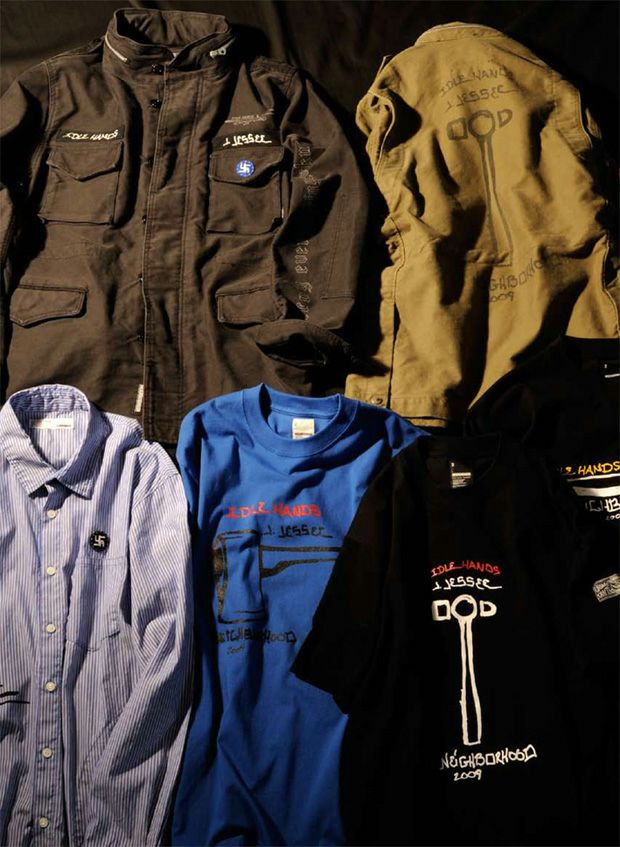 Jessee was seen sporting swastikas and white power stickers on his helmet as early as the late 1980s, and over the years has continued to use the swastika in various projects. It appears on hand-stitched jackets Jessee donated to a skateboard museum, in clothing lines from 2009 (pictured above), in his artwork, and on chopper gloves worn in Pray for Me, as well as in images of Jessee posing with his motorcycle that he dates from 2004–2006.
When asked about his use of swastikas, Jessee replied, "In my past, I used hateful symbols, speech and culture to get a reaction out of people […] The hateful symbols I have used in the past do not represent who I am and what I believe in. I do not support white supremacy or white power that may be affiliated to any type of club or association that supports those views. I have no plans to ever use any of that negative symbolism again. Period."
Jessee's relationship with the Highway Murderers, a punk band from Santa Cruz described by critics as "violent, misogynistic, and racist," has also come under scrutiny. Throughout Pray for Me Jessee sports the band's logo on his jackets and in his artwork. One member of the band, Cody Joe Rice, makes no attempt at hiding his beliefs, posing with a Celtic cross tattoo on his hand and taking to Instagram to brag about axes and guitar cases adorned with swastikas. Around the time the documentary hit theaters, Jessee was featured in the music video for their song "Let's Get Murdered." According to Jessee, he's known guitarist Mobby since he was 16, but told VICE he was in the dark regarding the band's beliefs.
"I didn't know about their extreme imagery, nor do I support images that can be hurtful or incite damage or hate to others," he claimed.
Jessee pinned much of his former behavior—"mistakes that haunt me until this day"—on drug addiction, a plague he says he shook at the beginning of the decade.
"On New Year's Eve, in 2010, I was standing in my driveway and I made the decision of changing my life around," he wrote. "I was tired of trying to die and decided to start living."
Asked if he had ever experienced this sort of backlash in his career before, Jessee said no, but that "I believe we should be held accountable for every action and I'm comfortable with that."
Bob Denike, the president and CEO of NHS (parent company of Santa Cruz Skateboards, Independent Trucks, and OJ Wheels, among others), addressed Jessee's behavior and announced the company is indefinitely suspending its relationship with Jessee in a statement to VICE.
Santa Cruz Skateboards and everyone at NHS clearly and emphatically denounce racism, anti-Semitism, homophobia, white supremacy, and Nazi sympathizers. Anyone suggesting that our company supports or promotes these offensive beliefs is simply wrong.
For decades we have worked to build and run a diverse company that creates opportunity for people and gives second chances. Our employees and team riders are a demonstration of our commitment to diversity and opportunity. If a person shows a willingness to change, we try to help.
A bit of history: Jason was one of NHS' top pro skaters in the 1980's. We split ways with Jason in the 1990's. During that period he began abusing drugs and this continued through 2008.
Jason came back to NHS when by early 2010 he was committed to his sobriety. He was healthy, sound in mind, body and spirit. He had changed. We decided to give him a second chance.
However, when NHS recently learned of the Iron Horse Magazine interview in 1994, we immediately called him in and confronted the issue. Jason accepted responsibility and has since issued a public apology. Further, Jason acknowledged he needed to continue to publicly denounce his past statements.
Nonetheless, NHS has decided to indefinitely suspend Jason Jessee.
Similarly, a Converse spokesperson told VICE that, as a result of his remarks, Jessee has been indefinitely suspended from the team.
"Converse and the Cons Skate team have zero tolerance for words or actions of hate towards any human being. Not today, not ever. As a brand, a team and a company, we believe in creating a world that embraces diverse communities, cultures, people of color and genders with kindness, genuine respect, openness and inclusion.
"We have indefinitely suspended Jason from the Converse CONs team. We are also working to better understand Jason's past and the work he can do to show respect, compassion and acceptance for all people, and use his voice to spread a message of openness throughout the Skate community."
Tony Davis, co-founder of Madson sunglasses, wrote to VICE that "Without speculating on the details, we clearly don't support behavior of hatred or intolerance. That is not the Jason we've come to know. We stand for unifying people which takes love, and the power of forgiveness."
*In an email, Brixton co-founder David Stoddard said, "This issue has recently been brought to our attention. Brixton is strongly against and in no way condones the views and attitudes expressed by Jason. He has been placed on suspension with Brixton pending a formal review of the situation."
Stance socks has also suspended its relationship with Jessee. A spokesperson wrote, "The world can now shine a light on our darkest moments, and this was darker than we could have ever imagined based on the Jason we know. He has been indefinitely suspended by the brand. We are grateful he has acknowledged the pain his actions have caused and hope that he continues to evolve."
The founder of Grant's Pomade, Grant Fukuda, wrote VICE, "I just learned the news and am at a loss for words. While this is not the Jason I have known as I have never seen hate and bigotry from him, and I have been trying to reach him to talk, I am suspending relationship while I sort through the information. I am a person of color and I do not condone racism, intolerance and hate. I am, however, hopeful in change and in our skateboarding community that we can move in a positive direction from here."
While the Slap message board and Jessee's Instagram page are filled with comments from young skaters who don't find his apology sufficient, Ryan Lay is one of the few pro skateboarders who has publicly spoken out about Jessee. On Instagram, he posted a story saying that, "Jason is not a victim. This is not a political correctness issue. Dropping the n-word (in print) as an adult and wearing/making/selling clothes with swastikas on them into your 30's is fucking wack (and that's just what's documented). I can't fucking believe that even needs to be said."
Lay goes on to say he "truly believes in rehabilitation and forgiveness," but that he needs to first see serious "work put in."
Going forward, Jessee told VICE he intends to spread a "positive and inclusive message," though he was vague on specifics.
"I cherish the lessons I've learned through my life, and especially through this experience," he wrote. "I've learned the power of words, the power of your voice is strong. I know now how to use my voice to spread a positive and inclusive message, and it's something I am committed to doing."
In 2018, we're seeing more women, members of the LGBTQ community, and people of color skateboarding than ever before. Until the industry starts to reflect and respect this diversity, we're guaranteed to see more allegations of racism, sexism, and homophobia coming out of the woodwork. Addressing one instance of discriminatory behavior is an important start, but it won't fix underlying issues. As Lay put it, "20+ years of that shit with [Jessee's] enormous influence helped normalize and bake that ideology into our culture… I'm really hoping this doesn't get brushed aside and we can all grow from it and expel some of this toxic shit from skating."
Sign up for our newsletter to get the best of VICE delivered to your inbox daily.
Follow Andrew Murrell on Twitter.
*This post has been updated with responses from Brixton, Stance, and Grant's Pomade.