Photo by Mark J. Rebilas—USA TODAY Sports
Back in January, Bucks guard Sterling Brown was arrested by Milwaukee police officers on charges that he resisted arrest after cops allegedly spotted his loaner car parked across two handicapped spaces outside of a Walgreens. Brown later said that police escalated the interaction and that they tased him and stepped on his ankle—much of which is corroborated by a video released by the MPD in May.
This morning, Brown backed up his claims by filing a civil rights suit against the city of Milwaukee, claiming that police violated his fourth and 14th Amendment rights due to excessive force, unlawfully discriminating against him based on race, and unlawful arrest. The suit provides damning evidence against MPD's police chief and the eight other officers involved in the suit.
Brown's suit outlines that improperly parking in a handicapped spot "is not considered a crime in Wisconsin" and Brown should simply have been issued a citation, but instead was confronted with undue force. His suit includes a brief rundown of Wisconsin's checkered past with institutional racism, and with damning evidence of MPD's "official, or de-facto policy or custom of utilizing excessive force and/or violating person's equal protection rights." The suit claims that one officer, Sergeant Jeffrey Krueger, involved in the suit has been involved in eight prior Use of Force incidents, four of which involved no charges against him.
"This federal lawsuit reflects the fact that for too long in this city African-American men have been arrested, abused and, as in the case of Dontre Hamilton, killed as a result of bad police work," Brown's attorney Mark Thomsen said, per the Milwaukee Journal Sentinel.
At one point during Brown's arrest, when Brown was surrounded by six officers, Brown asked why he was being harassed, to which Kreuger responded, "because you're bothering me."
Other details emerged about how officer Joseph Grams, who initially stopped Brown, shoved Brown and called for backup within a mere 30 seconds. After officers discovered paper targets with holes in them in Brown's loaner, and Brown denied having a gun or a permit, Grams said to Kreuger that Brown was being "a dick" and an "ass" who was "trying to hide something." Here's an excerpt from Grams and Brown's initial interaction:
The suit claims that footage from police cameras also picked up the eight officers turning on and off their recording equipment, working on straightening out their stories, and joking about being on TV due to the involvement with a high-profile athlete.
Either while Brown was still in custody, or shortly after he was released, one of the officers who responded to the call for backup, Erik Andrade, joked about the arrest on Facebook, saying, "Nice meeting Sterling Brown of the Milwaukee Bucks at work this morning! Lol#FearTheDeer." Andrade posted another comment referring to Brown's arrest after J.R. Smith's now-infamous meltdown in Game 1 of the NBA Finals: "I hope JR Smith double parks in Walgreens handicap Parkin [sic] spots when he's in Milwaukee!"
Here's more from Andrade, as noted in the suit: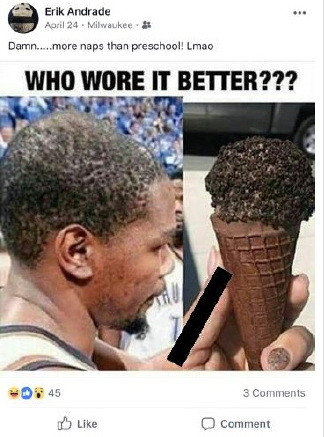 Brown claims that the suit is not about personal gain, but rather to help bring light to institutional racism.
"That's why I'm doing what I'm doing, so officers can be held accountable," Brown said, per the Sentinel Journal. "And, you know, take different procedures in having interactions with African American men."
Per the Journal Sentinel, the city has already paid an estimated $22 million in police misconduct lawsuits since 2015, which taxpayers have shouldered.