Left: Henna Sidiqqi, 45, is one of the 15 women in an inaugural class of trained women qazis. Right: Khatoon Sheikh, 61, with her certificate declaring her a qazi.
All photos by Masuma Ahuja
"I had a lot of questions, growing up," Suriya Sheikh, 46, says. "Why did God make such a difference [between men and women]—why are men allowed to do everything, but not women?"
As a young girl in a conservative Muslim family in India, Sheikh grew up seeing women being given fewer opportunities and rights than men.
Male elders in her family and community set the rules early on: She wasn't supposed to go outside even though her brothers could, she wasn't supposed to speak loudly, and she wasn't supposed to wear perfume or fragrance, even though the men did.
"What could I do?" Sheikh used to wonder. "It's not like I chose to be born a woman." Her younger sister used to say, "In another life, I'll be born a boy."
Now, Sheikh is a pioneer in the fight rights for Muslim women and girls in India. She is one of the 15 women in the first class of trained qazis—judges or arbitrators in Islamic family courts—in India.
I meet three of these women on a Monday afternoon in late December at the Mumbai offices of the Bhartiya Muslim Mahila Andolan (BMMA), a Muslim women's rights group where they all work, and which trained these women as qazis. The organization runs empowerment training sessions for women and girls, holds support groups for boys and men, and leads arbitration sessions where family disputes are settled.
---
Watch: Broadly Voices: Gloria Steinem & Nadia Murad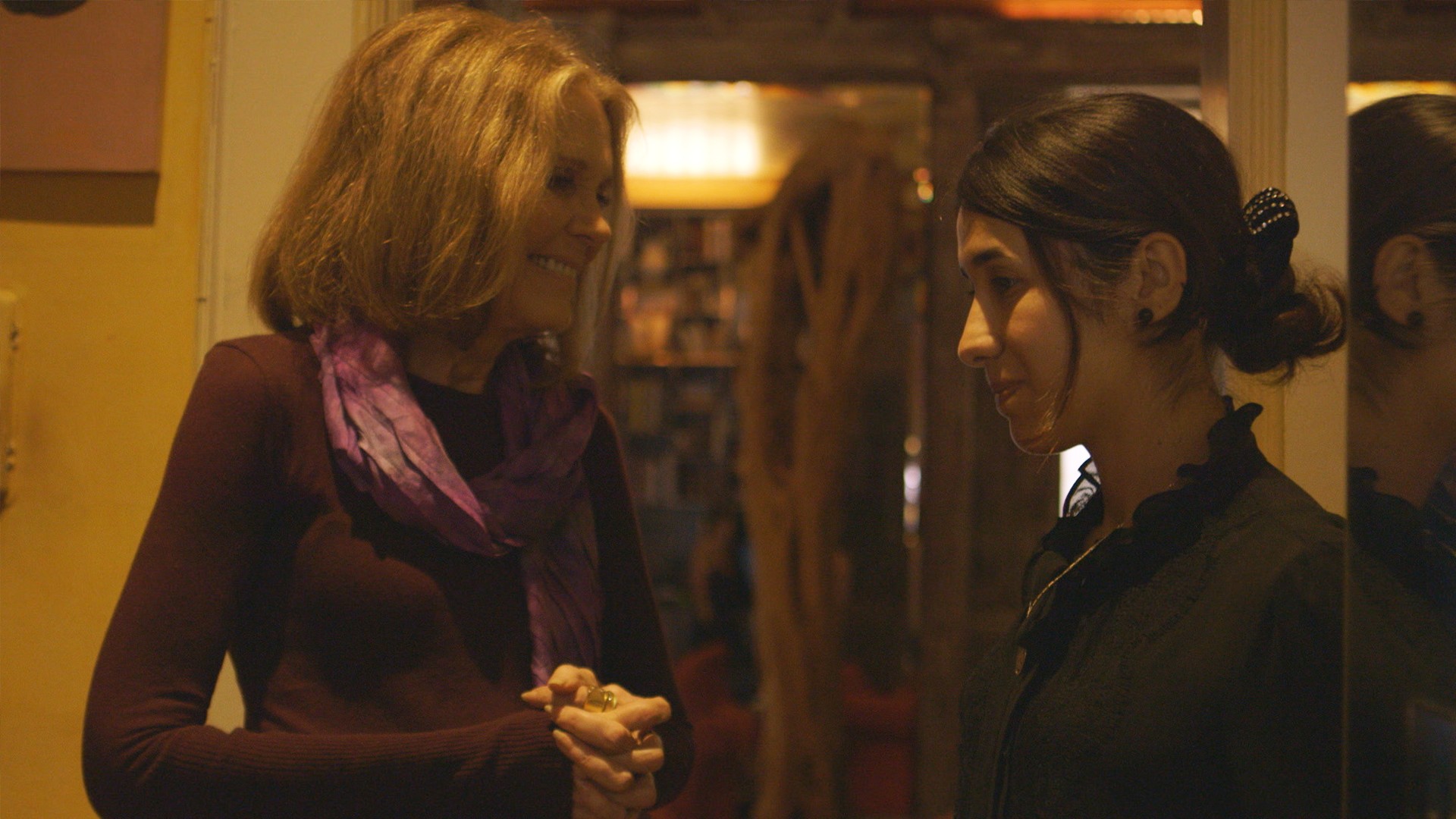 ---
People leave their shoes at the door and step inside for help with their problems. The room is crammed full of people who are here for sharia court: Husbands and wives, in-laws and parents, and uncles and neighbors sit on the floor in a room without furniture and talk about their problems.
They talk about domestic violence and bride price, about divorce and about marriage, and the women qazis listen patiently, give both men and women space to speak, and then help find resolution.
In India, although all citizens have equal rights under the country's constitution, personal family matters—issues like divorce, marriage, custody, alimony and inheritance—aren't governed by a single, secular law. Instead, they're handled differently by different religious groups. There is a Muslim Personal Law, a Hindu Marriage Act, a Parsi Marriage and Divorce Act, and more.
So, for the country's 172 million Muslims, qazis—or Islamic clerics or judges, historically all men—are the arbitrators of all marriages and divorces. They do not replace India's legal courts, but are widely accepted as an alternative way to mediate family disputes.
"A man goes and says 'I want to divorce my wife,' then the qazi—also with a man's perspective—he signs off on the divorce. But these injustices happen with women, so why can't we also become qazis?" Sheikh says.
But things are changing, slowly. In August 2017, the Supreme Court in India outlawed triple talaq—a practice where Muslim men could divorce their wives simply by saying the word "talaq" (Arabic for "divorce") to them three times. In the past, men had divorced their wives on text message, while they were sleeping, and in the middle of fights. The lower house of India's parliament voted to further criminalize the practice in December.
For generations, men were the ones to decide when to divorce their wives, and the ones who also decided if these divorces were valid. But these women are trying to change that.
Suriya Sheikh, Khatoon Sheikh, and Hena Sidiqqi, along with twelve other women from across India, form the first class of women to become qazis.
They trained for three years, studying the constitution and the Quran, learning about Islam, women's rights, and the law. In April, they graduated and took on their new roles.
When I ask them why they became qazis, they all tell me stories about the women they know. The woman whose husband divorced her while she was sleeping. The woman who went to visit her mother and was told by her husband never to come back; the 20-year-old mother of two whose husband divorced her and left her.
For Khatoon, it was her sister-in-law. "She was beaten a lot. She had three children. Her husband kicked her out of her house after beating her."
When she saw this happen, she says she knew something had to change.
Sheikh says it wasn't one story that prompted her to become a qazi. It was how she grew up learning about what it means to be a woman. In her family and community, she saw domestic violence treated not just as a private family matter, but an accepted reality—an almost inevitable fact of life and of marriage. "I saw this in my community growing up, so I started to feel like I don't want to get married at all. Because all these problems arise after marriage."
This vulnerability that women face within marriage was part of the reason to push for women to have more say in arbitrating family disputes, explains Noorjehan Safia Niaz, a co-founder of the BMMA and one of the women who created the training program for women qazis.
While there's a lot of activism around issues like education and livelihood, she wanted to focus on "what happens to women within the four walls [of her household], the kinds of insecurities she faces from her very close relationships."
"Creating that space for women is very important," she says, so they "can negotiate and talk… Here, no man decides."