This article originally appeared on VICE Germany.
As a general rule, I avoid talking to my parents about sex. Thankfully, they're equally happy to not go there.
I should note here that while I grew up in Germany, my parents were raised in a very conservative Chinese culture—sex and sexual desire were taboo for them. And it seems to me that not much has changed over the years; when I visited Shanghai earlier this year, I noticed couples in the street avoiding any kind of public displays of affection. I spotted the occasional linked arm, but strictly no kissing or hand-holding.
That trip made me wonder where that prudishness comes from and how it's kept its hold on my parents. And the best way to find out, I figured, was to start an honest conversation about sex with my mother in a place where there would be no way to escape it. That's why I've decided to take my mom to a sex convention. Not just any sex convention, but the VENUS International Erotic Trade Fair in Berlin—a four-day event that attracts more than 30,000 erotica enthusiasts who come to mingle with their favorite porn stars, watch live sex shows, and pick out brand-new sex dolls.
---
Watch: Running an Erotic Publishing Empire with Your Mom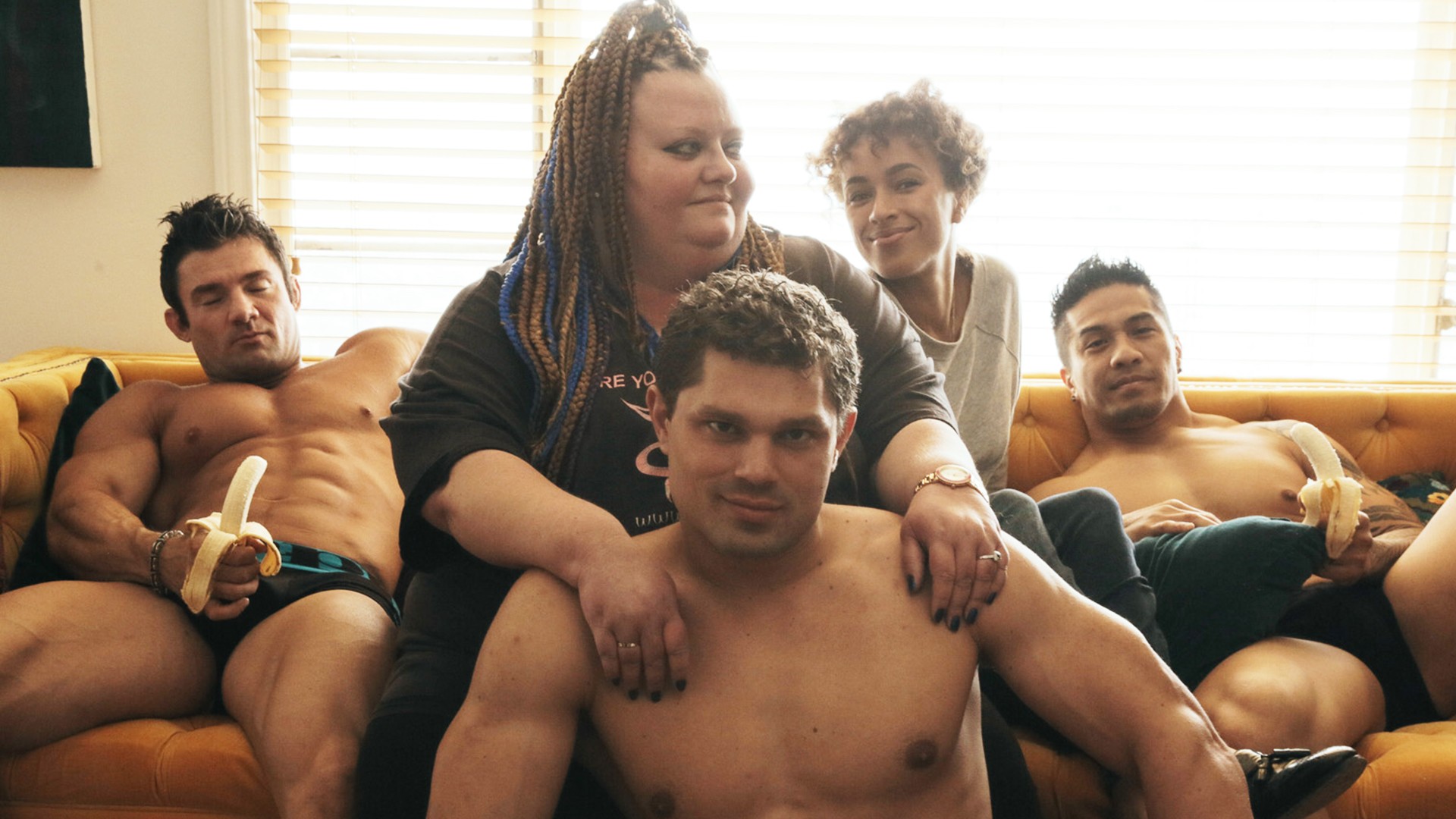 ---
When I call my mom to invite her to VENUS, I don't get the get the response I'm expecting.
"Just to be clear, this is a sex convention," I emphasize. "There will be live sex shows and strippers." My mom's not bothered. "So? We've gone to the theater together." I struggle to see how this is relevant, but I suppose the lesson to be learned here is that you should never underestimate parents' desire to spend some time with their kids, regardless of how that time is spent.
On the day of the fair, we meet for breakfast near the convention center, and I get straight to the point.
"Why have we never spoken about sex?" I ask. She considers my question for a moment. "Your father and I wanted to give you some freedom," she says. "And you were such a sweet boy. When you were nine, you told us you were going to stay with the first girl you would bring home forever. And if she wasn't right for you, you said you'd end up like Professor Snape, who was in love with Harry Potter's mother." This was news to me. "I was worried I'd end up like Professor Snape?" My mother nods. "Yes, you thought it was so sad that, after she died, he never married."
When we're done discussing what a thoughtful child I was, we head into the fair.
As we stroll through the venue, I notice there's not really a "typical" VENUS visitor. The event attracts a fairly wide demographic. There are suburban granddads, people covered head to toe in tattoos, and wide-eyed teenagers—some of whom are clearly seeing naked women for the first time ever. Unsurprisingly, most visitors are male.
We make our way into the main hall, and I'm immediately overwhelmed by everything going on all at once. To our left, a squad of webcam girls chat to strangers on the internet; to our right, naked people are interviewing other naked people; ahead of us, a gauntlet of silicon breasts and full-body latex suits. I sheepishly turn around to check how my mom is coping with all of this, only to find that she's disappeared.
I discover her at a BDSM stand. She's chatting with a blond dominatrix wearing bright-red patent leather, holding a man in a shiny black gimp suit on a leash. My mom takes it all in. "That leash is a bit like the one we have for our collie at home," she tells the dominatrix. The lady gives me her business card and pulls the leash with some gentle force. "How long has this poor man been wrapped in that… foil?" my mom asks her. The dominatrix answers that he's doing this of his own free will. Her submissive nods in agreement.
When we move on to the next stall, my mom explains that she knows China has a fetish scene, too, but it's kept underground—at secret sex parties and in particular clubs. She tells me that in Shanghai in the 1960s, everything that wasn't done for the purpose of having children was considered a perversion—BDSM but also homosexuality, masturbation, oral and anal sex. She was taught those things were bad for her health and would confuse her mind. Even love, foreplay, and the female orgasm weren't considered relevant. "Sex was seen as pleasure for the husband and an obligation for the wife," she says.
Additionally, my mom was raised on the principle of miànzi—a way of life that roughly translates to "saving face." It's all about maintaining and improving your social status, the most valued thing for her parents' generation. From an early age, kids—especially girls—were taught that they would only receive their parents' blessing to get married if their partner came from a well-respected family, had a job, a car, and a house. Focusing on your sexual desires could distract from that.
Inspired by the dominatrix we just met, my mom and I head straight to the dedicated fetish area. Everyone at the fair seems so comfortable—like this is their only chance of the year to show off who they really are. My mom seems relaxed enough, too.
In the demonstration hall, we see a porn star sitting with her legs wide open on a vibrating saddle, reading aloud from a James Bond novel. Photographers stand in a semicircle around her, documenting her every move. For the first time today, my mother looks shocked. To be honest, I'm pretty shocked, too—but mostly because because a grown man dressed in latex being yanked around on a dog leash didn't throw her, but this did. "That's terrible," Mom declares, looking like she just swallowed a wasp.
As we move away, a woman pushes condoms into our hands and pulls out flyers promoting her hardcore lesbian show. Mom decides it's not for her and moves on, making a beeline for the sex dolls.
There are four of them sitting on a sofa, each one equipped with breasts that extend well beyond reasonable human proportions. "You look sad," my mother whispers to a male doll, displayed sitting on its own. She asks the vendor why the penis on the doll is a different color from the rest of its body, and he replies that the penis can be swapped depending on the user's preference for length and girth. "Does it feel real?" I ask her as she squeezes a selection of fake penises. She's not convinced. "No, it feels like they're made of cheesecake."
Later in the afternoon, a woman selling dildos waves to us and asks if we would like to freshen up our sex lives. I feel sick. But my mother, as she's been doing all day, smiles serenely. "That's my son," she says, laughing. The vendor looks confused for a nanosecond, but she's a pro and won't let a mother and son strolling through an erotica fair throw her off her game. "I have a beautiful model here made from silicone—it's our top seller," she continues, but my mother is more intrigued by something else. "You're so young—you look like my son's ex-girlfriend," she tells the saleswoman. "Marvin, don't you think so?"
Instead of answering her, I ask my mom about dildos, if she knows about them.
"Of course," she says. "But they're an insult to men."
"Why?" I ask.
"Why would I need something like this when a man can do it? Don't they make men feel like they aren't needed any more?"
"Toys are meant as an addition to sex."
"That thing can't recreate feelings or emotions—it's just an object. Wouldn't you rather sleep with your girlfriend than a doll?"
Before I can answer, we spot a large group of women heading toward a stage in the demonstration hall, where there are more women waiting, phones at the ready. The logo projected on the wall explains what they're all there for: "Sixx Paxx," a male stripper group. The presenter warns the assembled ladies to "hold on to your panties" as he welcomes the dancers to the stage. My mother says she wants to go back to the exhibition area to check out a stand selling hair products. As the strippers start to dance, she walks away. "Mom, they're taking their clothes off," I remind her. She stops, turns to the stage, snaps a volley of photos, and then heads for the door. "I don't like it," she says.
Later, we make our way to a booth on the edge of the main hall to test out some virtual porn. I put the VR goggles on and find myself in a sparsely decorated room, with only a bed and a naked woman for company. The woman is on all fours. She wiggles her butt before coming over to give me a "blowjob."
I take the glasses off to check on my mom. The looks on her face range from enlightenment to horror. She takes the glasses off and sits down on a stool. "That seemed so real," she says. "I was the man, with these two women on top of me." I ask her if she has ever considered the concept of a threesome. "Unthinkable. I'd be too jealous of the other woman," she says. "And no way I would do it with two men, either. Your dad would be too jealous."
Meanwhile, two female porn stars have made their way on to the main stage. According to my mom, pornography was one of the biggest taboos when she grew up. I ask her if she would ever speak to a porn star. "I don't really know what I would say to them," she offers.
She points to the ladies, bathing in the light of camera flashes. "Does that look real to you?" she asks me. I tell her that a lot of porn stars love their jobs. "Of course they would say that," she scoffs. "They're are just objects to these men. If they want to seduce men, they should go to a bar. If they enjoy acting, they should go to drama school." My mother can be ruthless.
After three hours of browsing, we decide that we had our fill of erotica for one day.
So was it fun to take my mother to a sex fair? Not really. Would I do it again? Absolutely not. Was it worth it? Definitely. Being surrounded by sex understandably made it much easier to talk to my mom about it.
For example, I now know she would never take part in a threesome or buy a dildo, especially if it's made of silicone. I ask her if she's learned anything else today. "I've become more open," she says, smiling. "But I also learned that not everything that has to do with sex is sexy."