Photos courtesy of Netflix
Grace Marks is a murderess—or is she? There's a lot of speculation surrounding Alias Grace, the new Netflix TV show adapted from Margaret Atwood's novel of the same name. Canadian actress Sarah Gadon (who broke out from roles in David Cronenberg films such as A Dangerous Method, Cosmopolis, and Maps to the Stars) plays Grace—a real-life Irish-Canadian housemaid in the 19th century—with an expert level of ambiguity that makes it impossible to know whether she actually killed her employer Thomas Kinnear (Paul Gross) and his lover, a fellow maid named Nancy (Anna Paquin).
In this six-part miniseries, Gadon is reunited with her long-time collaborator Cronenberg, who steps into his acting shoes to play Grace's advocate, Reverend Verringer. But more importantly, Alias Grace is a product of Canada's sharpest female filmmakers, including director Mary Harron (American Psycho) and writer Sarah Polley (Take This Waltz), who had dreamed of optioning this script since she was 17 years old. In a year where Atwood's other TV adaptation The Handmaid's Tale has felt scarily relevant, Alias Grace gives us another female figure who's been pushed down by patriarchy all her life. Broadly spoke to actress Sarah Gadon about playing Grace Marks as truthfully as possible (including training at a historical reenactment camp), working on set with a crew of women, and surviving the film industry.
BROADLY: This is such a weird role to play. There's a lot of mystery in your character and it's hard to figure out who you are. I'd love to hear how this role was presented to you and how you approached it.
SARAH GADON: Well, it was definitely a role that I chased. I knew Sarah Polley was adapting the novel and she had always seemed like somebody I would have jumped at the opportunity to work with. The things she involves herself in are always very thoughtful, cool things. So I heard she was doing this and then I had the opportunity to meet with her and audition. I picked up the book a few days before the meeting with the intention of reading a few pages and just kind of tore through it. I was completely compelled and I got tangled up with Grace because her story is so fascinating and the way Margaret Atwood tells it is so fascinating.
When I read the script, Sarah said, "I read this when I was 17 and tried to option it then, but Margaret wouldn't let me. I've been chasing it around for decades and everything I've ever done has somehow been informed by this." So I knew it was pretty meaningful to her and I could totally see why. When I got the part I was really excited, but then kind of overwhelmed by the task of trying to unravel this character. I became very obsessive about her because I wanted to crack her, I guess. And it wasn't until I sat down and I talked with Margaret, that she kind of reiterated to me the kind of power in the ambiguity of her story and why that ambiguity is so important in terms of memory. I really understood that I didn't have to play any one version of her, I could just play them all.
---
Watch: Margaret Atwood on Abortion, Twitter, and Predicting Everything We're Doing Wrong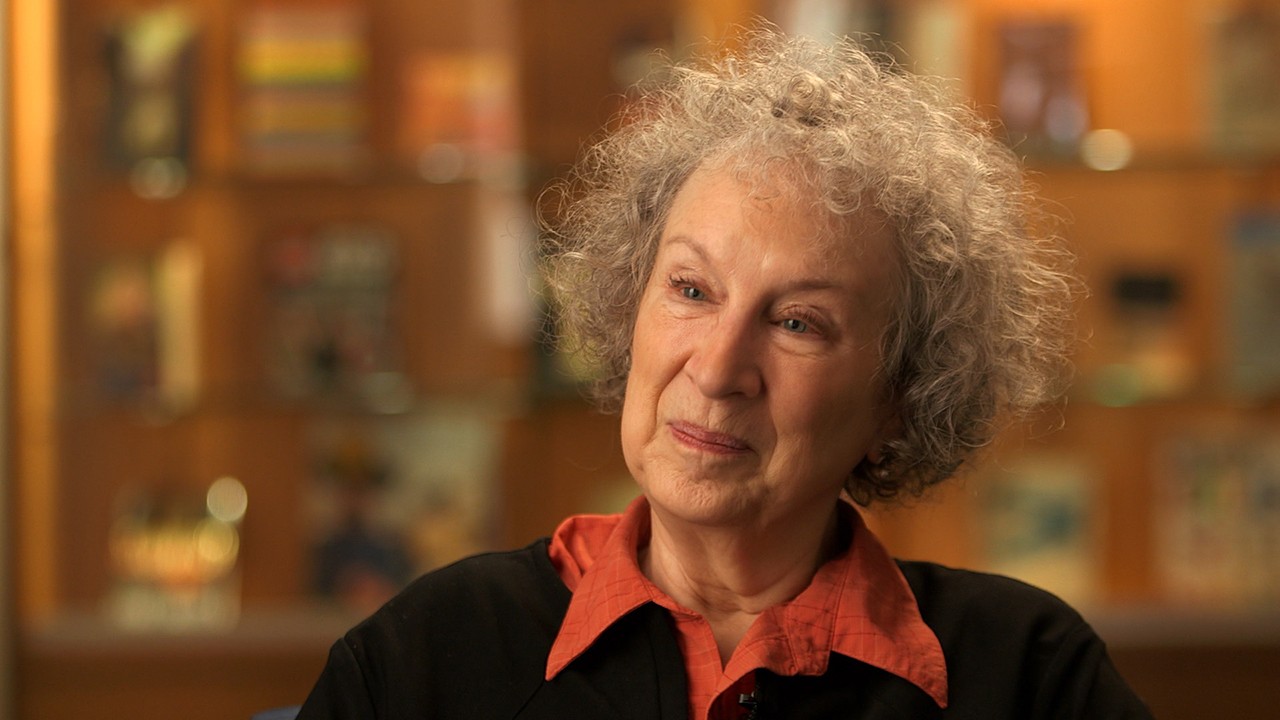 ---
Do you think it's even more powerful to just get into it without trying to look for the facts?
I do. I think that when you experience the book, and hopefully when you experience the show, it's not so much about the result of her being guilty, it's so much more about the journey you go on trying to discover her. That's what I loved about the novel that's really what drew me in and that's what i set out to try and achieve with the show.
This project has such a powerhouse of really amazing Canadian women (including Mary Harron, Sarah Polley, and Margaret Atwood). What was it like to be surrounded by such great women creators on this project?
It was very empowering and the kind of vibe on set was very inclusive. Sarah and Mary set really high standards for what they expected of me as an actor, but I really felt I was treated as a collaborator. They let me in on the decision-making process during filming and editing. That's something that doesn't always happen. I've certainly never experienced it before. I feel as though I had arrived at decisions about Grace on my own.
Obviously, this story is sort of always relevant and it wasn't timed this way, but it feels especially relevant now, especially in light of all the Weinstein allegations. Plus Margaret Atwood has been such a voice in 2017 with The Handmaid's Tale .
It made me think about my own experience as an actor—which experiences were negative, and why, which were positive, and why. It's also waking up every day to the current news cycle. There are moments where I certainly felt a sense of hopelessness, especially about the industry and who is in control of it. I think about our show and I'm so proud of it, because it's the product of all of these very intelligent, powerful, articulate, artistic women. And to have our show come out in the same year that The Handmaid's Tale has come out, the response that we're getting is not, "Oh no, that's enough now. We've had our female voice of the year." It seems like there's an appetite for it too, and not something we're trying to shove down people's throats.
And I'm sure you've read Sarah Polley's New York Times piece about her horrific experience working with Harvey Weinstein?
Yes. At first, I was really angry. Sarah is an incredible actor and she kind of shied away from the business because of people like Harvey and that makes me angry. It makes me angry to think of everything we missed out on from her that we could have had. But then, you look at the direction she chose to kind of shift her energy toward and she became this powerful creator. People have responded to her filmmaking and her creating.
You're also reunited with David Cronenberg, who's directed you in many movies. What was that like to work with him as fellow actors?
Well, It was Sarah's idea to ask him to play Verringer. I thought it was such a great idea because Verringer is Grace's advocate and David has always felt like a positive force and advocate for me in this career. So it felt very meta?
Totally. I also heard you also went to a historical reenactment camp for this? Have you ever done that kind of research for a role before, and what was that like?
Yeah! I mean I've never gone to pioneer reenactment camp, but I've certainly done things like take etiquette lessons or piano classes. But playing Grace was kind of a fully immersive experience. It wasn't just the kind of intellectualizing about "Oh, what was it like to be a woman in the 1840s?" and "What was it like an immigrant in the 1840s?" So much of Margaret's book is the detail of the role that women had as laborers in the house during the Victorian era, so it was really important to Mary that I learn how to do everything and do everything for real on camera. Margaret cares so much about accuracy and so does Mary. So I spent a week there and learned how to do all those things.
I know Margaret Atwood is a supervising producer on this. How much was she on set?
She wasn't on set that often. She was on set when she has a role in it. She plays a disapproving woman. She read every draft and she watched everybody's audition tape, she went in and talked to [the] art department, we spoke with each other, so she was involved in that.
What do you think is the importance of having a protagonist who isn't that obvious of a heroine? It's sort of hard to root for her, but you want to.
For me, as an actor, it's really exciting. I don't have to play into some trope of who this woman is. I don't have to play her from one angle. And for me, even as a viewer, that's what I love to watch, so I think for me it was really exciting to not just have to play the heroine or the vixen or whatever one dimensional version of this character.