Lisa Lov is sitting in her kitchen in the bohemian Copenhagen neighborhood of Nørrebro, but her mind is drifting far away. To Chinese food and chicken soup. "I had this medicinal herbal soup in Singapore," says Lov as she pours me a cup of buckwheat tea. "The soup was made with black chicken: it's completely black; black feathers, black skin, black eyes, black flesh, even the blood is black! They cook it in a soup with ginseng, lotus, and goji berries. When I drank the hot soup it cooled my insides, almost like menthol."
She buzzes with excitement when she talks about the Asian cuisines she grew up with that now inspire her cooking. "Chinese cuisine is vibrant," she continues. "Flavorful. It's everything from the numbing, hot and oily Sichuan cuisine to that black chicken soup. I get so excited talking about it."
Right now is the time to talk about it. Having earned her stripes at Copenhagen restaurant Relæ, Lov is opening Tigermom, her own place this year in Nørrebro, where she'll be serving food that's Asian-inspired but uniquely her own. She is one of many global kitchen nomads who have passed through Copenhagen's dining scene in recent years on their quests as stagaires and interns, but Lisa didn't just pass through. She stuck around. For seven years and counting.
"Tigermom? It's me! It started as a nickname that Christian and the others at Relæ came up with when I finally stopped being everybody's bitch and started being the one telling other people what to do."
It was never really in the cards for Lov, who is from New Zealand and whose parents are Chinese and Cambodian, to be a chef—let alone travel to the other side of the planet to live and cook there.
"It's not normal for someone in my family to move away like I did," she says. "Normally everyone stays with their parents until they get married, and only then can they move away. My parents weren't really happy about it. I think they felt kind of ashamed. They even tried to keep it a secret for a while, but I was like: 'Come on, guys. It's modern times!'"
Lisa's parents moved to New Zealand after fleeing the Khmer Rouge regime in Cambodia. They bought a bakery where they worked from 4:30 in the morning to the wee hours of the night. Weekends too. "They brought with them this Asian work ethic and the desire to build a future for my brother and me," says Lisa. "And they did. A couple of years ago they finally sold the bakery and retired."
"I left because I had the urge to explore. Love, life, another country. So I went to Vancouver as an exchange student. I studied psychology and law, and I went snowboarding. And I fell in love, both with a man and the city, so I really wanted to stay." The decision caused a lot of soul-searching and internal struggle. Her parents fought hard against the move. "It was unbelievably dramatic," she says. "Tears and silent treatment and all kinds of emotional family stuff. My brother was guilt-tripping me, and the first couple of years I didn't even want to call home. I felt this guilt and betrayal every time."
I literally got out my phone and asked: 'How do you spell that?' N, O, M, A?"
Lov didn't actually have any professional kitchen experience when she arrived in Canada. "But all of a sudden I had all this free time on my hands," she says. "My job was only nine to five and I was used to working hard—back in New Zealand I did two degrees while also helping out at my parents' bakery and working as a receptionist at a law firm. So in Vancouver, I didn't know what to do with all the extra time I had. What would be fun?"
Food was fun. Lov started spending her evenings and weekends at a high-end Thai restaurant. She fell in love with cooking and the restaurant environment from day one. "The people were just different from office people. I just felt really alive and happy to be there."
---
Watch Lisa Lov make wonton soup: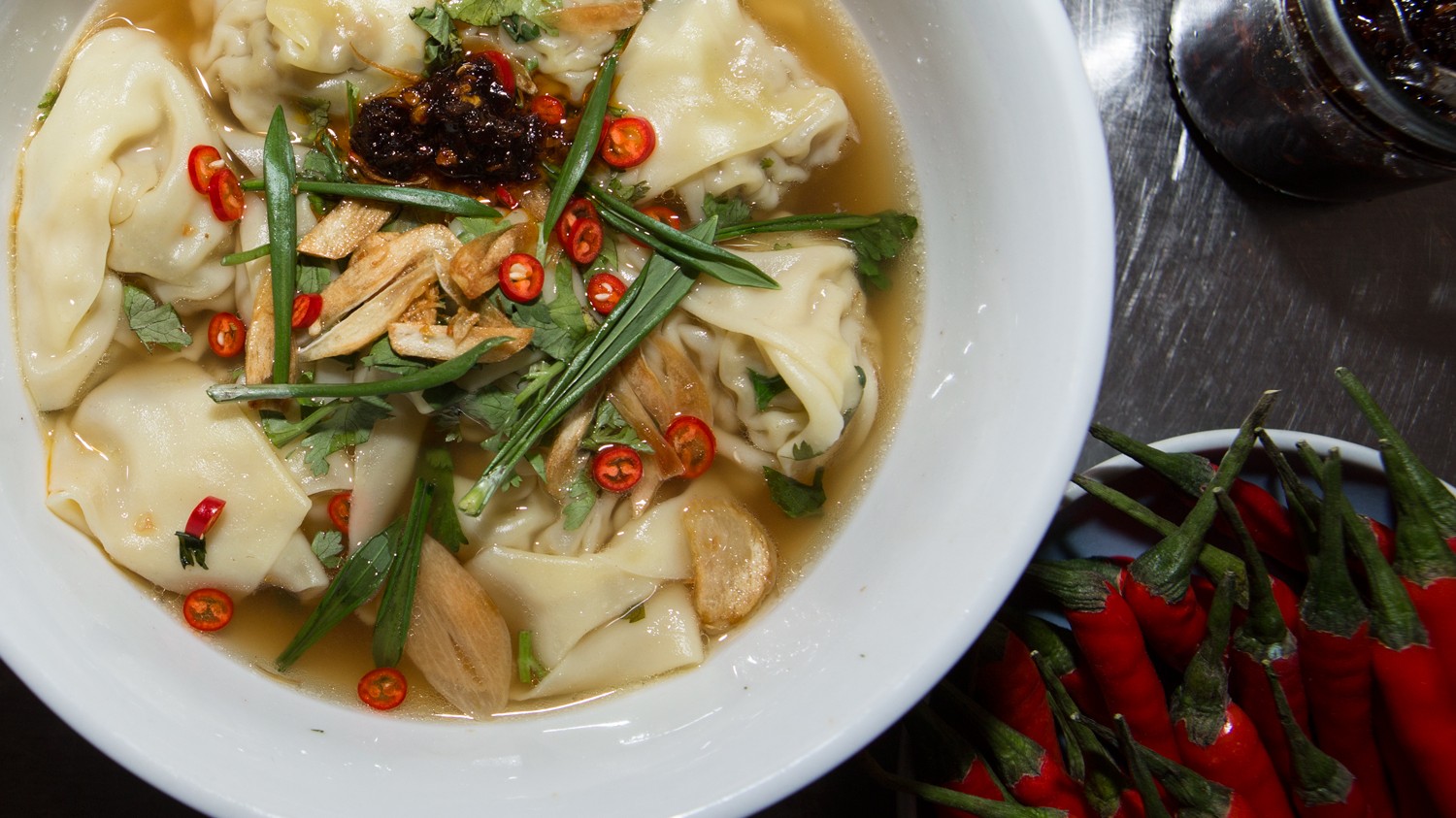 ---
When her Canadian student visa expired, Lov was told by the authorities to leave. Moving back to New Zealand wasn't an option. She had a job lined up as an English teacher in Tokyo, but her then-boyfriend, a chef who she had met at the restaurant in Vancouver, was on his way to Denmark to work. She was at another crossroads: a safe and respectable job in Tokyo or the uncertainty of following her heart. Once again, she chose the latter.
"I had no idea what was going on in Denmark at that time. It's almost embarrassing to talk about now. I worked briefly at a fine dining restaurant in Australia, and when the chef there heard I was on my way to Copenhagen, he said that I should look up his friend. A guy called René Redzepi. I was like who? I literally got out my phone and asked: 'How do you spell that?' N, O, M, A?"
It was an ex-Noma sous chef, Christian Puglisi, who offered Lov the job at Relæ. A job as the absolute lowest-ranking chef on the floor. Møgpony—shit pony—as it's known in the no-nonsense world of kitchen politics. Lov worked her way up to become sous chef, a position she held for five years, and this is where the story about Tigermom begins.
"Tigermom? It's me! It started as a nickname that Christian and the others at Relæ came up with when I finally stopped being everybody's bitch and started being the one telling other people what to do. Not because I was mean or anything but because I was very strict."
She almost sounds apologetic, as if she knows this kind of mentality is alien to a soft, welfare state–nourished Dane.
"I was just very particular, very direct, and had very high standards. I wanted to push the people at Relæ to do a good job. So that's how Tigermom was born. The name kind of stuck in my head and sparked an interest. What does Tigermom really mean?"
She went home and googled it and found out that a Tiger Mother was somebody completely different. "I bought [Amy Chua's] book, and as I was reading it I thought: 'Well, this all sounds normal to me! This was how I grew up, I don't know what everybody is on about. When I tell my Danish friends that I got smacked if I did something bad as a child, they say: 'Whoa, what do you mean?' But I like that I was brought up with these values, and I think it was good for me. I work hard, I'm ambitious, I always do my best—and that's definitely in large part because of my upbringing. So… that's Tigermom!"
WATCH NOW: How To Make Kombucha with Lisa Lov
Having done a series of pop-ups under the banner of Tigermom, Lov realized the name would carry through to her own restaurant. When she cooks, it's not exclusively food from a particular cuisine. It's food inspired by her experiences and childhood, the way she thinks it should taste. "My inspirations are predominantly Asian, but not strictly. There's also something empowering about the name. Like a strong female leader."
She works closely with the staff at Christian Puglisi's organic farm outside of Roskilde where she grows a number of Asian vegetables that thrive in Nordic climates: water spinach, Thai basil, holy basil. The meat and fish will be locally sourced. It won't be fine-dining, she says, but she'll incorporate elements from her time at Relæ. The hospitality, for example: making sure that her diners are well taken care of.
"I don't want people opening the menu and being really confused and not knowing what to order," says Lov. "That's the last thing I want. I don't want to intimidate people, I want to make it easy for them. How hungry are you? Really hungry? Great. Let's feed you! I want to take control of the meal and lead the guests."
Is this restaurant a nostalgic project? "Yes. It feels natural to me to want to eat the food you had as a child growing up, to recreate the flavors you had in the past. There's definitely a certain comfort and nostalgia about it and things like taste and smell are strongly connected with feelings and memory, right?"
MAKE THIS: Lisa Lov's Chicken and Egg Congee
Despite the food's close ties to her childhood and heritage, Tigermom was never going to open in New Zealand. "I don't feel connected to New Zealand right now aside from my family being there," Lov says. "I'm a different person now than the one my friends back there knew."
She stops in her tracks for a moment and sips the last drops of tea. Sitting at her dining table in Nørrebro, New Zealand is far away. She starts talking again. "Maybe I'm a bit too goal-oriented. Maybe I'm a bit too ambitious. I set my goal and I need to get there. And for now it's here."
"I want to open Tigermom and I want to make it a success."