Two years ago, as the Canadian professional basketball team, Toronto Raptors, headed into their first ever National Basketball Association (NBA) finals, all eyes weren't just on the team, but also on their fans who'd waited almost 25 years for this moment. 
Perhaps the most notable of them was Navdeep Bhatia, a Canadian businessman of Indian origin, popularly known as Nav, or the Raptors' "superfan." When the Raptors beat the Milwaukee Bucks to secure their place in the final, a Bucks fan referred to Bhatia as an "annoying Raptors fan" and a "fat Indian guy with the underwear on his head" in a tweet.
"What I wear on my head isn't underwear," Bhatia, who migrated to Canada from India in 1984 to escape the Sikh genocide, tells VICE. "But he was 50 percent right – I am fat."
Perhaps it is this wit and ability to take things in stride that made him take the miffed Bucks fan and his son out for a meal, instead of adding to the outrage against the man that made the racist tweet. They're now "the best of friends." 
This incident wasn't the first time Bhatia was targeted for his turban. Having returned to India in 1982 with a degree in mechanical engineering from California State University in Los Angeles, he was looking to start a business when the anti-Sikh riots broke out.
"At that time, they were singling us out because of our turbans – cutting our hair off on the street, putting burning tires on our heads. When I escaped to Canada, I felt like I was in the safest country in the world," he says. 
But his struggles were far from over. After working many odd jobs, including janitorial and landscaping work, Bhatia was hired as a car salesman. On his first day, many people refused to work with him. Not one to get fazed easily, he saw it as an opportunity to prove himself and change people's perception of him.
"In my first three months there, I sold 127 cars. It was a record then, and it is a record today," he says. The achievement earned him a swift promotion. Today, the Mississauga-based businessman runs car dealerships in both Mississauga and Rexdale, the branch where he started his journey.
Bhatia's road to success has been filled with what he calls "speed bumps." In his TEDx talk, he recalls how a white man once mistook him for a cab driver based on his turban and beard, even though he was dressed in a suit. 
"In those days, people would often ridicule my appearance and make fun of my turban," he says. 
But today, as he sees it displayed in the Naismith Memorial Basketball Hall of Fame, he's glad he has kept his promise to his mother that he'd never take it off. 
On May 19, 69-year-old Bhatia became the first fan to be inducted into the NBA Hall of Fame, joining over 400 inductees consisting mainly of players, coaches, referees, and teams. While he doesn't fit into any of these categories, he has contributed to the game in his own way. Since he bought tickets for the first Raptors season when the NBA came to Canada in 1995, he has never missed a match the team played at their home venue, never been late to a game, and never left a game early. He has used the fame he's acquired in the process to build the Nav Bhatia Superfan Foundation, which is building basketball courts and other facilities for kids in Canada and across the globe.
At every match, he can be seen sitting courtside in his Raptors jersey, heckling the players on the opposing team, and trying to mess with their free throws. He once told basketball legend Shaquille O'Neal that the big guy's legs were shaking in fear while taking a free throw. On an Instagram live, Milwaukee Bucks' Giannis Antetokounmpo branded him the most annoying fan to play in front of because he talks "a lot of crap."
"I've picked on all the legends of the game, from Kevin Garnett to Tim Duncan and Kobe Bryant," Bhatia says, adding that he only does it out of his love for his team and the game.
"When I went to the first game, I was a guy with no hobbies who worked all the time. I was seeking entertainment, but it only took one match for me to fall in love with one of the fastest games in the world," Bhatia says. In his own words, the Raptors have faced "more valleys than mountains," having won their first NBA championship only in 2019. Yet, fans like Bhatia have lent them their unwavering support.
"We Sikhs are known to be loyal, and once we hold somebody's hand, we don't leave it. And so, I've been loyal to the team," he says. In return, he has been rewarded with opportunities that aren't usually available to a fan.
In 1998, then Raptors coach and general manager Isaiah Thomas anointed him "superfan" for having stood by the team through its highs and lows. After the team's NBA title win in 2019, Bhatia became the first fan in league history to be given a championship ring and an opportunity to lead a parade of 80,000 as Grand Marshal. The turban he wore at the parade is now on display at the James Goldstein Superfan Gallery, along with a replica of his championship ring, a customised bobble head, his courtside seat, and the original Raptors jersey he was presented in 1998 that declared him a superfan.
But it's not just these accolades that have made his journey with the Raptors so special. It's also the relationship he has built with the team.
"When Isaiah Thomas picked me to be the face of our Raptors, it was quite a bold move. In that time, he brought me to centre court in front of thousands of fans. He had some pushback as well, but he stuck to his decision," he says. "And here I am. He changed my life."
Together with the Raptors, who he lauds as an "inclusive corporation," Bhatia has managed to celebrate diversity and make the game accessible for people of various ethnic and religious minorities in Canada. Since 2000, the team has celebrated game days that fall on Baisakhi (the Sikh new year) with bhangra performances in the arena. 
"In 1995, I could only afford two season tickets for myself. But now, every year, I bring kids from various traditions, ethnic backgrounds, religions and faith to those games on Baisakhi," he says. 
"Kids are not polluted with hatred. So, I want them to integrate with each other at a young age – girls wearing hijabs, girls wearing turbans, Sikh boys wearing their hair in judas (buns). Now you see 3,000 kids inside the arena, all cheering for the same team."
Bhatia doesn't just support kids in Canada, but also in his country of origin, where he launched the Daughters of India campaign in 2016 in collaboration with humanitarian organisation World Vision.
"When I saw those girls dropping out of school at 11 and 12 because there were no washrooms, I knew I must do something," he says.
In 2017, their campaign raised $300,000 and they were able to build 135 washrooms across 35 schools in Faridkot in the western Indian state of Punjab. Bhatia says their next stop is Alwar in the northern state of Rajasthan where they plan to build 200 washrooms across 50 schools, and also some basketball courts for the girls.
He might be a Raptors fan through and through, but over the years, Bhatia has managed to build camaraderie with players, coaches, and fans across teams. 
"When I go to the playoffs and I'm wearing my jersey, some fans will usually pick on me, but in the end, they'll come and take a picture with me. They know that I'm supporting my team, and I want them to support theirs," he says.
This for him is the uniting power of basketball. For the 48 minutes that the game is on, the arena is buzzing with a competitive spirit, but before and after the game, it's a greater sense of brotherhood that prevails regardless of the result. The game gives him such a rush that Bhatia has no space for another addiction in his life. In interviews, he has often said, "I don't drink. I don't smoke. I don't womanize, but I Raptorize… I only Raptorize."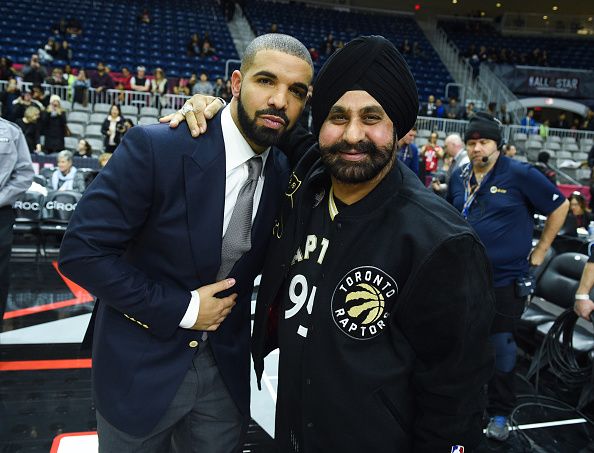 This also means that basketball remains the only sport that he's involved in. He's thought about reigniting his old passion for cricket, or connecting with Canada's national winter sport ice hockey. But he also knows that if he were to invest any more of his time in sports, he could be a single man soon. 
"I have missed many birthdays, anniversaries, and other events because of basketball in the past 25 years," he confesses. "If I start following even one more sport, my wife will divorce me the next day. I'm walking on very thin ice."
Follow Snigdha on Twitter.