Photo courtesy of King Dude's Facebook
Our favorite whiskey-soaked Luciferian sex god, King Dude himself, has seen fit to grace us—or at least those of us in the contiguous United States—with his presence later this year, and will be bringing Drab Majesty and Foie Gras along for the ride. He released his latest collection of devilish dark folk, Songs of Flesh & Blood - In the Key of Light, earlier this year via Not Just Religious Music. With any luck, he''ll be repeating his jaw-dropping performance at Roadburn by plying crowds with the violently beautiful likes of new tracks "Rosemary" and "A Little Bit of Baby Gonna Make Me Wanna Love Again."
As he said in an email, "I am looking forward to seeing you all on what I am calling, The Key of Light - USA Tour 2015. I hope that we may once again raise our voices to ignite the fiery spirit of revelation laying sweetly in the souls of you my brothers and sisters. With Light and Love to you all."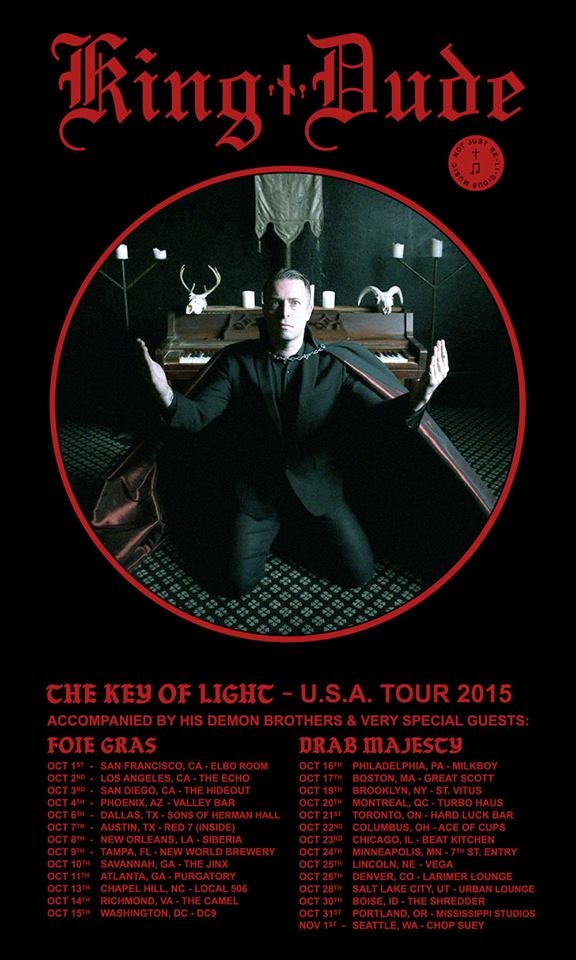 Oct 1st - San Francisco, CA - Elbo Room †
Oct 2nd - Los Angeles, CA - The Echo †
Oct 3rd - San Diego, CA - The Hideout †
Oct 4th - Phoenix, AZ - Valley Bar †
Oct 6th - Dallas, TX - Sons Of Herman Hall †
Oct 7th - Austin, TX - Red 7 (Inside) †
Oct 8th - New Orleans, LA - Siberia †
Oct 9th - Tampa, FL - New World Brewery †
Oct 10th - Savannah, GA - The Jinx †
Oct 11th - Atlanta, GA - Purgatory †
Oct 13th - Chapel Hill, NC - Local 506 †
Oct 14th - Richmond, VA - The Camel †
Oct 15th - Washington, DC - DC9 †
Oct 16th - Philadelphia, PA - Milkboy $
Oct 17th - Boston, MA - Great Scott $
Oct 19th - Brooklyn, NY - St. Vitus $
Oct 20th - Montreal, QC - Turbo Haus $
Oct 21st - Toronto, ON - Hard Luck Bar $
Oct 22nd - Columbus, OH - Ace of Cups $
Oct 23rd - Chicago, IL - Beat Kitchen $
Oct 24th - Minneapolis, MN - 7th St. Entry $
Oct 25th - Lincoln, NE - VEGA $
Oct 26th - Denver, CO - Larimer Lounge $
Oct 28th - Salt Lake City, UT - Urban Lounge $
Oct 30th - Boise, ID - The Shredder $
Oct 31st - Portland, OR - Mississippi Studios $
Nov 1st - Seattle, WA - Chop Suey $ † w/ Foie Gras
$ w/ Drab Majesty
Kim Kelly can't wait for October 19th; she's on Twitter: @grimkim