Ray-Ban has decided to play fairy godmother to one lucky person and make their dreams come true. That lucky person, Joel Duxbury, won Ray-Ban's Envision competition and now gets to star alongside other established artists at Ray Ban's show, you go Joel!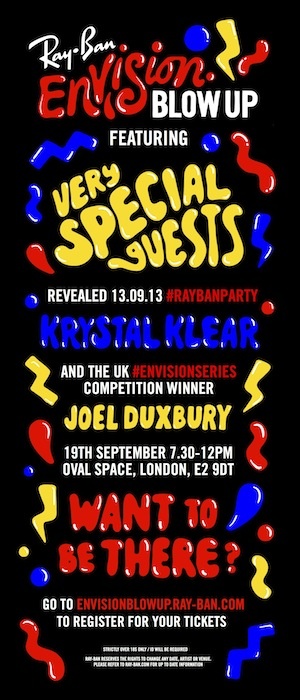 The party will take place on the 19th September at Oval Space, Bethnal Green, London with Krystal Klear and very special guests. Ray-Ban will be revealing the headline act on the 13th of September, so check Ray-Ban's Twitter (don't say we never give you anything) for a chance to unlock special access to the #RayBanParty. Acclaimed artist Kate Moross is curating Joel's vision and even helped design the poster for the event. We managed to pry Joe away from working on the show to find out a bit more about his perfect party. Who would be your dream DJ to play the Ray-Ban event?
Joel: It's got to be Bicep or Krystal Klear, but they usually play places like Ibiza because they're massive! How do you feel about party being in London?
J: It's an adventure, I'm from up North. How do you think you'll feel on the day of the event?
J: Like you're having the world's best party just for you. Ray-Ban throwing a party for me, it is going to be epic. You don't want to miss out on a great party inspired by a bouncy castle and crazy gig, so [register here](https:// EnvisionBlowUp.Ray-Ban.com) for tickets.