This article originally appeared on Noisey Canada. Shot by Karen Moskowitz
Punk, rock star, minor celebrity, dog lover. Bif Naked is all of these things, in addition to being a down to earth, genial gal to talk to. Her story is nothing if not compelling. She's had hit songs, her albums have gone gold and platinum. She's written, recorded, and performed with some of her musical heroes. She's toured the world, playing dives like the Royal Albert and massive festivals like Grizfest. And, after being diagnosed with breast cancer in 2009, she fought back and kicked cancer right in the ass. "I could have died happy so many times in my life," Bif told Noisey over the phone from her Vancouver home last month. I was calling from Winnipeg, the city where a young Beth Torbert first became Bif Naked, jumping headfirst into the punk rock underground that was thriving in the city at the time. "I could not believe that I had all these amazing opportunities and coincidences. Who knew? I was just some chick hanging out at Sk8 on Corydon. How could I go on to do all these things, to meet all these people?"
Born in India, Beth Torbert was adopted at a young age by missionaries who moved around regularly throughout her early life before settling in Manitoba. Beth was into ballet dancing, and had aspirations of one day attending the University of Manitoba and becoming a doctor. But as a young teenager in the small town of Dauphin, young Beth "picked up a boyfriend and pack of cigarettes." She bought a one-way ticket on a rock'n'roll rollercoaster that she rides on to this day. "My very first boyfriend in Dauphin, Manitoba was a big music fan," she said. "He knew everything about music. When he was 16 and I was 14, he gave me a record for Christmas: Unleashed in the East by Judas Priest. I can still sing "The Ripper" word for word. We listened to Metallica and Raven. We were starting to get into stuff like Anthrax, and then we kind of discovered stuff like DRI."
Gorilla Gorilla (Bif Naked & Randy Steffes) in Ottawa 1989
It wasn't long after that the family moved to Winnipeg. Throughout the 1980s, Winnipeg's punk rock scene was a thriving one, thanks in no small part to a local promoter by the name of Mike Lambert. "At that time, Winnipeg was one of the biggest draws in North America for hardcore punk," Lambert, who tour managed in the 80s for MDC, MIA, and DOA and who still checks out shows in Winnipeg on the regular, said recently. "Even Toronto and Vancouver took a back seat to Winnipeg. Whenever I went on tour I would convince all the bands we played with on tour to come play Winnipeg." "I think the first time I was interested in punk rock was that Agent Orange had a show at the Royal Albert," Bif said. The Royal Albert Arms provided many a punk, hardcore kid, or banger in Winnipeg their first experience of live, underground music. Hüsker Dü played the Albert in the 80s, as did a young Dave Grohl as a member of Scream, along with a literal shit-ton of other bands. It wouldn't be long before Bif would play her first punk show on the same stage. "There was also this place called the Chameleon," she continued. "I'd gone there with a friend of mine, and we met some of the kids who worked there, who would eventually be in Gorilla Gorilla."
One of those kids was a drummer by the name of Brett Hopkins, who was also a student at the University of Winnipeg at the time. Hopkins invited Bif to join a world music group he was involved with called Jungle Milk. "There were a lot of African songs and Indian songs in their repertoire," Bif recalled. "With my background in Indian music, from my childhood, my parents bringing me back from India, I thought this was great. I joined as a background singer." At the same time, Hopkins was playing regularly in Gorilla Gorilla, a punk band in the vein of like the Descendents and Dag Nasty, who were beginning to make a real name for themselves on the local scene. But when their lead singer went and moved to Seattle in 1989, Gorilla Gorilla were suddenly left in the lurch, a popular band without a singer. "I was the Lucky Pierre that got the gig," Bif said with a laugh. "I didn't know what I was doing at all. But for whatever reason it was a real natural thing for me to do, to get up on stage and sing the songs with the guys. We did a Screeching Weasel cover. I remember at the time being really nervous, I wanted to do it very accurately. I was concerned because I was a chick, and their previous vocalist was a guy. So I was very nervous, very self-conscious. But in the end, it was perfect. The guys played perfectly. It was freezing, we had to pee in a Slurpee cup and throw it outside in the snow. I was hooked."
Beyond the chemistry the band had on stage, Bif and Brett had hit it off romantically as well. For a while, at least. As Bif recalled, "I married the drummer, or he married me. I think I was 18 or 19, and Brett was probably 24 or 25 at the time. We'd blown the engine of our Ford Econoline playing a gig in a mud-bog outside of Portage La Prairie, so we needed a new engine. For our wedding, we didn't want any gifts, we just wanted money to repair the engine and get new drum skins." The happy couple got the Econoline running again, and the band hit the road hard, jumping on tour almost immediately with the Wongs, Mr Chi Pig's new project. Chi Pig, of course, is the legendary front man of SNFU who, at the time, had broken up after releasing three seminal punk records (…And No One Else Wanted To Play, If You Swear, You'll Catch No Fish and Better Than a Stick in the Eye). "My biggest influence was probably Chi Pig, really and truly," Bif maintains, 25 years later. "I had no female mentor. Canada was a little bit isolated in many ways. There weren't a lot of female singers I knew about until I got to the West Coast. So my mentors were basically guys. And really, Chi was the leader for me. SNFU was probably one of my favourite bands of all time."
After the tour, Gorilla Gorilla decided to stay in Vancouver, where the temperature never drops to the bone crushing -40 of Winnipeg winters, and the band were a lot closer to the punk rock action that was heating up on the West Coast, particularly down in California. However, the move West essentially marked the end of the band. "At this time, we were doing some bigger shows. But basically, it kind of started to deteriorate between Brett and I," Bif said. "Kent [Jamieson] and Randy [Steffes], the other two members of the group, they had to bear the burden of this situation, and for them it couldn't have been easy." The band split, and when the dust finally settled, everyone in Gorilla Gorilla continued on in punk rock, and (quite likely) with more success than they could have achieved as an upstart Canadian punk band. Brett went on to work with everyone from Lagwagon to Pennywise, Kent Jamieson manages NOFX, and Randy Steffes fell in with Green Day just as Dookie was about to explode. Not bad for a bunch of punks from frozen shithole Winnipeg.
"We would play shows with bands like Screaming Trees," Bif said. "We kept repeating Seattle trips. In the Pacific Northwest at the time (1991), this was our mecca. James Yach, the guitar player in Chrome Dog, was in a band called Beyond Possession. They were from Calgary, a tremendous group. It was part of the calling card that Chrome Dog had. Rich Priske was the bass player, he would go on to be in the Real Mackenzies for a number of years, but not before I dragged him on my first European solo tour." Meanwhile, Bif hooked up with Chrome Dog, a new group that was channelling a much heavier sound than what Gorilla Gorilla had explored. If anything, times were just as tough—or tougher—for Bif and Chrome Dog as they'd been in for Gorilla Gorilla. "We played shows where the band was paid in beer, and they were perfectly satisfied of course," Bif said. "I'm sure it's a practice that still goes on today for many young bands. We were just grateful to have a place to sleep, get a sandwich, play a show and sell some cassette tapes."
Gorilla Gorilla
It wasn't long before Bif decided to give the solo route a shot. Peter Karroll, who had been managing Chrome Dog, and Canadian metal stalwarts Annihilator, became her manager, and remains in the position to this day. Through his years booking heavy metal acts, Karroll had gotten to know John and Marsha Zazula of Megaforce Records. Megaforce put out early records from Raven, Danzig, Anthrax, and Metallica's Kill 'Em All and Ride the Lightning for fuck sakes. Somehow, Karroll convinced John and Marsha to go in on a co-management deal and take a chance on "this little Canadian girl." "They didn't know what to do with me," Bif said, chuckling. "But we kept marching forward. I was really lucky. I wound up playing with these other musicians who became my good friends for many years. Being a solo artist is like being an orphan, and it was like high treason in a way. Especially at that time. But I mean, I look back on it now and I have to laugh because it really was an amazing experience." With Karroll and the Zazula's in her corner, Bif cut a record, and tried shopping it in Canada to little avail. "They said, 'There's no way we're putting out this tattooed girl. There's no way she's getting on the radio. You're kidding yourselves, just cut your losses. It's just not going to happen for her.'" Instead, they set their sights on Europe, and hit the ground running.
Bif Naked came out in 1995, and apart from the singled "Daddy's Getting Married," which eventually made it to number 12 in Canada, Bif continued to have more success overseas—in Germany and Japan in particular. That would change with the release of I, Bificus in 1998, which had a number of tunes gain traction in Canada, with one hitting big. If you were anywhere near MuchMusic in the late 1990s, you couldn't escape "Spaceman," Bif's first and only number 1. "I have to credit [producer] Michael Caplan, and of course Peter, John, and Marsha, for letting me do the songs I wanted, regardless of genre. I think I was in a particularly lucky situation that I could mess around with genres on each record. I don't know that if I was a young artists today that I'd be able to do that."
In the meantime, Bif was able to live out some of the punk rocks dreams she'd had since she first took to the stage at the Royal Albert some five years earlier. In 1995, Bif contributed vocals to SNFU's "One Last Loveshove," the closing track to their record The One Voted Most Likely To Succeed. The next year, her vocals appeared even more prominently on the band's track "You Make Me Thick," which appeared on their album FYABULA and on the 1997 Vans Warped Tour sampler Punk-O-Rama 2.1. While neither vaulted her to fame or fortune, the experience was more rewarding than many of her later milestones. "For me, singing with SNFU was a bigger thrill than playing the Tonight Show," Bif said. "It really was." Of course, there were ups and downs. Almost as soon as a record was ready to be released, Bif and her team would learn the label wasn't into it, or wouldn't put money behind it, or any number of bullshit moves that big labels pulled on artists in the 90s. "The music business is really like a yin and yang," Bif said, after 25 years in the belly of the beast. "What the music business giveth, the music business taketh away. You have to persevere. It teaches you to stay positive, no matter what happens. It teaches you to concentrate on the show over anything else that's going on with your label people, your record, whatever. It doesn't matter. All that ever really matters, at the end of the day, is the gig."
In 2001, Bif released Purge. The record built off the momentum Bif and her team had been cultivating since before I, Bificus came out, and included her second biggest hit, "I Love Myself Today". Co-written by Desmond Child, who was behind monster hits for big name rock stars like Bon Jovi ("Livin' On A Prayer," "Bad Medicine"), Aerosmith ("Angel", "Crazy") and Joan Jett & the Blackhearts ("I Hate Myself for Loving You"), the track was Bif's last big hit. "I met Joan Jett in a studio in Vancouver in, I'm going to guess in '92," Bif recalled. "She was already a super-star, so I was very intimidated in that regard. I didn't ever envision I could ever be like her. But then to work with Desmond Child, that was like, I could have died happy." In 2005, Bif released Superbeautifulmonster. And still, relentlessly, Bif and the gang pushed on, touring constantly. Bif, who had briefly attended theatre school back at the University of Winnipeg, had been appearing in TV spots and films since 1990, and even starred in a reality show (2007's Bif Naked Bride). "We just kept going and going," Bif said, looking back. "Then I got breast cancer."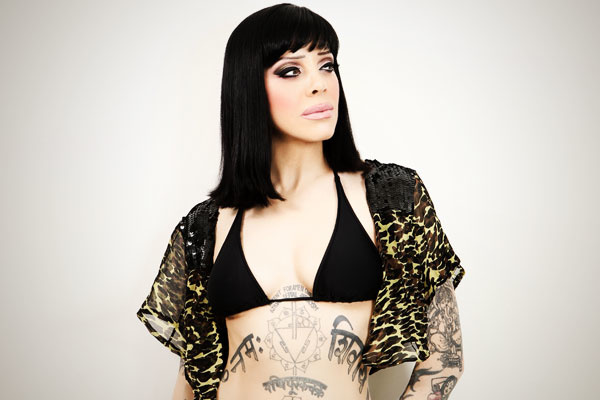 While undergoing extensive chemotherapy, the constant work machine Bif had built up around herself ground to a halt. "I think I'd been on tour since I was 18 and I'd never taken a day off," she said about that time. "There was one show, in 1995, in Regina we couldn't make because of a snowstorm. The only show I'd missed it my life. So when I entered into cancer treatment, I'd never taken a vacation in my life. I was really like, 'Oh man, I can't believe I finally get a vacation.' I didn't have to get on a plane, I could stay home with my dogs. I could just eat [laughs]. It was really a remarkable time.And, of course, I didn't croak." Rather, while recovering from treatment, she recorded and released The Promise, and has been busy, more or less, for the past six years since. More film and TV appearances, an acoustic album (2012's Bif Naked Forever: Acoustic Hits & Other Delights) and tour, along with one-off pop singles and co-writing. She got divorced again, in 2011, and last year lost her longtime guitar player, Jason "JD" Ekstrom.
Looking back at her 25 years in the business, Bif has few—if any—regrets. To her, the whole thing has been a serendipitous ride that has taken across the world many times, from stages like the dank Royal Albert to playing festival opening for the Prodigy before 80,000 fans. "I can only hope that I may have, somehow, provided encouragement or motivation to artists that knew about me," she said when I asked her if she ever thought about her influence, or "musical legacy." Did ever wonder if anyone picked up the guitar after seeing her on MuchMusic, or hearing her on the radio? Does she wonder, or care, if the kids today are finding her on YouTube and downloading her records on iTunes? "I don't know, I really never cared. I just wanted to live my righteous little life and hope it inspired others to do the same."
And now, she's back into the belly of the beast again, working on pre-production for a new record she's hoping to see released before the end of 2015. "After we made Superbeautifulmonster, I swore I'd never make a rock record," she said. "But here we are today making another record." Why? I ask, as if I didn't already know the answer to the question. "There's nothing quite like the thunder of a real loud gig," Bif Naked said, laughing again, her voice full of wonder even after all this time. "There's really just nothing like it."
Sheldon Birnie is Winnipeg's rock god - @badguybirnie