This article originally appeared on Noisey Canada. Photo courtesy of Light in the Attic In the late 1960s and early 1970s, political activism in the United States and Canada brought with it a heightened awareness of Native American issues. The Civil Rights Movement was a catalyst (groups like Minneapolis's American Indian Movement were even modeled after the Black Panthers), as was the Vietnam War, which stirred up dust everywhere by sending 82,000 Native Americans into service and around 50,000 Americans across the border into Canada to avoid the draft. Native rights groups formed all over North America during this era, boosting their visibility through their own media outlets and events like the Alcatraz Island occupation of 1969, the Trail Of Broken Treaties cross-country march in 1972, and the 71-day police standoff the following year at Wounded Knee, South Dakota.
While American Indian Movement voices like Russell Means (of Lakota descent), Madonna Thunder Hawk (Oohenumpa), and Leonard Peltier (Anishinabe-Dakota) drew plenty of attention to what was going on in the States, Canada had its own set of affairs. Civil Rights had made integration a reality, but for a lot of Aboriginal Canadians, that amounted to assimilation. Indian Termination policies in the United States had a parallel in Canada's residential school system (designed to erase Native customs and languages), and long-running conflicts like the 1969 White Paper (eliminating Native status) and environmental concerns surrounding the 1971 James Bay hydroelectric project highlighted the adversarial nature of relations between Aboriginals and the Canadian government.
These issues were some of many being addressed by the voices of an underground music culture in Canada. Duke Redbird, an Ojibway poet from Ontario's Saugeen First Nation reserve who came up in Toronto's Yonge Street folk scene of the early '60s (living in the same boarding house as Joni Mitchell) said, "The American experience at that time was caught up in the early days of the '60s to 1970 with the Vietnam war. And of course, Canada wasn't involved in that. So as a result, the Canadian experience was a lot different. There were a lot of the draft dodgers of the day that came to Canada at that time and brought their American experience with them, and it filtered into the music. It was an integrated connection that was positive all around."
In his collaborations with Ojibway singer-songwriter Curtis Johnnie (a.k.a. Shingoose), Redbird was part of a folk circuit that had been spreading across the provinces through coffeehouses and Native Friendship Centres for years by that point. The walls of the Canadian mainstream had been broken down in the '60s by Aboriginal artists such as Buffy Sainte-Marie (Cree), Robbie Robertson (Mohawk) of The Band, filmmaker/artist Alanis Obomsawin (Abenaki), and Willie Dunn (Mi'kmaq/Scottish-Irish), and artists like Willie Thrasher, Lawrence Martin and Morley Loon gained provincial popularity, but there was a whole swath of artists making records and touring who weren't as visible, and whose legacies have nearly been lost.
Photo courtesy of Willie Dunn The Seattle-based label Light In The Attic seeks to remedy that, partnering with Vancouver-based DJ, writer, and Canadian music historian Kevin "Sipreano" Howes for the 3-LP set Native North America (Vol. 1): Aboriginal Folk, Rock & Country, 1966 – 1985. That range of dates represents nothing more specific than the years in which the recordings Howes collected for this compilation were made, but 34 songs spread out over two decades also reflects the scarcity of the recordings.
"Part of the motivation for the work," Howes said, "Was wanting to find out information about these artists, and looking online, looking in books, and not being able to find that information. You have to go right to the source. So I had to track them down. They live all over different parts of Canada, and one of the artists from this comp is from Alaska as well, but it was a process of finding the artists and trying to get some of this history down. It is time sensitive. The artists are getting older, and we're losing some. Like Willie Dunn — one of the prominent artists from that era — passed away during the making of this project."
Willie Dunn looms large here even in death as he was revered across Canada for the stories he told in his songs about Native cultures. In 1968, Dunn made a film called The Ballad of Crowfoot for the National Film Board of Canada, which brought widespread acclaim to the Montreal native and a new focus on the Aboriginal situation. Howes remembers being shown that film in high school, and finding himself drawn back into Dunn's story years later as a record collector.
"He was part of the Canadian army at one point," Howes explained. "He went to the Congo as a relief soldier, and he said he put down his gun and picked up a guitar once he came back to Canada. But he used his guitar as a peaceful weapon, in teaching people and inspiring people. Willie Dunn was a huge inspiration to Indigenous people in North America and around the world. He made people feel proud to be of Native descent, and he shared stories based on the history of Native peoples in North America, and he really resonated with people of all backgrounds. He was a true legend, and he received some acclaim, but he never was able to break through."
The folk festivals of the '60s and '70s stoked the careers of many of these artists, but there was plenty of music being made in outlying communities that lacked access to recording studios. Then the CBC stepped in. Howes said, "12 of the 34 songs were recorded by the CBC — the Canadian Broadcasting Corporation, our national broadcaster here in Canada — as part of their mandate to record Canadian talent and Indigenous talent, something that unfortunately, because of government cutbacks to the CBC, does not exist today. These recordings were only for broadcast play, and on top of that only regional broadcast play. The songs of Sikumiut or Sugluk weren't played in Vancouver on the CBC stations. They'd be played in the Arctic, though. Most of these artists were and still are recognized in their communities and reserves across Canada. They just didn't have the opportunity to cross over into the great Canadian conscious and our greater cultural fabric."
Inuk artist Willie Thrasher, who started playing music in the Northwest Territories in the late '60s and now busks in the town of Nanaimo on Vancouver Island with his partner Linda Saddleback, said, "The CBC put together some eight performances from across Canada, and I was chose as one of them! And the only reason why I was chosen — I remember the time that I was playing with The Cordells, and an old man came to our table and he sat down and he said, 'Why don't you write songs about your ways of living?' At the time, I was living at the residential school, and the residential school took my ways of living — hunting, trapping, everything — away, and I was forced to stay away from my mom and dad 10 months out of the year for about 12 years. When that old man told us that, I didn't know nothing, and this old man knew a lot about our culture! That's when, for the first time in my life, I started realizing who I was inside. I am an Inuvialuit. My people used to live this way before. And that's how I got interested in writing Inuit music. I started hearing stories that the elders were scared to talk about. The Christianity got to them so good that they were afraid to talk. They were proud to talk about it, but they were hiding it. They were scared that if the missionaries found out, they would give them hell and everything, eh?"
The residential school system removed Indigenous children from their homes once they reached school age, placing them in a Christian school where their hair would be cut short and their languages and customs discouraged. In the early 1950s, that was what happened to Thrasher.
"They took me when I was five years old," he recalled. "I had long hair and I spoke a little bit of Inuktitut here and there. And then every time I spoke my language or think of my ways or anything like that, I would get strapped or put in a corner or put on detention. They made sure that I didn't learn much of my traditional ways. While I was in the residential school, they were made to take everything away from me, and not keep our culture in our mind — to put us in a new environment."
Canada's last residential school shuttered in 1998, but its legacy drags on for the people of the communities affected. To protect those lost histories, some of these artists have shifted towards working with institutions around the country to expand what they did as musicians. For the last five years, Cree songwriter Lloyd Cheechoo has worked for the Cree Native Arts & Crafts Association as their Executive Director, Lawrence Martin served as mayor of two different Canadian towns and is currently the grand chief of Moose Factory's Mushkegowuk Council, and Duke Redbird has been speaking on Native issues for decades, at one time as president of the Ontario Métis and Non-status Indian Association, and as vice-president of the Native Council of Canada, representing Métis and non-status Aboriginals whose treaty rights have been restricted by the Canadian government. All three have found a voice outside of their creative lives, working towards resolving issues that have plagued Aboriginals for centuries.
"Our lands were never legitimately taken over," said Redbird. "At least in the United States, one of the legitimate ways you can take over somebody's territory is by conquest. And of course, that happened in the United States. But in Canada, we never had a conquest. There were no wars. The British certainly didn't purchase the land from us, and they didn't make treaties with us. They just moved a lot of people in, took over, and then took jurisdiction. So these issues are still with us today. And they're quite different from the American Indian experience. Similar in some places, but different enough that we had a kind of special message that we were getting out that wasn't as political I would say. We were just seeking justice, and we were pointing out that it was possible, if people could learn to get along."
Cheechoo grew up at the southern tip of James Bay in Moosonee, listening to rock 'n roll in Moose Factory Island dance halls and the fiddle music that had been brought to James Bay by Scottish fur traders centuries before. Cheechoo wrote "Winds Of Change" as a historical homage to the first sighting of European ships in James Bay. The resulting marriage of traditions turned out to have a particular relevance for Cheechoo. Photo courtesy of Shingoose and Duke Redbird.
"My dad is a master fiddler," he said, "and he learned from my grandfather. When my grandfather Noah was a young man in the early 1900s, he worked on these ships. There's an island off the coast of Quebec and Ontario where the Hudson Bay ships will dock and they unload. They had big warehouses. And my grandfather would say, 'When we finish unloading this, there's some rum,' at the end of the evening, and the sailors would have fiddles and start fiddling. That's where he picked up the fiddling music."
Those traditions are alive and well. James and Daisy Cheechoo recently recorded an album and performed at the Orkney festival in Aberdeen, Scotland, and their son's contributions to the musical legacy of James Bay are saddled in its history. "James Bay," and "Winds Of Change" both appear here and on the 1981 World Records album Goose Wings: The Music Of James Bay (with Lawrence Martin, Roger House, Brian Davey, Otterhead Drum, Norman Naveau, and Lloyd's brother Vern) as a nod to the nature and traditions around James Bay in danger of going away.
"They had these drums, these various types of drums," Cheechoo recalled of music he heard growing up. "They have the hunter's drum, and the hunter would sing a song, like a chant. I couldn't make out the words. It was their own personal song to seek a vision where the animals could be for the fall, because they migrated, and they migrated with the animals. So a hunter would sing a song, and then after he was done, he would say, 'We're gonna go over here. That's where we're gonna go.' The other ones were social dances, or different types of events would occur where they would sing chanting songs. There's lots of a capellas. The woman would sing lullabies — children's, working lullabies — so that was passed down. Some of them kinda disappeared. After a while the Christian movement came and some of the activity was forbidden to do, I guess."
Musically, the folk, rock, and country on Native North America (Vol. 1) draws from Canadian heavyweights like Neil Young, Gordon Lightfoot, Buffy Sainte-Marie, and Leonard Cohen, with streaks of Hank Williams, Bob Dylan, and Johnny Cash. But there are any number of traditional sounds at work within that, from chants to pow wow drums and a cross section of some Native dialects still spoken across Canada.
A leader of the Innu folk movement of the 1970s, Quebec native Philippe McKenzie formed Groupe Folklorique Montagnais in 1977 with Bernard Fontaine and fellow Innu Florent Vollant. Their song "Tshekuan Mak Tshetutamak" ("What To Do?") is one of the brightest moments on this compilation, with acoustic guitars strumming up big, uplifting chords over the pulse of a shaker and a frame drum. Most notably, McKenzie sings in his Innu-aimun language, a decision inspired by Cree singer and actor Morley Loon (1948–1986), a songwriter and actor who celebrated Indigenous cultures and stressed the importance of keeping Native tongues and traditions alive in his music. Before his death in 1986, he also formed and toured with the short-lived but much lauded group Red Cedar with Willie Thrasher, Robert Hall, Nilak, and Heiltsuk artist Mia Hunt.
Some of these artists played seemingly small but crucial roles in Canada's Aboriginal music history, like Sudbury, Ontario native Eric Landry, who took up music in the '50s and only ever released one song commercially. But that song, "Out Of The Blue," for many people perfectly contextualized the Aboriginal experience: "All you late settlers in this land / Driving your wisdom down the street / You're missing points cause you ain't been / to Canada yet."
That sentiment towards colonialism is echoed by the "Elvis Of The North," Cree singer-songwriter Ernest Monias. In "Tormented Soul," the Manitoba native sings: "My sky was blue, and my nights were still / My eyes were true, but thieves you came to kill / My waters were clean, my forests were green and high / You were so mean, you left me here to die, to die."
Some of these artists had dry spells, some all but disappeared, and others still never stopped working. Some were located in communities that were so remote they were only accessible by plane, and yet in towns all over the country they were tuning in to radio signals from rock 'n roll stations in places as far away as Nashville and West Virginia. In fact, the reach of Native North America (Vol. 1) extends into the streets of Fairbanks, Alaska, to the haunting caterwaul of Eskimo songwriter John Angaiak, whose "Hey, Hey, Hey Brother" and "I'll Rock You To The Rhythm Of The Ocean" explore Yup'ik family dynamics and the Aboriginal traditions with which he was raised. On his 1971 album I'm Lost In The City, Angaiak sings half the album in English and half in Yup'ik, with the influence of his native dialect evident even in the English songs, both in his pronunciations and the idiosyncratic turns in his melodies. Angaiak's are standout moments here, infused with a loneliness no doubt drawn from his time spent fighting in Vietnam — an experience representative of the diverse life stories herein.
Peter Frank (1941–1981) was a Mi'kmaq from Wagmatcook First Nation reserve in Nova Scotia whose residential school system past and subsequent career as a bush pilot factored heavily into the songs he wrote about his people. Lil'wat Nation member Gordon Dick tried to run away from a residential school three different times before picking up music, and was working as a tour guide for a summer camp in British Columbia when the CBC showed up to shoot a documentary and chose him to do the music. Alexis Utatnaq (Inuit, singing in Inuktitut), has been playing concerts across Canada since the early '70s, never having left his day job as an interpreter/translator. Leland Bell (Anishinabe), from the Wikwemikong Unceded Indian Reserve on Manitoulin Island in Lake Huron, is actually better known as a visual artist. Working throughout his music career at a printing plant, Bell began writing his own material after being inspired by the music of Willie Dunn.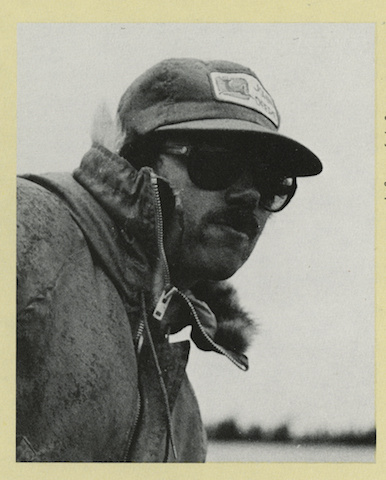 Photo courtesy of William Tagoona
There are testaments to longevity in Cree Edwin Quinney and his Alberta surf-rock group Saddle Lake Drifting Cowboys, who formed in the late '70s and appeared at weddings, banquets, churches, and sobriety functions all the way until 1994. Starting back in 1971, William Tagoona (Inuit) was employed in Montreal as a translator for the Federal Government, which eventually got him writing songs in his native Inuktitut language. He worked for the CBC as a radio personality and reporter through 2012.
The darkest related story goes back to 1969, when Willy Mitchell (Mohawk-Algonquin) was shot in the head by a Quebec police officer at the age of 15 after becoming involved with the theft of some Christmas lights. While Mitchell was in the hospital, his brothers and cousins staged a protest by holding up a local watering hole full of old men, only to find their hostages sympathetic.
"There was about 10 guys there with .30-30s," Mitchell said. "The police had barricades on both ends of the street and there was police on the roof. And the chief of police came to the bar there and he showed his hands and he said, 'I'm unarmed. I wanna come in and talk to you.' So they let him in, and he told them, 'Nobody's gonna be charged for this. You can keep your guns and nobody will be charged. There's no one out takin' license plates or nothing. You can just go home. That's all we want. We're sorry this happened.' And so everybody went home. The old men were clapping and yelling."
Rounding it out, James Bay area Cree singer-songwriters Brian Davey and Lawrence Martin also represent Moose Factory Island, and the Edmonton country group The Chieftones, who formed in 1964, contribute a track from before they left for a second act in Nashville in the '70s.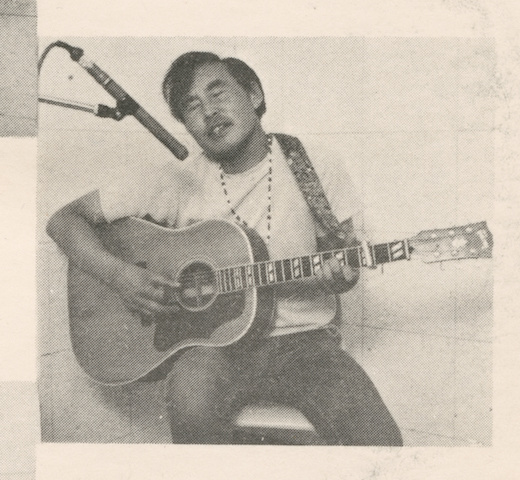 "Different regions had different bands who were celebrated," Howes said. "Sugluk and Sikumiut in Nunavik region for example. But overall, best known on the non-Native folk fest circuit were Willie Dunn, Shingoose, Duke Redbird, and David Campbell. Morley Loon was more known in Native music circles, and was influential as someone who wrote and sang in the Cree language. Willie Thrasher and Willy Mitchell were there too. Philippe McKenzie is a pivotal figurehead to Innu people." Photo courtesy of John Angaiak
Omnipresent in the liner notes are stars like Buffy Sainte-Marie and filmmaker Alanis Obomsawin, both of whom are idols and mentors to many artists on this compilation, but there are no musical offerings from female artists. Howes said it's unfortunately representative of the era.
"I really wrestled with the absence of women on the comp, but ultimately I wanted to present the strongest material available. Buffy is already well known and celebrated, and Alanis was unavailable to work on this project. There's no doubt it was a male-dominated scene, but you never know what can surface in the future."
Redbird chalks it up to the fact that Native women were playing music, but not on the folk circuit, and that in itself was a product of reservations and residential school oppression.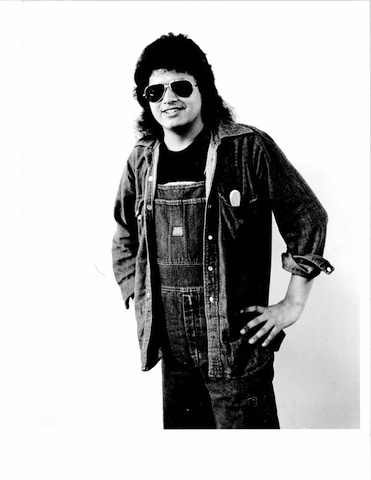 "One of the things that people forget is that we didn't have access to musical instruments," he said. "The women chanted and they drummed, but it wasn't the kind of music that you would expect on the folk circuit. In order to play a musical instrument, you have to have access to musical instruments, and on reserves, we just didn't have that. Occasionally, the guys would be working and they'd be able to purchase a guitar and learn on their own, but there were not banjos or ukuleles. This kind of thing just wasn't available. Since then, of course, we do have quite a few Native women who are excellent singers and songwriters and musicians. But in those days — we're talking back in the '60s, that's 50 years ago — you have to understand what reserve life was like and where our young people have come from. Residential schools considered any kind of music that wasn't a hymn to be of the devil! These were church-run schools of the worst sort. You can't imagine the kind of repression and brutality and horror that these places were, and certainly women or young girls weren't encouraged to take up a musical instrument or anything like that. And that was the generation that was emerging from very deep repression. It wasn't like the South where they could sing work songs. This was not even allowed in Native communities. You know that our songs and our dances and our culture were forbidden by law?" Photo courtesy of Lloyd Cheechoo
Things have been different for female artists in the decades since this compilation was recorded. The Juno Award for Aboriginal Album of the Year, created in 1993 (Lawrence Martin, a.k.a. Wapistan, won the inaugural award), each year recognizes the best recordings of Canadian Aboriginal musicians. Buffy Sainte-Marie and Susan Aglukark have each won twice, and Elisapie Isaac, Mishi Donovan, Leela Gilday, and Crystal Shawanda have also taken home the prize. In 2014 and 2015, three of the five nominees for the prize were female.
Internet searches on a lot of these artists won't turn up much, making Native North America (Vol. 1) a previously nonexistent link between these decades-lost artists and their now-scattered fan bases, and new methods of communication have brought new fans.
There is no better example of that than David Campbell, who was born to an Arawak Amerindian father and Portuguese-Guyanese mother in what was then-British colonial Guyana. He grew up living under a thatched roof home on the banks of the Pomeroon River, migrating in his early 20s to Canada and crossing paths at the Village Corner in Toronto with country trailblazers like Ian and Sylvia Tyson before running off to England in 1966. It was there that Campbell would establish a successful recording career, releasing four albums on three different labels between 1966 and 1972. Returning to Toronto in the '70s, he made a new connections.
"When I came back, one of the first things I did was to check out the Native scene there, and meet up with Native people. And then I began singing at Native events there, and I'm happy to report that I was very beautifully accepted by the Native people of Canada. And in my own mind, I didn't see any reason why I shouldn't be. Not because of me, but because I don't see any barriers between us. Wherever we may come from in the Americas, I don't see there should be any division. That held true, and so I began to take part in things Native in Canada to a large extent over many years, and became part of the Native performing scene in Canada."
Campbell no longer tours today, preferring instead to communicate with his fan base through the YouTube channel he maintains from his home in Vancouver. Still alive in his work are themes protecting disappearing Native storytelling traditions, something that Campbell addressed in 1978 with "Sky-Man And The Moon," and contextualization of the contemporary Aboriginal experience, which he did the year before with "Pretty Brown."
"It still applies," Campbell said of the song. "I think there was a reason for writing it, and that reason still pertains. It's a funny thing about songs. You write songs for a lot of certain central reasons, and then also some auxiliary reasons, and in 'Pretty Brown,' obviously there was a central reason for writing that. The beauty of Native people needed to be expressed."
In the era since the years documented on Native North America (Vol. 1), newer generations are picking up the same torches through poetry and hip-hop, and they're channeling old themes.
"There's still the destruction of the environment, corporate dominance, oppression," Howes said. "The same issues that the artists were writing about in the '60s, '70s, and '80s."
"Art, dance, and music existed before civilization," Redbird said. "It's part of our DNA. It's embedded in the very fabric of who we are as human beings. And the music and spoken word acoustic world was the world that human beings lived in for two and a half million years before writing came along, so it's all a part of what represents ourselves as humans. It makes sense that these themes continue to be expressed and addressed, because with all our technology, and all the progress we think we've made, we still haven't really improved on the poverty in the world and the crime in the world and the wars in the world. And all of the things that our generation in the '60s was addressing, this young generation of the Millennials are talking about it today! I go out on stage with these young Millennial spoken word artists, and my poems and their poems are talking about the same issues."
Lance Scott Walker is a New York-based writer. He is the author of the books Houston Rap and Houston Rap Tapes.