Photo by Dan Meyer
The stories around Chief Keef and his Glory Boyz Entertainment associates are some of the most arresting in modern rap history.
Their track "I Don't Like" was last year's "B.M.F.," and its video, shot at home for $300 now stands at 28 million-ish Youtube hits.
Its provocative use of the 30-round extension clip or "stendo" stunned people who don't pay any mind to national homicide rates into all of a sudden looking at what is happening in the daily lives of teenage boys and girls in Englewood, Chicago.
And perhaps just as much as the gun waving and the cold-blooded delivery of the song, it was the look of G.B.E. and its Lamron/3hunna-affiliated members that really got the world and the major label checkbooks' attention.
There have been many other headlines centered around Keef and the alleged activities of he and the rest of G.B.E., but we don't have time for that here. Let's just say that the guy in the intro to the video with the neck tattoos and cross tattooed on his forehead is Fredo Santana.
He is Chief Keef's cousin and co-founder of G.B.E. and a couple of weeks ago he came by our office in Brooklyn to talk some possible collaborations between VICE/Noisey and G.B.E., give us some insight into the inner workings of the infrastructure that helped make Glory Boyz stars in their home city so quickly, as well as plug his mixtape A Scary Site.
Fredo Santana's next mixtape Fredo Kruger is coming February 28th. View its excellent cover below, and stream A Scary Site below that.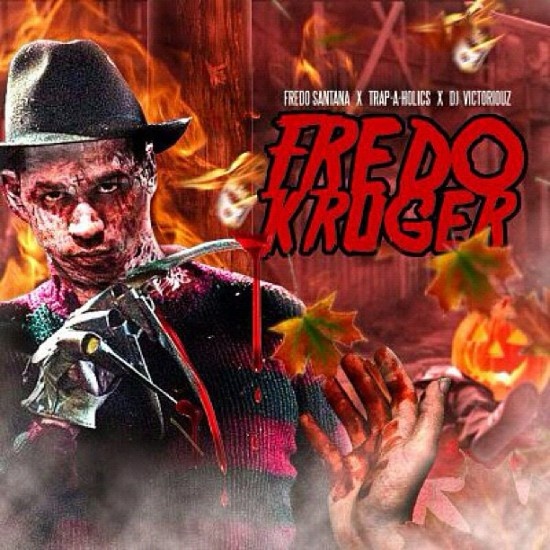 Noisey: What kind of blunts are you using there?
Fredo Santana: This is New York and every time I come to New York there's Dutches, so I might as well start bringin' my Swishers. I smoke nothing but Swishers. I even got a Swisher box tatted on me. Yeah. Swisher box and a Remy bottle.
When did you start getting tattoos? How old were you?
Umm. My first tattoo was this right on my face. When I turned 17.
Why did you decide to get face first?
All or nothing. That's it.
What's the significance of the cross on your forhead?
Umm, God, you know.
God?
Yeah.
I was just shooting something at 64th and Normal in Chicago, which is where Lamron (the organization that Keef reps) came from. It's a hot address eh?
Yeah, I ain't from Lamron though. I'm on 61st and Indiana. I'm from G.B.E. and shit, 61st street.
How did you meet that gang of kids? Like Keef and Lil Reese.
Keef's my little cousin. We grew up with each other. And Reese, we went to the same school. I was like about, three grades older than Reese. We went to the same school. But I've been knowing him since forever. Since we was little. And it's just, we… we in the same organization, it's just we on different blocks. Reese, he grew up over there, I grew up over here. Keef grew up over there on old block, that's on 64th. King drive. I'm right there on 61st but, its all right there by each other you know.
So how old were you, like 10, 11, how long have you known each other?
Like forever, as soon as we was, forever. Like since kindergarten, Reese. Keef, that's my cousin you know. I mean, his grandma, they got the same, his grandma and my grandma, they sisters.
You read a lot about Chief Keef, but nobody's got to the bottom of what he's like. He doesn't say much in interviews. How would you describe him?
He's, you know, he's funny, and he's smart. I don't know why he don't be talking in interviews. He might get, I guess he nervous. On the spot, talking like that. I feel like he gotta think too much I guess.
Everybody is also saying things like: "In Chicago you don't talk to strangers." Is it that?
We don't trust a lot of people. Chicago, you know, a lot of people cross you and types of stuff, I've been through a lot, even family will cross you. Keef been through a lot. He been through a whole, whole, whole, whole lot. Whole lot as a kid, and still a kid, man. He's 17.
How old are you?
I'm 22.
So you're one of the older ones.
I'm the oldest out of everyone.
You're quite prominent in the "I Don't Like" video. Did that make you famous in Chicago?
I mean, we was already famous in Chicago. Everybody knew us. Like they knew Keef went through a lot, out there on the streets going crazy. Not me. I wasn't rapping like that. I was just really known in the streets. Everybody knew me from everywhere. Even opposite gang members, all around. I've been sellin' drugs since 12 years old. Reese, they knew from the streets and always rappin'. This just put us on a bigger scale.
And how has your life changed since then? What do you think has changed?
I mean, I really can't say. See, I got straight out of jail. February 3rd (of last year). And while I got out of jail he already had songs with Soulja Boy, you know. When Keef got locked up for poppin' a gun on a police officer I was with him.
What happened?
You know, it was all crazy, but I ain't gonna talk about that. He got locked up, and I got locked up two days later. For probation violation. When I got out he already was going crazy and all that. I got right out to it and I just went with the flow. So I really can't, I'm just used to it so you know. I really can't tell. I already was big in Chicago. A lot of people already knew just from the streets, like it's just a little bit bigger now.
And is this your first solo mixtape?
Yeah, Scary Site was first mix tape ever.
Say someone hadn't heard it yet, how would you describe it? What makes Fredo Santana different, how would you describe it's different from Keef, or different from Reese?
It sounds like struggle you know, it sound like struggle. You know, like you've been through something. It sounds like struggle. I don't too much rap about flashy type stuff you know. Keef rap about flashy stuff, but I don't rap about that. I rap about struggle, heart, life in Chicago.
Would you say that your life has been a struggle so far?
Yeah, I mean, but that's life period though, you know.
Is that life still a life that you live?
Well I mean, I got my family who still live that life, my friends still live that life, it's really like, ain't nothing's really changed. I mean, I ain't signed yet. So it's like, ain't no big money comin' this way, It's just fame. I mean, I ain't live in the hood but my peoples still live in the hood. My mother still in the same spot, you know.
What does she think of the fact that you're famous now?
She like it. she already knew it was gonna happen. She knows what was going on, you know. Either I was gonna do something, I ain't even gonna lie, I told myself when I was little, You're young. You're ten years old, no bullshit. I'm gonna be the biggest drug dealer in Chicago, or I'm gonna be the biggest rapper, I'm gonna be the biggest movie star. I'm gonna make something, I need to be just big.
Then when I started hanging with Keef a lot, when he started hanging on the streets, I was like, well I gotta start hanging with him cause that's my cousin. I know I do the street scene so I gotta be with him, that's my cousin. So now I start hanging with him more and he showed me a lot of things with rap and I showed him a lot of stuff with the streets and yeah we mixed together. And we start fuckin' back with Reese because I ain't meet up with him in years. and then we formed G.B.E.
Where do you think it's gonna go? What's your ambition?
I wanna be the best rap group ever. And I want all of us to be, like, The Beatles. Like for Reese, me, and all of us.
You think a lot of that trouble that surrounded Keef and that G.B.E. has sort of helped?
It kind of did, but at the same time a lot of people were backed-off and skeptical and don't even know what to think, and then you know how it is, you got an automatic impression but you don't even know us. Or know where we come from or know what we've been through.
Keef's got a deal, Chop just did a deal with Warner, Durk is signed to Def Jam, Reese is on Def Jam. What's your situation?
I ain't signed to nobody.
You're gonna be next right?
I guess. You know, I'm just working. I just work.
If you could sign to somebody who would you sign to?
I wouldn't want to sign to nobody, you know. I mean why would I sign to somebody, so they could like, I feel like I got my own thing. I'm my own person, I don't need to sign to nobody. Then they're gonna want me to do what they want me to do.
Well they give you money as well.
It ain't the money, it's about position. And letting me be me, and believing in me. Not just about some money, and just giving me some money and you know, here, and putting me on some shelf and my shit don't ever come out. Nah, I'll just do my own thing. Free mixtapes.
In Chicago, the people who knew Keef were telling me that G.B.E. doesn't care about any other rappers, but Dipset's a big thing for you guys. Is that true?
I mean I listen to Dipset, you know. Yeah, like when was little. I mean I ain't gonna lie, I used to listen to Master P. I was a little older, so I was listening to Master P and Cash money. Baby. I hit all the Baby albums, the Big Tymer albums, all of Wayne's first albums, Juvenile. All the No Limit albums, all the movies. Used to wear the bandanas over my head and rap their music in the mirror and shit. And as I got older, as far as grammar school, I started listening to 50 Cent. When I got in high school, I started listening to like Gucci. And like, now he listen to us. Like Gucci and Waka.
How did you get involved with Juelz?
I looked up and he was just following me on Twitter. So I followed him back. And I messaged him with like, what's up, let's work and shit. I sent him the raw audio of this song he did, as a matter of fact he didn't even do it, he came to Chicago, He said, "I'm gonna be in Chicago in a couple days." So he came to my crib, he did it in my crib. I got the studio in my crib.
Were you doing shows in the early days or were you all just worried about recording?
Nah we ain't never had no shows. We just started doing like that. We would just record, do music. Let the music speak. That's what it was always about with us.
I was told that if somebody that if somebody organized like a G.B.E. concert in Chicago the police would shut it down.
I mean. I don't know why they don't like us.
Follow Andy Capper on Twitter at @andycapper and on Instagram at @capperandy.