Last week, LA rapper and Young Money fam Tyga launched his own porn site, Rack City XXX (we obviously don't need to tell you that this link is NSFW). For the site, he's bringing porno all-stars Ice La Fox and Jada Fire out of retirement. Along with the website's launch, the 22 year-old rapper announced that he would direct and star in a porn film, centered around his hit song, "Rack City."
This is funny news, but not entirely surprising. Tyga isn't the first rapper to dip his or her feet into the fetid porn pool. There are rap-porn flicks to take inspiration from. How will T-Raw compare to the greats? My advice to Tyga: Go forth, and stroke your way to porn notoriety. And please make a film titled Fap City. Trust me, it will make you millions.
Anyway, here are some of his fellow rappers who've dabbled in the Wide World of Squish.
G-Unit -
Groupie Love (2004)
G-Unit actually won TWO AVN Awards for Groupie Love back in 2004. Acting as hosts, the entire crew took viewers on a BJ-filled sexcapade, giving watchers the chance to "interact" with the ladies on-screen. It sounds fancy, which is probably why the group successfully pulled off those awards.
Kool Keith -
Sex For Life Too (1999)
Kool Keith loves porn; he's even gone so far as to name his favorite porn stars. So it shouldn't be a surprise that the rapper acted alongside Ron Jeremy in this 1999 porno. Although Keith didn't "perform" per se, the thought of seeing him and Jeremy on the same screen is, for lack of a better term, funny. Plus, there's apparently one scene where some guy accidentally beats his wife to death with a phone book. Genius, I know.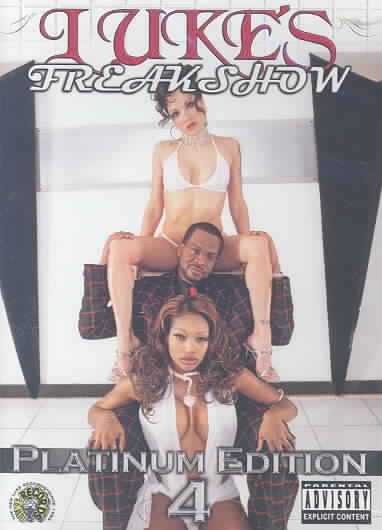 Uncle Luke -
Luke's Freakshow Series (1999-early 2000s)
You know Uncle Luke - he's the dude who blessed the planet with "We Want Some Pu**y," so it makes sense that he'd be into having sex on camera. This film is essentially Girls Gone Wild with a hip-hop soundtrack, with videos were hosted by Luke. It features an assortment of uncensored butts, boobs, and girl-on-girl action. If you're interested, Amazon has most of the series on DVD, but I strongly advise you read the customer reviews are available before purchasing. Like Amazon user art-dog3 tells us - in a review titled A Fun Time Had By Most - "there are sex acts performed with bottles, whipped cream, and a little oral… All in all, a damn good show."
Too $hort -
Get In Where You Fit In 1 (2003)
I'm guessing Too $hort is not short where it matters. Back in 2003, the guy performed in his own porno, Get In Where You Fit In 1. $hort hasn't made any other flicks since then, but it's nice to know that on someone's coffee table somewhere, there's a video of $hort doing the dirty.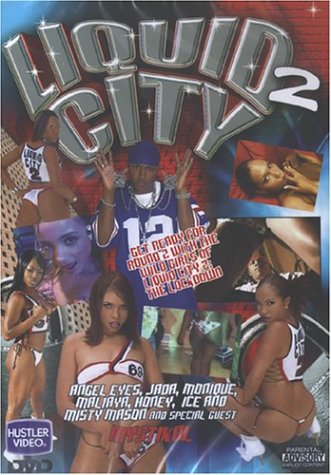 Mystikal -
Liquid City (2002), Liquid City 2 (2003)
Did you ever watch Mystikal's uncut videos on BET? The entire screen was censored. It was only a matter of time until the rapper released his own adult films. In 2002, Mystikal was the host of his own porn flick, Liquid City. He would reprise his role for a sequel the following year. Of course, all of the big-hitters are here, including Lexington Steele, Ice La Fox and Jada Fire. And Wesley Pipes, who was also in Get In Where You Fit In 1…. Seriously who is this guy, and how did he get such a badass name?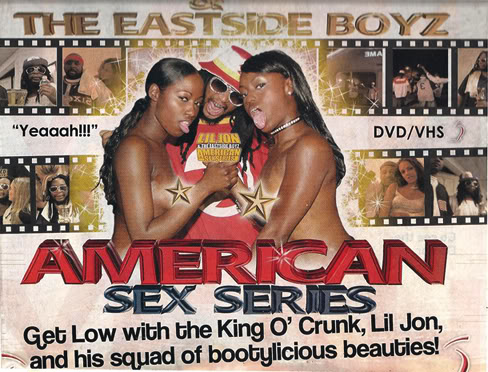 Lil Jon -
Lil Jon and The Eastside Boyz American Sex Series (2004), Lil Jon's Vivid Vegas Party (2005), Club Lil Jon (2011)
When you're the guy who popularized the phrase, "Skeet, skeet," you're kind of expected to trade in flesh. The rapper has directed and hosted all three porno films, listed above. And although the rapper has since moved on from making porn (he claims he's moved on "professionally," whatever that means), at least he's left us with three pretty entertaining films.
Coolio -
Coolio & The Gang Bang (2007)
Unlike other rappers on this list, Coolio had to venture into porn. After a short-lived rap career in the 90s, and a long-lived slo-mo car crash doing guest spots on game shows like Fear Factor and Pyramid, Coolio went down a very dark path, and starred in his own porno. Coolio & The Gang Bang would be the rapper's only movie before taking a stab at being an online chef in Cookin' With Coolio. And to think this is the same guy that provided the theme song for Kenan & Kel. WTF.
@EliW92