Reinvention is the ultimate privilege of pop-stardom (thanks Madonna), but it is also what the public demands. To an extent, the fickleness of fandom demands that we are never bored, always on our toes, and constantly stimulated. So when a mega-pop star does a 180 on their image, fans, and indeed the meerkat perched on its hind legs that is the media surveying the savannah, goes crazy—everyone has something to say, not to mention psychoanalyze. Performers are largely engrossed in this pop culture sport, and they're simultaneously vying for center stage in the world arena of both fashion and music. So dowdy 90s babes with precision applied brown lip liner and wannabe Winona haircuts can become blue wigged, 21st century, cartoon Vargas girls with spinning boobs, releasing girl scout sidekicks from human-sized globs of jelly. Duh, of course I'm talking about Katy Perry. Say what you will about Katy, the woman is an undeniable master of both invention and reinvention, creating whole worlds and epic narratives out of her malleable persona. But the most compelling thing about Katy is that at the nucleus of her orbiting array of rockabilly, candy-pop, and sex kitten personas, there's this weird girl with an admirably stiff determination who fought, tooth and nail, for control over her music too.
Photos via songbird.me.
Disclaimer: I. F**KIN. LOVE. KATY. PERRY. And I love her stylist, the massive hunk of spunk Johnny Wujek (currently lighting up screens as the creative director of America's Next Top Model). The pair have had a long and at times arduous sartorial journey together. What Wujek is best at is making Katy's Candyland dreams come true. What he is not excelling in is "sensible" Katy—you know, the gal on the red carpet or the Katy papped leaving hotels with John Mayer. But fun Katy? Fun Katy he can do. So here we go on a journey with Ms. P: from her Christian Rock roots to her now roaring career, and some of the most memorable looks that went with her. Behold! Photos via intermedia.ge and katyperry.wikia.com.
WHAT IF GOD WAS ONE OF US?
Katy Perry, born Katheryn Hudson, began her career as a doe-eyed Katy Hudson, Christian Rock's answer to The Cranberries. (If you really wanna go there, watch her vid for "Faith Won't Fail.") With her parents being Pentecostal head-slapping cult leaders pastors, this makes more sense, but what it doesn't explain is the grunge-meets-country vibe of her style at the time. A natural blonde, Katy sort of looks like an Elf-era, bang-less Zooey Deschanel, but with the brown-hued pout of Joan Osborne. I'd also like to give an honorable mention to the "hair twists" in this first picture above. We all like to pretend we never indulged in the old twist and clip, but in reality, circa-2000 most of us were sporting elaborate hair labyrinths adorned with colorful little plastic butterfly clips. It seems like even God was not immune to the scourge of millennium fashion.
Photos via celebuzz.com and pinkbowcity.com.
ROCKABILLY KATY
Rockabilly is a strong look for Katy and one she's revisited many times since the painfully failed experiment that was [Katy Perry and The Matrix circa 2004](http://www.youtube.com/watch?v=sOoyiN3BfP0 ) (Nvr4Get). As her former two record labels (Island Def Jam and Columbia) tried to squeeze her into this reluctant mold—in a half-hearted attempt to make her "the next Avril Lavigne"—and subsequently dropped her when she didn't fit it, this is the era in which Katy is widely quoted as having said, "I don't want to be the next something. I want to be the first Katy Perry."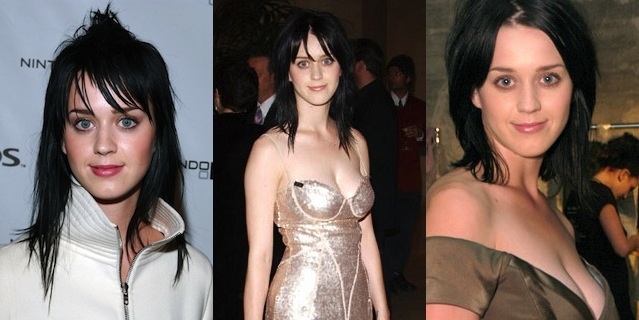 Regardless of her forthcoming image overhaul, being naturally really busty, Katy's body is made for these tight, feminine silhouettes. My favorite Katy rockabilly moments came much later than their original 2004 incarnation, when she was finally running the show. It's a close tie between her whimsical "Thinking Of You" (2009), and much later, her very pink lady at the 2011 EMAs. I would totally non-ironically wear that pink studded leather jacket. So this happened. Photos via buzzworthy.mtv.com, wearwayfarers.blogspot.com, mtv.com.
JOAN JETT MULLET
Unfortunately it wasn't all fringe rolls and sweetheart necklines for a young Katy. As a right of passage for any woman transitioning from teen-hood to their 20s in the early/mid-2000s—and I can attest to this because Katy and I are the same age and have hit many of the same style milestones—Katy sported the Joan Jett Mullet. And Katy, like everyone else, wore it poorly. (Even Scarlett Johansson couldn't carry it off. Tragique.) She apparently also went through a brief phase of eschewing bras where bras should never have been omitted. Musically, Katy was still trying to find her feet, bouncing around from label to label, being told she'd never make her vision a reality, and looking at this haircut I can sort of see why the execs might have been a tad trepidatious… Photos via evrofeli.blogspot.com, celeb-seesaa.seesaa.net, eonline.com and bossip.com.
BABYDOLL
But the mid-2000s weren't entirely lost for our girl Katy. Appearing in the Gym Class Heroes video for "Cupid's Chokehold," she met the gorgeous Travis McCoy, whom she would later write the vitriolic "Circle The Drain" about (sample lyric: "You fall asleep during foreplay/'Cause the pills you take are more your forte). The pair went on to be the cutest couple possibly ever. At the same time, Katy told her hairdresser to stop thinning out her bangs, and the uber-girlie Katy the world would soon know to be kissing girls and enjoying it emerged, replete with adorable babydoll dresses and perfectly shaped curls, not to mention that Colgate Katy smile. TrAvIe + KaTy 4eVa.
ONE OF THE BOYS
In 2008, with Travie out the door and Katy freshly signed to Capitol, she released "I Kissed A Girl" which would see her rise, seemingly overnight (guys, it actually took seven years!) to pop ubiquity. With her album, One Of The Boys, Katy returned to the ultra-feminine 50s silhouette, this time with a cutesy pin-up edge. Then came one of my all time favorite Katy career outfits: the satin, spangled bustier and short-shorts combo she wore to the VMAs that same year.
But then at the EMAs, where she co-hosted AND won Best New Artist, this strange thing happened (below, left):
Photo via fashionista.com and virginmedia.com. Although she completely redeemed herself by putting on another adorable satin onesie and body slamming a cake for MTV's Latin America Awards. Props.
Photo via zimbio.com.
THE PERFECT BOB
In 2009 Katy was still riding high on the success of One Of The Boys, while incubating one of the greatest pop albums ever to be released, Teenage Dream (more on that later). Sartorially it's important to note that during this era, Katy's killer bob was criminally under-acknowledged and under appreciated.
"If We Ever Meet Again" - Katy and Timbaland having fun with Auto-Tune.
Photo via fabsugar.com.
BETTIE PAGE HAIR
In 2009 the 25-year-old singer also released a song with Timbaland (bet you didn't know that) featuring the Bettie Page wig that would become a staple in the Katy hair canon—and if you ask me—her best hairstyle ever.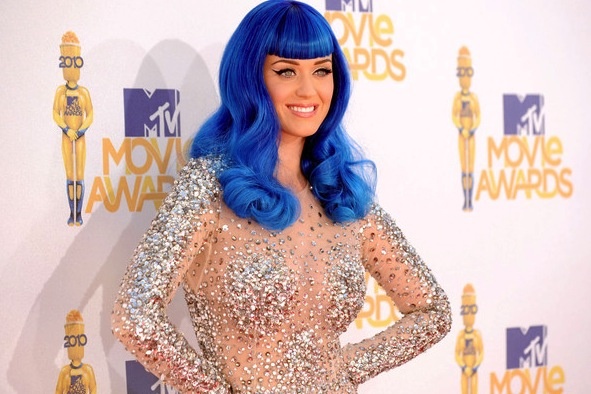 Photo via zimbio.com. It even came in blue, and was part of my ultimate favorite Katy Perry red carpet look, which I like to call Mermaid from the Sky.
Photos via mushions.wordpress.com and shoppingblog.com.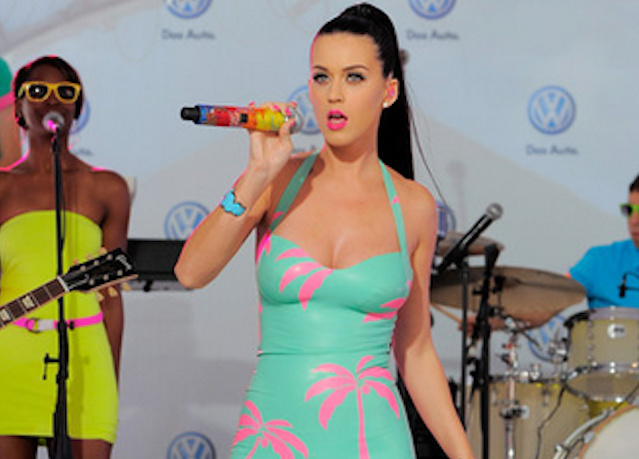 2010
Well. 2010. It was one hell of a year for Katy. She married an oily, discarded pube, and released Teenage Dream, a record that birthed a whopping five number one hits, making her the only female artist to do so, and on par with Michael Jackson. During her "Firework"-era, she also added ill-advised color extensions, which I'd prefer to have aborted from the collective consciousness. Plus she had some freakishly creepy Russell Brand nail art. ABORT. Instead, I will remember 2010 as the year Katy single-handedly upstaged a whole cast of Victoria's Secret models and proved that thighs, hips, and titties are what maketh the woman. (Sidenote: srsly who styles these VS models? It's like a tween's birthday fantasy vomited up on that runway.) This was also the year she Romy & Michele-d her hair and wore the dress of my dreams…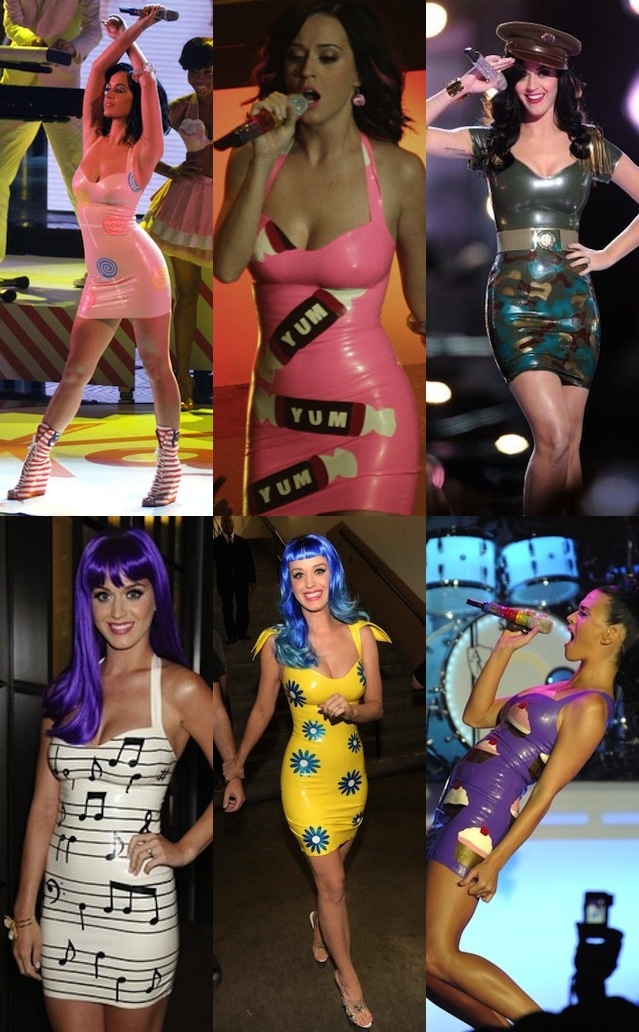 Photos via hannabeth.buzznet.com, coolspotters.com, theblemish.com, krazyfashionrocks.blogspot.com, trixiave.wordpress.com, reddit.com, digitalspy.com. LATEX
Which brings me to Katy's amazing obsession with kitschy latex dresses. Aside from accentuating those swoon-inducing curves, Katy also managed to use the humble latex dress to add value to the Obama campaign. LED
Before I depart 2010, let's take a moment to revere Katy's Met Gala get up: the LED dress. The thing just kept on changing color all night, so I give it credit as being one dress doing the job of many.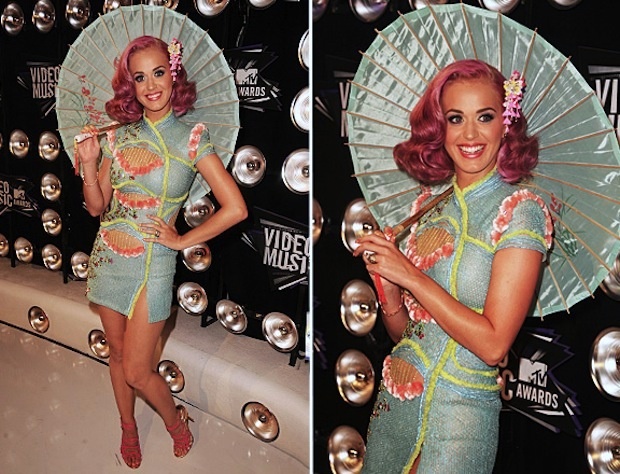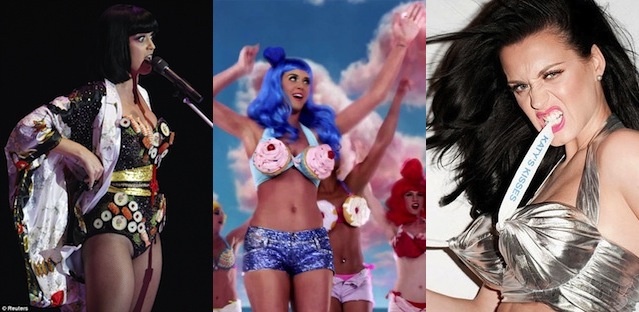 Photo via mtv.com. 2011 VMAs
In her wedded, pink-haired, Teenage Dream-era of blissful world domination, Katy was like a giddy school girl at the 2011 VMAs, and probably the only person on earth that could wear this batshit Versace number and leave me screaming at my cat "Where the hell do I get one of those?" I would totally wear that to Sunday brunch, and I'm not being even a little bit facetious.
FOOD
One theme that carried Katy right through her career and well into the Teenage Dream period is food. Katy's known amongst her cats as having a penchant for junk food and sweets, but on her body she's worn everything from sushi to fruit to cupcakes. Sort of leaves Lady Gaga's one tryst with edible party wear in the dust, dontcha think?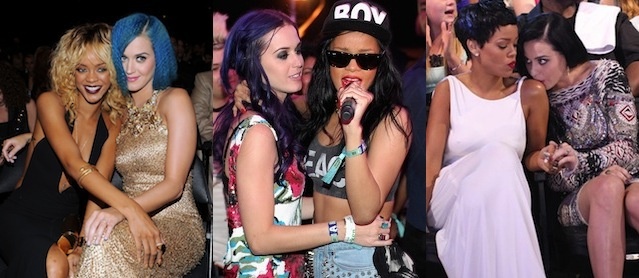 WHY SO BLUE?
Following her divorce in 2012, Katy dyed her hair blue and sort of looked, well, blue—despite hobnobbing with Karl Lagerfeld and allegedly hooking up with Kanye at Paris Fashion Week. I think this portion of Katy's life is a testament to what a smile can do to an outfit, because despite being dressed by first class designers in an array of gorgeous, jealousy-inducing outfits, and, for the first time looking like a proper, on-trend, fashion-savvy starlet, there was a sort of glum melancholy about her that, as a Katycat, pretty much broke my heart. (FYI, this is the name of KP superfans.)
GIRLS JUST WANNA HAVE FUN
But then Katy did what all jilted girls do when the going gets tough: she released an extended version of Teenage Dream with independence anthems "Part Of Me" and "Wide Awake," grabbed her BFF and started having a super fabulous time. She lost the sad blue-hued hair too, adopting a more trend-conscious, "grown up" look.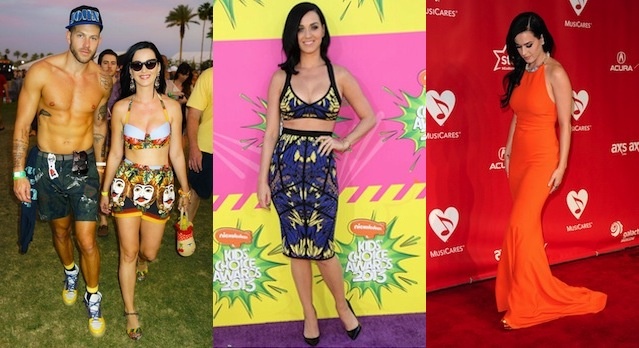 AND NOW
Katy barreled into 2013 with never-before seen poise,and the quiet confidence of a young woman who clambered her way to the top of her own empire, on her own terms. She hasn't abandoned her costumey shtick altogether, but her look is slightly more refined.
Katy's "Roar" video is, to my relief, as kitchsy as ever. When she teased her new record by saying it would be "much darker" I was afraid she'd loose her candy-pop charm. But never fear—a much cleaner faced Katy is still on a mission to paint the world pink, one elephant toenail at a time. And I have to say, that her forest throne and flower crown are très, très chic. Queen of the jungle, top of the charts, Katy's the megawatt pop star against which all others are now measured. Time for the rest of them to step it up.
Kat George will be sporting said headwear out this weekend in Bushwick. She's on Twitter - @kat_george. Style Stage is an ongoing partnership between Noisey & Garnier Fructis celebrating music, hair, and style.