This morning on the way to work, I passed by a bunch of film trailers, which means that somebody was filming some shit next to our office. There are two shows that are pretty much constantly filmed in New York: Girls and Law & Order. While Girls is a fine show and more reflective of the zeitgeist than most of us would like to admit, Law & Order is way better. Every episode is a classic, and the fact that you know exactly what's going to happen somehow makes it more perfect. Anyways, the show has been on for a gajillion years and there's been a bunch of musicians who have appeared on it. Here are some of the best ones:
METHOD MAN
Method Man is my favorite rapping actor, by far. Yes, I know about Mos Def and I know that Eminem played himself in a movie and it was good and kinda corny. But Method Man played Cheese on The Wire which is the apex of high-brow TV and he also starred in How High, which is the funniest fucking movie of all time. His character on Las & Order was pretty much Cheese 2.0, but hey, some casting directors aren't as creative as the one who cast Mef as a Jamaican pot dealer.
PATRICK STUMP FROM FALL OUT BOY
Just go with me on this one. Fall Out Boy was actually pretty cool! Like, having a band who made smart, self-aware pop-punk songs be at the top of the charts is way preferable than, I don't know, the Crazy Frog song. Anyways, Watch this shittily-filmed video of Stump playing a dude named Marty who's getting interrogated. WHAT WAS IN THOSE EMAILS, MARTY??? No one will ever know.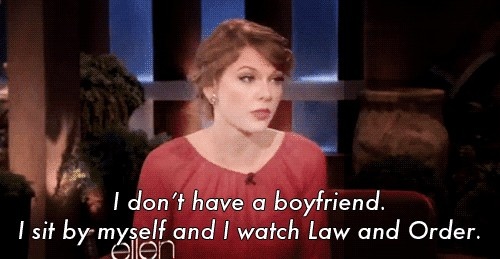 TAYLOR SWIFT
Noted pop-country songstress Taylor Swift is apparently the world's biggest Law & Order fan, but now that she's shilling for Diet Coke, there's really no way to tell if NBC paid her a bunch of money to say that. Deal or no deal, Tay was a totally competent corpse on L&O one time (Watch the episode here).
LUDACRIS
Ludacris has been on Law & Order so many times that he has his own page on this Law & Order-oriented Wiki site I just found. He plays Darius Parker, who's related to Ice-T's character on the show and is basically the evil version of him. Instead of watching Ludacris on Law & Order, just watch the "Pussy Poppin'" video because it's the shit.
BIG BOI
We love Big Boi. A lot. His finest moment as a thespian was when he played a rapper named "Got$ Money" who was smuggling exotic animals. His second-finest moment was when he did this.
HILLARY DUFF
GOD ASHLEY, WHAT IN GOD'S NAME HAVE YOU DONE? IT'S NOT ME. WE CAN SEE IT'S YOU PLAIN AS DAY! WE KNOW MARIA NEVER WATCHED SIERRA. NOW WE HAVE YOU BUYING A SHOVEL THE DAY THAT YOUR DAUGHTER DISAPPEARED. *THROWS HILLARY DUFF ON THE FLOOR* MY STUPID BABY! STOP MOM! KNOCK IT OFF YOU TWO! HANDS OFF OF ME! RELAX OR WE'LL LOCK YOU UP TO. WHERE IS SIERRA?! WHAT THE HELL DID YOU DO WITH HER?! NOTHING! LET GO OF ME YOU CREEP! *DRAMATIC MUSIC PLAYS, HILLARY DUFF USES "ACTING FACE"*
SPECIAL BONUS MUSICIAN: MICHAEL K. WILLIAMS
Method Man is not the only dude from The Wire who also guested on Law & Order who also also rapped. Michael K. Williams at one point was working on an album called Omar Coming where he was gonna rap from the perspective of Omar. I can't find it on the Internet for some reason, but he talks about it here, and above you can find him rapping as ODB, which is crazy and awesome.
Drew Millard has never forgotten to replace the Honey Nut Cheerios. He's on Twitter - @drewmillard