Winnipeg's rock n' roll history dates back even further than the days when Randy Bachman, Burton Cummings, Neil Young, and those other elder statesmen were teenagers shaking all over the community centre concert scene in the early 60s. And while rock n' roll never dies in the Heart of the Continent, as years pass it has a way of creeping away from the spotlight and into the dirtier, grimier bars in the city centre to rejuvenate its nocturnal powers.
After an explosion of punk rocked Winnipeg in the 80s, the underground scene continued and morphed into various sub-scenes in the 90s, including a legendary noise scene and a PC punk scene, both of whose influence can still be felt today. But for the first decade of the 21st century, it was "big, dumb rock n roll" that climbed out from Winnipeg's gutter, amidst a sea (both competing and complementary) of mohawks and pompadours, to take centre stage.
"Having been around for a long time and sort of seeing how one sound comes along and replaces another, I'm not even sure what the catalyst was for that rock n roll [scene]," Sam Smith told Noisey. Smith booked the Royal Albert during the latter half of the 1990s up until the bar closed in May 2011, as well as the Collective Cabaret for much of the 2000s. For most of that time, both bars were owned by Wayne Towns.
"I always loved playing for the Towns family," Joanne Rodriguez (aka J-Rod), a veteran of many Winnipeg rock bands over the years, told Noisey over a couple cold beers. "They were always super good to me and the bands I played with. They're such an essential part of the music scene." In the 90s, J-Rod sang in Off the Wagon, a country band that featured Romi Mayes and members of the D-Rangers, who would go on to much success within the local roots scene in the coming decade, and Kelly Castle. When Off the Wagon fell apart at the end of the 90s, J-Rod knew she wanted to do something different, musically.
"I definitely knew I wanted to try my hand at a rock n roll band," J-Rod recalls. "The VaGiants was my outlet for that. It was a great way for me to reinvent myself and get really gnarly and nasty and growly." Fronted by J-Rod, and featuring a stacked line-up of creative, young musicians, the VaGiants were a fearsome rock quartet at the turn of the century, touring Canada and the States relentlessly and pummelling audiences at home in bars around Winnipeg.
"They just had a creative energy where all of a sudden all these great songs were coming out," recalls Sam Smith. "J-Rod is a rock goddess. She's a firecracker," Rob Williams told Noisey. Williams, a longrunning rock n roll DJ on UMFM, was a music writer for both the Winnipeg Sun and the Free Press during the 2000s. "Bands like, say Stagmummer or VaGiants, if Winnipeg were a bigger market those bands could have been huge."
With a punk rock lineage that traced back to the days of the Stretch Marks and Honest John, the Fabulous Kildonans formed around the same time as the VaGiants. The Fab K's initial intent was to be "a 1950s music band," recalls drummer John Campbell with a laugh. "But once we got together we just started jamming and writing songs right away, we just stayed with the punk bent."
And while both these bands of veterans were starting to flex their rock n' roll muscles, a group of gangly teenage boys were preparing to burst onto the scene. Hot Live Guys, who were still in high school at the time of their first shows, would become one of the wildest live acts in Winnipeg for a time, but not before some awkward growing pains were worked out.
"We were kinda flirting ska and funk and surf and rock in a melange that we're embarrassed about now," Hot Live Guy Julian von Bargen told Noisey on the phone from Toronto where he now lives. "Then we played an all ages show at the River Osborne Community Centre opening for Tricky Woo. They put on a show that changed how we thought about music. They just destroyed like a rock band should. We thought holy shit, that's what we want to do!"
In short time, Hot Live Guys' live show would become an explosive, unpredictable sweat-soaked spectacle. "Hot Live Guys were one of my favourite Winnipeg bands of all time," says Rob Williams fondly. "They had a combination of good songs, and their stage show was just insane." Guitar player Joe Warkentin, in particular, gained a reputation as a "rock n roll madman."
"One show at the Pyramid" Williams testifies. "I saw him fall on his back super hard, something that would break another man's spine, or at least knock the wind outta you. He rolled over, didn't miss a note, got back up and didn't miss his backup vocals. He was a monster."
"He won me over with his rock n roll show," laughs J-Rod. "I was like, Yep. He will be mine. I ended up dating Joe for ten years now, since being charmed with his rock n' roll wiles." But at the beginning, von Bargen says, "Joe used to be so nervous he would chew gum, turn his back to the crowd." In 2005, the VaGiants self-destructed just weeks before No List Records was to release their Waiting for the Night to Come LP. "There was a tumultuous break-up a week before the record release," says No List's Lee Repko with regret.
"Like any breakup, with any band, it's devastating," says J-Rod. "Breakups are always messy, it's never good." But she, and drummer Chris "MAMA" Bauer picked up the pieces and started on a new project immediately. Out of the ashes came American Flamewhip, named after "one of those sex moves like the Cleveland Steamer…"
Around this time, a nascent record label called Transistor 66 was putting together a tribute album to Winnipeg's most successful rock export, The Guess Who. In the process of putting that album together, label head Art Transistor met the Fabulous Kildonans (who provide a rousing cover of "Bus Driver," featuring Mitch Funk of Personality Crisis/Honest John/etc on vocals).
"Johnny [Campbell, of Fab Ks] used to have these shed parties on his birthday," Art told Noisey. "We were invited to this one shed party, and the Hot Live Guys were there. We were still just getting to know them then. It was just a ridiculous party. They had a bus and we all went to the Orbit Room. Hot Live Guys were supposed to play but they were all so wasted I think they only played three songs."
"J-Rod was at that party, as well. So right there were three of our top bands. Those three records were within our first ten and they were really the core of our label during that decade. From there, the Transistor 66 "family" came together organically. The label has since put out almost 100 releases, including albums by the Fab Ks, Hot Live Guys, a number of J-Rod's projects, including American Flamewhip and the Angry Dragons, and a wide swath of local and national rock n' roll, punk, and roots acts.
"I remember not knowing too much about the label when I met Art, but it went on to be a real powerhouse. It's the label I've done the most work for over the years," Darren Merinuk, a comic book fiend and graphic artist, told Noisey. Merinuk designed many of the iconic show posters that were plastered all over Winnipeg and artwork that became so well associated with the label. "Art turned out to be the angel of the Winnipeg rock n' roll scene. He gave so many great bands a chance to be heard."
Squareheads at the Royal Albert
While Transistor 66 has proven invaluable at supporting and documenting a large part of Winnipeg's rock n roll scene in the 2000s, there were still plenty of high quality rock n roll acts that evaded the label or, like the Turnbull AC's or the Rockadoras, slipped through the cracks without recording anything. "We got to know the Quiffs, who jammed above Wild Planet," Art recalls. "But they broke up before we had a chance to work with them."
"The Quiffs early shows [at the Albert] were objectively awful," Sam Smith remembers with a laugh. "But they didn't care. I wanted to be in a rock n' roll band, so when we had the opportunity to do so, we took it," Erica Jacobson, frontwoman for the Quiffs, told Noisey over the phone from BC, where she now lives. "Anthony Bueno gave us our first show. So three weeks later, there we were. We had no idea what we were doing."
"Their set was insane," says Alana Mercer, who would join the Quiffs shortly after their inception. "Erica was rolling around on the stage, flailing. I was like, I need to be in this band." But over the course of the years following those first admittedly rough shows, the Quiffs developed a stage show and a collection of songs that made them among the more popular local acts at the time.
"The Quiffs fucking killed," says Julian from Hot Live Guys. "They were hilarious, but they were also good! Man, they wrote good songs. More so than any of the other bands." Fittingly, the Quiffs first show was with the Squareheads, another band that played the Albert relentlessly in the early 2000s. "The Squareheads were probably the best local band of the '00s," says Merinuk. Led by the inimitable and greatly missed Anthony Bueno (who sadly passed away in 2012), the Squareheads emerged out of the ashes of the Mohosimrots, which, according to Daniel Pangman, was mostly "a joke band, heavily reliant on antics."
Still in high school when the Squareheads started, Pangman had to skip school to jam with his older band mates. "Brian Hildebrandt picked me up at the Burger King on Osborne for our very first practice. I remember sitting on a tire in the back of his van, he was playing Status Quo on his cassette deck. I was like, "Whoa! Who are these guys?" It kind of changed my life, skipping school to play rock. It was awesome."
Both the Quiffs and the Squareheads early shows often other prime examples of the tendency of Sam Smith and Wayne Towns at the Albert to give bands that might not have been quite ready a chance to perform on a Friday night a chance. "There wasn't really another club that was doing what we were doing," Smith explained. "But they were going to bring 80 people, so what the hell, let's give it a try."
"I was ID'd at our second show," Pangman recalls. "There was 'No way I was allowed on stage.' Those were Wayne Towns' exact words. A lightbulb went on over Anthony's head right then. So we rigged up this long patch cord and I played bass in the parking lot for our second set at the Albert. I couldn't hear the band. I'm sure it was terrible."
"The Squareheads always had crazy shows," recalls J-Rod. "Lots of fire. Bueno was always lighting his gitch on fire. I remember one Squareheads show there was a microwave and a pickaxe on stage," says Andy Savant, of the punk rock band the Savants, who also released a record with Transistor 66 and spent their share of time on Winnipeg's stages during that decade. The Savants, like the Squareheads, were never known to turn down a gig.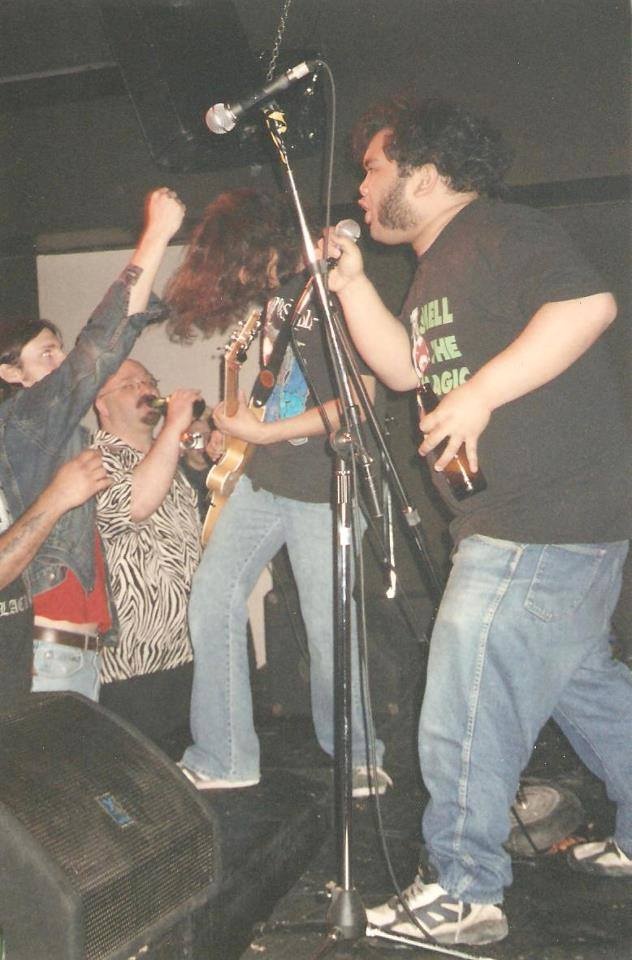 "We'd play anything," says Jan Quakenbush, who played guitar in the Squareheads and the Mohosimorts before that. "And it was always very spontaneous. We sometimes wouldn't even practice before a show."
"We just kind of blew it," recalls Pangman, looking back on the end of the band with a shake of the head. We'd played every week for years, and half those times probably not very good. And Anthony was a real party animal, a real punk. He burned a lot of bridges."
The Quiffs and the Squareheads went on to hone their stagecraft and their songwriting to great heights, but both broke up shortly after releasing independent, full length records. Erica and Alana from the Quiffs went on to form the Blowholes, who released an album on Transistor 66, among many other projects. Members of the Squareheads also continued to form and join a seemingly endless string of bands, which (in part) includes the Nervous Lugers, Lazyhorse (also featuring Alana), Rock Lake, and Transistor 66's the Lonely Vulcans.
American Flamewhip, the Hot Live Guys, and the Fab Ks all soldiered on themselves towards the end of the decade, before disintegrating and going their own ways, as did the many other rock n' roll, punk, rockabilly or even metal groups they shared the stage with. "I hesitate to get too nostalgic about the social part of it," Quakenbush tells Noisey. "I have good memories about being in bands with my friends and the music. But as far as the social part goes, whatever. There was a lot of beefing going on."
"I'm glad I had the opportunity to be part of that," Erica Jacobson says. Alana Mercer adds that "it was just cathartic rock n' roll, not necessarily played properly or anything. But it definitely helped me get through my 20s." Since those heydays of the last decade, there has certainly not been a shortage of bands to take to Winnipeg's various stages. The Albert, after some tumultuous, drama filled years following the Towns' sale of the venue, remains closed. The Collective is now an American Apparel. Other venues have opened and closed their doors in a pattern that is as familiar as the changing of seasons to Winnipeggers. And of course, the music on display today is different, with a stronger focus on "professional" presentation from those coming up today.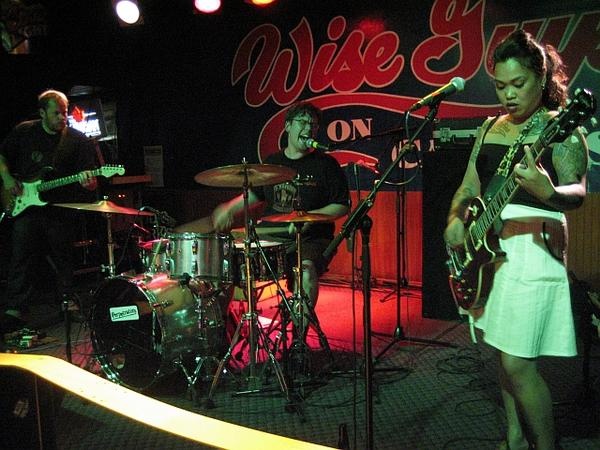 American Flamewhip
"The fucking floor would be covered in beer and broken glass. The crowd always had a good time. I don't see that really raw thing much any more," Sam Smith, who now books the historic Windsor Blues Bar, which Wayne Towns owns. "Bands approach me to play a show today with a higher level of refinement."
"The music was just hard and loud and as fast as possible," says Andy Savant of yesterday's rock n' roll. "Just a greasy, sweaty big drunk mess."
Sheldon Birnie saw plenty of beer bottles break at the Albert, now he's mostly just on Twitter - @badbuybirnie