New York's Best Buy Theater sits right on the edge of Times Square. Much like the Applebees, Hard Rock Cafes, and Guy Fieri's American Kitchen and Bars that surround it, it is sleek, comfortable, and absolutely soulless. If it died today, people would remember it with all the fondness reserved for a defunct TGI Friday's. Nevertheless, it is a part of New York City—located in the part of the city, really, that the vast majority of human beings associate with all of New York. It's a place needed to fill the voids left by the closing of more iconic venues. Tickets must be sold, and that doesn't go away just because Southpaw had to shut down. This is the music business, not the music feel-bad-for-the-little-guy charity association. Technology improves, and now we have escalators to ferry us to our $7 Bud Lights. So the Best Buy Theater, you see, must exist because it is what the market demands. The sound system, potential Best Buy customers should note, is immaculate.
The Best Buy Theater also seems to be a difficult place to get your hands on shots of Fireball, which, for those unaware, is a popular cinnamon-flavored whiskey. When I visited on a recent Friday night, each of the multiple guys ordering Fireball shots was directed to the main bar, which, they were told, might have it. The reason that Fireball acquisition was of paramount importance at Best Buy this evening was that the beverage is unofficially the official drink of Florida Georgia Line, the biggest band you, the average VICE reader, (probably) don't care about. The duo has emerged this year as country's most promising and successful new act, and this was the third of three sold-out shows in the band's debut in New York as a headliner. Onstage, Florida Georgia Line drinks Fireball whiskey. It also figures prominently in "Round Here," one of their best songs and biggest singles, an ode to flirting with a date by the light of candles set on top of a tool box after a hard day's work.
The chorus goes "That Fireball whiskey whispers/Temptation in my ear/It's a feelin' alright Saturday night/And that's how we do it 'round here." It's evocative and rousing and has just the right amount geographically unspecific country pride. The melody is monstrous, a mix of guitars, banjos, and Hemi engines. That night, when it was played, a sing-along slideshow of license plates from around the country showed the words. Each time FGL frontdudes Tyler Hubbard and Brian Kelley took pulls of Fireball, the crowd cheered, and some people held up their own bottles that they snuck in. Damn right I sang along. Damn right I cheered. Damn right I wished I'd brought my own bottle of Fireball. America is awesome, and partying is fun.
"Some people put a negative connotation with the word 'party', you know what I mean?" Hubbard told me before the show, addressing potential critiques of FGL as simply a "party band." "It doesn't necessarily have to be that. So for us it's a celebration of life, and it's a good time, and everybody in the room has a smile from ear to ear and is having a blast. That's what it's all about to us, which makes our job amazing and super fun."
In that spirit, Florida Georgia Line's debut album, Here's To The Good Times, has become a massive success since its release last December by delivering exactly what it promises: a collection of songs mostly geared toward celebrating the myriad virtues of drinking, trucks, girls, hot days, and Southern nights. In its best moments, it captures the ineffable concept of "summer" perfectly—the magic of driving down a country road in the golden light of the late afternoon, the stupid thrill of gathering at bonfires or bars and drinking until you want to hug everyone there, the sensation of time slowing in a way that makes you feel invincible, eternal, and nostalgic all at once. The album has gone platinum, and the band landed slots opening on tours with country superstars Luke Bryan and, later this year, Taylor Swift. The headlining tour that brought them to New York has sold out every day, frequently in record times. They've racked up industry accolades, awards and nominations to the point that a list of them turns into a mush of names and letters—CMA, ACM, CMT, AMA, Teen Choice—the bottom line here is that these dudes are huge.
Most impressively, the duo's debut single "Cruise," a sunny anthem with the impossibly perfect and simple opening "baby you a song, you make me wanna roll my windows down and cruise," set the all-time record for the most weeks atop the Billboard Hot Country Songs, racking up 24 weeks at No. 1 and 6.1 million units sold so far between the original version and the remix. Florida Georgia Line is the only country act other than Brooks & Dunn to have their first three singles go No. 1 on the Hot Country Songs chart and stay there for multiple weeks. Hubbard, the long-haired one from Georgia (specifically Monroe, halfway between Atlanta and Athens) who's the more noticeable singer, and Kelley, the short-haired one from Florida (specifically Ormond Beach, a Daytona Beach suburb) who's the more energetic presence, flashing rock n' roll signs and sticking his tongue out onstage, have become humble, congenial, media-friendly country stars practically overnight.
Here's the thing, too: They're the perfect country stars for this particular moment. They don't wear cowboy hats, but rather leather jewelry, wallet chains, and cutoff tees. At the Best Buy Theater show, Hubbard was dressed in a black and gold American flag shirt that looked like something A$AP Rocky might wear, but just as easily could have been from Target. Their guitarist looks like a Warped Tour vet, with a foot-high green mohawk and painfully skinny jeans. Florida Georgia Line still seem like they could probably fix your truck if it broke down, but their image is definitely at home in the suburban world where, if we're being honest, country mostly lives. In person, they're approachable and easy to talk to without being overly effusive, just the right amount of charming for daytime TV.
When describing the serendipity that led them together at Belmont College in Nashville, Kelley called it "kind of a God thing," and later he explained their early career by saying "we didn't really know much about anything, but we just knew that we loved writing songs and God had put us together for a reason." They may sing about partying and weed and sex (the last two kind of obliquely), but they're the type of nice guys your mother would love. They're the perfect fit for the Best Buy Theater. They're the Chili's of country acts: streamlined for consumption, a little zesty, a giant "fuck you" to the idea of hipness, and extremely satisfying nonetheless.
Florida Georgia Line's music is nominally "country," but mostly in its mindset, sporadic banjo riffs, or Hubbard's accent. The production has the polished sheen and emphatic low end of pop, making it accessible to a large audience. And while Hubbard and Kelley both got their starts playing guitar in church in high school, and both went to Nashville with the intention of becoming songwriters in the city's country apparatus, their musical influences lean heavily toward hard rock and rap. In a Florida Georgia Line lyric, the radio (a mainstay character in country songs) is as likely to be playing Shinedown as it is Marshall Tucker Band. A mixtape plays "a little Hank, little Drake." The coda of "Dayum, Baby" finds Hubbard catching a pop-rap flow that would make Ludacris proud, while "It'z Just What We Do" is pure, blustering Kid Rock fusion. "Cruise" became a smash hit on the country charts, but it crossed over to pop and reached No. 4 on the Hot 100 after the label brought in the unlikely crossover-country kingmaker Nelly for an Auto-tuned remix with a rap verse. On Here's To The Good Times: This Is How We Roll, the deluxe edition of the album that comes out on Tuesday, almost every new song has some nod to hip-hop.
"The remix of "Cruise" definitely helped our situation for sure, definitely getting fans that come up to us and say 'I didn't like country music until you guys,'" Kelley told me. "And we've been hearing that for years. It didn't take the remix to do that. That's probably our favorite compliment. And that's what it's all about. They hear a song that they like, and then they go listen to all these other artists, and now they're a fan of country music for life."
Country is getting bigger, especially in places like New York. Several of the fans I spoke with at the show described their own conversion moment and seemed to act as evangelists for the genre. Matt, a 20-year-old from Westchester, said he's been listening to country for three or four years, and he likes Florida Georgia Line for their "accessible lyrics that anyone can relate to, regardless of if you're from the boondocks or New York City." He also cited a market figure that plenty in the business are paying attention to: Last year, according to Nielsen, more country albums were sold in the New York metropolitan area than in any other U.S. City. Country may not make up a huge share of music sales in New York, but due to sheer volume there's a large market, one that's been mostly untapped.
Until this past January, New York hadn't had a country radio station for 17 years, pretty much, it seems, for the reasons one would assume given that it's the least country place in the nation. Earlier this year, broadcast group Cumulus Media launched Nash FM 94.7, the flagship station for its new national, multiplatform country brand. It's already become the second most-listened-to country station in America, Cumulus chief executive Lew Dickey said in a recent quarterly shareholders call, in which he also detailed the intention to make the national Nash FM brand the "ESPN for country." In January, he told the New York Times, "Country is at an all-time high."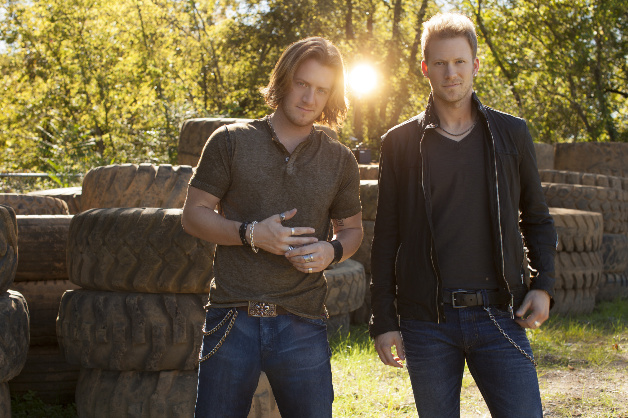 If the crowd at the Best Buy Theater was any indication—granted, a biased sample, particularly since Nash FM was the media sponsor—there's plenty of enthusiasm for the genre's increased presence in New York. When Nash FM host Kelly Ford came onstage beforehand and asked, "Who said there weren't any rednecks in New York City?" the crowd's roar was as loud as any other point that night. Debbie Martinez, a 55-year-old Brooklyn native and Long Island resident, enthusiastically told me about her support for the station, the genre ("the guys are real men…not wimps") and the artists who come to New York in general. She noted another important reason for the genre's recent urban growth, which is that country songwriting is accessible, and it's becoming more that way as the genre sheds its old image.
"The music means so much," she said. "It's not like shit that you can't understand. If you listen to lyrics, it's not twangy and stuff about losing your girl or whatever like it used to be. It's all different."
Florida Georgia Line are one of the best examples of this trend toward country sounding less bound to tradition. The simple expression of fun is their great ideal, and their show is one triumphant American whoop asserting that partying has no geography. Their love for hip-hop is an obvious common point with an iTunes audience unbound by genre, and when they told me they'd like to work with Drake and Wiz Khalifa, it made perfect sense.
"It feels like if we got in a room we'd have a lot of fun talking about life and writing a song and kicking it," Kelley told me. "I think it'd be cool. They just seem like some kids we grew up with." Those artists are also, like Florida Georgia Line, good at offering just enough crossover appeal to draw listeners in. People at a Florida Georgia Line show have the safe assurance that it's not too country, and it's therefore safe for someone watching it in Times Square to like. The band comes onstage to the EDM crash of Imagine Dragons' "Radioactive," and their show swaps out the tradition of country covers for contemporary pop staples like Bruno Mars's "Grenade" and Macklemore's "Thrift Shop." They also do renditions of 50 Cent, Juvenile, Nelly and Lil Troy, and for the show I saw at the Best Buy Theater, they brought out DMC of Run-DMC.
Of course, this is the kind of thing that could easily go very wrong—there are questions to be asked of Colt Ford, the country-rapper who opened for FGL, and his Confederate flag boots, for instance—but it also makes perfect sense coming from the South. Regionally, country and hip-hop are the dominant genres ("Where we both grew up, actually, everybody listened to country and rap music," according to Hubbard), and the twin hubs of Nashville and Atlanta crank out hits for their respective genres. The ideology of "Dayum, Baby" and "Back That Azz Up" is more or less the same, and it doesn't need to demand too much scrutiny. It's music that's made to be enjoyed for the fact that it's enjoyable. You don't get mad at Chili's for their flavored margaritas. You drink it, and enjoy the shit out of it.
And holy shit is Florida Georgia Line enjoyable. There's a line in "Here's To The Good Times" that goes "that's a memory that'll get you when you look back." It doesn't rhyme, and it kind of sticks out of the rhythm, but it feels all the realer as a result. On "This Is How We Roll," the best addition from the deluxe edition, Hubbard sings about "burning down the night, shooting bullets at the moon," which is pure poetry, which makes a pointless action (shooting a gun in the air) sound like the most beautiful thing. When Luke Bryan shares a verse about how we "curse on them Mondays, and pray on them Sundays, pass it around and we dream about one day," the part of me that just spent 2,000 words trying to explain why music about drinking and trucks is awesome dies in envy at how pithy it is.
So sure, FGL may obvious and slick and basically the sonic equivalent of a Bloomin' Onion. They may be an invasion upon a certain New York sensibility that cringes at the idea of the Best Buy Theater. But hey, Best Buy is a great place to buy a TV, and Bloomin' Onions are fucking delicious, and New York City should have a country station because, seriously, how can the so-called greatest city in the world be that great if there's no way to listen to "Cruise" on the radio? And also because how can you get mad at a pair of guys who end their show by slamming together their Solo cups and spraying what is probably water but definitely, in our collective imagination, beer everywhere? Have you ever done that? It's funner than fuck.
"People do call us the party band," Hubbard told me. "We do like to party, love to have a good time, love to play our music loud and dance around and everything else, but let 'em say what they want, we're just kind of doing our thing and having fun with it and doing what we love, man."
Kyle Kramer is Noisey's in-house country musicologist. He's on Twitter - @KyleKramer