All photos by Melissa Castro
Metalheads aren't great at dressing for summer (see above), which is why we put together this little guide in anticipation of my voyage on this year's Motörhead's Motörboat cruise. The short version was basically, "wear sunscreen and buy a bathing suit," but as I discovered onboard the ship, that was barely the tip of the iceberg. I went into this trip knowing full well that metalheads (myself included) are basically incapble of looking like anything else, and the Motörboat attendees were no exception, whether we were scarfing down steak in the fine dining establishments onboard or wandering through the streets of Nassau like a troupe of dazed, black-clad children. There were more Slayer shirts than anything else, though Motörhead made a respectable showing and every fourth person was wearing a Suicidal Tendencies hat. I was the only asshole who brought a Drowned shirt.
Now that I've returned, safe and sunburned, I wanted to share with you a few of the sartorial observations I made whilst sailing off into the sunset with Lemmy and the boys—that is, if you can even make it past those ingenious, worrisome, and altogether enchanting deconstructed Converse sandals covering the brave feet of this American hero.
MANICURES ARE METAL
I'm speechless at how awesome this is. Not only did someone make the extra little effort to make sure their nails looked hot for the trip, they went the extra-extra mile and got their favorite bands painted on—in their proper logo styles and everything! Black and pink is obviously the best color choice possible here, and the tiny ace of spades on the pinkie finger is my favorite part.
BODY PAINT
Because if layering on band-branded T-shirts, shorts, flip-flops, bathing suits, towels, and umbrellas isn't enough to prove the depths of your adoration, why not just fucking paint band names all over yourself?
HATS ARE CRUCIAL
Most people I encountered opted for the classic baseball cap (adorned with a band logo, naturally) or the more daring cowboy hat option, but there were more than a few bucket hats strolling around on deck, too. Sun protection is important, after all, and the amount of pale skin walking around this boat was honestly a little spooky. Every little bit helps!
COORDINATION IS KEY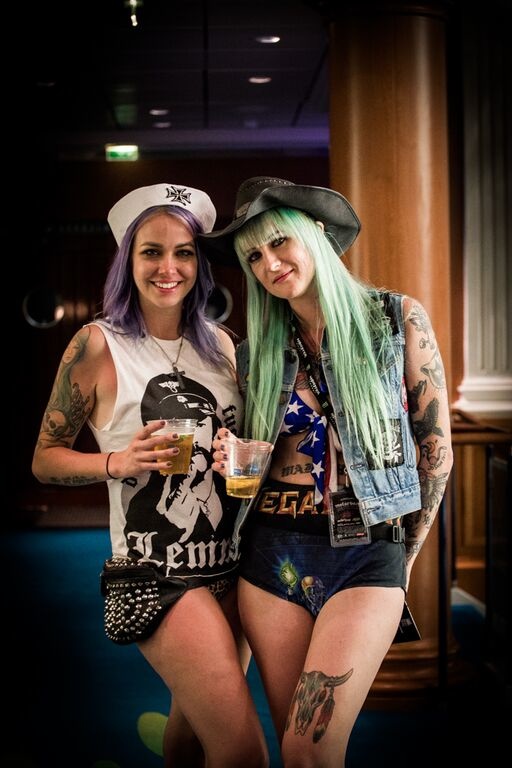 These two have their heavy metal accessorizing game down. On the left, we have a gorgeously complex Motorhead theme—note the iron cross-emblazoned sailor hat, the Lemmy shirt, the leather, the studs, and the cross necklace. On the right, a looser interpretation on a Megadeth theme sees our subject mix things up with a cowboy hat, high-waisted Megadeth bottoms, and a patched denim vest, worn over an American flag-themed bikini top that sneaks in a sly nod to Dave Mustaine's frenzied patriotism. It's a lot to take in, and only a couple of true-blue fans could make this level of obsession look so good.
DON'T BE AFRAID TO MAKE A STATEMENT
Never be afraid to stand up for what you believe in, whether that belief hinges upon your own nuanced interpretation of the Iran deal or on your advocacy work for the glorious cause of shipboard oral sex.
SOMETIMES IT'S OKAY TO BE "THAT GUY"
It's usually frowned upon for bands to wear their own merch (or at least seen as kind of corny), but in this instance, it was a genius maneuver. Why lug a massive suitcase around when you can take a page from Mike Muir's book and raid your own merch table every night? That way, you get to travel light and look fly both onstage…
…and off.
DON'T BE AFRAID TO MATCH
There was zero cell phone reception on the ship, and hardly anyone availed themselves of the $0.95-per-minute internet service, so finding your friends took a lot more effort than usual. It got a lot easier when the whole squad rolled up in snappy matching uniforms, though, and Anthrax's mamas didn't raise no fools.
COMFORT IS EVERYTHING
When you know you're going to be spending all day and night on a boat or on a tropical island eating, drinking, and watching bands play, you owe it to yourself to dress sensibly. For some, that comfort zone involves a flowing, bright-colored dresses and flip-flops; for others, its spandex, leather, and cowboy boots. On a metal cruise, one may have expected to find more of the latter, but surprisingly, most attendees opted for more chilled-out wardrobe choices. It's your vacation, wear a fucking muumuu if you want.
AND LASTLY…
The most important thing I learned about style on this cruise is that, no matter what, no one will ever, ever look half as cool as Lemmy does. Hail to the king.
Kim Kelly is nowhere near as fashionable as anyone pictured above. She's on Twitter.