Paris Hilton is a little bit tipsy.
In her Cash Money debut "Good Time," she and Wayne are celebrating. And for good reason: she's finally in the hands of people capable of marketing her uh, eccentricities, and even though the video is a Swarovski crystal-encrusted absurdity, within Paris' world, she kills it. I'm happy for the girl. We both made it through a difficult Von Dutch trucker hat phase in 05 and survivor solidarity is no joke.
Tangent: After watching this video it felt necessary to revisit her 06 track, "Stars Are Blind." I am ABOUT that joint. I could rollerblade down Venice Beach and flip my hair all day to that shit. It just transports you. Maybe I'm eating grilled cheese in my laundry day half-zip right now, but I feel like throwing on some sherbet chiffon and twirling around with a Mai Tai. This is everything a Paris Hilton track should be.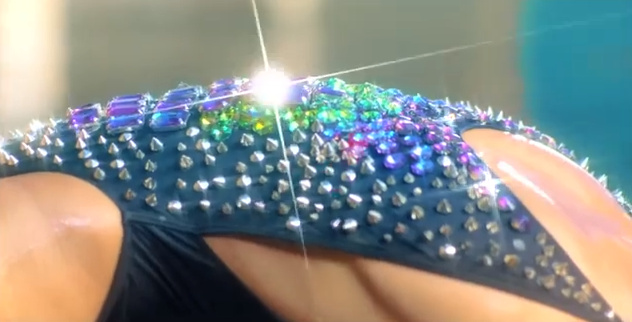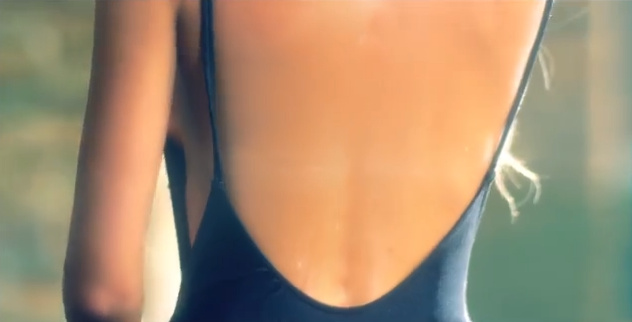 So Paris throws a party. Not a regular party, but a #ParisParty, and she pretty much rules at looking like a hot doll and making sure everyone has a good time (in part by asking "Are you having a good time?" 30 plus times). Paris is here to demonstrate how we can all throw tact and subtlety in the pool and leave everyone speechless at your next backyard rave. WEAR THIS
This blinding Swarovski crystal-studded number is everything, but mostly because it's so Paris. It's gaudy and sparkly and it looks pretty hot and kind of ridiculous. Jean Paul Gautier designed it for this video and it's definitely not reversible. I'd fuck with it.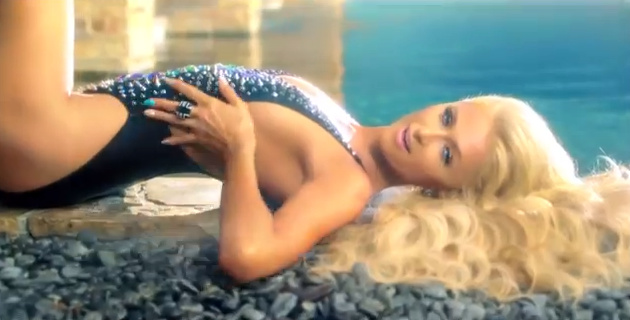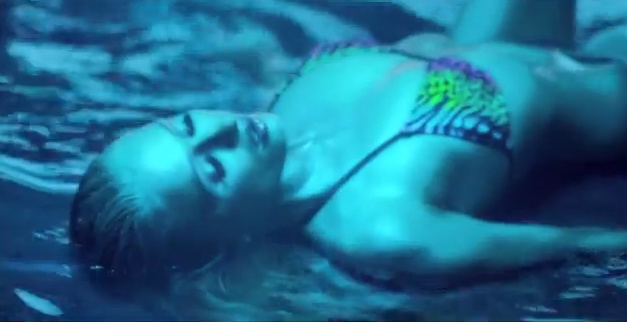 MASTER THE ART OF WRITHING AND THE UNIVERSE WILL BE YOURS
This is very important. Last weekend I went to Flash Dancers (because: butts) and learned that good writhing has hypnotic powers. Paris understands this. She alternates poses like this for nearly half of the video. She also knows that with great power comes great responsibility. Never lay your hairpiece on poolside pebbles unless it's totally worth it. Add water or mud for impact. This move is most effective in a performance setting. It may even yield negative results if performed in a room with just one other person.
IF YOU'VE GOT IT, FLAUNT IT.
$$$$$
REPEATEDLY.
And if you don't have it, fake it.
Portrait of the author with her security deposit.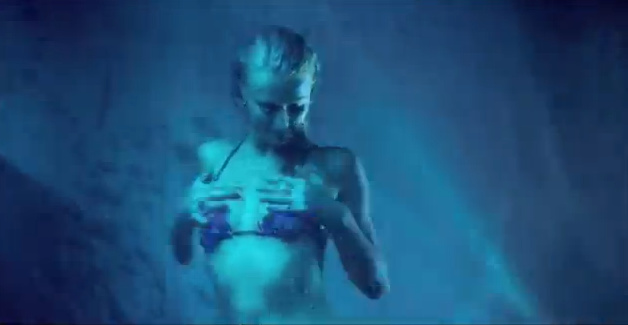 RELATED: IF YOU'VE GOT IT, TOUCH IT.
Simple as that.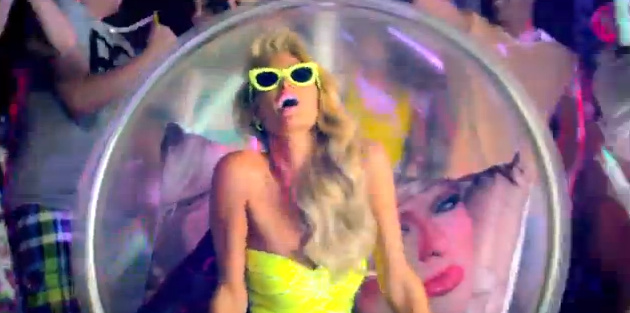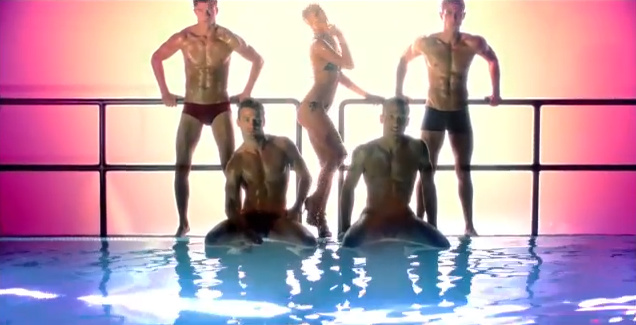 BE IN AS MANY PLACES AS POSSIBLE
It's not easy being an in-demand girl. Of course you can't give all your guests the attention they want. Put your face on a pillow and be everywhere you need to be. Everyone wins. Also, neon everything is a DO.
PRACTICE WHAT YOU PREACH
If you plan to make a statement, follow Paris' lead and go for repetition and emphasis. Why roll up to the scene with one male model wearing pants when you could make a real impression with four male models wearing no pants. If you're the queen of your party, prove it.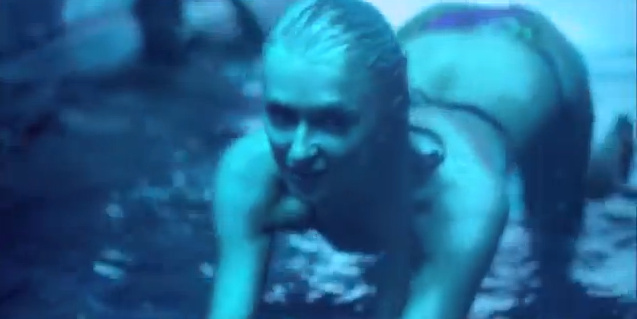 No one likes a party girl that's all talk. She says she's having a good time; it kind of looks like she is. Her friends are on one so that helps her case. But here she's reminding you that she's been about that life. Yes, I am talking about One Night in Paris. And no, I'm not TRYING to talk about Paris' sex tape, Paris is MAKING me talk about her sex tape. If you haven't seen it, it's shot in night vision and it looks exactly. Like. This.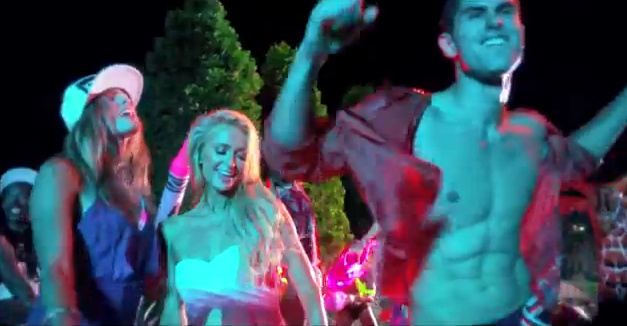 SURROUND YOURSELF WITH EASILY PLEASED MODELS
Like this guy.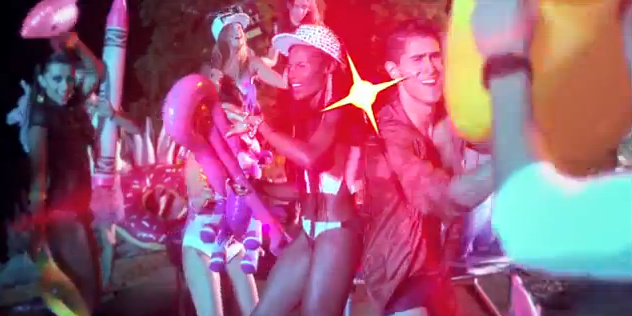 Look at how good of a time Paris' posse is having. They're in a backyard with inflatable donuts and crayons, people. Still, I can't remember the last time I was as excited about anything as any of these people are about their pool toys. Probably because I wasn't invited to this party.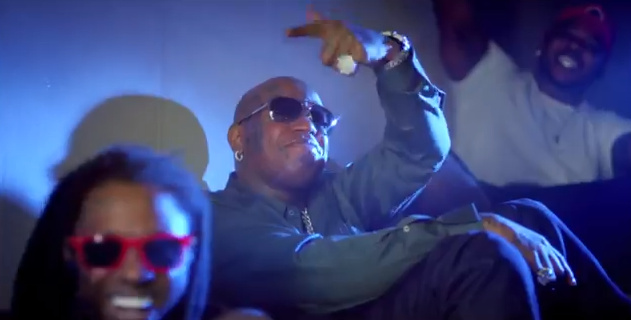 If there are any lingering questions about how much fun is being had here, here's Wayne, Gucci, and Birdman looking like they might be on whippits.
KEEP THEM GUESSING
What is this phallic device? It looks like a sex toy. Pretty sure it's a platinum-encased glow stick. But when you're at a #ParisParty anything could happen. Multifunctional accessories are a must.
WORK YOUR ACCESSORIES/KNOW YOUR BEST ANGLE
If you have one best angle, incorporate it into your every move. Fool onlookers with accessories such as sunglasses, necklaces, and alcohol.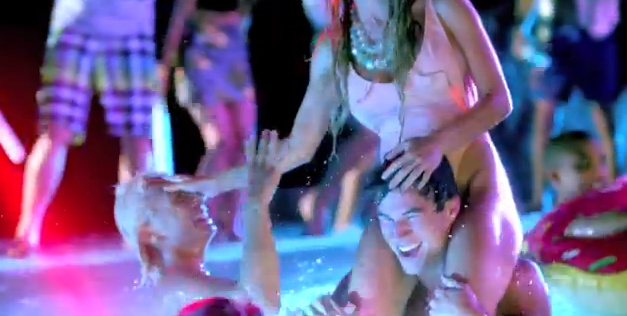 BE THE MASTER OF YOUR OWN GOOD TIME
Paris and her posse won't let the haters get her down. Neither should you. "I really don't give a fuck who got in my way/cause I came here to party rock/If you're not here to party move and get out of the way." You heard it people.
Amalia is still wearing that money shirt. She's on Twitter - @graztifarian.
Music videos teach us EVERYTHING we need to know about life and looking good.
Style Stage is an ongoing partnership between Noisey & Garnier Fructis celebrating music, hair, and style.