We're shining a light on some of our favourite releases in July, 2015. Earlier, we focused on the United Kingdom, but here are our favourite tracks that've been released elsewhere.
DemoTaped – "Not Enough"
You go through several stages when you have a crush on someone. First, there's the giddiness; the realisation you're on the periphery of a life-changing connection. Perhaps you've been on a date, it's gone well, and you're walking down the street, feeling like Joseph Gordon Levitt in that scene in 500 Days of Summer, days after he's wooed Zooey Deschanel by drunkenly singing The Pixies to her in a dive bar. Then the plan goes to pot. You've fallen for your crush. Have they fallen for you? It's difficult to be sure. All you know is you can't stop checking your phone.
It's the moment afterward – when you're swinging on a ball of infatuation between confusion, desire, and heartbreak – that seventeen-year-old Atlanta producer DemoTaped captures on "Not Enough" - Ryan Bassil
A Serpent With Feet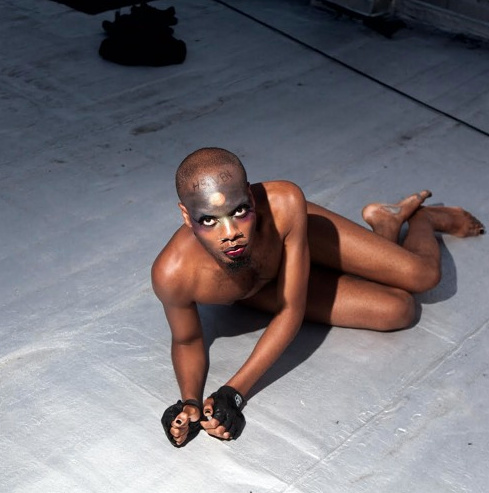 A Serpent With Feet had everything going for him. A press shot guaranteed to make the internet sit up and take note; his own sound, which he called #PaganGospel; a handful of intriguing videos; deity-level vocals. When I stumbled across him, I was convinced I had found one of the #rare artists: someone who ticked every box. Then he deleted everything off his Soundcloud and YouTube.
Essentially what this means is: someone's probably snapped him up for a record deal. While this is good news for A Serpent With Feet in the long-term, it's bad news for the rest of you, because you can't listen to his previous work. The track above exists due to a premiere on Dazed Digital and, in all honesty, it's inferior to some of his earlier material. The songs he put out earlier this year sounded like gospel-lead witchcraft backed by a 1940s big band. It's infuriating that he's deleted it from the internet - Ryan Bassil
Kossisko – "Jealousy" & "Own Me"
Kossisko is the artist formerly known as 100s. He put out the stunning IVRY mixtape, an x-rated bedroom rap record which sounded like it had been important direct from George Clinton's mothership, on Fools Gold last year. Then he threw in the towel to restart with a new direction, name, and sound.
"Own Me" and "Jealousy" are two brothers of the same father. "Own Me" takes more from the previous sound of 100s: it's the ideal accompaniment to marinating in the after-glow-sweat of sex-soaked bedrooms. "Jealousy" is way more upbeat. It's kinda like a rock song. The two tracks showcase an artist that's bursting with ideas, yet has the aesthetic and know-how to tie everything together into a unique project - Ryan Bassil
Diet Cig - "Sleep Talk"
You know when you encounter a track for the first time and you're like, wait, I don't remember writing this - because the lyrics are so relatable you actually mistake them for your own thoughts? That's how I feel about Diet Cig's "Sleep Talk".
"I can't play instruments very well and I'll eat all of your cereal / But I'll never be a smoker 'cuz the second cigarette makes me feel like shit," state the opening lyrics. But what starts as a list of character traits, as if singer/guitarist Alex Luciano is reading out her own Tinder bio, soon jumps forward to a what-if scenario set in a post-break up climate. Here, we see her feeling nostalgic for the failed relationship, but also visiting the home of the ex's new girlfriend and feeling nostalgic for a friendship that won't ever exist because of it ("I bet she'd make me coffee before I told her about you and me".
Perfectly summarising the fear of loss that comes with infatuation, Diet Cig capture all the hang-ups and messiness of adolescent relationships. "Sleep Talk" makes some big statements in short, sweet bursts. - Emma Garland
Innanet James - "Black"
Innanet James' Soundcloud states that he "learned life from [Jay Z's] The Blueprint and [Eric B and Rakim's] Paid in Full". On that basis, his background is locked. More important than having a taste in essential classic rap though, is the music – and on his debut track "Black", it's clear Innanet James possesses the skill to turn a track from great, to something that will act as a prerequisite to flailing limbs - Ryan Bassil
A Chal – "Round Whippin'"
For a brief period each Summer, it's damn near impossible to be comfortable in the house. Unless you have a fan, your clothes, as though they've been made from sticky weed, cling to your body; sleeping becomes an impossible task; there's seemingly nothing to do to call down except drench yourself in an icy cold shower. That touch of cool refreshment when the water dispensed from the shower head hits your body is the feeling I get when I hear A Chal's "Round Whippin'", a track that's murky and dark, but is lead along by a soulful vocal and a hook that sounds like Drake's freakier, weed smoking cousin - Ryan Bassil
Barf Troop - POSI+IVE
When there's a crew called Barf Troop on the rap scene and they mix in Adventure Time samples, wrestling references, and saxophone breakdowns, you better believe I will be cosigning that shit immediately. Naturally, their online-only nature and millennial look have provoked references to PC Music, but Barf Troop are doing something no one else is doing right now. "The best part of being in Barf Troop is that we're not an all girl or all female group," found Babeo Baggins said in an interview earlier this year, "Some of us are non-binary and gender neutral."
The Washington DC-based DIY rap collective - self-described as "a group of filthy babes doing the damn thing" - has been releasing music online for a few years with titles like MFBABE, Summerslime, and I'm sad and I want to go home, but their POSI+IVE mixtape this month was what really hook, line and sinkered me. There's some big names like Childish Gambino and Tommy Kruise on the production credits, but don't let that distract you from Barf Troop's own motivating brand of rap, pop, and R&B that's unlike anything else I've heard at the moment. POSI+VE is so sugary and addictive you'll come away with cavities. - Emma Garland
You can find Ryan and Emma on Twitter: @RyanBassil @EmmaGGarland