This weekend I went to a free all day festival run by A Trak's label Fool's Gold that took place in the Shrine Auditorium car park in Downtown LA. My friend Myles and I went to interview Danny Brown, who has an album out and was headlining the event, but when we arrived there had been a mix up and Danny wasn't able to do it. What did happen is we found this sweet rock'n'roll tea party in the main hall of the same venue.
The party was being held by a group of real life Masons called the Shriners. They run the venue, and they were raising money for their children's hospital, which offers free healthcare to any children needing orthopaedic, burn, spinal cord injury or cleft lip surgery. They were literally the friendliest people I have ever met, and they all had really interesting opinions on pop, fashion, and sexytimes, which they agreed to share with me as long as I mentioned the hospital. They also looked insanely stylish, and a lot of them had made their own clothes. Like from scratch. With like material and stuff.
Me and Myles ended up hanging with them as much as we attended the Fool's Gold lineup, where a legion of A Trak lookalikes partied on unaware of their 1950s equivalents in the room next door. At about 5pm, looking for beer at the festival backstage, Myles watched a girl OD on molly, next to a stall that was ironically selling a brand of water called Molly Water. At about 6pm, at the fundraiser, I showed Linda from Whittier how to use Facebook on her phone.
My favourite part of the day was meeting Ron, who showed us his sick, original letterman jacket from high school. I also loved Vada, who told me, "Dressing is a game, and I love to play."
We also met a Mason Potentate. I don't know what that means, but it seems good.
Where did you get your jacket?
I've had it since 1953.
Do you have an opinion on hip hop?
I like music of the 40's and 50's much better.
Who is your favourite musician?
Probably Elvis, yeah.
Where are you from?
New York, originally.
The event in the other room is for a New York based music label.
That's interesting.
Who is your favourite hip hop artist?
I like Jay Z. I went to a Jay Z concert from 30 floors away in Las Vegas. I was at the top of a hotel and he was performing on the strip.
Do you prefer Jay Z or Beyonce?
I like Jay Z.
I like Beyonce.
I like her too.
Did you make this dress?
Yes I did.
How come it says "Paula"?
Paula is my friend who we're having this party for.
I really like it.
Thanks.
What do you do?
I'm a retired naval officer.
Do you like music?
I'm a singer. I'm a 1994 karaoke champion. I won a gold medal and a gold trophy singing "I've Got You Under My Skin". I love to dance.
Do you have a favourite singer?
I like Elvis Presley and Frank Sinatra.
Where are you from?
Whittier, but I live in LA.
Do you like Taylor Swift?
I love Taylor, she's a beautiful girl and she wouldn't even have to be beautiful. She's beautiful on the inside, that's what counts.
Do you remember when Kanye made her cry at the VMAs?
I do. I think that was a cheap shot.
He apologised.
Doesn't matter, it was a cheap shot.
Do you like Kanye?
I prefer Taylor. She reminds me of my girls, she's clean and sober and that's what I push to them.
Where are you from?
Montebello California.
What do you think of pop music?
Love it.
What do you think about the Danny Brown story I just told you?
Did he accept it willingly?
He kept performing through it.
That's show business right?
Do you have an interest in pop music?
Probably, I can't think of what it might be but I'm pretty diverse.
Who is your favourite musician?
I like the Moody Blues.
Did you see the kids arriving at the event earlier?
We did.
Did you like what they're wearing?
Yes of course. Fashion moves forward.
I think they would like what you're wearing.
I think so.
Do you like hip hop music?
Sure.
Who is your favourite hip hop artist?
I like Kanye West, I like Beyonce's husband, Jay Z, but I'm a die hard Michael Jackson fan. He was the greatest entertainer in the world.
Any other thoughts?
Dressing is a game and I love to play.
Please may I have your email address to send you these photos?
I don't have an email but you can post them to me.
Hey pink ladies, did you plan to show up here together?
Linda: No, we actually are wearing the same outfit by accident.
Are you enjoying the music in the other room?
Josie: We can't hear it well enough to tell.
Who is your favourite musician of all time?
Unison: The Beatles.
Which is your favourite Beatle?
Linda: Paul
What's your favourite Beatles song?
Josie: MIchelle
Linda: Sunshine
How long have you been married?
Bob: 49 years.
Do you like pop music?
Bob: She likes country western, I like rock'n'roll.
What was your wedding song?
Linda: We eloped, we didn't have a wedding song.
Bob: We went to Vegas.
What do you think about fashion nowadays?
Linda: Some of it's OK, not the pants that hang down of their butt and the skirts that are so high you can see stuff.
I agree with you.
Linda: It's bad taste.
There's an artist performing tonight who received sexual favours on stage, what do you think about that?
Bob: What's his name?
Danny Brown.
Bob: Danny Brown? (asks around the table) Has anyone heard of Danny Brown?
Linda: I don't like that, it's too risque, kids are learning the wrong things.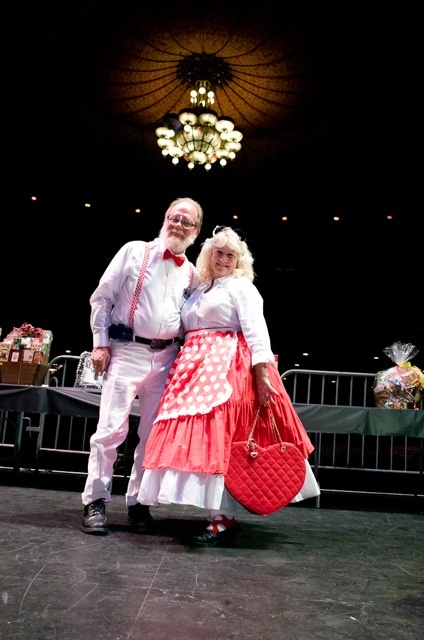 Do you like hip hop?
I do.
Do you like Kanye West?
Yes, is he coming today?
No, I don't think so.
Bummer.
Are you a couple?
Ken: We've been married for 48 years.
What do you think of pop music in general?
Some of it is good, but a lot of it I don't understand the lyrics. I'm from the old school, Elvis.
Are you a big Elvis fan?
Elvis, the Kingston Trio, Buddy Holly.
How would you described your fashion?
We have horses at home so it's sort of Western.
Secret handshake with Emma on Twitter @emmy_the_great
Photos: Myles Pettengill. He's on Instagram - Myles_Standish
Phone photo of 'Pink Ladies' and 'Ken and Margie': Siri