Photo courtesy of Robotic Empire
Helmet may be giving Betty a thorough run-through at Saint Vitus tonight, but if you're A. one of the literal billions of people who don't live in NYC, or B. a New Yorker who's firmly on Team Fuck Snow, we've got a little something here that'll scratch your alt-metal/noise rock itch rather nicely, right in the comfort of your own (hopefully heated) home. Meet Wrong, a Miami outfit with impeccable credentials and a firm handle on the art of the bludgeoning groove.
The band formed from the ashes of Capsule and counts former members of Torche and Kylesa amidst its ranks, and is about to release its limited edition debut EP, Stop Giving, on the venerable Robotic Empire (to be followed by a full-length later this year). They're also gearing up to hit the road on the Noisey-sponsored Torche/Nothing jaunt next month. Take a listen to "Call It" below, and get ready to scream along.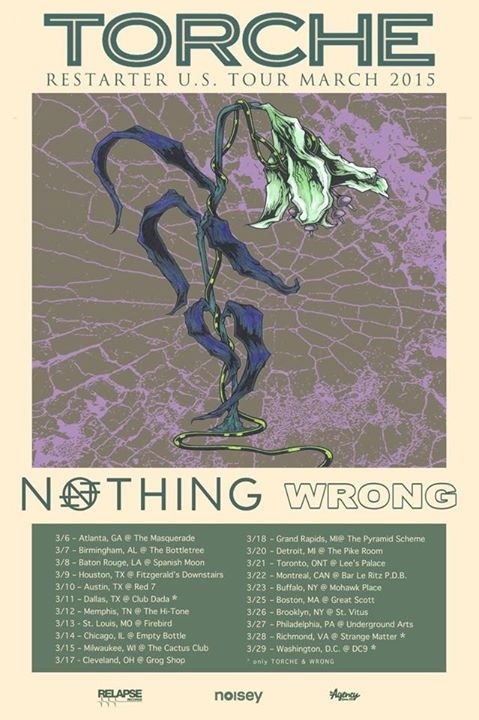 CATCH THEM ON TOUR w/ TORCHE:
Mar 06 - Atlanta, GA @ The Masquerade
Mar 07 - Birmingham, AL @ Bottletree Cafe
Mar 08 - Baton Rouge, LA @ Spanish Moon
Mar 09 - Houston, TX @ Fitzgerald's Downstairs
Mar 10 - Austin, TX @ Red 7
Mar 11 - Dallas, TX @ Club Dada
Mar 12 - Memphis, TN @ The Hi-Tone Cafe
Mar 13 - St Louis, MO @ Firebird
Mar 14 - Chicago, IL @ The Empty Bottle
Mar 15 - Milwaukee, WI @ Cactus Club
Mar 16 - Columbus, OH @ Skully's Music Diner
Mar 17 - Cleveland Heights, OH @ Grog Shop
Mar 18 - Grand Rapids, MI @ Pyramid Scheme
Mar 21 - Toronto, ON @ Lee's Palace
Mar 22 - Montreal, QC @ Bar le Ritz PDB
Mar 23 - Buffalo, NY @ Mohawk Place
Mar 25 - Allston, MA @ Great Scott
Mar 26 - Brooklyn, NY @ Saint Vitus
Mar 27 - Philadelphia, PA @ The Underground Arts
Mar 28 - Richmond, VA @ Strange Matter
Mar 29 - Washington, DC @ DC9 Nightclub
Preorder the digital version of Stop Giving on iTunes, or snag the vinyl at this location.