Images: Ben Thomson
Hailee Steinfeld was nominated for an Oscar when she was 13. I was playing Tamagotchi, so I guess we both had big responsibilities. That was in 2011. Since then, she's shot three or four films every year. She's a successful actress by any measure—and a talented one. That's why people were surprised when she released "Love Myself," a very shiny pop ode to masturbation. Why would someone already so good at one try and be good at another thing too?
For anyone suspicious of the transition, Hailee stresses that recording is her real passion, not the work of an enterprising label: acting is work, music is play.
She comes to the restaurant with a big entourage—security, a makeup artist, some people from her label, and her mom. Some of the team ask Hailee if she'd like them to sit with her, but she's fine with us sitting alone.
Hailee's been media trained since she was young, and you can tell, but she's not a weird theatre kid type. She's a normal person trying her best to create an accordingly normal life in the small spaces between shooting and touring. I really like Hailee, and I can say with sincerity that I think almost anyone would. She's empathic and self-aware, and really loves her mom. Hailee usually dates boys, but she made an exception this time.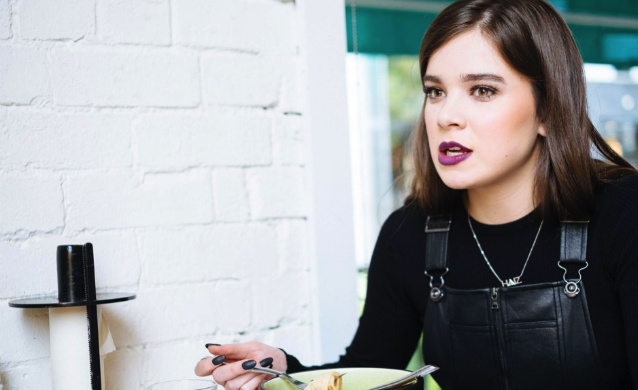 Noisey: Are you into fine dining or are you on more of an In-and-Out Burger tip?
Hailee Steinfeld: More In-and-Out, but I'm actually embarrassingly plain. I will literally just have a Cheeseburger with no lettuce, no tomato, no sauce—I don't like sauces very much—and that's it. I just went to this really great restaurant near Luna Park, and everything on the menu was so elaborate and beautiful, and I just ordered plain pasta. I felt like I was letting the chef down.
What's your take on two-minute noodles?
I love them, oh my god. That's an essential on the road thing.
Tell me about growing up in LA.
Well I was home-schooled, so I never went to many high school parties or anything like that, but I've been around adults my whole life so I'm not sheltered by any means.
Did you start home-schooling because of your shooting schedule?
It was really a combination of my schedule starting picking up and the fact I just didn't really find my way in school, I felt slightly lost. I really do believe that being in public school isn't for everybody. Home-schooling seemed like the right solution.
So you didn't have prom.
I know! I hate talking to my friends, 'cause some of them went to six different proms. I've never been to prom, but I do feel like I've made up along the way.
I guess award shows are kinda the best possible prom. Do they make burgers with just the bun at award shows?
Yes! I have to think of what event it was… Oh, Republic Records had a Grammy afterparty last year and there was an In-and-Out Burger truck. There was one burger they were giving everybody, I was like, "Is there any way you can do this plain?" They gave me two plain burgers and I took the bottom patty off of one of them and made myself a little double-double.
What are your friends like?
Most of them are old friends from back home, not really other artists. I can count the number of my closest friends on two hands, I'm very lucky for that.
There's a great lyric on your EP where you call out someone for vaping. The line is just "are you serious?"
That song is kind of based off a party I went to, where I wasn't really feeling it. And people were vaping at the party?
Yeah! Oddly enough it's quite a common occurrence in L.A.
What do you think about hoverboards? Better or worse than vaping?
[Laughs] Wow. Maybe just as bad. I think that I want a hoverboard, but only for the home.
I've been on them, they are fun. I think it gets a little out of hand when you're walking down the street and people are flying by you on their hoverboards, but hey, that's cool. Who walks these days you know?
True. Do you like social media? Snapchat, Instagram?
I think I kill the Snapchat game! I love it. I've become like really obsessed. Especially with these damn filters; I'm all over it. But my highest is streak with a friend is only like 22 days and I'm pretty sure I'm the one that broke it. That person and I have had a serious conversation and we are going to try and up our game. I saw one of my friend's the other day and they literally had 102! Woah, I can't even get past 20.
Once you add Khaled your life just changes.
[Laughs] Yeah, that's when the tables really turned for me. I can go a couple of days without Instagramming, but with Snapchat I'm like "damn I gotta get back on this."
Do you reckon you have the time to date someone right now?
I always feel like you can make time. I truly believe that if you want to make it happen, you can make it happen. It's more a matter of finding a guy who is willing to keep up with this insane schedule because that can't be easy, and I'm the type who wants a relationship to be something or nothing, and not an in-between. The idea of finding somebody I'd want to fully commit to is difficult for me right now.
Are boys intimidated or excited by your lifestyle?
It's different depending on whether they're in the business or not. With my lifestyle, I meet people and then I don't see them for months—hopefully we keep in touch. Since I didn't go to high school I was never in a situation where I'd see the same people day in, day out. I couldn't get to know one person over a period of time like that. But I feel like I make myself pretty approachable, I don't want to think that I'm intimidating.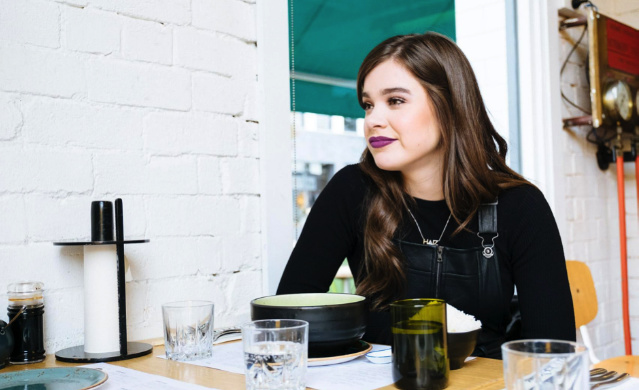 What do you look for in a partner?
It's so funny, there's this book that I got for Christmas, it's called Date Like a Man. I was so bitter about getting it! At first I was like "no, I'm not going to read that." But I totally picked it up, and I was like "this is the best thing I have ever read!" There was this whole page of traits in the book—things like 'well-educated' and 'humorous'. It asked you to write down what traits you want in a partner, and some of these traits were like HOLY SHIT, I've never thought about any of this in my entire life! Mind you, this book is more geared towards adults than to teenagers, so one trait was like "financially stable" and I've never even thought about that. Maybe that's because I'm 19 years old.
Which traits stood out to you?
Honestly, humor is a big thing for me. You have to a great sense of humor and be really easy going. Low-maintenance, you know? I'm more anal about staying in than going out, I'm not one of those people who's always like "let's do something, let's do something!" I like spontaneity, but I'm so down for someone who can do nothing.
I feel like family is important. Often I'll end up liking a boy's mom more than him.
That's so funny, because I've been in that position before. I've also been in the position where the mom likes me more than the boy does. She'll be the one saying "yeah, do it, she's great!" And it pushes the boys away because he just wants to figure it out for himself. I've been in that position once or twice. Do you ask your mom for her opinion on people?
Yep, for sure. I love my mom so much and she's always so clued in on everything that's going on in my life, without me even telling her. She's honestly my best friend. Her opinion totally matters to me and she tends to be a very good judge of character, whereas I feel like once I start liking somebody I tend to not see a lot of their negative traits. She'll be there to sort of keep me on track.
Isabelle won't take you on a date until you've been nominated for an Oscar. She is on Twitter.