Every once in a while, we decide to tell you what Drake is up to in our column This Week in Drake. In this edition, Drake puts out a song by accident (plus one on purpose!), doesn't accept his VMA, potentially has a boner in a music video, and goes on tour with Lil Wayne.
Man, how AMPED is P. Reign right now? He dropped a new single with Drake and Future last night, and suddenly, now everybody knows who he is. A Toronto rapper previously best known for his collaboration with A$AP Rocky titled "We Them N—as" as well as this video of him getting a haircut while wearing a fitted hat just like Papoose did one time, P. Reign will now enjoy the particular honor that comes with having your song posted on pretty much every website that covers popular rap and hip-hop music.
This sounds like the b-side to Future and Drake's "Never Satisfied," and it's basically a Drake song featuring Drake P. Reign with Future doing his thing on the hook. I give this song 5 Views from the 6 out of 6 Views from the 6.
Anyways, we haven't really kept up with Drake's recent goings-on at Noisey recently, so here's your opportunity to find out everything that's going on in Drakelandia.
The VMAs were last night! I didn't watch them, but some of my coworkers did. Anyways, Drake's Michael Mann-indebted clip for "Hold On, We're Going Home" won the award for Best Hip-Hop Video, probably because it featured Drake wearing a ski mask with diamond tear drops on it, and also Fredo Santana dressed up as a pirate. Drake apparently didn't watch the VMAs either because he wasn't there, but Common accepted the award for him. Those who fondly remember Drake and Common's beef over who was less soft will find this weird. I guess they made up?
Meanwhile, a Harlem rapper named Murda Mook is out here on Instagram claiming Drake challenged him to a rap battle and a couple of websites reported it as true. This is great news for Murda Mook, who more than probably made this up as a publicity stunt, but bad news for Drake, because if Murda Mook actually ends up shaming him into having a rap battle, he would probably lose. Though Drake is 100 percent a more entertaining rapper than Murda Mook, Murda Mook is from New York and has the word "murder" in his name, which means if Drake started winning Mook would probably just punch him in the face.
In other news, Drake has been seen a lot with Rihanna lately, which has led to speculation that they're hooking up again. This comes on the heels of the leak of an early version of Views from the 6's title track, which many have read as Drake discussing his and Rihanna's relationship, especially because it contains a sample of a particularly Rihanna-sounding female voice. The leak has been disavowed by Drake's camp as well as E Batt, the other rapper on the track who by all rights is a gigantic scrub. In all likelihood, Drake was not actually talking about Rihanna on "Views from the 6" and E Batt leaked the song on purpose because he was probably going to be taken off of it because he sounds generic and boring on it. Also, it's tacky to discuss your private relationships in a very public context, but that's none of my business.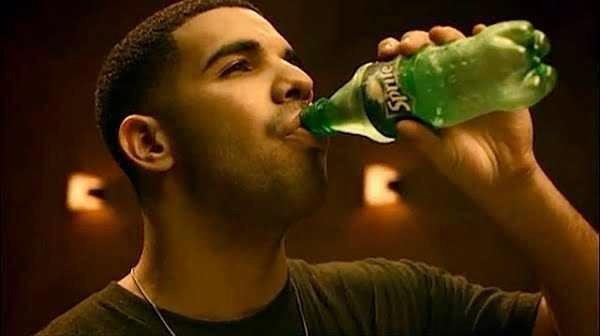 In the "Stuff about Drake that Noisey has already covered" department, Nicki Minaj spent part of the extremely subtle "Anaconda" video giving Drake a lapdance. Do you guys think Drake had a boner in the video? I think so, and I think he was doing a pretty good job of hiding it. Still, there are a few points where it's clear he's hiding his crotch from the camera and not just sitting there without a boner, so let's examine the evidence.
Note the strategically-placed right arm, perfectly positioned to obscure weird bulges that might be present in Drake's shorts due to a surplus of blood running to his crotch without being too obvious about it. Also, his face in each of those frames looks fucking ridiculous. In Exhibit A, he's got a "OK Drake, play it cool dude" thing going on, while in Exhibit B he has totally succumbed to the fact that Nicki Minaj is giving him a lapdance and is almost comically into it, and in Exhibit C, he is biting his lip in concentration; which, when juxtaposed against Nicki's look of near-boredom, is amazing. Drake is the best rapper even when he's not rapping, you guys.
Finally, Drake and Lil Wayne are on tour. It's pretty great, but you already knew that.
Drew Millard has a Drake tattoo. He's on Twitter - @drewmillard
--