Currently, there are about 1.4 million service people in the United States Armed Forces. This includes the Army, Marine Corps, Navy, Air Force, and Coast Guard. Each year, approximately 180,000 more people enlist. However, once their active duty's ended, it's difficult for some veterans to reenter society, find employment and housing, and get the medical care they may need to treat mental or physical ailments resulting from their service.
The US Department of Veteran Affairs estimates that 11 percent of the current adult homeless population in the United States are veterans; 45 percent of that number are African American, predominantly male, live in major urban areas; and 41 percent are between the ages of 31 and 50. As well, 50 percent of these veterans suffer from a serious mental illness and/or disability, and 70 percent have substance abuse problems. Additionally, around 1.4 million other veterans could be at risk of homelessness resulting from various factors such as poverty, a lack of support networks, and poor living conditions in substandard housing.
Caring for our former service members is a $182.3 billion a year project, but even with this significant sum dedicated to the effort, there are still veterans who lack access to the funding, support, and housing they need.
Joining Forces is a nationwide program founded in 2011 by First Lady Michelle Obama and Dr. Jill Biden that, according to their website, aims to work "hand in hand with the public and private sectors to ensure that service members, veterans, and their families have the tools they need to succeed throughout their lives." They focus on employment resources, education programs, and access to wellness services—which includes resources, as well as drawing attention to the urgent issues that veterans and their families confront every day.
The challenges facing veterans in the United States today is the focus of the latest episode of VICELAND's BALLS DEEP with host Thomas Morton, airing tonight at 10 PM EST. The episode follows veteran Wendell Banks as he moves into a new home in a public housing complex being opened as part of the Joining Forces initiative and meets with Michelle Obama to discuss his military service and what it was like transitioning back into civilian life. In anticipation of tonight's episode, we spoke with the first lady over email to discuss why she decided to focus her efforts on this specific issue and some of the greatest challenges she's faced in the process.
Dory Carr-Harris: Obviously America is a nation with a myriad of pressing social issues. Why did you and Dr. Biden decide to rally around eradicating the issue of homelessness in the veteran population of the US?
First Lady Michelle Obama: It is utterly unconscionable that people who fought for our country would ever have to sleep on the streets when they return home. That's why we launched the Mayors Challenge to End Veteran Homelessness—and I want to emphasize the word "end," because that's really our ultimate goal. We know how to solve this problem—there are tried and true approaches that are working all across this country. And when we issued this challenge, we were thrilled that local, state, and federal government officials, along with businesses, nonprofits, and philanthropists rose to meet it. And today, 35 communities, including four of the largest cities in America, and three states—Virginia, Connecticut, and Delaware—have ended veteran homelessness. So we know this is possible. And the beauty of these successes is that we're showing that if we can end veteran homelessness, then we can end homelessness for other populations, too—families, LGBT youth, senior citizens.
America has a long tradition of supporting our troops, especially on the level of national discourse. But there seems to be a bit of a disconnect when they return from service, often falling off society's radar and ending up without homes, jobs, or care? Why does this happen?
I want to be clear that, generally, our service members make smooth transitions back to civilian society—finding jobs, raising families, and establishing themselves as leaders in their workplaces and communities. But there are folks who, understandably, struggle when they return home, and they deserve our unwavering support. That's why Jill and I felt it was so important not just to shine a light on issues that our veterans and their families are facing, but to actually address these challenges—not just with parades, ceremonies, or kind words, but with real action that makes a difference they can see and feel in their daily lives. I'm talking about things like mental health counseling, job training, help finding a home. These men and women and their families have sacrificed so much for our country, and this is the absolute least we can do for them.
---
Watch veteran Wendell Clark welcome First Lady Michelle Obama into his new home.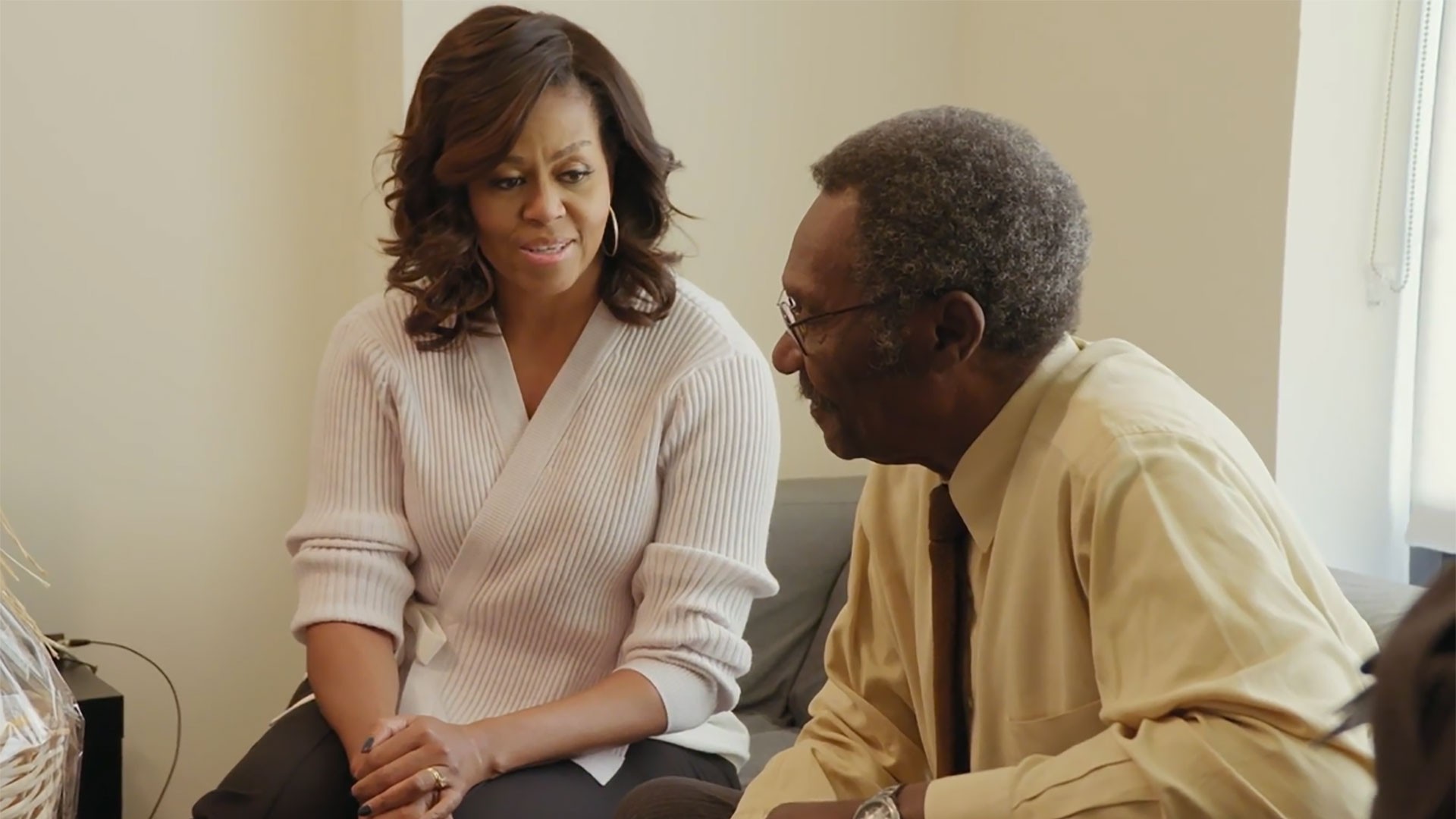 ---
Wendell Banks (who you met during the filming of the BALLS DEEP episode) was obviously so thankful for the support. Is that the normal reaction you receive from veterans in this country? Have people who you've worked with expressed resentment or anger at having served their country and then been unable to find employment or housing? How are veterans feeling about the efforts to provide more support and social infrastructure?
When we first started Joining Forces in 2011, there was a fair amount of skepticism about whether this would be a real effort or just another PR campaign. We heard from young veterans and military spouses who couldn't find work, or were struggling to get the mental health support they needed, and I think some of them were wondering how two women with almost no budget were really going to make a difference. But over the past five years, we've rallied folks across this country to step up and serve our veterans, service members, and their families—and we've been overwhelmed by the response. When it comes to employment alone, companies have hired or trained 1.5 million veterans and military spouses. So while we are nowhere near finished—we have a lot of work ahead of us—I think this is a strong start.
The problems of PTSD and suicide play a central role in veteran homelessness. What progress have you seen in treatment and policy, and what do you hope to see in the coming years?
Through Joining Forces, we've worked with a number of efforts designed to change the conversation about mental health in this country and to prepare community healthcare providers to understand the unique challenges military families face. Through the Campaign to Change Direction, for example, we've encouraged everyone—not just members of the veteran or military community, but all Americans—to learn the five signs that someone might be dealing with a mental health challenge. The goal is to help people see mental health conditions as no different from physical health conditions. Getting treatment for depression should have just as little stigma as getting treatment for a broken leg. One in five Americans is living with a diagnosable mental health condition, and no one should ever feel reluctant or ashamed to get the treatment they need.
What is one of the most rewarding experiences you've had since starting the Joining Forces program? And conversely, one of the most difficult?
Some of the most powerful moments I've had over the past eight years have happened not during big rallies or speeches, but in small, quiet settings—living rooms, hospital rooms, around a table in a dining facility on a base. And I can tell you that it's heart-wrenching to hear the spouse of a wounded warrior telling you about how she had to leave her job the day her husband was injured, and she's been working around the clock as a caregiver and still can't go back to work. But in that moment, you also see the extraordinary courage, resilience, love, and love of country that our veterans and military families display every single day—and that is truly awe-inspiring.
Another moment that stands out in my mind was when I met a man named Mr. Black, a Vietnam War–era veteran. He told me that when he came home from the war, people actually looked down on him for having served, and he never talked about his experiences in Vietnam. But today, he said, because of what we've been doing through Joining Forces, he never leaves the house without his veteran cap or a pin representing his service. And in the end, that's really what we want for our servicemembers, veterans, and their families—we want them to feel like we all have their backs, and we all value, admire, and are profoundly grateful for their service to our country.
Follow Dory Carr-Harris on Twitter.