White supremacist propaganda has reared its ugly head at Auckland University again, with a series of white power posters appearing around the campus. The posters, reading "Hey white man, only you can prevent white genocide," and "White Lives Matter" were seen up and down Symonds Street and the city campus, according to the Students' Association head Will Matthews. This comes just weeks after the campus faced controversy around a European Club started on the campus, using what resembled traditional white supremacist logos and and mottos on their Facebook page.
One student on an account named "Samantha Haid", said in a now-deleted post to the public Facebook page Overheard @ University of Auckland that she'd torn down as many of the posters as possible.
"I tore down these horrid posters plastered all over campus this morning. As a Muslim woman this kind of violent hate speech makes me feel so unsafe at University. Why is this allowed?" she wrote. A number of students believe Haid is in fact a fake proxy account begun by the white supremacist group concerned, given she is Facebook-friends with Adam Holland, leader of the "NZ Alt-Right Party", and other known alt-righters.
Haid apparently spoke to Newshub, and Fairfax Media, saying she was an Iranian-born New Zealander, and this was the first "real racism" she had come across.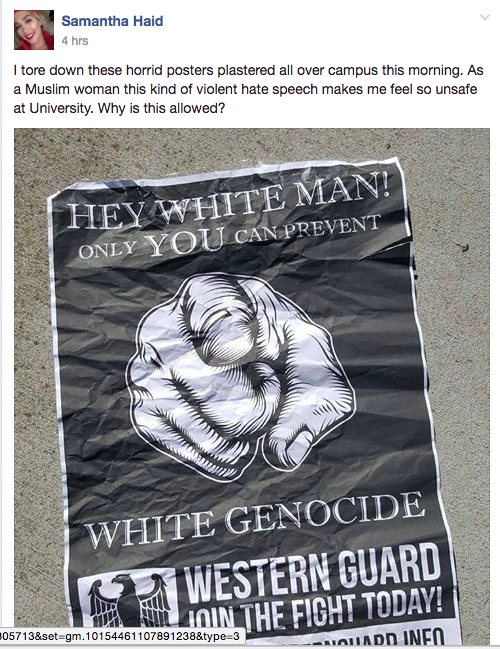 Samantha Haid's original post, via FACEBOOK
VICE reached out to Haid to attempt to verify her identity. She was initially happy to answer questions, but declined to take phonecalls, preferring to answer questions over Facebook. She also declined to provide further evidence of her identity, or of her role as a student at University of Auckland. Her Facebook profile picture appears to have been taken from the profile of a woman based in New York. Her activity on Facebook began in December 2016, around the time the group was first active.
Students' Association spokesman Will Matthews said he had been told the 'Samantha Haid' account was fake, but was unable to confirm either way.
The posters advertise a white supremacist group whose website says they're currently recruiting. Their website says recruits must be, among other things, "physically fit, or training to become so". It goes on, "No homosexuals, transsexuals, or any other form of mental illness".
They have posted a variety of anti-immigration, anti-diversity themed videos, and currently have a Facebook following of five people.
The website domain was registered in December 2016, under the name of Sam Hyde - a 'comedian' popular on Alt-Right and 4chan networks. It is, incidentally, phonetically very similar to "Samantha Haid".
Students' Association spokesman Will Matthews said the posters were an isolated incident, and had been almost immediately taken down by staff and students arriving early in the morning. "The community has very effectively self-policed on this," he said.
He said the university was "very alert" to the emergence of white-power rhetoric on campus, and was committed to ensuring a "safe, tolerant environment for people of all ethnicities, genders and sexual orientations". He said the University was a "small world" and he believed there were a small number of individuals involved.
Western Guard said in a written statement to VICE that "we've been organizing for a few months privately, but we went public with our group and our aims today - so privately active for a while, but publically [sic] active only recently".
"We began as a handful of like minded individuals, but since going public we've received numerous applications to join our group".
They also sent through a load of racist guff but we won't repeat that here.
Follow Tess on Twitter