Child abusers have always adapted technology to stay ahead of the law, or find new ways to target victims. With one case, in which a suspect recently pleaded guilty, a group of pedophiles ran two fake chat sites to coerce children into producing explicit videos.
On Friday, Jeffrey Van Dyke, 46, from Weed, California who was part of the conspiracy, pleaded guilty to child pornography crimes, according to a Department of Justice press release.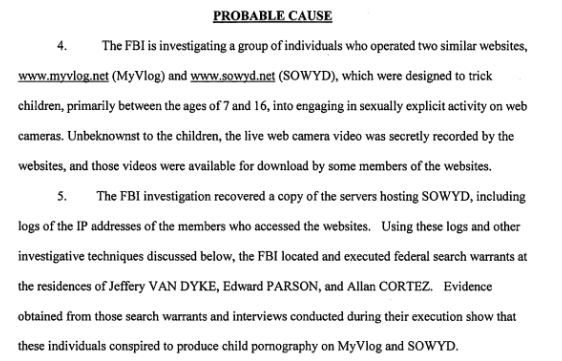 The case involved chat sites MyVlog and SOWYD, according to the criminal complaint. Visitors could talk and use their webcams, but instead of being a site where lots of children hung out and chatted, the pedophiles who ran the site would play old webcam footage of kids—or "loops"—tricking their targets into thinking they were communicating with other children. The abusers would then persuade the children to remove their clothes and perform sexual acts.
In his role, Van Dyke admitted sending links for one of the websites to victims, and according to the complaint, abusers would lure children from other social media sites. When clicked, the link would direct the child to a hidden chat room, where others could tune in to the stream, but not be visible to the child.
The sites have since been shut down. In September 2014, the FBI arrested a child pornography suspect, and took over their instant messaging account. From here, the FBI infiltrated the group of MyVlog users, and spoke to the site's administrator. After a hacker allegedly targeted MyVlog, the admin created SOWYD. Many of the users appear to have taken no measures to obfuscate their IP addresses though: the FBI was able to identify suspects after Dutch authorities provided a copy of the website's server, and the FBI successfully decrypted its contents.