Philadelphia City Commissioner Al Schmidt stands outside the Pennsylvania Convention Centre on Nov. 6, 2020, in Philadelphia, Pennsylvania. (Photo by Lynsey Addario/Getty Images)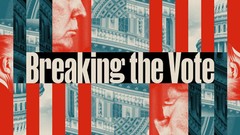 A series tracking the growing assault on voting rights, and efforts to undermine the democratic process in America.
Here's the lineup from the latest installment of our new Breaking the Vote newsletter, covering the ongoing threats to democracy in the U.S.
Al Schmidt, the lone Republican on Philadelphia's election board, announced this week he's stepping down early from the job. Former President Trump targeted Schmidt after the 2020 election, and that led to months of intimidation and harassment that continues today. 
Trump called Schmidt's exit "great news" and attacked Philadelphia's election results. His campaign attempted multiple lawsuits over the vote count in Philly, all of which were rejected by courts. 
And while Schmidt had already said in 2019 he would not run again after his four-year term is up, he's the latest high-profile election official to leave their post amid Trumpists' campaign to undermine confidence in 2020 and increase control over elections into the future. 
I called him to get his take on his exit, the harassment, and what's at stake for our democracy. (The conversation has been edited for length and flow.)
Do you think the people who threatened you and threatened your family still see a victory here? 
Well, they could, but they'd be wrong, although getting it wrong is not going to stand in their way. It never has. They were wrong about the 2020 election. They were wrong about the integrity of elections in Philadelphia, they're wrong about just so very much. And I am certainly beyond thinking that anything I say or do could change their minds. 
And yet, intimidation is done to get a result. So it actually matters what people or their ideological leaders believe about someone like you exiting.
Yeah, I believe that matters. The most important thing for me is to act independently of whatever these sorts of psychological terrorists want.
At the same time, this part of your professional life ends with you getting attacked yet again by Donald Trump. There's really no way around that.
There was a reporter yesterday who mentioned, "Well, the former president may have something to say about this." And I said I hope he has better things to do with his time. But apparently he doesn't.
I don't think Trump has anything better to do, because you leaving this swing-state post, for whatever reason, is mission-critical for him.

Well, I have the advantage of leaving, knowing that our mayor appoints my replacement. And whoever he appoints to replace me will not be someone who the former president or his disciples like. That's what I know for sure. 
You're not alone. We've all read the reports of thousands of election workers across the country leaving their posts, in some cases after threats and intimidation. It seems to be a flashing danger sign.
I think it is. My educational background includes a Ph.D. in political history, mainly focused in 20th century European history. And you can see how democracies have the ability, once a non-democratic majority takes power, to essentially dismantle themselves. We have to do everything we can to prevent it from self-destructing, because democracies have within themselves the mechanism for their own self-destruction. 
Meanwhile, Republicans in Pennsylvania are back at it. They've got an audit-like effort underway. So what's happened on your end? 
Whenever that chatter increases, the threats return. They're less frequent, and they're less graphic and less specific than they were in 2020. There's a big difference between general threats coming in from some knucklehead who says you're a traitor, you're going to get what's coming to you, and ones in 2020 that named my children and [included] pictures of my house and all sorts of specifics.
Are you still living with security?
I really can't speak to that. I'm sorry.
What's going on with people that causes them to reach out and threaten you? 
There's no one who's threatening to kill my children who isn't already a creep to begin with. They're just being motivated. But there's a whole other universe of people who aren't making threats but are still believing these lies they're being told. It's ordinary people who are losing confidence in democracy because they're being lied to. And the thing that's really intrigued me is, while the former president may have exploited that, people were already receptive to it. He exploited something that was already there. And he may have made it worse.
What is the reality that January 6 is broadcasting to everybody?
I think the reality is that these lies have consequences. And people want to run away from the consequences of the lies that they're telling. But the consequences are election administrators across the country doing their job getting death threats, being hounded away from these important, although obscure jobs. And it's culminating in people not just making threats but acting out on these threats, as we saw on Jan. 6 on Capitol Hill.
The message from the very top of the Republican Party now is that that was a patriotic day, a justified day. 
Any Republican who takes any pleasure in the Confederate flag being walked around inside the Capitol of our republic, they're the ones who are off-message.
Where are we headed when the leader of the party and the possible nominee for 2024 issues propaganda like that? 
The people being held accountable right now are the ones who told the truth. And the ones who are benefiting from all these lies are obviously the ones lying. And you can see it playing to their base, in terms of political contributions or all the rest. There's a real perverse incentive right now that is dangerous. That is that lying about the election benefits you, telling the truth about the election is to your political or personal detriment.
What about accountability for people who've called you, emailed you, threatened you or your family? 
What I do know is the Philadelphia Police Department has taken all these threats very seriously and allocated resources to protect me and my family. Like, I could look outside and see them. So that's very real. I also know that federal and state law enforcement have taken it seriously in terms of conversations and requests for information passing along information so that they can conduct investigations. What I haven't seen yet is anyone being held accountable for that. I know our attorney general and his people have taken these threats very seriously. I know the FBI that I've been in contact with throughout this whole process has taken it seriously. But I also know, as yet, that no one has been held accountable for it.
What do you say to people out there who feel helpless and resigned to what they see going on in their democracy?
That, in so many ways, is the real tragedy of it—and the fact that what appears to be a majority of my party believing that the 2020 election was stolen based on no evidence whatsoever. When a majority of one of only two major parties in our country is embracing anti-democratic principles and seeking to undermine the democratic process and seeking to not have our voters' votes counted, maybe that's the biggest danger of all this.
Watch this clip from our interview with Al Schmidt:
WHAT'S HAPPENING
'I Can't Imagine Ever Going Back'
Former Fulton County, Georgia, election worker Ruby Freeman says she "can't imagine ever going back to election work" after being harassed and seeing her family threatened after 2020. Now Freeman and her daughter, Shaye Moss, are suing the far-right website Gateway Pundit for spinning months of Trump-backed election conspiracies that they say led to the intimidation.
Gateway Pundit repeatedly pushed a conspiracy accusing Freeman, by name, of counting votes from a suitcase hidden under a table. The theory came from surveillance video that Trump campaign lawyers presented to Georgia officials. In fact, workers had been ordered to stop counting for the night, and the video merely showed Freeman starting again the next day. 
But Trump latched on, tweeting right-wing news coverage of the conspiracy theory in late December 2020 and then mentioning Freeman by name when he called Georgia Secretary of State Brad Raffensperger in early January to push him to help steal the election (more on that below). 
Freeman and Moss—and Moss's son—reportedly faced threats online, on the phone, and in person. Their lawsuit claims people twice tried to force their way into Moss's home, and that she fled her home for two months on the advice of the FBI.
Freeman and Moss are seeking compensation and a statement from Gateway Pundit saying that the illegal-vote story is false. Trump's not named in the suit. 
It was a high-traffic week at the January 6 House Select Committee investigating Trump's attempted coup and the insurrection supporting it. The committee is staring down the barrel of a probable GOP takeover of the House in 2022 and the inevitable shutdown of its investigation. So, yeah, they're in a hurry. Let's check in!
Will Jeffrey Clark Cooperate?
The time crunch explains the urgency of slapping contempt charges on Steve Bannon last month and his ongoing prosecution. And it also explains this week's criminal contempt citation for former Acting Assistant Attorney General Jeffrey Clark. 
Like Bannon, Clark played a key role in executing Trump's attempt to overturn the election results, in Clark's case by threatening DOJ officials and leaning on them to meddle with Georgia's election results. And like Bannon, Clark shirked the January 6 committee and refused to honor its subpoena (Clark appeared with his lawyer in early November but stonewalled).
The committee voted to hold Clark in criminal contempt, just after Clark made another offer to appear. As of this writing, House Dems are holding off Clark's contempt resolution, waiting to see if he actually cooperates or stonewalls again. Fifth Amendment claims against self-incrimination could be in his future.   
Rolling Meadows? 
All that contempt seems to have made some impact on former White House chief of staff Mark Meadows, who this week reversed course and agreed to cooperate with the committee. That's important because Meadows is known to have been in touch with people at several levels of the coup attempt as well as the organizers of the Jan. 6 rally on the Ellipse. He's also one of the few people who could testify to Trump's actions and state of mind in the hours before and during the insurrection.
But here's the catch! The practical meaning of "cooperate" is very much an open question. Meadows reportedly turned over documents and agreed to be deposed, but his lawyer made clear that he's keeping Meadows away from anything potentially privileged… i.e., anything touching directly on Trump. 
One notable thing about Meadows' reversal is what didn't happen: The usual public abuse and derision Trump heaps on those he perceives as disloyal hasn't materialized for Meadows. Maybe the boss isn't so nervous about what his lieutenant will reveal after all.  
Raffensperger Pays a Visit
While Meadows was cutting deals (we'll see) with the January 6 committee, one of the officials Trump tried to coerce into changing the election results popped up for testimony of his own. Brad Raffensperger, Georgia's Republican secretary of state, met with the panel for five hours this week, giving them details on his post-election interactions with Trumpworld, including the now-famous call where Trump, on tape, tried to coerce him to "find" votes and overturn Georgia's election. Raffensperger said he talked about that and a lot more but didn't give details. 
Raffensperger has detailed the death threats he and his family have faced for refusing to do Trump's bidding in 2020, and he remains one of Trump's biggest targets for abuse and unemployment. Trump has backed a primary challenge from Rep. Jody Hice, a Georgia Republican who voted to overturn election results on Jan. 6. 
Working as Intended
Raffensperger may be a critic of Trump and his attempts to intimidate his way out of losing 2020, but he's also a staunch defender of Georgia Republicans' new voting restrictions. It took a day after Raffensperger's quality time with the January 6 committee for him to turn around and sue the Justice Department, looking for evidence of political motives in DOJ's own suit seeking to strike Georgia's restrictions down. That's a lot of legal back and forth, but don't let it hide what's most important: Georgia's new voter suppression law is working. 
Last month's off-year election was the first since Republicans passed SB 202 in Georgia, putting new restrictions on ballot drop boxes, requiring more voter ID, and making it harder to get an absentee ballot. Now we know how effective that last part was. You used to have until the Friday before Election Day to request an absentee ballot in Georgia. But the new law changed that to 11 days. The result? More rejections (and, you guessed it, fewer voters). 
Late application was the No. 1 reason for absentee ballot rejections in November, more than all the others combined. Overall, close to 4 percent of 32,312 applications were rejected, nearly four times the rejection rate of 2020. Four percent doesn't seem like much, but scale that off-year result up to 2020, when Joe Biden's margin of victory in Georgia was less than 12,000 votes out of nearly 5 million, and you can see how subtle voter suppression has to be to work its sordid magic. 
Getting It Right the Second Time
One thing the rise of Trumpism has made clear is that the GOP it now controls is no longer a party devoted to American democracy. That realization has come quicker to some in the American political press than it has to others. Some journalists remain nestled in the cozy cognitive nook that lets them operate as arbiters between two opposed, but democratically equal, sides. 

Check out this thread from NYU media critic Jay Rosen, who's been warning for years about Trumpism's depredations on journalism but also noticed a small but critical shift this week. 
I SAID WHAT I SAID 
"If people believe there is an existential threat to democracy, then they should act like it. The Justice Department should act like it, the Congress should act like it, the administration should act like it, and to date I don't think that they have." - Conservative political commentator and Bulwark founder Charlie Sykes, on the urgency of attacks on fair elections and election administration. 
ON OUR RADAR 
Funding the 'Cold Civil War' — VICE News' Cam Joseph has the story on the new super PAC hoping to convert some of Trumpism's hardest-right cultural and political ideas into candidacies. The new American Firebrand super PAC is funded by Thomas Kingenstein, a conservative mega-donor who also funds the Claremont Institute. That group, as Cam has reported, employs John Eastman, the lawyer who drafted a memo instructing then-VP Mike Pence on how he could help Trump reject electors on Jan. 6 in an effort to overturn the election.
In a video unveiling the PAC, Klingenstein describes his organization as locked "in a cold civil war… over the American way of life." Klingenstein has shoveled millions into Claremont and other hard-right causes, though it's still unclear how much the super PAC will spend. 
All the Young Moods — If you're into promoting authoritarianism, you really want a country where the rising generation isn't super concerned about staying a democracy. 
Young Americans are definitely not feeling optimistic about the future of the republic. More than half told the Harvard Youth Poll that American democracy is either "in trouble" or "failing," including 70 percent of Republicans. That last figure is less than surprising given the alarming number of Republicans who say the 2020 election was stolen, but there are more troubling numbers. Fifty-eight percent of 18-29-year-olds say it's important the United States remain a democracy, while 28 percent said it's "somewhat" or "not very" important. The most alarming figures belong to young people without a college degree. Young people not currently in college or without a college degree are evenly split on whether it's important for America to remain a democracy. 
Insurrection, Succession… Victory — We learned several weeks ago that at least 10 people who attended the Jan. 6 rally won public office in last month's off-year elections. Now a Texas man accused of assaulting a police officer at the insurrection is running for the Texas state House on a secessionist platform. Mark Middleton, a 52-year-old salesman and Cub Scout leader from Forestburg, Texas, pleaded not guilty to nine federal charges, including interference with a law enforcement officer during civil disorder and obstruction of an official proceeding. Middleton and his wife were captured on video participating in the riot, according to the Dallas Morning News.
Middleton is now a Republican primary candidate for Texas House district 68, where the state GOP accepted his application to run. His campaign website calls for Texas to "seriously consider" separation from the United States. 
*CLICK* 
—David Pepper on US statehouses as laboratories of autocracy
—Trump allies work to place supporters in key election posts, spurring fears about future vote challenges
Look for more coverage of who's being held accountable for intimidating election workers soon on VICE News Tonight. And send your friends the Breaking the Vote newsletter!