Kaitlyn Mahoney of Salt Lake City, Utah, home of the Mormon church and renowned bastion of anti-gay organizing, has never been to a gay bookstore. Is that stopping them from opening a physical space for their online store Under the Umbrella this fall? Nope. 
"In Salt Lake we have two gay bars, which are great," Mahoney told VICE. "We have a queer barber, Friar Tuck's, which was one of the first places I ever felt truly safe. Not just to exist but to engage, I guess, about queer things. Or ask questions. Or have needs. I want to make that happen." 
For decades, the number of LGBT2Q bookstores in North America has been plummeting, which has just… really sucked. The queer bookstore has historically played a huge role in LGBT2Q cultural movements and political movements, and having an all-ages sober queer space with zero entry fee has been a literal lifesaver for a lot of people. Happy queer and trans characters were widely accepted in books long before they were (or are) in television and movies, which means—even with social media—that when newly-out queer or trans people seek possibility models, they still do part of that looking in books. For these reasons and others (Supporting the arts! Opportunities to display our non-hetero plumage! Flirting and cruising!), it's wildly exciting that LGBT2Q bookstores are having an unexpected, optimistic resurgence. 
"A queer cultural space is relational, it isn't transactional," Asha Grant, who is opening The Salt Eaters, a Black queer bookstore centering Black women, femmes, and nonbinary people in Inglewood, California, said. "It's the opposite of the capitalist imperative. It's about the people who gather. It's the curation, the offering, and who is at the center of that curation and those offerings."
We are in the gay and hopeful springtime of the queer bookstore cycle again, and the blossoms are gorgeous. This resurgence isn't driven by authors who've made it big and are looking to give back, though. These new bookstores are being opened mostly by younger organizers and activists with bookish bents, all of whom just really believe in the magic between the covers and beyond them. Mahoney, Grant, and the others bring all their community skills to the project—reaching out for support, centering the marginalized, and having an absolute ton of energy.
Every LGBT2Q bookstore owner or employee VICE spoke to for this article described the importance of their queer (physical, digital, or emotional) spaces in similar and feelings-forward terms: Queer cultural spaces are where they hope to make a place that LGBT2Q people can be themselves, together, in a way that welcomes and celebrates, holds and witnesses. E.R Anderson, of Charis Books and More in Decatur, Georgia, which was founded in 1974, told story after story of patrons "wandering in, holding something they couldn't hold by themselves, needing to tell someone and having no one they felt they could tell." 
Michael Erickson, owner of Glad Day Bookshop in Toronto, Canada, founded in 1970 and billing itself as the oldest continually operating queer bookstore in the world, said much the same. "It's where people come to be themselves, their whole selves," he said "Especially if they don't have other places, friend groups, or community, but even just to... have a break from the world a little bit." 
Audrey Kohler, an apprentice (they're learning the independent bookstore business from owner Susan Post) at BookWoman in Austin, Texas, said that in her experience, "people come in and say, 'it's so much easier to talk about this with a stranger!' And there I am, this queer, friendly face they maybe recognize already from our Instagram, and they feel like whatever they've needed to talk about or learn about, they can ask for a book about, and we can help them. People feel like they can use us, in a positive way, to get where they need to be."
In the mid-80s, the U.S. alone supported about 200 LGBT2Q bookstores, including a fair number outside of big cities. Now it's a quarter of that, according to Sara Luce Look, co-owner of Charis Books and More and recreational scholar of the movement she joined. After speaking with VICE, Look sent a clipping from a mid-90s guide to feminist bookstores with four listings for Utah, including one in Salt Lake. So what happened?
For one thing, Amazon happened. Suddenly anyone could order any book right to their home, and at a discount, and they certainly did—bypassing their friendly local bookseller in favor of a massive selection and cheaper books. 
But Amazon was only a portion of the one-two punch the internet brought: the other part was the sudden availability of smut. Because X-rated books and naked magazines had been such a revenue generator for a portion of the queer-bookstore ecosystem, the rise of free, sexually explicit material online made schlepping all the way to the gay bookstore for a fresh issue of Mandate or Drummer unnecessary, strictly speaking.
The porn problem did not affect all stores equally, though. "Historically, when a bookstore was owned by gay men it was called a gay bookstore, but when it was owned by lesbians it was called a feminist bookstore," Look said. In general, only the gay bookstores sold nakedly (in both senses) pornographic items. Feminist bookstores definitely sold some very hot content—have you ever read Nighthawk, for example?—and many eventually carried lesbian-owned-and-operated porn mag On Our Backs, but feminist bookstores catered to a larger-than-lesbian audience, which might be a contributing factor to the persistence of feminist bookstores in places where strictly queer bookstores failed. 
Now it seems that the queer bookstore is starting to regain its luster (pause for cheering from the ad hoc book clubs, Instagram book blogs (also this one) and queer #booktok offerings that have sprung up to help keep the LGBT2Q book vibes alive). Whether it's because the pandemic has really driven home how beautiful and valuable it is to gather together (safely!) or for other reasons is impossible to know, but it's clear that there's a hunger for queer and trans connection that bookstores are ready and willing to meet, through their presence and also through programming.
Events with authors are one critical way that LGBT2Q bookstores do the work of making queer cultural space, and often they're the only places some authors can book events at all —or the only place the booksellers are ready and willing to champion a queer book. Kris Kleindienst, co-owner of Left Bank Books in St. Louis, Missouri recalls reading Stone Butch Blues by Leslie Feinberg and thinking, in her words, "Oh my Gd. People need to know about this book." So, Kleindienst picked up the phone (it was the early 90s, after all), and called around. "All these people showed up," Kleindienst recalled fondly, "Butches and trans people and labor movement people, because Leslie was a big organizer in the labor movement, all seeing each other there, being together."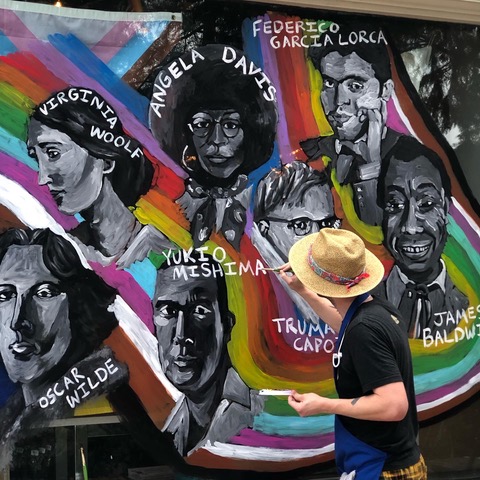 Bryan Dupree, who opened Beausoleil Books in Lafayette, Louisiana in October of 2020 along with three other partners (his husband James among them) said their bookstore also houses a wine bar, the Whisper Room. That's where they present readings and community events like Pride Trivia night or open mic poetry slams. "The poetry slams, I find it quite special because the writers get up and perform their work which is personal, it's from their identities," Dupree said, "and so you might have this young non-binary poet reading from their work one night. The Whisper Room is all kinds of people, from our community or not, but they're all able to hear this experience and learn from it and then they all clap."
Charis Books, which has hosted hundreds of author events including evenings with Octavia Butler, Alice Walker, and Maya Angelou, spun off a non-profit foundation from the bookstore, Charis Circle, in the mid-1990s to help sustain the events when the book sales simply couldn't cover the labor needed to hold them. Others followed suit, including the now-shuttered Center for New Words, Glad Day in Toronto (which used to host upwards of 50 events per month pre-pandemic, and is continuing to hold the space via their GDTV Zoom channel), and more. The stores' owners subjected themselves to government scrutiny and waded through reams of documents to receive tax-deductible donations and continue producing these events.
Connection through shared values is another type of space that bookstores are not just ready but extremely keen to engage. Joan Dark, a worker-owner at Bluestockings Cooperative in New York City, joked that the store was "actually an activist project, supported by the sale of books." Dark, along with a few other former employees of a previous iteration of Bluestockings, re-established the store in 2020 after it foundered on the same rocks as Glad Day and many others had. They've re-imagined it as a "queer, trans, and sex worker–owned bookstore," offering meeting space for political groups and organizing projects and facilitating what Dark called a "cross-pollination" of people with similar values. So far, things are going well, with a membership program that allows people to make a monthly contribution to the store to help cover the financial gaps (a method many of the bookstores profiled are employing). Membership has its benefits, which vary from store to store but tend to include things like discounts, reserved seating at events, limited edition swag like stickers and tees… and the bookstore staying open.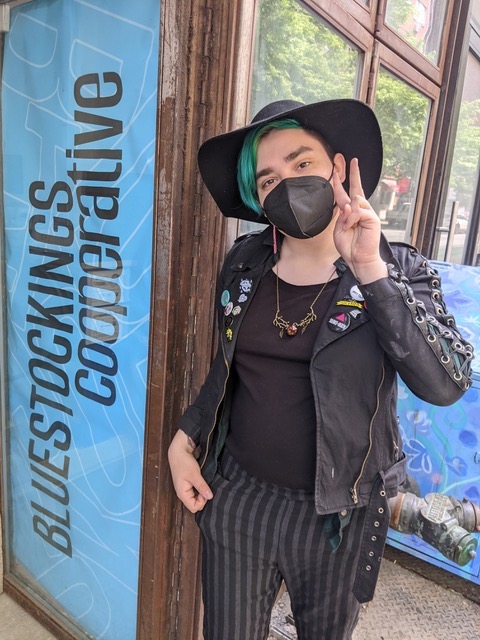 Mahoney, of Under The Umbrella, is doing something similar. "We're going to have a Books To Prisoners program, and space to write letters to incarcerated people; we're partnering with Black and Pink," they said. "And I'm going to do a Free Library, also, where people who maybe can't afford to buy books can still find something to read." 
Grant, of The Salt Eaters, began her bookstore dreams after she founded the Los Angeles chapter of Free Black Women's Library, a mobile book-swap that brings Black feminist books to places where people might need them. She saw both a need for the books and for the community that sprung up among organizers, educators, volunteers, and patrons. 
"There are so many entryways that open up when you're physically there," Grant said. "We're putting up a community board for jobs, events, housing, right in the front of the store. You haven't even bought anything, but already you're engaging with these opportunities that can shape you."  And Bluestockings now allows patrons to buy a book to be kept in reserve, and given for free to a community member who may need it but not be able to afford it—a much nicer version of the earlier method where you had to read the book there in the store, often while sitting in a wooden chair (and getting up anytime someone wanted to look at the books behind you).
Curation as a part of this queer cultural space also comes up often in conversations with both new and legacy store owners and workers. It may not sound sexy, but it's a huge reason why LGBT2Q people want to browse a bookstore rather than just trusting the Amazon algorithm (which is easy for publishers to game). Dupree, from Beausoleil, spoke at length about the value of representation across genres. "When you come in here," he said, "you see all the lesbian books, the gay books, we have displays. But in every section, doesn't matter what—travel, romance, sci-fi—we make sure there's representation of our community there as well. On every shelf, we're there." 
The founders of Birmingham, Alabama's Burdock Book Collective—which started life as a pop-up that unexpectedly forged deep connections—described their approach to curation as "an anti-sexist, anti-racist, coalition-building ideology that honors all people." Burdock began in 2018, partly in response to a survey that founders Meagan Lyle and Katie Willis sent around, asking people if they might be interested in shopping at a new bookstore and, if so, how they envisioned it. Currently housed for free in a room of the local Quaker Meeting House, Burdock "started by doing pop-ups—at community spaces, at the farmer's market, wherever they would have us. Sometimes we hardly sold anything at those first pop-ups, but people were super interested," Willis said. Lyle continued: "They were curious, they had questions for us, they wanted recommendations. A lot of people had no idea that some of the kinds of books we had existed and seeing them made people ask, 'OK, what about this? Are there books about this?' We didn't make any money but it was kind of thrilling to watch."
The people opening new queer bookstores have had to get creative in order to make their dreams come true, but say the hard work isn't deterring them. Beyond that, they're finding a huge lift—both financial and emotional—in community support. Folks are showing up to paint the walls, shelve the books, volunteer at events, staff the store for free, and generally give what they have to help make it happen. 
The community support for stores echoes the ways in which the stores support the community—a happy little cycle, whether it's for a book recommendation, a community resource, a referral, an ear, or just a place to take a first, tentative step into LGBT2Q identity. Legacy bookstores are enjoying actual financial success for the first time in quite a while, and new queer bookstores are gathering momentum. "There's a lot going on right now that's so exciting," Look, of Charis Books and More, said. "Things are taking giant leaps forward, there are all these young people who are doing stuff, very mission focused: social-justice minded, very committed, making these spaces that people need. Queer and feminist bookstore have been declared dead so many times, but we didn't die. We won't die." 
"People need this space, they need to be able to feel free," Dark, of Bluestockings, said. "And we're here for them." 
Follow S. Bear Bergman on Twitter and get more of his great advice on Asking Bear.