COMPOSITE BY VICE STAFF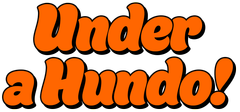 All the best stuff for under $100.
Welcome to Under a Hundo, where your faithful VICE editors find the best versions of anything and everything you're desperately seeking—all for under $100. Whether it's fancy knives, instant-vacation-vibes patio furniture, or suspiciously underpriced ghost-hunting equipment, we've got your thrifty needs covered.
---
Listen, we're not here to put down the giant knife block you got when you moved into your first apartment. We're not here to harp on about how most of the knives in that overpriced hunk of wood are essentially for show (who needs six serrated steak knives?), and we're certainly not here to tell you to toss the whole thing. The truth is, even if they're bogarting a valuable chunk of your kitchen space, knife blocks look pretty sweet sitting on a countertop. However, most home cooks really only need to invest in three knives: a paring knife, a bread knife, and—most importantly—a solid chef's knife. 
The problem with buying large knife block sets is that you're paying for tons of things you don't need—namely, too many of those serrated steak knives, and the big ol' chunk of wood they all rest in—when you could be putting that cash towards a nicer chef knife. Now, maybe your knife block comes with a dedicated boning knife (it probably doesn't) and you filet a lot of fish at home (you probably don't)—in which case, you probably already have a sweet chef's knife, one that probably costs more than $100. Good for you, but for those of us who still use the chef's knife included in our housewarming set, an affordable upgrade can completely change the way you cook.
Using a quality chef's knife after mashing tomatoes and hacking away at meats like a 19th-century doctor for years is a serious sensory experience. Gliding through ingredient prep makes cooking infinitely more enjoyable—and there's no better feeling than absolutely massacring entire generations of onions and mushrooms before dumping them into a big pot. (Oh, and make sure you keep that blade sharpened and honed. A dull knife can actually be more dangerous than a sharp knife, so get your knives professionally sharpened from time to time—or, invest in a whetstone set.) 
Unfortunately, lot's of high-end chef's knives are really, really expensive, which is why for the most part, people tend to stick with what they've got in the block. Lucky for you, we put together a lil' listy of some of our favorite chef's knives for under a hundred dollars.
So peruse through these affordable chef's knives, and join us as we get one step closer to playing real-life Fruit Ninja. 
A millenial-ish cookware brand we actually stan
The smooth lines. The pastel colors. The minimalist branding. The quality products. It's all there—and at a reasonable price. The brand's 8" model is made with Japanese AUS-10 high-carbon stainless steel and has a lifetime warranty. The MUNCHIES team swears by them, and if you're still not convinced, you can also take one on a "60-Day Test Drive," with free returns. 
It's one chef's knife, Michael. What could it cost, 34 dollars?
Yes, Lucille, $40 indeed. With an ergonomic handle and 5,755 5-star ratings on Amazon, this ultra-affordable chef's knife is the way to go if you're just dipping your toe into the knife game. (Rest in sweet, sweet peace, Jessica Walter.) 
It's a bad day to be an onion
This Japanese knife not only looks cooler than any knife-block blade, but it's also massively on sale. It's made VG10 super steel clad with stainless steel, creating a san mai edge that pairs cutting performance with durability, according to the knife people, whom we'll trust.
You like to live life on the edge
Pretty much just swap in any other knife puns you can think of. This santoku knife, which is a reference to the style and shape of the blade, is nearly half off, and is a worthy addition to any culinary arsenal. Using a santoku knife is best when you're looking to chop up-and-down, rather than the classic rocking motion you'd use with a chef's knife. 
Cheese, knives, mountains, a willingness to say "fuck off" to Uncle Sam? The Swiss get all the cool stuff. (We want to sit at their lunch table.) This sweet, 8-inch chef's knife has a non-slip handle and a sharp, extra-wide blade—perfect for grilled meat, and it is, dear friends, grilling season. 
This knife by BergHOFF rolls in at 7.5", which is a touch smaller than the standard 8-inch blade, but offers a little more precision and control—perfect for the aspiring home cook. The hollow, stainless-steel handle is also well-balanced with a heavy bolster for increased control. 
High-quality German stainless steel, and a traditional, triple-rivet handle make this kitchen workhorse functional and ~fashionable~. Plus, it's dishwasher-safe—though we really, really think you should be washing your nice knives by hand. 
Do my hands look big in this picture
Globals are a somewhat polarizing knife—some people rant and rave about their quality and construction while others can't get past the unique, solid-steel handle look. They are, however, great for people with small hands, and if you don't plan on growing larger hands any time soon, this small, 5.25" model is the way to go. 
Made In worked with chefs and artisan blade makers alike to birth their 8" chef's knife unto this earth. Loved by both home cooks and pros, this knife is made from one solid piece of stainless steel, and is built to last.
There's an umlaut in the name, so you know it's good
But why is there no umlaut in the word "umlaut?" We may never know. At any rate, Wüsthof is a classic knife and cookware company that simply won't let you down. They last forever, and as long as you don't beat them up too badly (or subject them to a pull-through sharpener) you won't have to cash in the included lifetime warranty. 
You're a four-star person
"Zwilling" isn't just a blast to say—it's a leading cookware company whose products you'll find in many professional kitchens. "Virtually unbreakable handles," "a proprietary steel developed over 280 years and ice-hardened for increased durability," and a slew of other grandiose characteristics earns this knife a spot on our list.
Stay sharp out there, folks. 
---
The Rec Room staff independently selected all of the stuff featured in this story. VICE may receive a small commission if you buy through the links on our site.