As a real estate transaction, $300,000 will get you a steadily decaying, four-story, igloo-shaped, urine-soaked structure built from plywood and urethane. An abandoned gas station, a huge gravel parking lot, a few shuttered cabins, and an outhouse are also included in the purchase of the 38 electricity-free acre plot nestled along a stunningly beautiful stretch of highway in middle-of-nowhere Alaska.
But that cash will also get you something more, something on which a price can't be placed. You'll become the caretaker of a dream. Leon Smith's dream. If you have the desire—and, to be honest, a whole lot more moolah for repairs—you can be the one who finally fulfills the dream Smith first contemplated nearly 50 years ago and devoted a third of his life to realizing only to fall short.
That dream is the "Igloo Lodge." Over the decades, the 80-foot-tall, 105-foot-wide structure—which from a distance appears to be a concrete, window-studded dome until you get close enough and see that its exoskeleton is foam insulation—has become a striking and strangely beloved presence in the Alaska landscape.
Smith wanted it to become a destination hotel—a lasting tribute to his abiding love of the 49th state, and a place visitors would remember as fondly as nearby Denali National Park. But now, in its graffiti-dappled decrepitude, it's become top-notch roadside Americana weirdness. People traveling the lonely George Parks Highway between Fairbanks and Anchorage drive by and simply gawk, sometimes stopping to take selfies or a leak before moving on.
"It really would be fun to fix it up and do something. But it takes money and I don't have it, so it's just sitting there deteriorating, pretty much," says Brad Fisher.
Fisher, 58, is the current custodian of Smith's dream. President of Fisher's Fuels, his family business in Wasilla, a three-hour drive south of the igloo, Fisher has owned the property since the mid-90s. Over the years he's kept the igloo standing, just barely, as a tribute to his old friend Smith and with the hope that perhaps someone more flush with cash than him can turn the quixotic dream into reality.
Fisher tried to sell it several years back but had no takers. He's now trying again.
"I guess the problem has been, [finishing the hotel] is something you'd have to do yourself, and so you'd have to live up there. And nobody lives up there," Fisher laughs. The town closest to the igloo is the microscopic Cantwell, which, Fisher says, has roughly 50 permanent residents. (It also happens to be where Sean Penn filmed scenes for 2007's Into the Wild, planting a replica of the old bus to depict Christopher McCandless's eventual tomb—something potential buyers may well be interested in.)
"Basically you'd have to work your tail off all summer long and then sit there all winter long and watch the snowflakes come down, and not too many people want to do that," Fisher says.
Leon Smith certainly did.
Born in tiny Tiff City, Missouri, in 1921, Smith lived a life of adventure. After fighting the Japanese at Guadalcanal during World War II, he captained a tugboat in California, before moving further north to work as a deep-sea fisherman and a lumberjack. He then made his way to Alaska's interior—paradise for a devoted outdoorsman such as himself—where, along with his wife, Elizabeth, he opened and ran a service station at milepost 188.5 along the Parks Highway, pumping gas for visitors to Denali.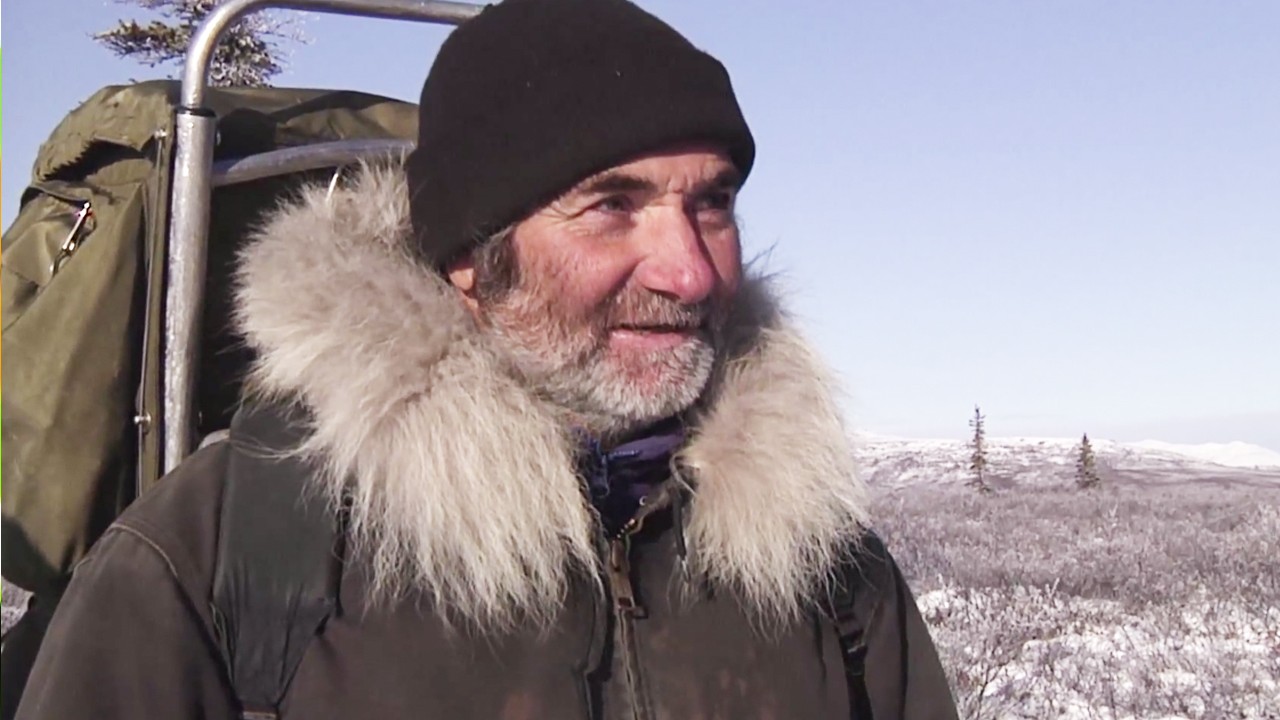 In the late 60s Smith observed the dearth of proper hotels in his neck of the woods, which was fairly popular for hiking in the summer and snowmobiling in the winter. He wanted to make his nowhere somewhere; to leave his mark on the world. So he came up with the grand vision for his Igloo Lodge. It would have 58 guest rooms; a restaurant, bar, liquor store, gift shop on the ground floor; and a fourth-floor penthouse suite reserved for himself and his family. Smith cleared the land behind his gas pumps, and with extra cash from his modest business he purchased lumber, plywood and urethane foam and, all by himself, got to work.
Slowly.
Smith hoped for a grand opening of his Igloo Lodge in the summer of 1973.
He found himself in 1991 still building when a columnist for the Minneapolis Star Tribune happened by and asked him about it. "Anytime I get together enough money I build another room," Smith said. When asked why he, then 70, had devoted decades of his life to building an igloo hotel in the middle of Alaska his answer was as direct as it was saucy. "You wouldn't put an igloo hotel in Kansas or Egypt, would you?"
Age wasn't the only thing hampering Smith's efforts. State building codes were too (among other things, he discovered he'd made the guest room windows too small). And so five years later, Smith, in failing health, decided to sell his gas station and still-unfinished igloo to help provide for his wife after his death. He reached out to Fisher, who had little interest, accordingly making Smith an admittedly paltry offer (he won't say how much), figuring it'd be easy to refuse.
Smith didn't, however, and in 1996 ownership of the Igloo Lodge changed hands. Smith passed away in 1999, and Fisher was determined to finish the job as a tribute to his good friend's legacy. Alas, money was tight, and by 2005 Fisher reluctantly closed the gas station and put the igloo on ice.
The Igloo Lodge subsequently became a place for shutterbugs and vandals. "Someone stole the staircase out of it, and it's amazing the amount of people who go in there to relieve themselves, it's frustrating," Fisher laments. A couple summers ago, state troopers had to run off a bunch of kids who nearly burned the igloo down shooting off fireworks inside, he says. "People are just terrorizing it," he sighs. The state has deemed it an "attractive nuisance" and has considered putting up an interpretive panel to "answer many questions [about the Igloo] that travelers currently have no way to discover."
The property is also teeming with grizzly bears, and it's not uncommon for bears to hang out inside the igloo's dark, rubble-filled interior, Fisher casually warns. "The brush around there is so thick, it's really risky—you could walk right into the back of a bear and not even know it."
In fact, one of the gnarliest grizzly attacks in Alaska history happened right in the area. In 1989, 32-year-old Don Coverston was hiking around the land he owned a half-mile from the Igloo when he was surprised by a bear that bit down on his head, lifted him into the air, and shook him. The bear dropped Coverston and attacked him again several more times.
"It hurts so bad. This is it. She's going to eat my brain out and leave me," Coverston recalled thinking at the time in Larry Kaniut's 1997 book Some Bears Kill. But after repeated attacks the grizzly lumbered off and the bloodied Coverston limped through the brush until he reached Parks Highway. A passing couple brought him to the Igloo gas station, whereupon he asked one of Smith's employees "whether his ears were still on." Coverston was helicoptered to a Fairbanks hospital and received 1,000 stitches during a surgery that lasted nine hours.
So, bears are an issue. So too is the fact that there's no electricity available at the igloo, although Fisher thinks solar panels might do the trick. He puts the various costs to complete Smith's dream hotel in excess of a million bucks beyond the $300,000 asking price.
"Hopefully there's someone out there who's interested and can see it through," Fisher says. He sporadically hears from relatives of Smith's about the property, "and not in a good way—they're mad at me because it's deteriorating and it's their memory of (Smith), but I can't afford to do anything with it. It's for sale, and, you know, if you don't want it to deteriorate, then buy it!"
And he hopes it happens. Seeing the thing come down would be like Smith dying all over again. Until he does Fisher will be here doing what little he can to try to stop his old friend's dream, and his igloo, from falling apart.
Follow Michael Goldberg on Twitter.