Canadian Press
A couple is standing on their porch smoking cigarettes when James Favel and his crew approach their house on a late-February evening in Winnipeg. The streets are blanketed in snow and it hurts to move your fingers after a few minutes if they're exposed to the freezing cold air. But for the locals, the -17c weather is mild.
"You guys cleaning up the neighbourhood, or what?" the man yells out to Favel and the others standing on the curb outside his house.
"That's what we're trying to do!" Favel responds.
Clad in heavy winter gear and reflective vests, Favel, another man and a woman are carrying flashlights and bags of food. They've already been walking the streets for over an hour, handing out apples, oranges, and granola bars to anyone who wants them. The man's wife, who says she has eight kids, is piling as much as she can carry into her arms.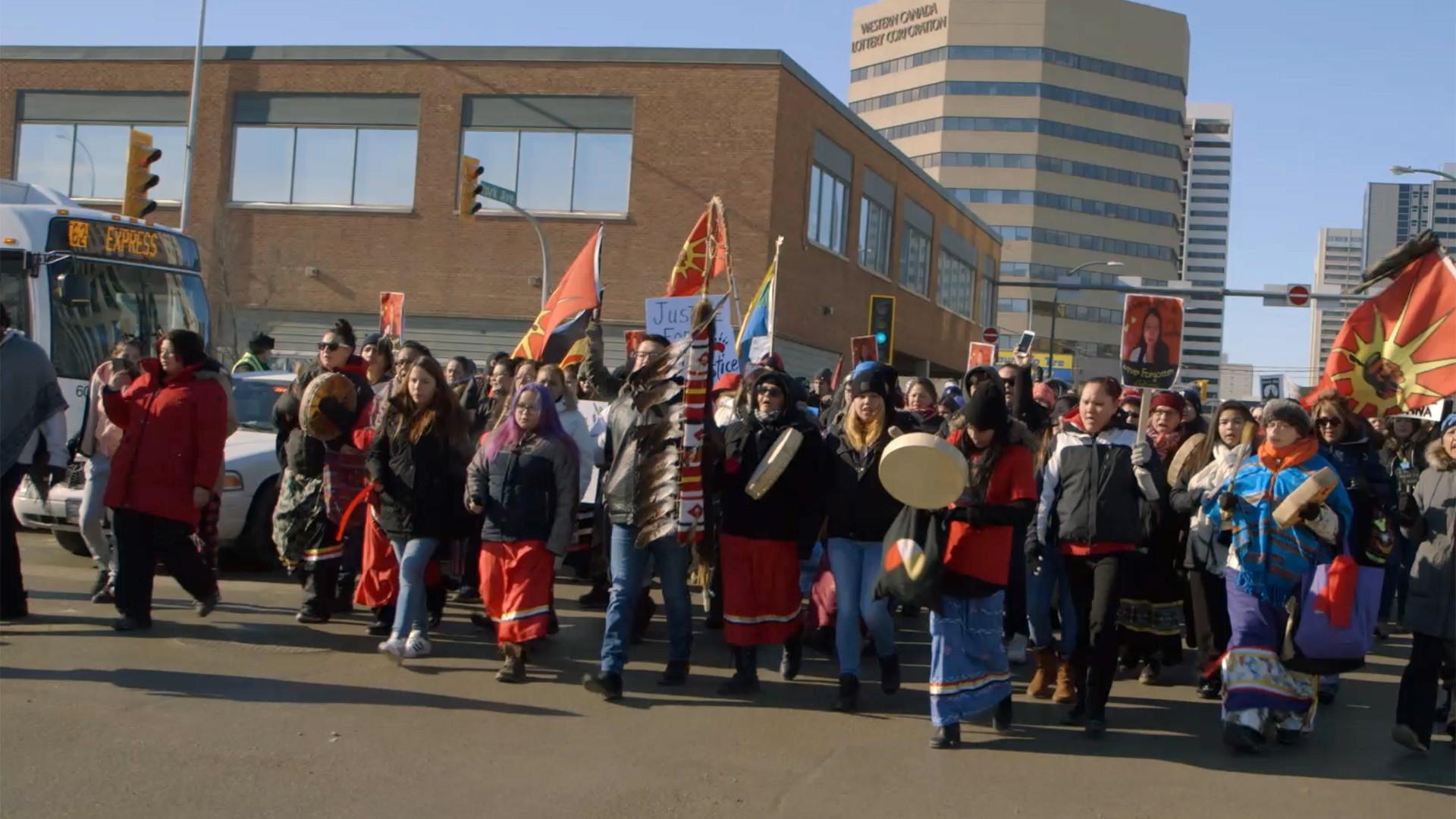 The man on the porch raises his hand and points across to a house across the street. His wife does the same, making circular motions.
"Well you might wanna look over there," she tells the group, matter-of-factly. "This house is a drug house."
"That one?" asks Favel. "We'll be sure to catalogue it."
It's an interaction he's had many times before. Favel is the executive director of the Bear Clan Patrol, a group of mostly Indigenous volunteers who patrol the streets of Winnipeg almost every night. Just three years ago, the Bear Clan was 12 volunteers sitting around a boardroom. Now they've grown to a volunteer base of 1,000 in Winnipeg alone. The group has also spread to other parts of the country, with chapters in 12 different cities from Ottawa to Vancouver.
POVERTY AND VIOLENCE
Winnipeg, with a population of just over 700,000 people, has been described as Canada's most racist city and is known for consistently having one of the highest homicide rates in the country. It's home to Canada's largest urban Indigenous population — around 93,000 people as of 2016—and is often called Canada's urban reserve. Forty-three percent of Indigenous people in the city live below the low income bracket, according to a 2006 census. In 2016, about 88 percent of the 10,500 children in the care of Manitoba Child and Family Services were Indigenous.
Originally established in the early 1990s, the group fell apart when its founder died, but was revived about four years ago. That's when the body of a 15-year-old Indigenous girl named Tina Fontaine was pulled out of the city's Red River, a horrific discovery that stirred Favel and many other grassroots organizations in Winnipeg into action.
Earlier that February day, the Bear Clan helped organize a march to honour the teenager— her accused killer had been acquitted the day before. Hundreds of sombre demonstrators walked from the courthouse to Oodena Circle, a sacred site the heart of Winnipeg, mostly in silence, marching to the rhythm of drums and traditional songs, occasionally chanting "We want justice."
Even there, as the community grieved, the racism was inescapable, recalled one Bear Clan member as she struggled to keep her voice steady.
"Today, when I was directing traffic, I had a lot of people say, 'Oh, these dirty Natives again.' I had no response. I was like, did he really just tell me that?" she said. "Another guy pulled over and asked me, 'what's this bullshit about?' I said it was the Tina Fontaine case, and he was like, 'oh, that girl…' And I was like no, not just 'that girl,' That girl gave voice to a lot of people who didn't have a voice."
It was Tina Fontaine's death that made Favel realize that voice wasn't going to come from the government or police, but from within the community.
"I said that's it, we weren't going to wait around any longer," he told VICE News.
'SYSTEMATIC FAILURES'
Fontaine had arrived in Winnipeg from the nearby Sagkeeng First Nation to reconnect with her biological mother after years of separation — her father was beaten to death in 2011, an event that family members have said completely devastated her. When Fontaine didn't return after a week, as planned, her great aunt Thelma Favel, who had raised her and allowed her to make the trip as a reward for good grades, contacted Manitoba's Child and Family Services Department (CFS), which then took her into care.
After being reported missing several times over the next month, Tina vanished on August 8.
In a series of events that have baffled her family and the public, in the 12 hours before she disappeared, Fontaine encountered police officers, health care workers, and child welfare employees, all of whom have been criticized for letting her slip through the cracks.
Fontaine's 72-pound body was eventually the city's Red River, wrapped in plastic and weighed down by rocks.
Fontaine's death was a flashpoint, receiving nationwide attention and galvanizing Indigenous communities. It's the case many credit for making the ongoing national inquiry into missing and murdered in Canada finally happen. It also inspired groups like the Bear Clan Patrol and Drag the Red, which searches the river for missing people, into taking action on issues where police have been accused of falling short.
"Many systematic failures led to the death of that child," said Favel. "We had to do something, I wasn't going to sit back and watch anymore."
About a year later, police arrested 56-year-old Raymond Cormier, whom eyewitnesses said they saw with Fontaine before she disappeared. Her cause of death has never been determined. Although they had no DNA evidence or eyewitnesses tying him directly to her death, Cormier, who was the target of a sting operation, was recorded by police making statements that many believe amount to admissions of guilt. The lack of forensic evidence made the Crown's case "very thin," experts have said, leaving the jury with little choice but to acquit.
"I wasn't shocked when the verdict came down … and I think for me, that's the worst part because at this point, we as a community don't have any expectation of justice anymore," Favel said on the day of the verdict. "And so what's left for us?"
On Tuesday, the Crown prosecutors informed the Fontaine family they would not be appealing Cormier's acquittal.
'NEVER AGAIN'
Fontaine's death changed the direction of Favel's life, he said during a patrol, the day after the verdict came down. He gave up a lucrative career in trucking and his tractor-trailer now rusts in his backyard. He now works full-time with the Bear Clan, which was patrolling the west end of town that evening, away from its usual route.
Since its inception, the Bear Clan has kept watch over Winnipeg's notorious North End, the area Favel comes from. It's cut off from the rest of the city by rail yards and struggles with high rates of unemployment and substance abuse.
And while they're new faces in this part of town, the group runs like a well-oiled machine.
The goal this evening is to introduce themselves to the community — they'll hand out snacks and pick up garbage, but mostly they want to be visible, so people begin to trust them.
"This kind of a verdict coming down today, and the Boushie verdict last week —I know what work lies ahead of me," said Favel. "It's not easy, it's not fun, but it's going to consume the rest of my motherfucking life… We're trying to make sure that never comes around again."
Favel is referring to Colten Boushie, a young Indigenous man who was shot and killed by a farmer named Gerald Stanley in Saskatchewan in 2016. Just two weeks before Cormier was acquitted, an all-white jury Stanley not guilty of murder in Boushie's death.
NEEDLES AND NALOXONE
An assortment of people — men and women, veteran clan members and fresh recruits, ranging from early 20s to seniors — pile out of a van at the University of Manitoba and go inside.
They're greeted by Winnipeg City Councilor Cindy Gilroy, who thanks them profusely on behalf of the community. She promises them pizza at the end of their shift and pledges to also join some of the patrols going forward.
As Favel explains the catchment and mission for the day, the group of 14 puts on their vests and gloves, and picks up the containers they'll use to store the dirty needles they find on the ground. On the other side of town, another group is also about to begin their patrol of the North End.
They take a quick group photo, and are out the door, walking the main streets and the back lanes behind houses, splitting up into small groups and communicating via walkie talkie. A mobile unit manned by two volunteers drives around the neighbourhood, so they can cover more ground.
They search through trash on the ground and in dumpsters, looking for discarded syringes and baggies. Periodically, someone yells out 'needle!' or 'sharp!' Tonight, they find about 200 needles that they toss into a special receptacle to minimize risk—a necessary precaution, as Favel found out the hard way when he was pricked by a needle last year. He's been calling for safe injection sites in Winnipeg, and many Bear Clan members have been trained to use naloxone if they see someone overdosing.
POLICE RELATIONS
During a warm-up break at a drop-in centre, an employee runs up Favel in a frenzy, saying her daughter has gone missing. The woman says she has an idea of where she might be and has called the cops, but they haven't shown up. She thrusts a phone into Favel's hand. Her other daughter is on the line.
"Many Indigenous young people have had negative experiences with the police," Michael Champagne, an organizer with Aboriginal Youth Opportunities in Winnipeg, told VICE News. "People feel a lot more comfortable asking the Bear Clan for support … We feel like when we talk to the Bear Clan, they'll believe us, and when we ask the Bear Clan to come right away, we know they'll believe us. None of those things happen with the Winnipeg Police."
A police spokesperson told VICE News in an email they wouldn't comment on "social issues, or on general, nonspecific anonymous criticism." They added in a statement that they have a "very good" relationship with the Bear Clan and that officers occasionally partner up on walks.
"We view the Bear Clan as an excellent community initiative that allows our service another way to connect with the communities we serve, but we do not offer any specific support," the spokesperson wrote.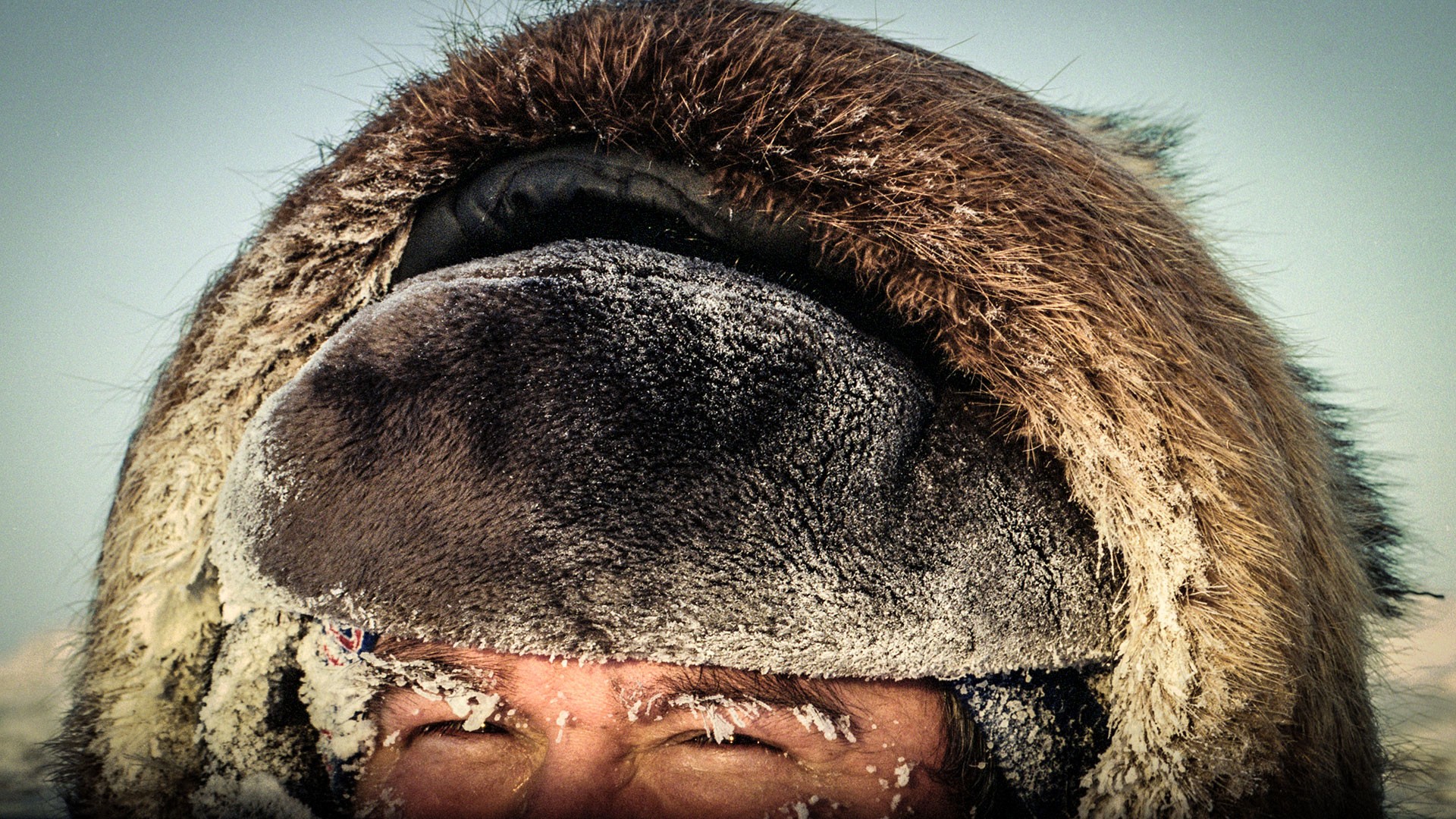 Favel sits down and listens to the person talking frantically on the other line. He's on the road and won't remember any of this, he tells her, asking her instead to send him a physical description of the missing girl and details like where she was last seen. He'll post a missing person's report on the Bear Clan's Facebook page, which currently reaches about 150,000 people.
"For the most part, that's all the family is asking us to do," Favel said. "Other times, we'll go through the community, putting up posters and things like that when that's required. Whatever the family wants, we do."
The group found the body of Azraya Kokoponece, who went missing in Kenora in 2016. Last year, the Patrol's Fort Frances chapter recovered the body of a woman named Emily Brown in Dryden, Ontario. This past summer, they found the body of a boy who went missing after going swimming in the Red River.
Favel recalls how there was a time when his wife and daughter couldn't be outside without being solicited by a john. In the aftermath of Tina Fontaine's death, johns were the enemy, said Favel.
"We didn't know who did it, so all johns were suspects and that was our focus. We went out there with flashlights, pens and paper and we were basically getting in the face of johns," he says. "But I'll tell you once we got out there and started having those community interactions, we quickly learned there's way more going on than just that."
Favel said once the Bear Clan started working in the community, other issues became hard to ignore — youth in need of role models, poverty, and addiction.
"When you don't feel like a stakeholder in your own community, people start tuning out," says Favel who wants to help people reclaim an active stake in the places where they live. "None of this is really rocket science. None of what we're doing is all that special. We're just the only ones doing it."