Photo by Frederic J. Brown/AFP/Getty Images
In 2016, sculptor Joshua "Ginger" Monroe created life-size statues of Donald Trump in the buff in five cities across the US, complete with a saggy, old-man ass and a micro-peen the size of an acorn. But within a few days, the masterworks were decimated—ripped down, spray-painted, and otherwise torn to shreds by folks who just couldn't stand the sight of our future president's rotund, naked bod.
Now Ginger's moved on to another accused sexual predator, building a golden statue of Harvey Weinstein on a casting couch, basking in the Los Angeles sun just blocks away from the Dolby Theatre where the Oscars will take place. And judging by what happened to Ginger's last batch of monuments, it'll be a miracle if the thing makes it to Sunday.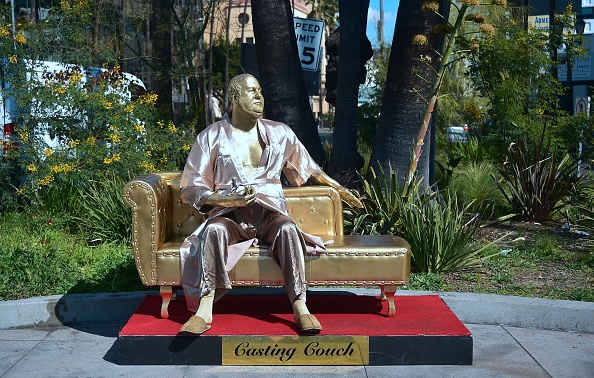 Photo by Frederic J. Brown/AFP/Getty Images
According to the Hollywood Reporter, Ginger collaborated on the statue with Plastic Jesus, a Los Angeles street artist known for work that's critical of Hollywood. The duo dressed Weinstein in slippers, pajamas, and a bathrobe, a garment he reportedly liked to don while allegedly sexually assaulting and harassing dozens of women over the course of his career. The disgraced mogul also clutches a teeny, tiny little Oscar by his crotch, which—given what Ginger's Trump statues were endowed with—might say something about what the artist thinks Weinstein's working with downstairs.
There's a spot on Weinstein's casting couch where passersby can snap a selfie with the disgraced producer, at least until someone comes along and turns him into a pile of dust. Considering what people are willing to do to the real Harvey Weinstein, it probably won't be long until some impassioned Californian throws a pie at his face or takes a baseball bat to his head, or—even better—his accusers band together and drop by before the Oscars to rip him apart, reduce him to a pile of rubble, and spread his gold, plastery ashes in a bush somewhere.
Until they do, Ginger told the Hollywood Reporter he hopes folks can derive some meaning from the sculpture—or better yet, just laugh at it.
"To be able to knock the monster down a peg and poke fun and ridicule it helps remove its power," he said. "That's how you take these powerful people down."
Sign up for our newsletter to get the best of VICE delivered to your inbox daily.
Follow Drew Schwartz on Twitter.
Related: Will #MeToo Change the Rampant Harassment in Hollywood?