Photo by Reinhold Matay - USA TODAY Sports
It's almost impossible to imagine a 19-year-old basketball prodigy who stands 7'1" with a guard's intuition generating less excitement than Dragan Bender. But here we are; the fourth-overall pick in last year's draft is somehow one of Summer League's most neglected commodities.
Patience is required for any player this young, but the weakened buzz—particularly relative to a year ago—is understandable, albeit unbelievably shortsighted. The NBA's hype train waits for no one. Bender was outplayed last season by fellow Phoenix Suns forward Marquese Chriss, while incoming rookie Josh Jackson has cape-not-included athleticism more commonly associated with a seat-filling daredevil. Devin Booker spent the last 12 months deepening his place as the Western Conference's worst team's closest thing to a franchise player.
Meanwhile, coming off a rookie year that featured ankle surgery and a 5.3 PER in 574 total minutes, Bender isn't going anywhere. His full offensive repertoire has morphed into a delightful, off-strip exhibit, featuring a picturesque shot, nimble touch, and sturdy aggression that was more rare than regular a year ago.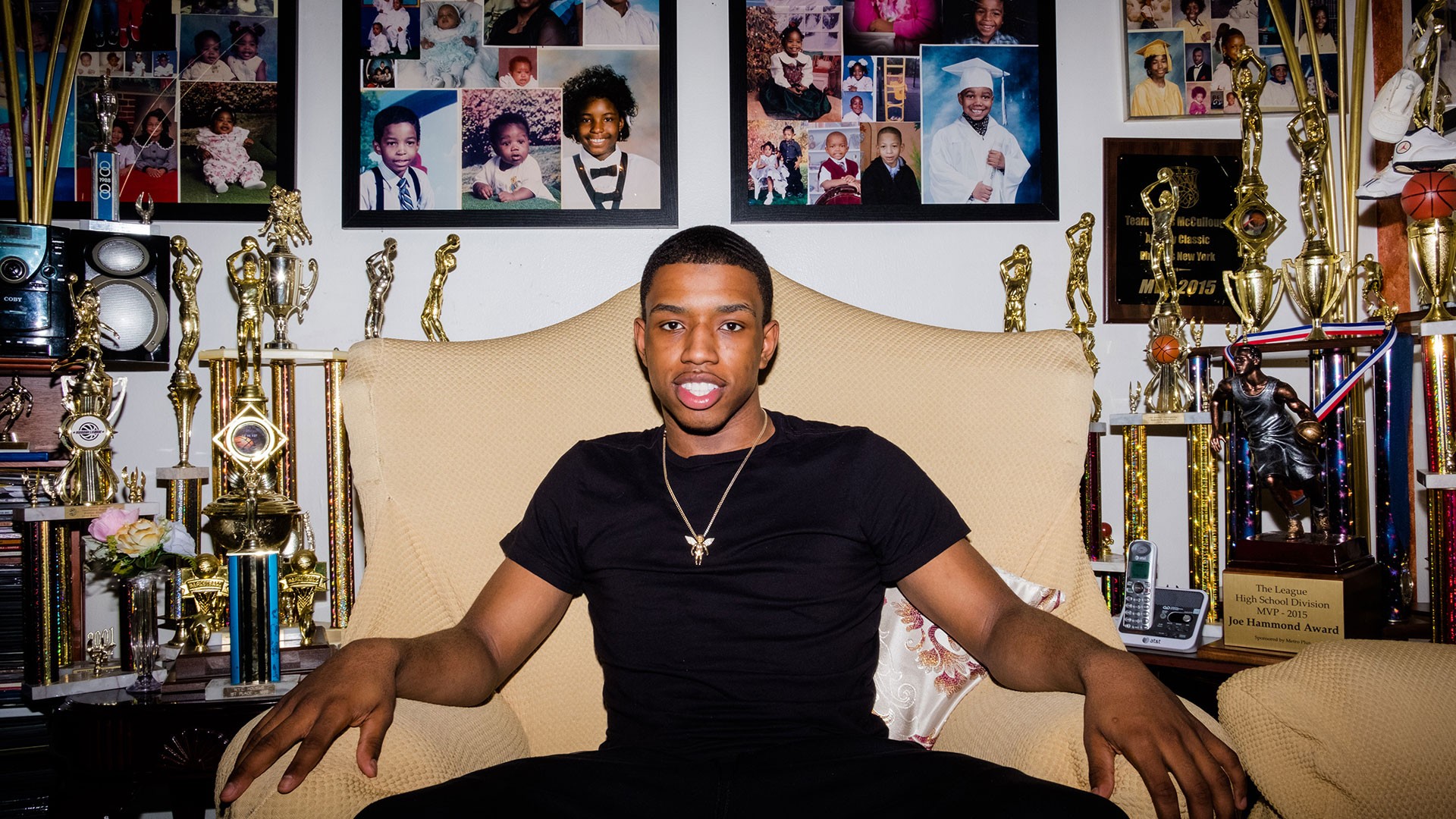 There's no one particular aspect of Bender's game that the Suns have instructed him to focus on. This summer is all about overall maturation.
"Everything," Bender told VICE Sports when asked what he's working on in Vegas. "Just from shooting to playing defense, switching onto multiple positions on our defense. And then on the offensive end, just building my offense, just being able to handle the ball, to pass the ball from the top of the key, and shoot it well from beyond the three-point line."
In Thursday's loss against the Memphis Grizzlies, Bender tallied 20 points, seven rebounds, and five assists in 34 minutes, a majority of which took place after Chriss left the game with a sprained ankle. He was solid in all areas on the defensive end, defending the rim, forcing and then contesting perimeter shots, and switching onto a few different positions. Bender showed off some nasty strength on the block, too, battling for and eventually securing inside position time and time again against Memphis' frontcourt.
There was an ice smooth 360 spin that led to a layup on one play, and a whip-fast, on-target touch pass that nearly slammed a teammate in the face a few minutes later. Bender repeatedly dislodged defenders on ball screens, forcing switches and freeing up Phoenix's guards to frolic into the paint. It wouldn't be right to call him raw—Bender clearly knows how to play—but the dimensions of his game still hold plenty of room for expansion.
Expectations should still be tempered for a prospect who is six weeks younger than Orlando Magic rookie Jonathan Isaac, but Bender's role will at least be more clear next season. The Suns did him few favors in the limited time he's already spent on the court, stuffing him into lineups that featured two other bigs (like Alex Len and Chriss), alongside ball-handlers that weren't focused on setting up a teenager, and wings with iffy range. According to Synergy Sports, he only finished 11 possessions all year as a roll man.
Phoenix will still be bad, but Bender has shown promise on both ends over the past few days, primarily as a "point five," handling the ball, feasting on switches, spacing the court, and initiating offense.
Here's what Suns head coach Earl Watson told a local radio station before Summer League started: "We want [Bender] to take the ball off the rim as a rebound and push it. We want to see him make plays. We want to figure out a system where he can run some point, just let him open up his game."
The easiest (and least fair) comparison is Giannis Antetokounmpo, an MVP candidate with an unprecedented physical profile who can glide between positions with ease. Bender is more rigid and less athletic, but Watson and his staff should still attempt to utilize that rare skill-set at the NBA level.
For now, the Suns are using the Summer League environment as a science lab, heaping all sorts of responsibilities onto Bender's plate. He's bringing the ball up the court, driving from the three-point line, surveying defenders from the elbow, and dictating what the Suns want to accomplish on most possessions. It's a bit of a spectacle, but one certainly worth exploring. The benefits that can result from running action through someone with Bender's proportions are unlimited, even if he'll likely never become the type of singular force who takes over games by himself.
That's fine. Good basketball teams need shape-shifters like Bender to ease the burden on everybody else. Eventually, he'll allow Booker and Jackson work off the ball, with enough vision and intelligence to execute brain-breaking 4-5 pick-and-rolls with Chriss when the defense takes away Phoenix's first option. Bender's Summer League assist rate is over double what it was last year, while his turnover percentage has been sliced in half. In a few years he'll be able to function in just about any system as a complementary piece beside just about any type of player.
"[I want to] become a valuable piece on a team," he said. "Just become a player who's gonna come off the bench, change the game, change the tempo of the game, and play like I've played in the past two days in the Summer League."
In order for Bender to actually evolve into the Swiss-army knife that can play 35 minutes on a dangerous contender, his three-point accuracy needs to improve. He's currently shooting 28.6 percent beyond the arc, and only made 27.7 percent of his threes as a rookie.
"I need to get my shot at a higher consistency," Bender said. "Need to be able to knock down those shots continuously."
But overcoming that obstacle isn't farfetched, considering his willingness to launch and that gorgeous stroke. In line with so many other international players who leap to the NBA, a majority of his misses are short, and once he formally adjusts to a lengthier range Bender should be able to pull opposing big men from the paint and force them to defend him on the perimeter.
We've already seen a bit of that in Vegas, where Bender has enjoyed taking slower centers off the bounce while embracing the punishment that awaits at the basket. He'll be one of the league's most strenuous covers sooner than later.
Once Summer League ends, Bender plans to take about 10 days off before competing in Eurobasket for his native Croatia. After that, it's training camp for his second NBA season, where his role will be more limited than it's been over the past five games. But with a year's service already under his belt and noticeable growth seen in his game over the past couple weeks, Phoenix's rebuild should receive a splash of optimism next year as a player with one of the NBA's most unique skill-sets starts to bloom.