Accused killer Bruce McArthur was a mall Santa. Photos via Facebook
UPDATE: This story has been updated to include a statement from Agincourt Mall
The man arrested for two homicides in Toronto Thursday was a mall Santa Claus several years in a row, according to his Facebook page.
Bruce McArthur, 66, of Thorncliffe Park, was charged Thursday with two counts of first-degree murder related to two missing men from Toronto's gay village—Selim Esen and Andrew Kinsman. Their bodies have not yet been located but police are searching five properties—four in Toronto and one in Madoc, Ontario.
According to Toronto Police, McArthur, a self-employed landscaper, had a sexual relationship with Kinsman, 49, who went missing last June. They did not say what McArthur's relationship was with Esen, 44, who disappeared in April. Police believe there are more victims, and the community has long suspected a serial killer was operating in the area.
McArthur's Facebook profile indicates he was a Santa Claus at Scarborough's Agincourt Mall for at least 2015 and 2016, though an Instagram photo from a mall-goer appears to show him playing the role of Santa this past Christmas. In 2015 he posted a photo of himself with the caption "Back in the Santa Chair for another year."
Several of the photos depict him dressed up as Santa and holding small children and babies.
By Thursday evening, comments relating to the murders began to pop up alongside those pictures.
"This santa made it to the naughty list," said one man on Facebook, while another commented with the hashtag "#killersanta."
In a statement to VICE Friday evening, Agincourt Mall management said:
"We have seen recent news accounts about the arrest of Bruce McArthur as the suspect in the murder of two individuals. It has been reported that he played the role of Santa in our Mall over the past few Christmas seasons."
They told VICE he was hired through an event management company that provides Santas to various GTA businesses and events.
"There were no reported incidents by customers or by store and Mall employees during his time at the Mall."
McArthur appeared to be active online, though by Thursday night he had lost more than 20 Facebook friends.
VICE revealed Thursday that he appeared to have had a profile on the gay dating site silverdaddies.com, on which he said that he was "a bit shy until i get to know you, but am a romantic at heart."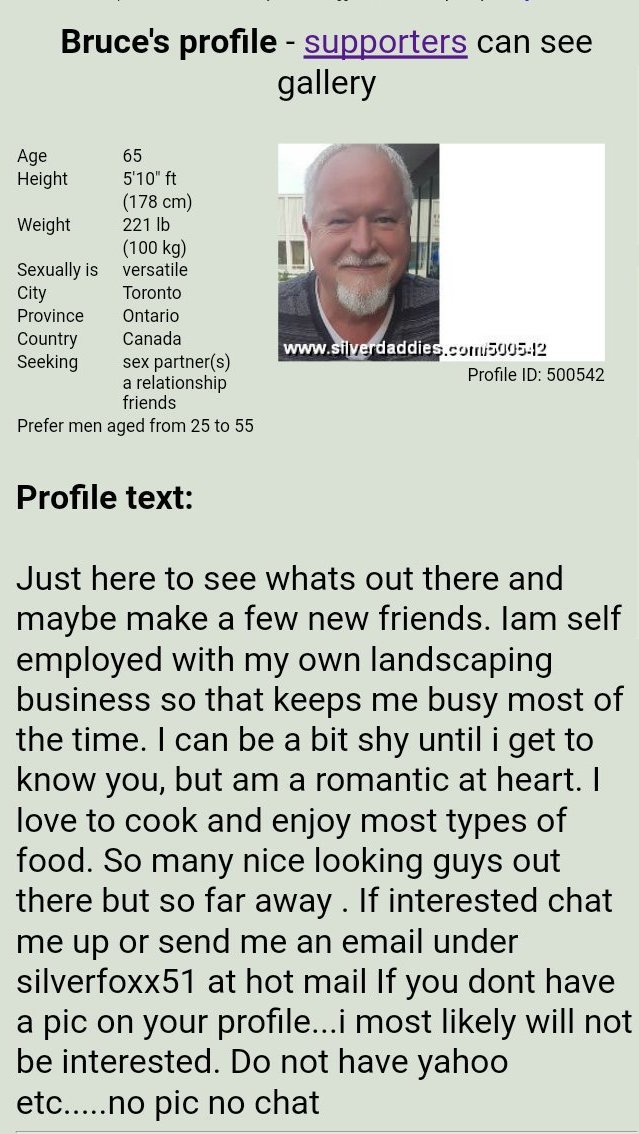 In 2016, he posted a photo of police at Toronto Pride with the caption "Happy Pride." A photo of him from Halloween shows him dressed up in black robes and handing out candy to a little girl. His other posts include puppies eating bananas and he appears to be well-travelled.
As recently as December, Toronto police dismissed concerns about as serial killer in the gay village. At a press conference Thursday, Toronto Police Chief Mark Saunders said that information was "accurate at the time."
Police arrested McArthur after launching a task forced called Project Prism in August to look into the disappearances of Esen and Kinsman. They are also investigating the disappearances of three other men—Abdulbasir Faizi, Skandaraj Navaratnam, and Majeed Kayhan, who vanished from 2010-2012.
McArthur appeared to have been Facebook friends with Navaratnam.
Homicide detective Hank Idsinga said Thursday "We are trying to identify whether they may have become victim to Mr. McArthur as well."
In light of the arrest, members of the LGBTQ community are speaking out about what they see as a massive oversight by police.
"So, in a press conference where homophobic officials could not bring themselves to utter the phrase "LGBT community", it was announced the SERIAL KILLER targeting Toronto's gay village that @TorontoPolice assured us did not exist has indeed been caught: Bruce McArthur, 66," tweeted queer artist John Richard Allan.
Last summer VICE News published an investigation into the three missing men, highlighting police shortcomings.
—with files from Justin Ling
Follow Manisha Krishnan on Twitter.