Photo by Farideh Sadeghin
"Some of the best pairings are all based off of nostalgia," Elias Cairo, Chef and Salumist at Olympia Provisions, told me. And no, he's not talking about wine and cheese. He's talking about something (arguably) even more delicious. He's talkin' sausage.
Elias popped into the MUNCHIES test kitchen a few weeks ago and made us a delicious garden salad paired with a few links of freshly-cooked Raclette sausage—a sausage that contains raclette cheese, potatoes, and caraway seeds. Unfortunately for me, I wasn't in the office that day. To make things worse, I was asked to call Elias up and ask him for a few pointers on how to pair sausages with food. (In other words, talk about all of the delicious sausage and sides I had missed out on.) Real heartbreaking stuff for a lifelong sausage lover.
Thankfully though, Elias is the best.
Whatever you think a master sausage maker is like—which, admittedly, is a pretty niche thing to have any preconceived notions about—if you're not picturing a high-energy, sweet guy who's wildly passionate about the art of cured meats, you're not picturing Cairo. When I gave him a call around 1 PM and he answered with, "Hey, have you had a cold beer yet?" I knew I was gonna like the dude. Check out what he had to say about the Swiss, hunting in Oregon, and—most importantly—sausage:
So what goes into deciding what sausage goes well with different foods?
The side pairings, I think, are really important when you're eating charcuterie, or just warm sausages. Personally, I don't go too heavy, so if you're eating sausages in the summertime, you're not going to want to do poutine. If you do, you're only gonna be able to have, like, three bites of the sausage and two spoonfuls of the poutine, right?
I like to have the sides a little more acid-driven and fresh. Make 'em crunchy like crunchy pickles, a great sauerkraut, or if it's a potato salad, make it really light, with a mustardy vinegar. You want everything you eat to be a little bit level. But I'm not a huge fan of having a super rich thing to make the other stuff too acidic—to make it kind of balanced, you know? For example, don't go with tons and tons of lemon, because once you eat a sausage and you put something super duper acidic next to it, it's like 'What the fuck's going on?'
But I always think, when pairing anything, it's a time and place situation, you know? Some of the best pairings are all based off of nostalgia. When you're charcutering a classic frankfurter, there's something to be said about paring it with a mustard and a basic piece of bread. But when you're getting into other sausages—I wouldn't call it a play on classics, but you know what goes good with a smoky sausage, right? Mustards, something crunchy, and raw onion of some sort.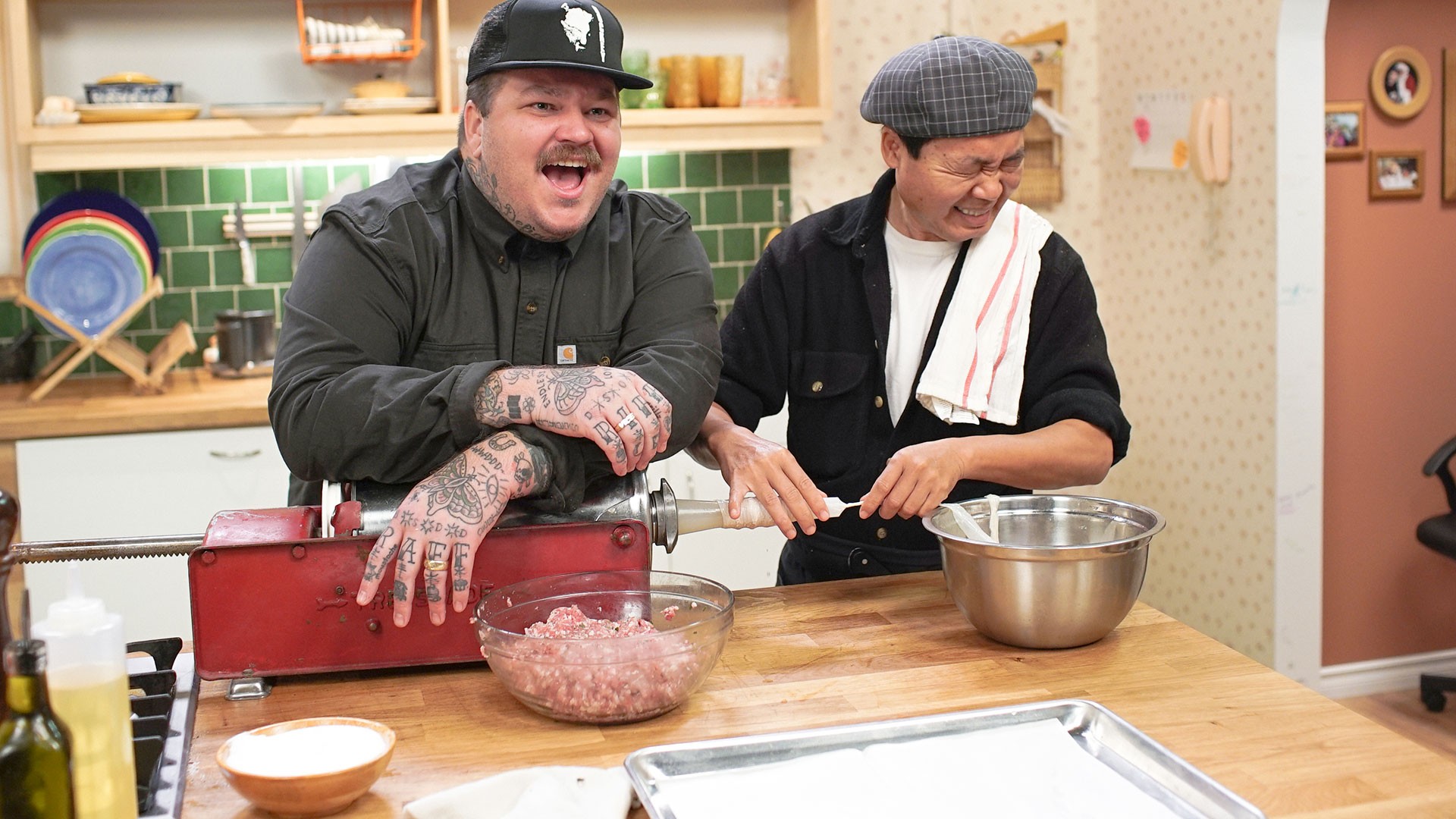 Does a pairing have more to do with the season or the sausage itself?
Well, there's definitely something about the springtime. You'll have beautiful crunchy lettuces and whatnot, but in the winter, for example, I like sauerkraut and pickles. Just having the crunch with the sausage definitely helps. Not that the casings and everything isn't already crunchy, but to have that light freshness next to the sausage is very important as well. It's kind of like if your texture is boring on a sandwich, if you put your potato chips inside of it you're still going to get another awesome, interesting crunch—it's kind of the same thing. But also in the middle of summer it's nice to cool your sausages off with a few nice, sliced tomatoes, which gives the perfect amount of acid and salt. Little big of sausage, little bit of roasted pepper—you could eat it all day.
I'm getting hungry just listening to this.
Well, send me your address! I'll send you a box of our sausages, they're delicious.
Haha, no doubt. So do you have any favorite pairings?
"Out of all sausage pairings that I think are the complete dish is choucroute garnie in the wintertime. A pot of fermented, perfectly cooked potatoes with slightly crunchy sauerkraut, smoked sausage, and a side of mustards. When it's cold outside and you're ready to put on a ton of food, that would have to be my overall favorite. But there's also a lot to be said about summertime grilling and fresh sausages and a nice salad in the summertime. White beans, cherry tomatoes, some Italian sausage—it's the greatest fucking thing in the world. I put a breadcrumb crust on top for that crunchiness. That's gotta be my second favorite. Honestly, I eat way too much fucking sausage.
That's not a bad thing!
No, it's not!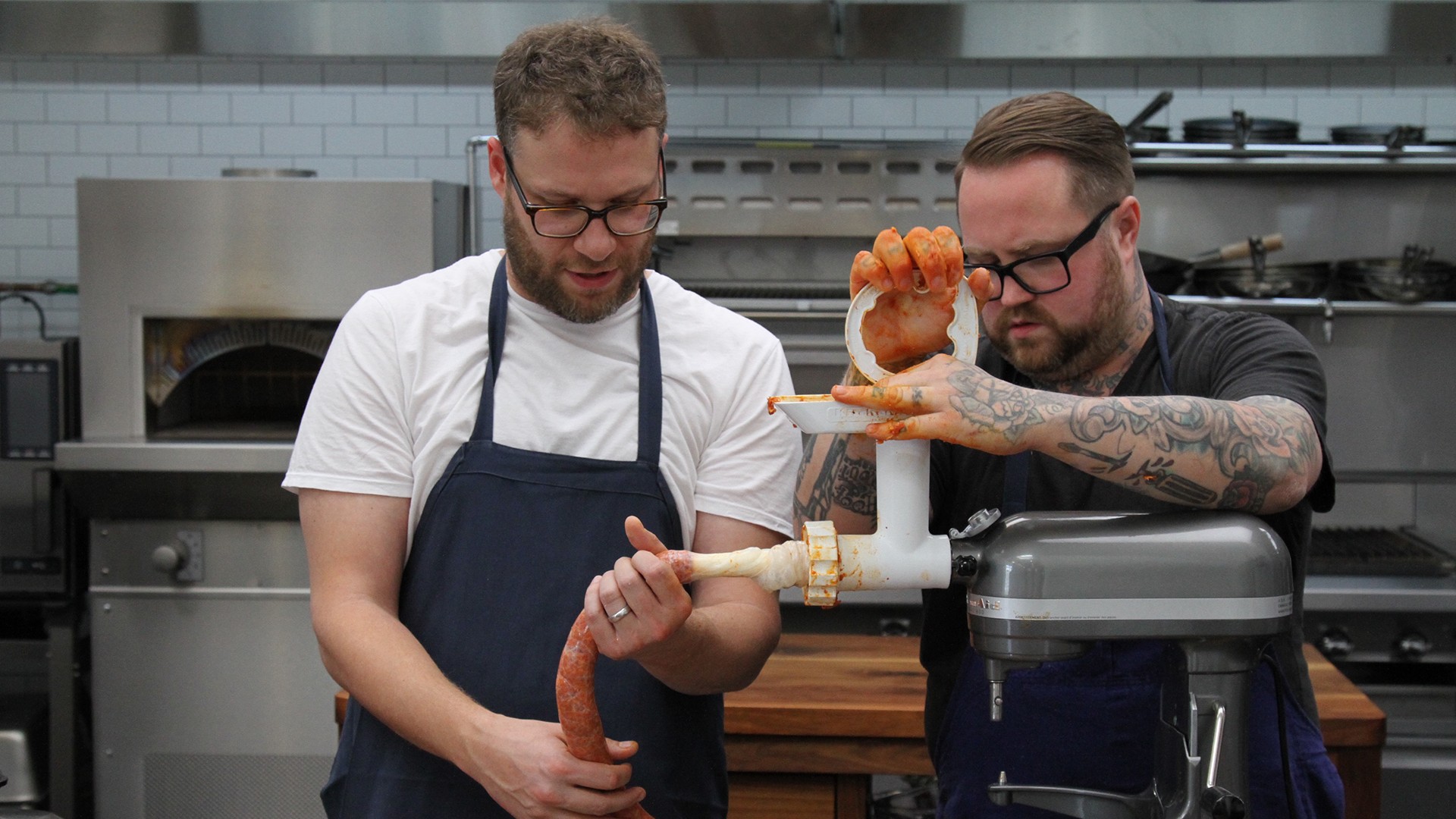 So [that salad] you made for us in the test kitchen the other day, wanna walk us through that? Did your time in Switzerland influence your pairing choices? I know they're crazy about white asparagus over there.
Oh, totally. I mean, essentially, that was a broken-down version of like, the most classic Swiss dish which is called gemischter salat mit schnitzel or wurst, which is a breaded then fried piece of meat or a sausage with a green salad and a few usually mayo-based side salads, carrots, asparagus, beets, etc. I don't know of a menu in Switzerland that doesn't have one on it. If you go to a friend's house and have raclette with potatoes, sausage, and melted cheese, you're going to get all of those salads on the side, too along with all of the other necessities: pickles, pickled beets, beautiful green salad, most always mustard-based and most likely mayonnaise-based. And then in the springtime, white asparagus are the first sign that you made it through the winter.
You know, they wait all winter in frozen Switzerland for a vegetable to actually have some freshness, so the second the asparagus comes out it's like 'Oh my god, I need every second of that.' And then of course peas and the fava beans are the nicest treats ever. Those two are great to have with your meat, whether it's sausage, schnitzel, whatever—they keep you interested.
In Switzerland, you go to any one of your friends' houses after a day of skiing or hiking or hunting and you know for a fact that their mom would say 'Oh, it's time to eat,' and just have an extreme amount of food. You'd grill a ton of meat and whatever sausage you might have and, you know, drink way too much wine.
How often do you get back to Switzerland?
Oh, gosh, I try to go almost every other year. Have you ever been to the alps in the wintertime? It's so awesome. It's one part skiing, nine parts touring around looking for restaurants to have a schnapps in and eat tons and tons of super heavy food.
The extra weight helps you get down the mountain faster, I assume.
Oh yeah. Definitely.
When you go back to Switzerland, do you find that the sausage making has changed at all? Or is it more rooted in tradition, and are you trying to change that in Oregon?
Yeah, whenever I go back to Switzerland I'm always baffled by the quality. They take it so seriously. And it's all based on [thousands] of years of tradition. And for [Olympia Provisions] we only produced super traditional products. I've never really found the interest in creating crazy sausage with steroids in it and all that. I try to find sausages from smaller regions.
American products—and of course there's great producers in every city, there's a butcher in upstate New York with the best goddamn bratwurst I've ever had—but a lot of them, especially if you're buying shit products from grocery stores, they're just full of super fake smoke, high in sugar, the texture is broken. Basically, there's nothing amazing about it. I love my frankfurters done in natural casing smoked over real applewood. I like putting time into making a hotdog so that when someone bites into that hot dog, it's not just filling the void with cased meat—it's like, 'holy shit that's the greatest hot dog I've ever had.'
What's setting Olympia Provisions apart?
We're really just enjoying what we're doing out here. We're making the best meat products that we possibly can. Olympia Provisions doesn't copack. That's something we would never do, even though 98 percent of American meat companies copack. Which means that they might produce their own product—they might produce, like, a salami—but for other products they're using other companies that are making products for them.
When you walk into my meat plant—which I hope you come visit one day—you'll see that we smoke all of our meat, we hand-grade our spices, we build our own recipes, we hand-butcher our animals, we ferment naturally—all under one roof. It's really nice. I've been out of town, and I just spent my whole morning in there. I built this from a one-man meat shop—it's awesome to see these young butchers really getting after it back there. Now we have two Olympia Provisions restaurants in Portland and we have three public houses, which are our more casual bar locations plus a hot-dog cart and a food cart, "Metly & Meaty."
What should people be looking for in a butcher?
You know it's a good butcher shop when there's a 90-year-old man in the back with the biggest forearms you've ever seen chopping up meats.
Thanks Elias!