All photos via the author
Wearing a black motorcycle jacket and a massive gold medallion on a double-wide leather band around his neck, Joseph Macchia has a warm smile and soft brown eyes, but he's not someone you'd immediately associate with the term "pageant winner." Yet at 44, balding and with a patchy beard, Macchia—as his medallion attests—is exactly that. He is the reigning "Mr. Eagle 2018." Last October, he defeated six other contestants in a competition to be crowned as such at the Eagle NYC, one of the world's most enduring gathering-places for gay men of the leather persuasion.
The annual search for Mr. Eagle isn't what you'd expect of a Chelsea-based leather bar, either. Granted, the judges interview hopefuls about their kinks of choice—Macchia lists rope bondage, flogging and CBT among his—and quiz them on leather history. There is also the requisite posing, flexing and cat-walking in gleaming fetish gear ranging from formalwear to jockstraps to harnesses. But in order to be crowned Mr. Eagle, where a leatherman must outshine his peers is in his ongoing service to the LGBTQ+ community.
Macchia, a Queens native and a longtime patron of the club, won the title on his second try, after placing as second runner-up five years ago. He's spent much of his career producing cabaret shows and will soon join the Eagle's staff as the new "happy hour" manager. As a cancer survivor—whose mother is currently undergoing chemotherapy—he ran on a platform of raising awareness of cancer in the gay community. In 2007, Macchia also founded a nonprofit, Help Is On The Way Today, which distributes funds to children living with HIV and AIDS.
Back in the early 1980s, Macchia recalled, queer men who were on the front lines of HIV/AIDS, had to be their own support systems. Members of the leather community held fundraisers to pay medical bills and to help bury friends and partners, whose own families, Macchia recalled, "wanted nothing to do with that."
"To me, that bar is a very special place," said Macchia. "Everyone is welcome there, it doesn't matter what you look like."
The Eagle in its current location—West 28th Street between Tenth and 11th Avenues—opened in 2001, in a former 19th-century stable. Derek Danton and husband Robert Berk purchased the name from Jack Modica, the proprietor of the original Eagle on West 21st Street since 1970. But the history of the club goes back to 1931, when it served as a longshoreman's tavern called the Eagle Open Kitchen. The impetus of the 1969 Stonewall riots transformed the pub into a leather mecca.
Though the aroma inside blends leather, sweat and bleach, the Eagle isn't your typical gay bar. In addition to two dancefloors and a 2,000-square-foot roof deck, the Eagle boasts its own leather shop, barber, and bootblack. Below a motorcycle that hangs from the ceiling, the walls are plastered with photographs of WWII servicemen. Upstairs, large screens project porn. Burly men sip well drinks from straws on wooden benches while others, naked except for harnesses, swarm the dancefloor, swaying under red lights.
"People have this idea about leather—they think S&M," said the Eagle's resident barber, who goes by the pseudonym "Q" and held the title of Mr. Eagle 2016. "And while S&M can be a part of leather, that's not leather itself. Leather is a community first."
The leather subculture emerged post-WWII, when combat veterans bonded in motorcycle clubs in what Q described as a "continuation of… camaraderie." The hypermasculinity and ruggedness that leather promotes appealed to those dissatisfied with stereotypes depicting gay men as effeminate.
According to co-owner Danton, leather is also rooted in a darker history: Nazi uniforms. "If you were gay, you felt marginalized, you felt ashamed," said Danton. "You didn't want people to know that you were gay. When you looked at these soldiers, they looked powerful and strong, and you felt vulnerable. You would sort of say, 'I want to feel that way, I want to look that way.'"
Q, 43, was born in Brooklyn to West Indian parents. For several years out of college, Q led what he described as a "very tight, gay, white picket fence" lifestyle with his boyfriend and his boyfriend's son. "The relationship, the child, the house, the car, the job—I had the box and I fit into it."
While working in legal publishing, Q struggled with addiction and lost his job. He was out of work for a couple of years until he got sober.
In 2008, through a sober network, he met and married a high-school teacher who is not part of the leather community. Q does not use his real name on social media to protect his husband's privacy.
"I didn't know anything about leather. I didn't know that there was anything beyond the clothing," he recalled. "Even when I wore some leather, it didn't feel comfortable yet. It didn't feel like me." When he first got into leather, no one saw it coming. "You have these early, muscular white guys, which, in my mid-20s, I was not," he said, referring to Tom of Finland's illustrations.
It was meeting a mentor and "leather brother" that turned Q's life around. "I was looking at myself with different eyes," he recalled, flaunting a pristine pair of glossy leather boots. "I was using a different mind that I didn't have before." Now focusing on not letting heteronormativity define him, Q enjoys being around "male energy in a way that is uniquely, expressly, and totally gay."
Discovering a kinky community was "a sign of relief" for Mr. Eagle 2017, John-John Punki, who has sometimes wondered whether his kinks made him "a bad person." "Growing up, I realized that something wasn't right, that I was a little different," said Punki, 29. "I know that leather makes me feel powerful."
Several times a year, Punki, who is half Puerto-Rican and half Sicilian, puts on a Latin leather dance party at the club, featuring salsa and merengue, that raises funds for various LGBTQ+ charities. Leather remains overwhelmingly white, he explained, and not geared to people of color. "Marginalized people need their own spaces," he said. "If we don't see it, we need to create it." Just like in any community, Punki explained, racism is "alive" in leather culture. In 1998, then-owner Jack Modica was sued for ejecting two black patrons from the Eagle. Today, Danton said, his bar tries "really hard to push back against any discrimination."
Outside, into the wee hours, leather-jacketed men of all ages stride down the deserted block, eyeballing other pedestrians for a sign that they may be headed to the same sanctuary for those that a love of leather unites.
For some, leather is a lifestyle and a family; for others, it remains a secret. "I think there are some people who go to the Eagle who are living another life," Punki observed. "They sort of find refuge at places like the Eagle where they could meet other men because they can't do that in their regular daily lives."
Every year, Mr. Eagle NYC prepares titleholders to compete in the International Mister Leather contest in Chicago, where Macchia contended with 71 guys from around the world from May 24th to 28th. "I'm not perfect," said Macchia, who intended to show that there is more to leather than looks. "I don't have the perfect body, I don't have the perfect pose, but I have a heart and a soul and a love for community." Macchia was satisfied with his finish in the top 40.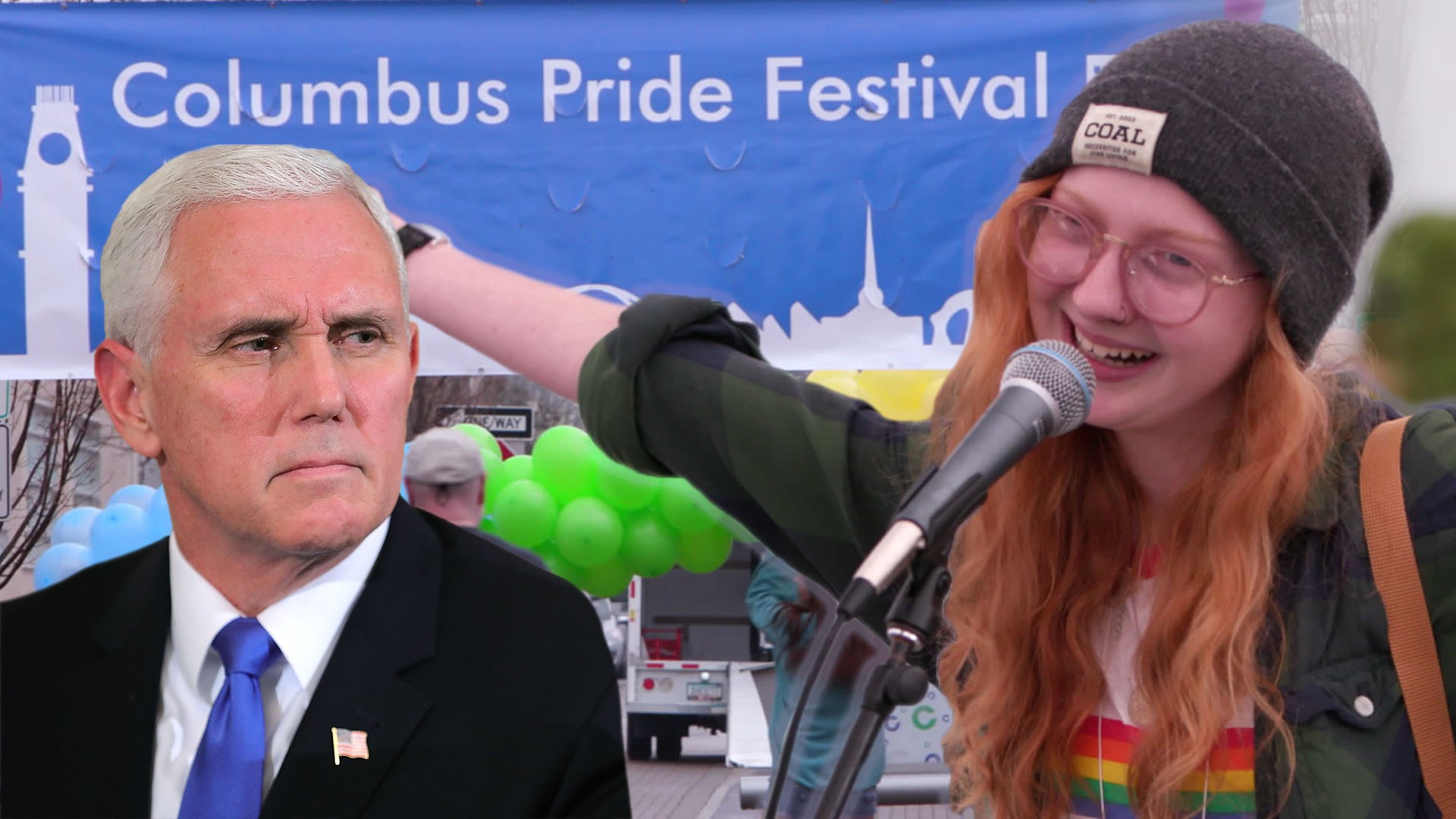 Beyond being a time for the community to come together, IML also marked the celebration of a distinctly queer brand of positivity.
"I think that people are afraid of sexuality," said Macchia. "We live in a country where taking your clothes off and being sexual is frowned upon, and I think that's really sad because there's nothing wrong with loving who you are, liking your body. As long as you're being safe and not hurting anybody, what should we care?"
Sign up for our newsletter to get the best of VICE delivered to your inbox daily.
Follow Juliette Maigné on Twitter.